Goldmund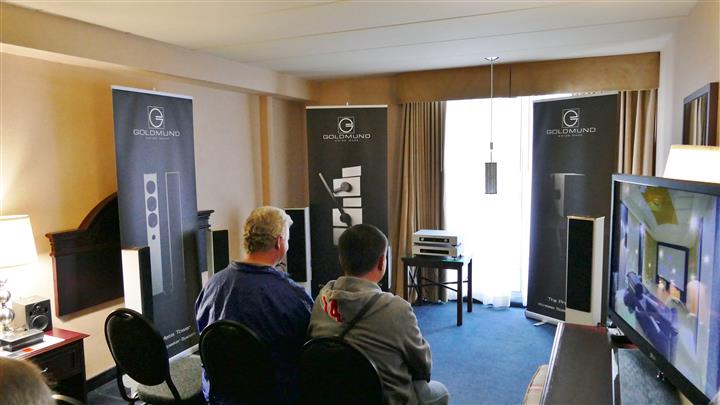 Known worldwide for their exotic audio components and loudspeakers, Swiss OEM Goldmund brought 2 floorstanding speakers to the TAVES 2015 extravaganza: 1), the Logos Towers (MSRP $30,000 USD); and 2), the Metis Towers (MSRP $15,000 USD).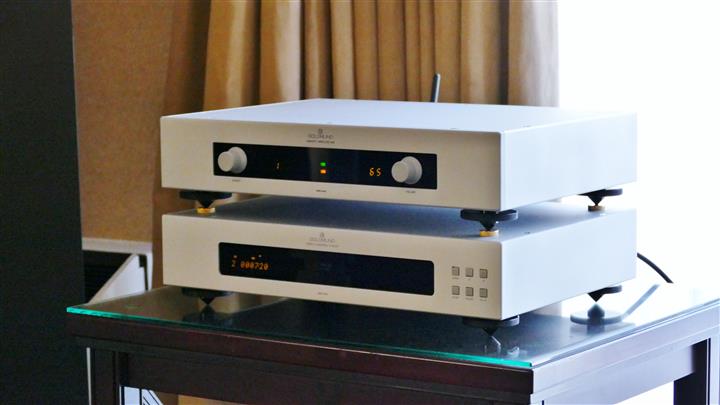 The Goldmund room also used their solid state Mimesis 11 pre-amplifier (MSRP $11,000 USD), Talisman wireless hub (MSRP $5,000 USD), and NanoMetis 140 watt powered bookshelf speakers (MSRP $5,000 USD). The NanoMetis speakers are available in 4 different finishes: pearl white, anthracite gray, black, and aluminium.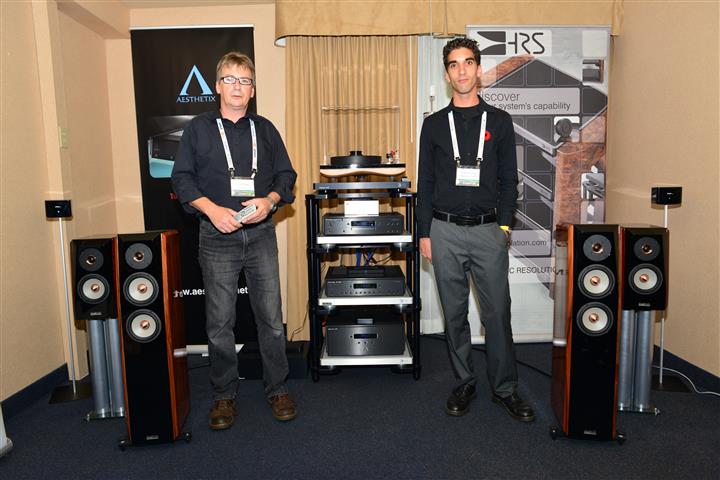 Fairview Audio / Tri-cell Enterprises
Fairview Audio utilized an Aesthetix Romulus Signature one-box CD player + DAC (MSRP $12,500 CDN), and Aesthetix Janus Signature solid state pre-amp (MSRP $12,500 CDN), and the solid state 200w/ch into 8 Ohms Aesthetix Atlas 2-channel stereo power amp (MSRP $11,000 CDN).
Driving Joseph Audio's Perspective floorstanding loudspeakers (MSRP $18,000 CDN) and using a full loom of Cardas Audio's Clear interconnects, speaker cables, and power cords, this 2-channel system created an amazingly large and detailed soundstage.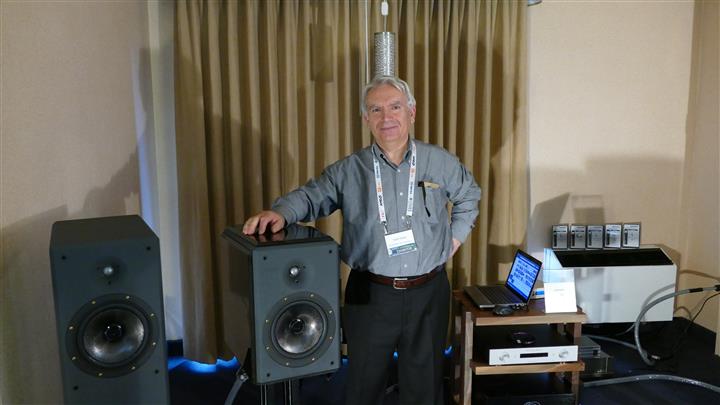 Reference 3A
More Canadian than Guy Lafleur in downtown Montreal, calmly sipping a Timmy's double-double dark roast, as a Montréal Canadienes hockey riot explodes into consciousness, Waterloo Ontario's Reference 3A loudspeakers presented a pair of their new Taksim floorstanding speakers (MSRP $6,990 CDN). Featuring a 2-way design with a "hyper-exponential" shaped mid/bass transducer and a beryllium tweeter, according to designer and CEO Tash Goka, the speaker:
"…is implemented without the use of a crossover, [and] protected from low frequencies and high power by a single non-conductive capacitor."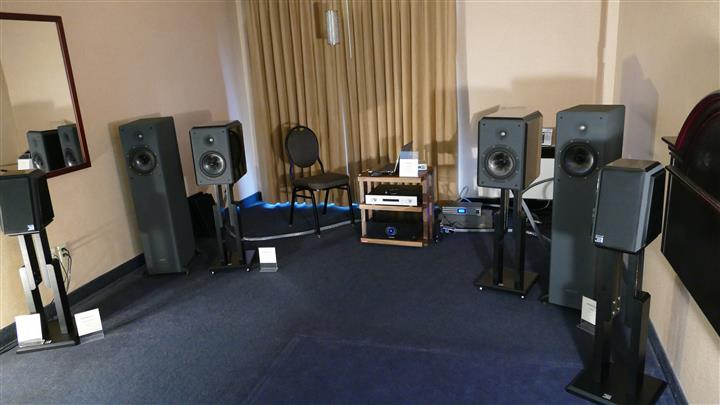 Combined in a 2-channel system with a 6922-based vacuum tube Copland CA-305 pre-amp (MSRP $3,900 CDN), a Copland CTA-506 tube power amp (MSRP $6,500 CDN), and Canadian made Onda silver (Ag) cabling, the Reference 3A room not only had one of the best sounds at the entire TAVES 2015 audio rodeo, but offered this sound at a sensible (read: affordable) price.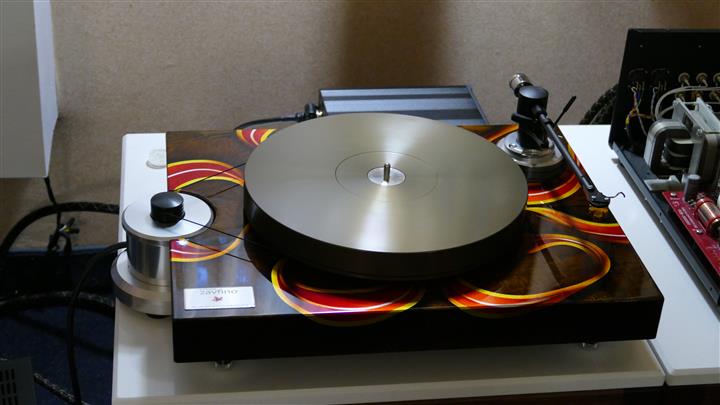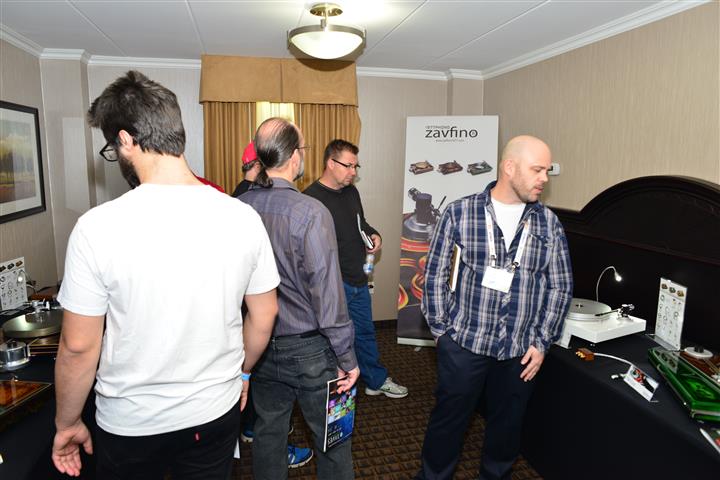 Zavfino 1877 Phono / Audiyo Inc.
Nova Scotia-based turntable, tonearm, cabling, and custom vinyl accessories manufacturer Zavfino 1877 Phono had a vast array of turntable related products on display. They build a maximum of 2 turntables per month. Germane to the utterly unique finishes which they offer, it should come as no surprise that Zavfino's 'tables can be customized to whatever degree an individual desires. Base prices start around $3,200 CDN and head north from there.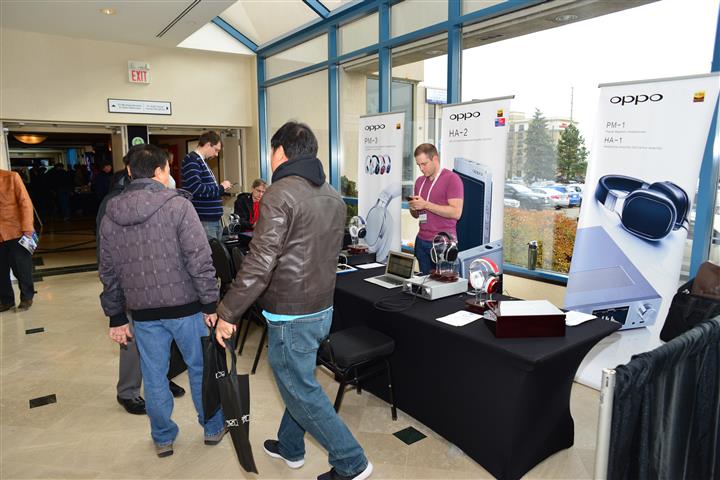 Oppo / Solutions AV
Located in Markham Ontario, Solutions AV had several Oppo Blu-ray disc players on hand, including: the Oppo BDP-103 Universal Network player (MSRP $649 CDN); the Oppo BDP-103D Darbee Edition Universal Network 3D player with Darbee Enhancement upgrade (MSRP $779 CDN); and the Oppo BD105D Darbee Edition Audiophile Network 3D player with Darbee Enhancement upgrade (MSRP $1,689 CDN).
Solutions AV also brought several headphone amps and planar magnetic headphones set-up for auditioning. Paired with the flagship HA-1 headphone amp + DAC (MSRP $1,559 CDN), the PM-1 planar magnetic headphones (MSRP $1,429 CDN) sounded superb.
For fans of SET tube amps and single-ended loudspeakers, Finalé Audio debuted the world premiere of the Triode Labs 2A3-based Monoblock 2 (MSRP $7,995 CDN) 8w/ch Class 'A' SET tube amps. Driving the new Vivace Mini (MSRP $12,500 USD) horn-loaded / compression chamber high efficiency loudspeakers, the midrange sound quality in this room was inspired, palpable, and (arguably) the best I heard at TAVES 2015.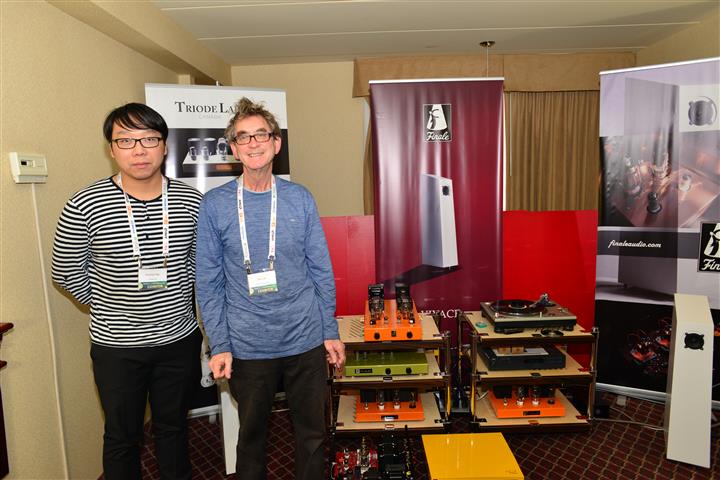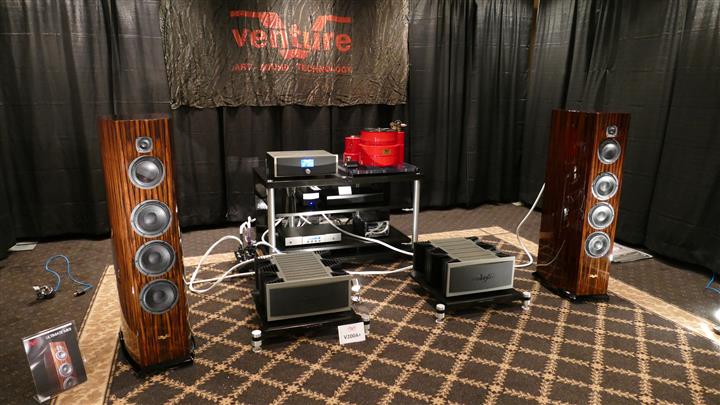 Venture Audio
Travelling all the way to Toronto from Singapore(!), Sales and Marketing director Njoo Lee Ming proudly showcased Belgian-based Venture Audio's 90dB efficient Ultimate MK2 floorstanding loudspeakers (MSRP $68,000 USD).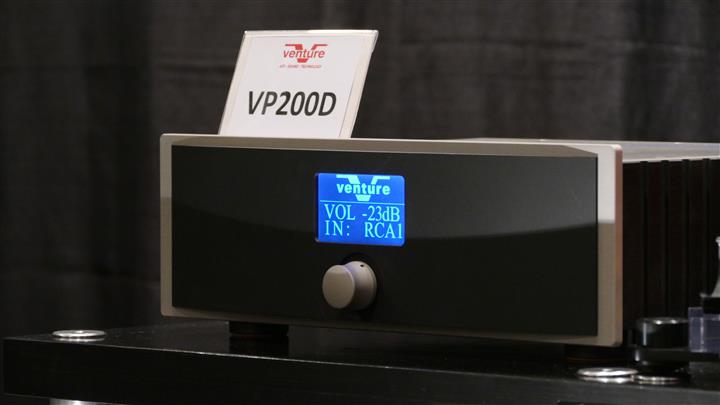 Combined in a 2-channel analogue system with a Triangle Art Symphony SE turntable set-up (MSRP $16,000 USD), a Venture VP100P solid state phono stage (MSRP $32,000 USD), a Venture VP200D one-box solid state pre-amp + DAC (MSRP $60,000 USD), a Venture V200A Class 'A' solid state power amplifier (MSRP $120,000 USD), and a full loom of Venture cables (aprx. $85,000 USD), the large Venture Audio room delivered an amazingly full, detailed, and coherent sound.