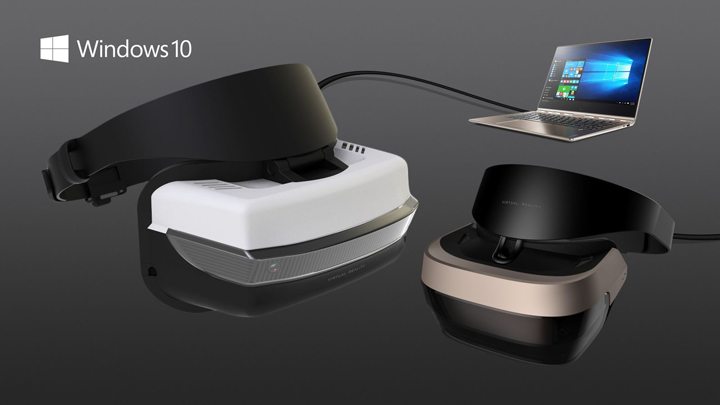 To accompany this new Windows functionality, at this year's International Consumers Electronics Show in Las Vegas, numerous VR headsets have been announced by familiar names such as Acer, Lenovo, Dell, and HP as well as newcomer 3Glasses. In a bid to maximize accessibility, Microsoft has stated that headsets will start at only $299 US but similar to PCs, higher priced headsets will offer increased performance.  Premium VR headsets in this space will feature higher resolutions, wider fields of view, higher refresh rates, and built-in headphones.  Premium versus budget models aside, all headsets will have the following in common: they'll be tethered (wired) to the user's PC, use cameras for gesture control, and microphones for voice control. Despite being tethered via a wire, the headsets have complete full 6-axis (X, Y, Z) tracking as well as inside-out tracking which makes the headset aware of the user's location in their physical space. The first headsets in this category are slated to start shipping this April.  3Glasses hopes to disrupt the established PC accessory makers with their S1 Blubur VR headset ($449 US) which features a lightning-fast 120 Hz refresh rate, 2880 x 1440 resolution (Dual 2K), and 110° field-of-view. They also tout a built-in blue light filter to reduce eye strain similar to iOS's "Night Shift" mode or Android's "Night Mode".
These upcoming headsets will bring VR out of the realm of the existing manufacturers such as the Oculus Rift ($599 US), which has to date sold 5M units, and HTC Vive ($799 US) by lowering both the price and high computing power barrier to entry. Previously, it took a robust gaming computer costing at least $1,200 US to power the Rift or Vive but now mainstream computers will be capable of supplying content for the upcoming Windows VR headsets.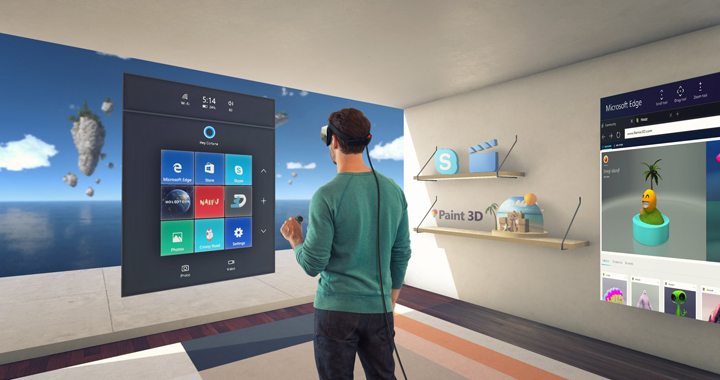 To make sure there's enough content and use cases for these new headsets, Microsoft is adding "mixed reality" support to all its core Windows applications from the Edge browser to Skype to a soon-to-be-released "Movies and TV" app with support for 360° videos. It's also working to bring over HoloLens applications. Users looking to maximize their virtual reality experience should aim for at least a Core i5 Skylake processor on desktop computers and a Core i5 Kaby Lake processor on laptops. It takes a lot of computing power to draw all those pixels and all headsets operate at a minimum of 60 frames-per-second to reduce blur and other graphical artefacts to eliminate discomforting effects such as dizziness, nausea, and motion sickness.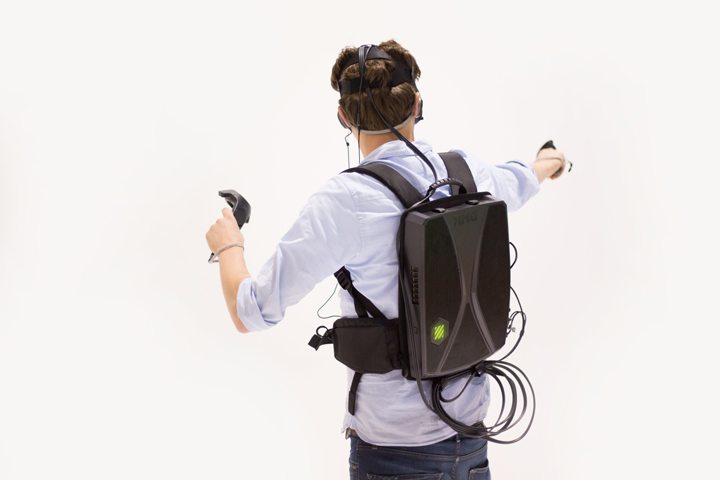 For those looking to take their VR explorations away from the desktop, three choices are available from Zotac, MSI, and HP: VR-capable computers housed inside backpacks toting giant, hot-swappable batteries. Zotac's newest version of their VR Go backpack computer is a $2,000 US wearable computer that comes equipped with a beefy Core i7-6700T CPU, an Nvidia GTX 1070 graphics card, 16 GB of RAM, and a speedy 240 GB M.2 solid state drive. The huge batteries are the majority of the backpack's 10 pound weight and offer two hours of mobile VR freedom. The slightly more expensive MSI VR One 6RE comes in at $2,200 US but ups the hardware to an unlocked Core i7-6820HK and a 512 GB solid state drive. HP will also be releasing their own backpack computer called the HP Omen VR this year but exact details are yet to be announced.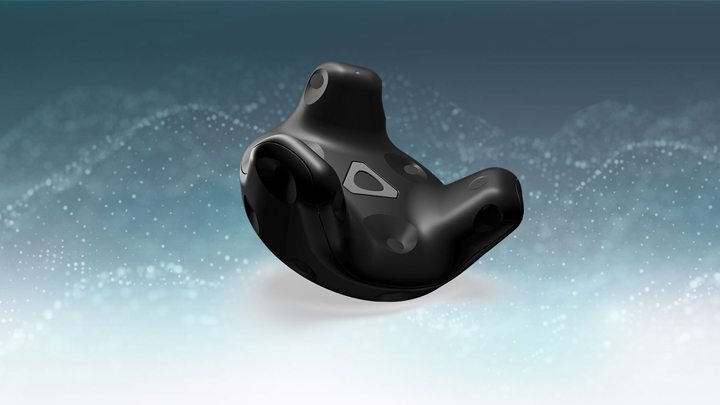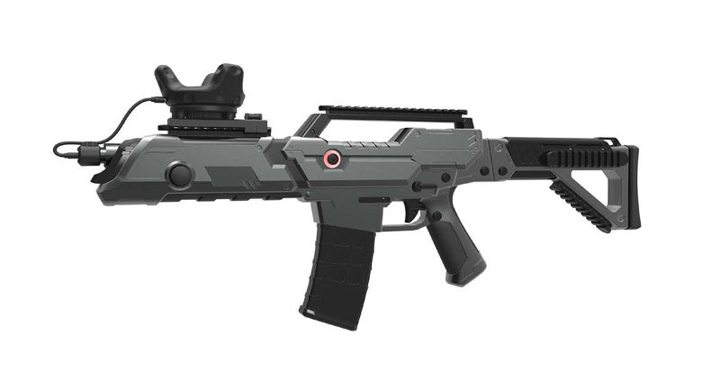 To further blur the lines between reality and the virtual world, HTC, makers of the Vive headset, showcased the HTC Vive Tracker, an accessory that attaches to any real-world object like a golf club, fake weapon, or even a fire hose. The Vive Tracker captures the movement of the attached object and projects it in real-time into the virtual environment. Instead of using a puny stick controller to simulate a rifle in a shooting game, users are able to hold a plastic rifle for a more realistic feel. HTC also demoed a firefighter training simulation complete with a heat-emanating, haptic-feedback equipped firefighter's jacket. The haptic feedback-equipped hose, with Tracker attached, simulated the pressure from the virtual firehose and even retracted or extended to simulate the movement of water. The Tracker will allow developers to insert any object (once digitally modelled) into their VR worlds, adding in that tactile sensation of wielding a physical object.
Another company combining VR with the real world is Hypersuit.  This company has developed a platform that allows the user to lie down and control two handlebars in front of them to simulate flying, hang gliding, or other movement – essentially becoming like Iron Man or Superman, flying through the air. The company hopes to have their padded lie-flat platforms in VR arcades by Q3 and is working with developers on more "flying"-centric content.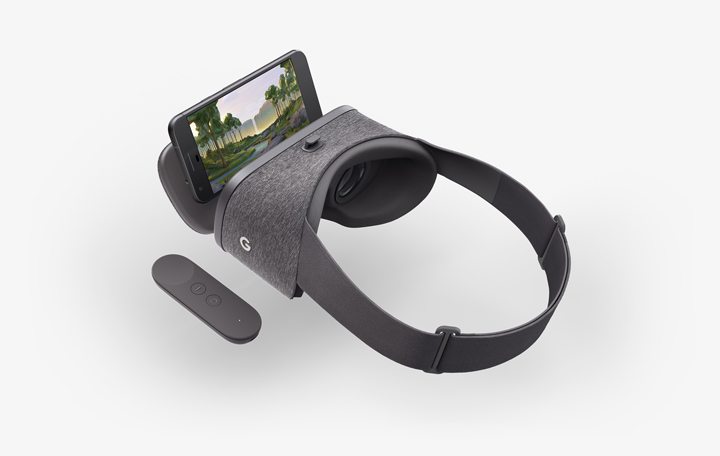 At the lowest end – in price but not experience – headsets which utilize smartphones as their screens continue to be updated by companies such as Samsung and Google. Google's industry-first cloth VR headset, the Daydream View, is available for under $90 US and allows users to fly through Google Earth, watch Netflix and YouTube on a giant screen including 360° videos, explore the Harry Potter world of Fantastic Beasts, and explore cultural institutions captured through Google's Arts & Culture program. Qualcomm's upcoming flagship mobile processor, the Snapdragon 835, was showcased at CES rendering vivid 4K mobile content which will allow the next generation of 2K/4K display-equipped smartphones to double as mobile VR displays when used with any of the inexpensive headsets.
As prices continue to drop and issues such as latency, field-of-view, and graphics processing power continue to improve, virtual reality will become more accessible. Instead of buying a large-screen television costing thousands, an existing PC or video game console will enable users to travel to exotic locales, giving immense freedom to those less mobile or with physical limitations.  VR will also allow workers to be more effective thanks to augmented reality applications that display live, real-time information augmenting their physical world.  And if you love to travel to exotic places, VR will let you experience things such as exploring space or deep-sea diving. Despite the advances, it'll still be summer 2018 before performance and cost reach an inflection point to truly make it mainstream instead of being a somewhat premium product for early adopters. Being able to walk through a UNESCO World Heritage site from the comfort of one's living room is an incredible experience that more and more consumers will soon have the opportunity to participate in.  2017 is sure shaping up to be a very exciting year in VR.