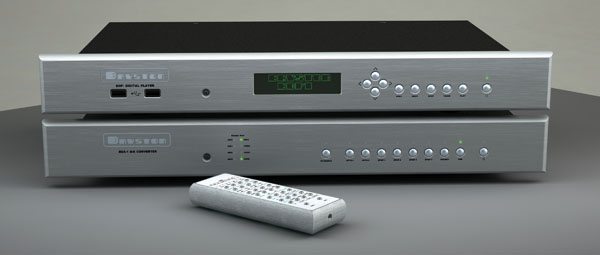 The ways in which we enjoy music have changed rapidly during the last few years.  The advent of the mp3 file format and portable digital music players revolutionized our ability to purchase and play music.  Adding a new album to your music collection today is as easy as a few taps of an iPhone screen or several clicks of a computer mouse.   The convenience of digital music is undeniable.  Yes it's true that along with the mp3 format came a significant reduction of sound quality but this is also continuing to change.  Today plenty of websites offer high resolution music downloads and even mainstream online stores like iTunes have stepped up their file quality.  Younger generations were quick to embrace digital music files and now even the most discerning music listeners are finding themselves adding songs to a playlist rather than pulling CDs off a shelf.  While a teenager might be perfectly content listening to lower quality music files through computer speakers, an audio enthusiast will of course require a different approach.  That's where a forward thinking company like Bryston comes into play.  If you're thinking of setting up a high performance digital music system, Bryston would like you to consider its BDP-1 Digital Player along with the BDA-1 digital to analog converter (DAC).
The Bryston BDP-1 Digital Player ($2,195) was designed to provide the highest level of digital file playback.  Externally, it has the appearance of a typical Bryston component – with its brushed aluminium faceplate and round buttons – but on the inside it is actually a purpose-built computer running a modified Linux operating system.  The BDP-1 is not a music server and hence does not offer any on-board storage for music.  Instead, it plays music files (up to 192 kHz/24-bit) from any USB storage device connected to one of its four USB 2.0 inputs (two in the front, two in the back).  The BDP-1 offers on-board processing of popular audio files including AIFF, FLAC, WAV, MP3, M4A and OGG.  A two-line graphic display on the front panel shows song information during playback.  Its rear panel contains two outputs – an SPDIF (BNC) and an AES/EBU (XLR) – and hence requires a compatible DAC.  An optional BR2 remote control can be ordered for this player but most owners won't require one.  That's because the BDP-1 can be controlled from Apple iOS and Android smartphones and tablets as well as a desktop/laptop computer.  An Ethernet port in the back connects the BDP-1 to a home network which allows the player to communicate with the various control devices.  It does not however allow the player to play audio from the network – the reason being is that adding this functionality would add unnecessary noise to the circuitry.
The Bryston BDA-1 DAC ($2,195) is naturally a perfect match for the BDP-1 digital player.  This stereo DAC is designed to perform state-of-the-art conversion of digital audio from devices such as computers, CD players and digital music players/servers into the analog domain.  Under the hood, this DAC features a lot of sophisticated technology – like the fully discrete Class A analog circuits, two independent linear power supplies, independent analog and digital signal paths and dual Crystal CS-4398 (192 kHz/24-bit) DAC chips.  The BDA-1 is a highly versatile DAC which offers plenty of audio inputs: 1 USB, 4 SPDIF (2 BNC, 2 RCA), 2 optical (TOSLINK) and 1 AES/EBU.  Outputs include both a balanced XLR and an unbalanced RCA.
If you'd like to learn more technical information about the BDP-1 and the BDA-1, check out their respective product pages on the Bryston website – each offers a brochure that explains all of the component's features and technology in great detail.  Both the BDP-1 digital player and the BDA-1 DAC are available with silver or black faceplates (17 and 19 inch versions), and can be ordered in rack mountable versions.
The BDP-1 digital player can be controlled in one of several ways – using the buttons on the front panel, the separately sold remote, any home network computer as well as Apple iOS and Android devices.  Of course the sleekest and most practical of these are Apple and Android tablets, and smartphones.  With an iPad and two iPhones in my house I was all set to go.
Initial setup of the BDP-1 is simple enough but to get the most out of this player you'll need to spend some time finding and configuring the control/interface software of your preference.  Configuration of the software doesn't take very long but you'll likely have to hunt around for the proper settings on the web.  You'll also need to purchase good quality CD ripping software to transfer CDs into lossless digital files – I used dBpoweramp software as recommended by a few CANADA HiFi forum members.  Finally, you'll also need an external hard drive to store your music collection.  I went with a 160 GB Seagate Solid State Drive (SSD) since it has no mechanical parts and hence should not introduce any noise into the playback system.
The BDP-1 is virtually a computer and hence does take about one minute to start up.  Since this player has no moving parts or fans, its operation is completely silent – a big plus compared to CD players.  To avoid any USB jitter problems, the BDP-1 copies every song into a memory buffer and then plays it from there, instead of playing it directly from the USB device.
The BDP-1 has built-in software called Bryston Max which can be accessed through any tablet, cell phone or computer web browser.  A Bryston Mini version of the software, designed for the smaller screens of cell phones, is also available.  I tested the Bryston Max on my second generation iPad.  This software allows basic playback and playlist creation.  The trouble is that it looks very plain and is a little slow to respond.  The on-screen interface feels like you're browsing through file folders rather than a nice graphical interface.  After clicking anything on the screen, there is a second or so delay before the next screen comes up.  As I was writing this review, Bryston sent me a beta version of a new software interface that the company has been developing.  This updated software offers a much quicker response and an improved graphical interface and will be available to all BDP-1 owners soon.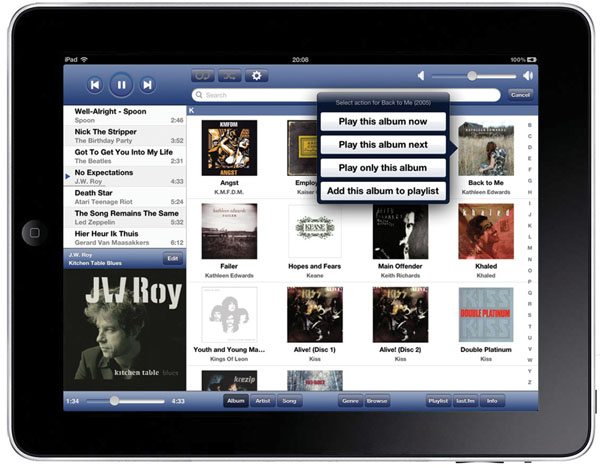 There are however much better control interfaces for Apple iOS devices which I tried.  They come in the form of two apps available for download from the iTunes store: one is called MPaD ($2.99) for the iPad and the other one is called MPoD (free) for the smaller screens of iPhones and iPod touch devices.  This is third party software, not designed by Bryston, which provides a graphical user interface capable of controlling all of the BDP-1's functions.  Installation and configuration of this software was straight forward and took just a few minutes.  With MPaD installed on my iPad, my user experience changed entirely.  MPaD's graphical interface doesn't offer just an attractive feast for your eyes, it also offers quick, seamless control of the BDP-1.  Searching for and playing songs is simply a matter of a few swipes and taps of the iPad screen.  Finding a specific song is very simple because MPaD allows you to sort your music collection by artist, album, song and genre.  Playback can be chosen as individual songs, whole albums or as a playlist.  Playlist creation is as simple as individual song playback.  When in Album mode, MPaD displays the picture of every album stored on any storage devices connected the BDP-1's USB ports.  During playback MPaD displays a larger version of the album cover on the iPad screen and provides file quality information when you tap on the cover.  MPaD is a great software, which I hope will continue to improve with future updates, and provided a wonderfully pleasant and refreshing way of playing music on my audio system.  I also installed MPoD on my iPhone, and although it doesn't offer as attractive of a graphical interface, it functioned just as well as MPaD.  In fact, both of these apps worked wonderfully well when used together – for example, I could select a playlist in MPaD and later play with the music selection in MPoD, since the playlist on each device automatically updates the software running on any other devices.  Another beauty of using apps as a remote – they are very easily updateable.  In fact, as this review was going to print, another new, improved version of MPaD was released.
Owners of Android tablets and cell phones will be glad to know that a number of different apps are also available from the Android Market, although I didn't test any of them since I don't own any Android devices.  The important thing to note is that the BDP-1 is based on open source software which means that any software developer can design software to control it.
Potential buyers of the BDP-1 digital player should be aware that integrating a component like this into their system is quite different from setting up a new CD player.  Technical inclination and patience will definitely help.  As I mentioned above, first you'll have to choose (and purchase) CD ripping software, buy an external hard drive and transfer all your music to it.  Next you'll need to explore and configure the various tablet control interfaces to see which one works best for you.  You may run into some network/connection issues, as I did on a couple of occasions, but all of these can be resolved fairly easily.  None of this is particularly complicated but it's certainly more involved and time consuming than just hooking up a new CD player.  You will however be rewarded well for your efforts.
I started my listening sessions by playing 44 kHz/16-bit FLAC files, ripped from my CD collection.  This Bryston duo delivered a smooth, yet detailed sound from the outset.  Songs from my Beatles collection played with a great liveliness across the entire frequency range and presented a delightfully immersive soundstage.  The vocals were clean and often shifted playfully around the soundstage.  The guitar and bass notes were tuneful and dynamic.  The BDP-1 had no issues resolving all the musical layers of more complex songs like "Sgt. Pepper's Lonely Hearts Club Band" and "With a Little Help from My Friends".  As I browsed through and selected songs on my iPad from the 14 Beatles albums, I realized another great benefit that this player offers over a CD player – the quickness with which it allows you to search and play songs from your collection.  Only a few days ago, listening to a song from a different album meant getting out of my listening chair, finding the next album on the shelf, ejecting the CD, putting the new one in the player and waiting for it to load.  How cumbersome is that?  With the BDP-1 all of this can be accomplished with just a few finger taps on my iPad.  I've honestly never had this much fun with my Beatles collection!
Listening to Radiohead's "OK Computer" album threw me right back into the 90s when I used to listen to this disc on a starter audio system that my parents were nice enough to buy me in high school.  Navigating through these familiar songs, except this time on an audio system worlds apart, I instantly developed a whole new appreciation for this music.  "Subterranean Homesick Alien" offered a holographic soundstage, expansive in every direction – width, depth and even height.   "Exit Music (For a Film)" was equally as immersive.  It's amazing how albums like this can make the music listening experience completely surreal.  These are qualities that I never even imagined from my starter audio system.
The sound pleasing my ears wasn't coming from the BDP-1 digital player alone of course.  The other new component in my system for this review was the Bryston BDA-1 DAC.  To test its capabilities, I compared it to the DAC built into my Classé Audio CDP-102 CD player.  To be honest I was prepared to hear a subtle difference between the two DACs but I was astonished at just how differently the two DACs sounded.  The BDA-1 not only presented me with significantly increased musical detail, it sounded as if a veil was lifted off my music.  When listening to "Rolling In the Deep" from Adele's 21album her voice sounded cleaner and more pronounced which allowed me to pick out a number of additional nuances.  The echo of her voice took a longer time to decay and hence sounded more natural.  The kick drum benefited from more texture as did every other instrument on this album.  "Someone Like You" sounded almost as if someone was playing a piano in the room and the passion in Adele's voice sounded so real that hairs on my arms stood up.  The BDA-1 DAC sounded much more fluid compared to my CD player's DAC, and hence brought me remarkably close to the sound of a real, live performance.
Next I shifted my focus to higher resolution music.  The MA Recordings Hi Resolution Sampler disc, a DVD-ROM which contains a collection of 88.2, 96 174.4 kHz wav files, seemed like a place good start.  Of course before listening I copied the files to my SSD drive connected to the BDP-1 digital player.  The female voice and the piano in the opening track sounded wonderfully rich as they echoed in the environment where the track was originally recorded.  I immediately noticed the increased size of the soundstage and not just in width and depth but also in height.  The higher sampling rates resulted in the most natural sounding vocals I've heard from this Bryston duo yet – the highs were crisp and open, the midrange was rich and tuneful, and the bass offered great extension and control.  The same was true of all the instruments which benefitted from increased resolution and texture.  If you're looking for some well recorded high resolution music I urge you to check out the MA Recordings catalogue at www.marecordings.com.
Changing the pace, I moved to the self-titled Metallica album (96 kHz/24-bit) that I purchased from www.hdtracks.com.  With tracks such as "Nothing Else Matters" and "The Unforgiven" the guitar strings sounded noticeably fuller and warmer compared to the 44.1 kHz/16-bit songs I listened to earlier, almost as if there were played on a tube based guitar amp.  The strumming of every string sounded more distinct and decayed at a more natural manner.  The same was evident with the clashing cymbals which offered an increased level of texture.  The background was dead silent with this Bryston duo, which allowed a much deeper level of detail to come through my Focal Electra 1008 Be II speakers.
Having spent a few months in my equipment rack, I can truthfully say that the Bryston BDP-1 digital player and BDA-1 DAC make one heck of a powerful team.  In combination with my iPad and iPhone the BDP-1 changed the way I access and enjoy my music library completely – in the greatest of ways.  It breathed an entirely new life into my listening sessions and made searching for and discovering new and old music fun like never before.  The only downside of the BDP-1 is that it doesn't offer the option to stream audio from a home network, a place where many music fans store their music.  This was however a calculated choice for the BDP-1 in the attempt to deliver the highest quality of audio.  The BDA-1 on the other hand rewarded me with some of the most detailed and cleanest digital music playback I've heard to date.  It also offered a phenomenally expansive soundstage, offering loads of air between different layers of sound.  Thanks to its generous number of inputs and outputs, the BDA-1 will feel right at home in any system.  At $2195 each, both components offer a very good value in their respective categories.  If you're looking to modernize your music listening experience, these are definitely two components that you'll want to consider.  I give both of them my highest recommendation.
Bryston Ltd.
www.bryston.com
705-742-5325 or 800-632-8217
Bryston BDP-1 Digital Player
Price: $2,195 CAD
Bryston BDA-1 DAC
Price: $2,195 CAD