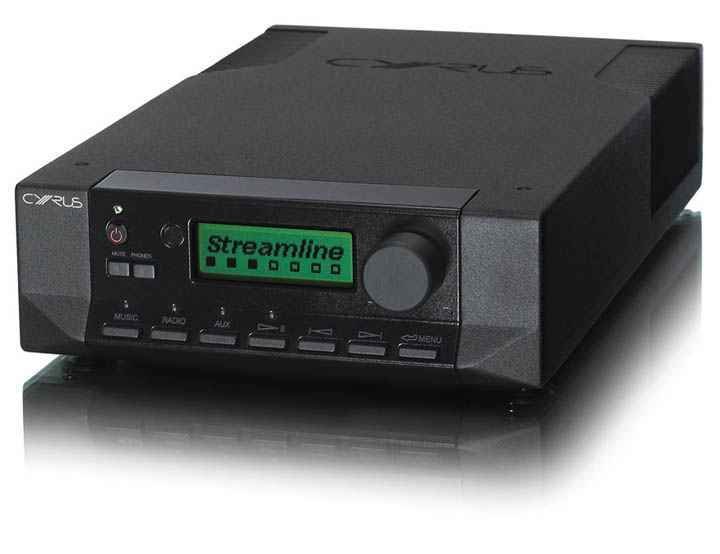 Three components are seeing major growth in the audio market: headphones, DACs and streaming music players. Today we'll take a look at a streamer from Cyrus Audio, a well established company operating out of the Ermine Business Park in Huntingdon, England, home also to Meridian Audio and not far from Cambridge University.
The Streamline2 is an update to the original Streamline model first introduced in 2011 and offers a network streaming platform for the modest price of $1999. Just connect to a network, add speakers or headphones and install the free Cadence app on your iPhone, iPad or Android device and you're in business.
Cyrus strongly recommends connecting the streamer through a wired Ethernet connection, which is how I used it for my testing, but you can connect wirelessly too and that worked well for me, two rooms away from my wireless router. While in wireless operation, the sound quality seemed unimpaired but stability was a bit of an issue – the network connection was lost several times.
Cyrus does offer a powerful remote control unit, the n-remote, complete with a colour LCD display, but most people will use it as I did, through the Cadence app.
I found the Cadence app a little old fashioned in its presentation, but quite functional. However when things go wrong, like when a wireless connection is lost, it sometimes takes a lot of fiddling to reestablish the connection. Also the app has a tendency to revert to the main iPhone screen for reasons I cannot fathom. But it's just an app, and I'm sure it will get more stable and functional over time.
The Streamline2 can play the music I've downloaded to my iPhone, but only by connecting the two together through a USB cable and selecting the iPhone input, not wirelessly.
Your primary input choices are Network, Radio and AUX but each of these leads to multiple source options. Network could see all the music on my two PCs and on a NAIM UnitiServe music server attached to my network. Radio opens up the world of Internet Radio with its tens of thousands of stations accessed using familiar categories, regions and favourites. AUX offers USB or any of five digital inputs (2 optical, 3 SPDIF). The setup menu allows you to adjust the balance.
How to get the sound out? The unit is setup for banana terminated speaker cables and I used YBA Diamond cables to connect to a pair of Totem "The One" bookshelf speakers, mounted on target stands. There is a 3.5mm headphone socket on the rear of the unit – a rather unusual positioning. Cyrus tells me that they prefer the rear position because it's neater for a consumer to buy a longer extension lead and run it to the listening position since not many owners site the player next to the listening position. The USB A socket is also on the rear because it will often be used for charging an iPhone via a dock that can be permanently fixed. I would have preferred both on the front panel as on the competing NAIM UnitiQute but I can appreciate the argument. When you plug in your phones, the speakers automatically mute, as you would expect, but Cyrus goes one step further. You can leave phones and speakers connected at all times and toggle between them using a front panel switch. Nice touch! I tried a couple of tough to drive phones, the AKG K701 and the Sennheiser HD800. I was quite happy with the results. The unit has enough power to drive them both to good levels while maintaining calm control and a good level of detail.
The back panel offers quite a few connection options. You get two sets of line level RCA outputs, one fixed, one variable, for feeding external power amps or preamps. You also get an Ethernet port, MC Bus for integrating your unit into a full Cyrus system, a digital out for connection to an external DAC or digital amp and an RS232 port reserved for future possibilities. But if you use the Streamline2 to drive a pair of speakers you've got a full 30 wpc into 8 ohms, with a distortion of .01%, enough to drive speakers of moderate or high efficiency.
To make the unit easier to navigate, you can assign names to each of the digital inputs – for example input 1 could be CD. The digital inputs can cope with a variety of PCM formats up to 192/24, including Apple Lossless, WAV, FLAC, AIFF, AAC and MP3, but not a DSD bitstream.
As you might hope for with a digital device like this, the firmware is upgradable on the Streamline2 and Cyrus makes a point of offering upgrades to current users across their line, so I am optimistic that this machine will gain new functionality over the next few years. Updating the firmware is a job for the dealer, although I had the opportunity to do so myself. This involved opening the box so I was able to see the careful construction and neat cabling the user doesn't normally see.
The packaging is consistent with other Cyrus models, featuring the familiar half width precision lightweight alloy casting (brushed black or quartz silver finish), hand crafted. Front panel controls include direct input choices (Music, Radio and AUX), a large volume control which also acts as the selector when pressed, as well as Mute, Phones and Power switches.  There is also a Menu button and back / forward buttons. These are easy to use and the menu system is nicely laid out and simple to master. In the centre there's an LCD status screen, not as detailed as I would like to see but functional.
So we are down to the small question of sound quality. I found this to be an interesting system to listen to. On the one hand the amplifier has balls – it had no problem driving the demanding Totems. Bass was clean and powerful, and the treble was detailed and extended, with vanishingly low distortion. The image was not particularly wide or deep, but it was stable. There was a rather bright balance to the sound, especially when compared to the warmer tone of the UnitiQute which always sounds a little more relaxed. This was more noticeable as the volume level goes up. I found the sound extremely sensitive to the quality of the original recording. Good recordings will always sound better than mediocre ones, but here the difference was exaggerated. I think that's down to the tonal balance being tilted up. Feed the beast with good quality signals at CD or higher res and all is well. Outstanding results from Keb' Mo's Every Morning, Leon Fleisher's Emperor Concerto, and Cannonball Adderley's Somethin' Else. But offer it heavily compressed MP3 data, or one of the lower bitrate Internet radio stations, or a shallow or bass shy recording and the Streamline2 will reveal all its faults. At its best the sound is punchy, articulate and strong both in the bass and the treble. At its weakest the sound can take on a flat or hollow tone, and the aggressive treble can prove tiresome on some percussion rich recordings. So you'd better feed it good stuff.
Overall, I think this is quite an excellent achievement at its price point, and you can upgrade it with an external power supply or matching power amp from Cyrus if you begin to get the urge for higher fi. Check it out.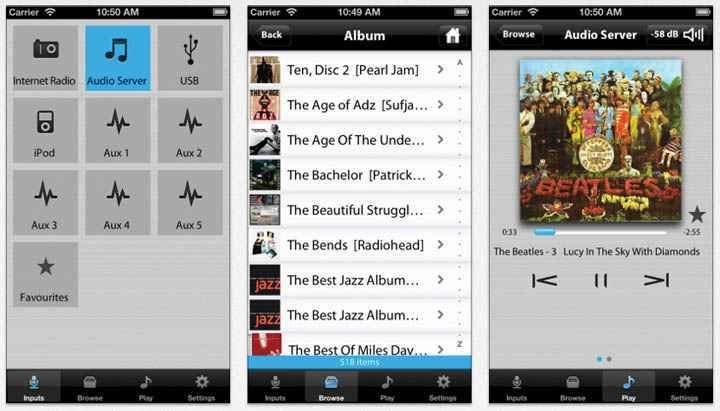 Sidebar – What can the Cadence app do?
Cadence allows you to wirelessly browse and select music through your Cyrus unit
Control most of the playback functions of your Cyrus streaming unit with a flick or tap of a finger on your phone or tablet
Browse, control and listen to your digital music collection
Adjust volume
View more information about the track you're listening to and show the album art
Create a favourites list of up to 250 songs
Explore and select from thousands of radio stations on TuneIn Radio
Save songs and radio stations as favourites
Individually control different Cyrus units running on the same network
Browse and select inputs, including controlling the CD section of a Cyrus Lyric 05 or Lyric 09 all in one players
Cadence can control a variety of Cyrus products
Cyrus Audio
www.cyrusaudio.com
Distributed by Kevro International
www.kevro.com
(800) 667-6065
(905) 428-2800
Cyrus Streamline2 Streaming Music Player
Price: $1,999 CAD
Comments are closed.