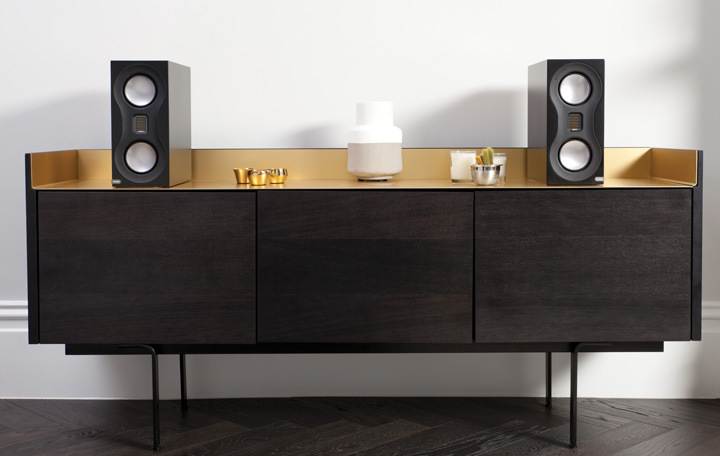 Out of the box the Studios played very much in the mold of a studio control monitor optimized to emphasize detail, all up front, all start-stop precision. The sheer detail level at this stage was mesmerizing, but ultimately lacked some refinement. As the system broke in, the Studios gained their British heritage, becoming more natural and displaying warmth and sophistication, without sacrificing their resolving power. Both drivers exhibited tight control, and the folded ribbon tweeter showed delicacy, sounding unforced and un-etched. Raw detail remained a strong suit of the Studio, showing high levels of enunciation that allowed me to follow complex lines of vocal or orchestral material. Enhanced vibration control added context to that detail, fusing quantity of information into more realistic instrumental character. Audience clapping on live venue recordings like Diana Krall "Live in Paris" or Loreena McKennitt "Nights from the Alhabra" evolved from a cloud of energetic transient snaps to a multitude of enthusiastic human hands.
Driver integration gelled at distances beyond about 3 feet, allowing a generous seating area for casual listening. Critical listening gave immersive results in near field and quite compelling performance far field, where bass response optimized with a meaty zest. The lower frequency limit was commendable, given the speaker's modest proportions and 4 inch paired driver complement, plumbing down to a solid 35 cycles with good authority, provided that volume levels were kept at sane levels. I never felt the need to augment with my subwoofer, although those demanding greater impact may prefer that option. Midband performance was very much studio monitor neutral, neither adding or subtracting warmth, and could be mildly tailored to taste by choice of ancillaries. Highs reached upwards with pedigree finesse, showing Monitor Audio's MPD tweeter to be a standout performer. With the IsoAcoustics resonance control mounts in place, the Studio transformed the character into a classic British reference monitor, becoming more midrange centric, with the response expanding in both directions as natural extension.
Best dynamic behavior was achieved operating at natural acoustic levels, allowing the speaker respectable macro swing with a wealth of micro detail. Higher volume levels were possible, but at the expense of some dynamic and spatial compression. Subwoofer augmentation would extend that range by a few dBs and increase the comfort zone of the main speakers. The Studio fared surprisingly well on a torture test recording "From the Age of Swing" by Dick Hyman, a Reference Recording jazz CD which challenges even top tier speakers and electronics.  It demonstrated that the specified 110 dB dynamic ability could flex real muscle if applied to dynamic range rather than absolute volume level.
Image depth and projection expanded over the break-in period, rewarding with a good sense of space and a reasonable amount of layering, although initially falling slightly short of more expensive, upper tier. The overall size of the soundstage showed greater proficiency in width where the Studio could achieve near panel speaker spread, as well as good reproduction of height. It did a reasonable job projecting images forward, but compressed depth information to a small degree. Image focus and specificity followed suit, delineating better in the left to right plane, but somewhat homogenizing depth information. With vibration management applied, the Studio changed its game, expanding in all directions, showing small, but noticeable gains in width and height, and drastic gains in depth and focus. Image localization and dimensionality became far more palpable, placing performers with superior precision in a deeper, more defined soundstage. The Reference Recording "The Chicago Sessions 1994-1995: Clark Terry" came alive with full scale venue, and the delicately layered artificial soundscapes of musical pop like the Tidal track "Turn: The Wombats (featuring Dagny)" were revealed, big, bold and infectiously fun. At full potential, the Studios added a convincing image and soundstage to their list of attributes, rivaling much pricier fare.
Bottom line, how good are the Monitor Audio Studio and stand? The stand is effective, stylishly attractive, and a joy to use. It merits an easy recommendation. The Studio? Beneath that lifestyle exterior beats a heart of pure Platinum pedigree. If you treat it like an upper crust lifestyle component, it will deliver imminently satisfying results. If you treat it like a Platinum series progeny, it will reward with true High End performance. Lifestyle or audiophile?  I'll take both, thank you. Add another Monitor Audio product to my short list.
Monitor Audio
www.monitoraudio.com
Distributed in Canada by Kevro International
www.kevro.com
(905) 428-2800 / (800) 667-6065
Monitor Audio Studio Loudspeakers
Price: $1400 US/pair
Monitor Audio Studio Stands $500/pair