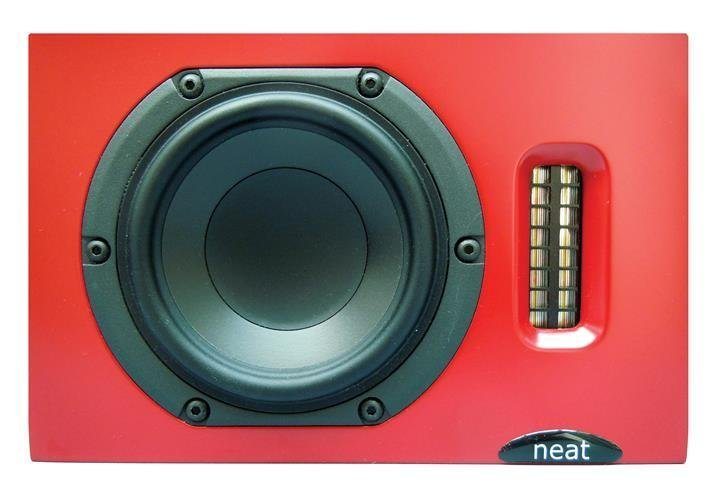 I used all four amps over the course of two weeks and clearly heard the strengths and weaknesses of the sound quality that each amp offered. I found the IOTAs worked particularly well with the lower-powered Assemblage ST-40.
With micro-monitors, when a user turns the volume up, the stereo soundstage– if any sense of one is even evident to begin with—usually collapses into chaotic noise. When driven hard, I've heard FAR too many micro-monitors deliver horrific screeching noises and sonic cacophony like a high speed Nascar multi-vehicle pile-up. The noise which many poorly, (read: cheaply), made micro-speakers have generated during past auditions has physically hurt my ears. This was not the case with Neat's IOTAs.
With well-recorded CDs, I listened to the IOTAs at fairly high volume levels and still achieved timbral accuracy, decent PRaT, and a highly involving and musical sound. Small speakers can't camouflage their weaknesses or ear-splitting high frequency colourations the way larger bass-reflex monitors can. The IOTAs consistently offered a warm, musical, and well-balanced sound.
When I played an HDCD version of Joni Mitchell's 1974 disc Court and Spark, (Asylum 1001), the IOTAs handled Joni's high-pitched vocals with ease. The speakers allowed me to clearly hear the intricate mixture of exotic acoustic and electric instruments on this album. With tracks like 'Help me', 'Free Man in Paris', and 'People's Parties' I found myself sinking into the music and not taking any notes. I turned the ceiling lights down, shut my eyes, and felt the evocative presence of Joni's textured voice cleanly, and accurately, resonate through my listening room.
After reminding myself why I loved Joni Mitchell's music so much, I dropped a vinyl copy of the Scorpions' 1982 Blackout album (Polygram 818-885-2) onto my turntable. During the summer of 1985, I was listening to the Blackout album on damn-near a daily basis.
The Scorpions are the most successful rock band to ever come out of Germany. What made their songs so memorable was their ability to play at a fairly fast pace while maintaining melody lines that stick with a listener. The sonics on Blackout are excellent too. Producer Dieter Dirks did a master's job of capturing the band's frenetic on-stage energy down on tape in a studio environment.
Listening to the IOTAs, I found myself once again sinking into the music and not taking notes. Every bit of the air-tight rhythm guitar, blistering lead guitar solos, thundering bass and percussion lines, and Klaus Meine's soaring vocals could be heard through the IOTAs. And happily singing along to songs like 'Blackout', 'Dynamite', 'Can't live without you', 'You give me all I need', and 'I'm still lovin' you' vividly reminded me of where my life had been during the summer of 1985. The IOTAs struck an emotional chord with me and just sounded right.
Even when driven hard at high volume levels with complex orchestral music, the sound quality of the IOTAs remained reasonably level. The speakers didn't flinch. With orchestral music like Rachmaninov's Symphony #2 (BBC #MM127), the IOTAs provided believable scale and focus. The fast transients, rhythmic bloom, and musical cohesiveness which these speakers delivered were a joy to listen to.
Even when powered by exceedingly good amplifiers, above a certain volume level, the sound quality of most micro-monitors I've heard has very quickly collapsed into low-fi car accident level noise. Neat's IOTA loudspeakers are, however, not like most micro-monitors. They are neither a low-fi nor a mid-fi product. These are a genuine audiophile speaker.
Don't casually dismiss the IOTAs because of their small size. As long as you're not trying to fill a gymnasium-sized room with rib-cracking low frequency decibel levels, these micro-monitors will deliver a highly musical and engaging sound. In my 2-channel systems, they sounded best when driven by lower-powered tube gear.
Neat designed the IOTA for music lovers who are dealing with tight space constraints, but still want an audiophile loudspeaker. These are tiny speakers that have stunning looks and, judging by my wife's reaction, are also WAF-friendly. Combined with good source components and driven by decent amplification, they'll provide excellent 2-ch sound.
With everything that I threw at the IOTAs, they consistently managed to produce superb music. Blues, classic rock, death metal, classical, orchestral, punk, progressive rock, and anything and everything else under the musical sun all sounded musical.
The IOTAs aren't the last word in bass extension, transparency, or soundstaging, but they are a highly musical loudspeaker. Germane to the design parameters and price point which these micro-monitors were engineered within, Neat have achieved their goal of creating a high-end audiophile speaker, in a space-efficient MDF cabinet.
Neat Acoustics
www.neat.co.uk
Distributed in Canada by Kimbercan
www.kimbercan.com
647-688-4619
Neat Acoustics IOTA Loudspeakers
Price: $1,199 CAD