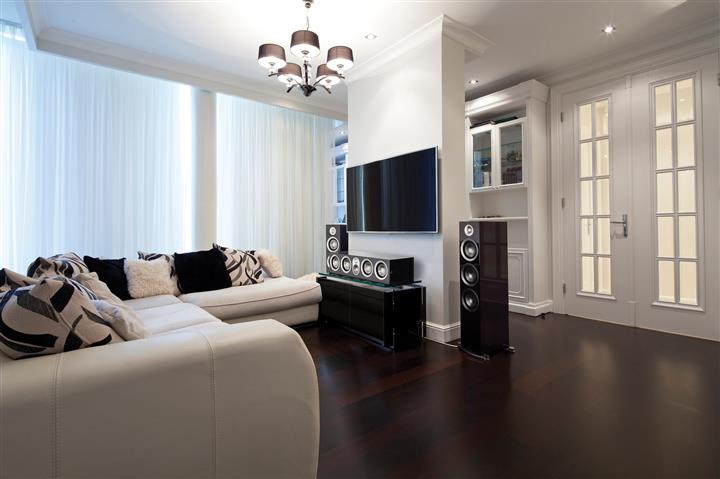 All this technology allows the Prestige Series to deliver a frequency response of plus or minus 2dB from 40 Hz to 20 kHz on axis and from 40 Hz to 17 kHz off axis. The sensitivity is at a relatively high 93 dB in a normal room and 90 dB in an anechoic chamber. This helps them deliver very satisfying sound pressure levels even with more modestly powered amplifiers. The recommended power range for amplifiers to be used with the 85F is from 15 to 350 watts, with the maximum recommended input power capped at 200 watts. This means that if you do use amplifiers that deliver over 200 watts RMS per channel, you have to use caution when turning up the volume as pushing the pedal to the metal here could damage the speakers. Despite their relatively compact dimensions, the 85F weighs in at 26 kilos (57 pounds) each, reflecting the superior build quality. The speakers stand 41 inches tall, have an 12.125-inch width and a 14.75-inch depth, with spiked feet, terminal cups and the grille installed.
There is no doubt that the Paradigm Prestige Series is bursting with spanking new technology and has been built to much higher tolerances than their predecessors. However they have big shoes to fill because they have descended from a line of highly regarded speakers and this venerable lineage would automatically send expectations sky high.
I tried the 85F with various speaker cables and ended up using the Analysis Plus Big Silver Oval which is a splendid cable and which had the flexibility to fit from under the very low placed speaker terminals. I tried the 85F with various amplifiers including the Bryston B4 ST, the Ayre V3, the Ars Sonum Filarmonia, and the Pass Labs XA100.8. They definitely sounded the best, especially in the mid-range and bass, with the XA100.8 so that is what I used to conduct the review.
I began the audition with Ana Caram's "Viola Fora de Moda", a Chesky production and a track with an incredible amount of subtleties and nuances. Most of the similarly priced speakers that I have auditioned in the past, struggled to accurately play this ultra challenging track. Not so, the 85F. It was able to reproduce most of the micro details with aplomb, albeit with not as much air between the instruments as I would like. I would have also liked the sonic reproduction to be a bit more relaxed and more grain free. Ana's voice was rendered with a good deal of presence and naturalness but with slightly less body compared to the best speakers in this price class.
To see how the 85F performed with male vocals I pulled out the hallowed "Hallelujah" by Leonard Cohen. This baritone maestro has a voice that you can feel in your gut if reproduced well. Through the 85F, Cohen came through surprisingly well. The voice emanated from dead center stage and was as stable and three-dimensional as I have ever heard it. The only fly in the ointment was a thin veil that slightly masked some of the incredible texture of Leonard Cohen's voice.
I then switched to the instrumental version of "I'm a fool to want you" by the Tsuyoshi Yamamoto Trio. This track has a real tour de force piano performance by Yamamoto. Being a piano player myself, I am very familiar with how a piano sounds at a live performance. I am also quite cognisant of how difficult it is for any speaker to reproduce piano notes accurately. Hitherto, the vast majority of speakers I have heard, that deliver a piano performance with all its intricate majesty intact, carried a five-figure price tag. The 85F did a commendable job of this given its price, but there was a subtle sonic metallic sheen over the plinking ivory notes and a slight lack of sparkle with piano notes from around middle C and higher.
Next up was L'Daddy by John Newton Howard and Friends, which is a Sheffield Lab production featuring a superb percussion performance. Here the 85F was really in its element. It reproduced the drums and other percussion instruments with the same slam and dynamism as some speakers at twice the price. Even at high volume levels generating an SPL of around 108dB (A weighted) these speakers performed with surprisingly little compression and distortion.
It was then time for my bass torture track, which is from the Happy Coat album featuring the great Ray Brown on double bass. I played "Willow Weep for Me". This track has Ray Brown as his best, robustly plucking the double bass as only he can. Most speakers find this track so difficult to handle; it has made some models even in the $9,000 dollar price range, lose some of their composure. The response from the 85F was interesting to say the least. At low volumes, it took the double bass in stride, but as I raised the sound pressure level to around 104 dB, there was a hint of distortion in the form of an audible rattle. The 85F handled the track better than most other similarly priced speakers I have auditioned, in that, it was able to maintain its composure at volume levels that bothered many other speakers at this price point.
The new technology used in the 85F tweeter has resulted in better dispersion, which has significantly improved the tonality and timbral accuracy. It has also widened the sweet spot and sound stage significantly. The 85F has one of the best implementations of an aluminum tweeter that I have heard from any speaker at this price point. Generally speaking, aluminum tweeters have a few inherent shortcomings, including harshness and stridency that tends to increases listening fatigue when listening to music for long periods of time. Kudos to the engineers at Paradigm for being able to control many of these deficiencies and bring the performance of their aluminum tweeter a bit closer to what one gets from the better implemented beryllium and silk dome tweeters which have a penchant for delivering music with superior delineation, smoothness and ease. Paradigm offers beryllium tweeters in its top-of-the-line Signature Collection.
The woofers in the 85F also represent good implementation of aluminum cones. They keep a lot of their composure even at relatively high volume levels and have the ability of delivering a fair amount of the dynamic contrast, fullness and tunefulness that you usually find in speakers equipped with carbon fibre cone woofers. Having said that, most speakers with carbon fibre woofers usually cost around twice as much as the 85F. At moderate volume levels the 85F is one of the best overall performers in its price range. However, at low volume levels, there is slightly more loss of detail, less meat on the bone, than some of the better speakers at this price. At high volume levels the 85F is at the top of its price class despite its predilection of losing a bit of its composure during challenging musical peaks. The unusually smooth blending of the various driver units makes it very apparent that the 85F has superior quality crossover networks.
If your listening repertoire contains a lot of deep bass organ music, it would behove you to mate the 85F to one or two high quality subwoofers that are fast enough to keep up with these speakers. When I played Lindenkirche Berlin by Gerhard Oppelt, the 85F rolled off the lowest octave but when mated to a pair of JL Audio f112 subs, the combination delivered this organ-heavy track without truncating the notes below 40Hz, thus telling the whole sonic story. Paradigm offers a stable of world class subwoofers and if you are an organ music aficionado, you will not be hard-pressed for choice when selecting a Paradigm sub that will dance well with the 85F.
Aesthetically I could not fault the 85F. It is easily one of the most sleek and elegant speakers you can buy in this price category and the wife acceptance is likely to be very high. I find it hard to imagine any décor that they would not just complement but actually enhance.
With the Prestige Series, Paradigm has optimized the advantages that it has over many other speaker manufacturers – the ability to design, engineer, fabricate, assemble and measure all of their speakers in-house. This allows them to achieve significantly better quality control, tighter tolerances and offer customers more reliability across the board.
If you are in the market for a pair of speakers in the $4,500 range and if aesthetics as well as build quality matter to you as much as sound quality, you would be well advised to give the Paradigm Prestige 85F a serious audition. Chances are good, you will be seduced into make these sonic babies a treasured part of your music system!
Paradigm
www.paradigm.com
(905) 696-2868
Paradigm Prestige 85F Floor Standing Speakers
Price: $2,149 CDN / each (Walnut, Black Walnut and Piano Black); $2,349 CDN / each (Midnight Cherry)