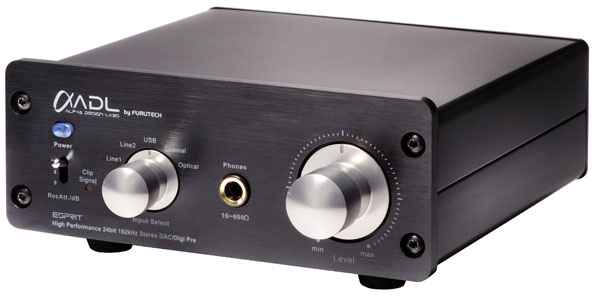 Furutech is an audio-video product manufacturing company that is based out of Tokyo, Japan.  The company was founded in 1988 and produces audio-video cables, OEM parts and accessories for both home and car audio.  Alpha Design Labs (ADL) is Furutech's entry-level line, aimed at producing innovative products that are also affordable to a broader set of consumers.  Within the ADL stable there are four different product lines: Headphones; Headphone Amplifiers; USB-DACs and; cables.  The new Esprit DAC and ADC digital preamplifier falls within the ADL USB-DAC line of products.
I received the Esprit ($899) from AuDIYo Inc., the Canadian distributor for Furutech products and DIY (do-it-yourself) parts and products.  Simon Au of AuDIYo Inc. was kind enough to also provide a few samples of ADL's cable products to be used with the Esprit; these were the Formula 2 USB cable (1.2 metre: $75) and the Alpha Line 2 Interconnect (1 metre: $185).  In addition, I was very excited to receive a prototype of ADL's first-ever headphone model – the ADL H118.  It's always nice to get new products in but it is a real privilege to get an opportunity to try out a near-production ready prototype.  The production version of this new ADL H118 headphone from Furutech is expected to be out by mid April, with a MSRP of $299 – stay tuned to CANADA HiFi for a review in the near future.
The Esprit is intended to raise the performance bar on ADL's current GT40, which was reviewed in the Dec/Jan 2010/2011 issue of CANADA HiFi.   To quote Furutech: "The GT40 was the stripped-down sports racer of the group and the Esprit is a faster, more luxurious GT model."  The Esprit incorporates higher quality parts, offers increased capabilities and a slightly different feature set than the GT40.  There is no denying that the Esprit is a feature-rich product, providing DAC (digital-to-analog conversion) and ADC (analog-to-digital conversion) capabilities along with the ability to serve as a stand-alone active preamplifier and/or headphone amplifier.   There are three digital inputs (USB and S/PDIF via optical and coaxial) plus two pairs of RCA analog inputs (line 1 and 2).  The output is provided via a pair of analog RCA jacks or via digital S/PDIF optical out, as well as through the single USB jack (the S/PDIF optical out only functions with USB sources and supports multi-channel formats like AC3/DTS).  Those familiar with the current GT40 will note that the Esprit lacks an integrated phonostage. Yes, the Esprit drops the onboard phonostage but in turn gains the added flexibility of being a full-function preamplifier.  This means that by simply adding a pair of active monitors the Esprit can serve as the main hub of a computer based audio setup.   The Esprit also sports a front 6.3mm headphone jack, making it a headphone amplifier but a clear step up in performance over the GT40 with higher output power and the ability to drive a broader spectrum of headphones – anywhere between 16 and 600 ohms.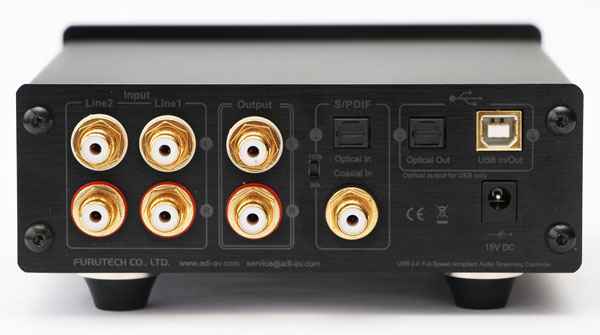 Getting a little more technical – the DAC within the Esprit is a 24-bit/192kHz Wolfson WM8716 chip and ADC operation is via a 24-bit/192kHz Circus Logic CS5361 chip.  Though playback is possible up to these resolutions via S/PDIF, both USB playback and recording are limited to 24-bit/96kHz.  Worth noting is that on the back of the Esprit there is a mini-switch to optimize performance of the digital S/PDIF inputs for input sampling rates; there are two positions 96kHz or 192kHz.  THD for digital inputs is < 0.05% and < 0.01% for analog line inputs.  The frequency response is stated to be 20Hz to 20KHz (+/- 0.5dB), with a signal-to-noise ratio of -95dB.  Maximum line output of the preamplifier section is 7.5 Vrms at < 1% THD, which gives it enough line output to control just about any power amplifier.  On the headphone side, the specified output levels are: 156mW (16ohm), 224mW (32ohm), 241mW (56ohm), 130mW (300ohm), 76mW (600ohm) – all quoted at 1 kHz/1% THD with a > 120dB dynamic range.
The Esprit is quite compact, having dimensions of 150mm (W) x 141mm (D) X 57mm (H).  Weight comes in at a respectable 900g.  Though not exotic in appearance, the Esprit has a look of quality, taking on a more professional and purposeful image.  It is available in any colour you like – as long as that's black.  The front faceplate and body design is sturdy but doesn't cross over into extravagance.  Wrapping my knuckles on the body demonstrated a sturdy build with no flex or rattles.  Fit and finish is commendable and all switches and knobs are both robust and precise in feel – the attenuator is top notch.  The backside of the Esprit reveals some serious bling in terms of RCA sockets – no worry here with using the tightest fitting interconnects.  Overall, the Esprit imbues a feeling of confidence with just one small caveat; the apparently run-of-the-mill wall-wart power supply.  However, it turns out that there is more here than meets the eye, as this power supply was specifically chosen for the Esprit and provides higher output and performance than the one supplied with the GT40.  In fact, the Esprit has dual external power supplies: 1) a 5V DC supply from a bus-powered USB chip for optical output only and; 2) the DC 15V / 800mA / 12W AC/DC switching plug-type adapter for high resolution audio.
I began using the Esprit as a headphone amplifier, pairing it with my Focal Spirit One headphones (reviewed in the Feb/Mar 2013 issue) as well as the prototype ADL H118 headphones.  In addition, since I have a pair of Shure SE535 IEM's in for review, I tried them out with the Esprit, as well.  The first aspect of the Esprit that caught my attention was its utter silence – it was so quiet, whether connected to my computer or in my main system.  The result of this silence was that it was much easier to listen into the details – as if the instruments and voices were against a black backdrop.  Even when using the Shure IEM with its low 16 ohm impendence that can present a challenge for headphone amplifiers – there was no detectable noise up to even half on the volume pot; a position never reached in practice, as the Esprit drove them admirably at just a 1/4 way up on the dial.  Speaking further about power – the 32 ohm / 104 dB sensitivity Focal Spirit One's ran well enough at 3/8 position on the attenuator, while the 68 ohm / 98 dB sensitivity ADL H118 headphones needed no more than 1/2 way up on the volume, when fed by Squeezebox Touch in my main system.  With my computer-based setup, even lower positions were required on the Esprit to adequately drive these headphones.  With most headphones – the Esprit will have power to spare.
As a headphone amplifier, another characteristic that was evident in the Esprit was its smoothness, combined with a measure of sweetness in the treble.  The midrange had complexity and fullness, neither too full nor too thin.  Bass was full and dynamic with good speed but I did notice that the Esprit gave up just a bit in bass punch and slam, made more evident on a couple of Metric's albums – Grow Up & Blow Away and Live it Out.  Music with the Esprit favoured liquidity over incisiveness and therefore, the Esprit never sounded dry or harsh, with detail delivered in a natural manner.  I'd also say that the Esprit surrendered just a little in edge definition to deliver a consistently pleasant and non-fatiguing presentation.  The soundstage through the Esprit had nice depth and breadth with layering clearly perceptible, making for pleasurable and engaged listening.  Using the prototype ADL H118 and listening to Esperanza Spalding's track Short & Sweet from her album Chamber Music Society, piano notes carried a sweet delicacy and glow.  The light tapping of drumsticks could be heard faintly at the beginning of this track.  The opening violin was delivered authentically, revealing the natural resonance of the panels and the textured sound of the bow drawing across the stings.  Esperanza's voice was smooth with a lovely feminine pitch.  In the lower regions, the bass was quite impressive in its fullness while still exposing the articulation of the stings.  The tapping of the cymbal had a lovely crispness and metallic lustre.  Next I tried my Focal Spirit One headphones with this track and though the inherent smoothness of the Esprit was still evident – the Focal provided me with a slightly different result than the ADL H118.  The Focal Spirit One was a little less revealing with a more recessed midrange but still smooth and sweet.  The Spirit One demonstrated that the Esprit could provide wonderful control and extension in bass frequencies.  I also tried the Shure SE535 IEM and was pleased to get incredible detail retrieval through the Esprit, delivered in a natural and refined manner.  As a headphone amplifier, the Esprit provided impressive results.
Next I used the Esprit as a DAC in my main system, fed by my Squeezebox Touch into my Bryston BP6 / 4B-SST2 combo and then out to my Audio Physic Sitara 25 loudspeakers, all tied together with Kimber Kable loom.  I've been listening quite a bit to Anne Bisson, an up-and-coming Canadian artist, and since I've been appreciating her album Blue Mind in hi-res FLAC 24/96, I decided to put it to good use.  The first track is beautiful, yet simple, with just a sole piano and Anne's graceful voice.  The Esprit brought forth Anne's vocals with clarity and detail – the texture, intonations and expressions of her voice intact; her breaths lifelike against a black background.  The piano's notes and reverberation laid out the boundaries of the soundstage.  It came across with rich tonal colour, while the key strokes were portrayed with both delicacy and believable weight and dynamics.  Moving to the title track Blue Mind, the thump of the bass drum grounded the song.  The bass had body and good depth with string plucks apparent but just a bit softened.  A snare drum took its place at the back of the soundstage, just behind the front wall of my room.  The ride cymbal shimmer was feathered and light, while a couple of sharper cymbal strikes demonstrated a lively nature.  Switching over to my reference Musical Fidelity M1-DAC, what I received was a more relaxed rendition of this track with a noticeably larger soundstage both in width and depth.  The bass drum was softer in the mix and less extended and tonal colours were not as vibrant; however, the presentation was more ethereal, having a softer touch and giving the impression of a larger space with my speakers vanishing more effectively.
Continuing with the Esprit as a DAC in my main system I put on the Esperanza Spalding track Short & Sweet that I mentioned earlier – listening to it both in ALAC 16/44.1 and in hi-res FLAC 24/96.  The bass was warm and full – plucking of the strings carried their intrinsic rasp and squeak.  The tap of a drum across the soundstage carried both size and weight.  The recording was presented in an intimate manner with the rear of the soundstage aligned with the front wall of my listening room, just about three feet behind the speakers.  Cymbal strikes were clean and pure with realistic brightness but having a gentle smoothness. The piano keys were depicted with warmth and sparkle.  Esperanza's voice was projected as both smooth and sweet and with lifelike dimension.  In comparison, my M1-DAC provided more air with a larger soundstage – the bass now sitting out farther past the front wall.  The sense of the recording space increased.  Skin resonance on drum strikes had more sustain and the brushes on the drums were more crisp and lifelike.  Drums were more gong-like given the greater sustain but having a little less impact and weight than with the Esprit.  On piano keys the M1-DAC had a lighter touch but preserved more glow and sustain.   I was left with the impression that the Esprit as a DAC serves to provide a smooth, tonally rich and natural outcome with wonderful bass extension that overall is more intimate – a more in-the-room than beyond-the-room presentation.  Focus is given to the instruments and voices with less air and room ambiance retrieval.  Performance elements tend to take their place closer to the listener.  Sonics are immediate and palpable with less focus on sustain, and are liquid with no dryness or etch.
Using the Esprit as a stand-alone preamplifier, direct into my 4B-SST2 amplifier, I found that resolution of detail was noticeably increased over my reference setup that utilizes my Bryston BP6 preamp between my DAC and amplifier.  The elimination of the additional preamplifier and interconnects allowed the Esprit to tap into yet another level of micro detail.  That said, what I was more surprised to find was that the direct connection of the Esprit to my amplifier resulted in a smaller soundstage, with some of the ambient cues and air now missing – the background was blacker but gone was the larger perceived space.  How could this be?  My guess is that it might be something to do with greater synergy between my Bryston BP6 preamplifier over the ADL Esprit when paired with my Bryston 4B-SST2 amplifier.  Or perhaps the additional set of interconnects and preamplifier in the chain added a level of noise/reverb that actually provided an impression of a larger soundstage – defining a space beyond the actual elements – i.e. the voices and instruments.  Regardless, the Esprit held its own as a high-performance preamplifier in its own right with the capability to control five sources i.e. three digital and two analog, making it a viable alternative to consider.  I should note that the primary shortcoming of the Esprit as a preamplifier would be that it can't be remotely operated – you just have to get off your butt to adjust the volume or the source – a good thing for couch potatoes, like myself.
Since the Esprit is also an ADC, analog-to-digital converter, I thought I'd put it through its paces by trying to convert tracks from vinyl over to hi-res digital files.  The instructions indicated that with Mac computers no driver is necessary – essentially plug-and-play but with Windows PC a driver is required – unfortunately for me, I have a Windows Vista PC.  Hooking up the Esprit DAC using the lovely ADL Formula 2 USB cable that I was shipped (the Esprit comes with a basic USB cable in the box) my computer found the device but was unable to install it.  I went to the ADL-av.com site as indicated in the manual and downloaded the ADL USB Driver.rar file, though this didn't help, at first.  The FAQ section of the ADL website told me I needed a WinZip /WinRAR application to un-zip the driver.  With this, I finally got the Esprit installed, only to discover that I needed a recording application to use it.  Fortunately there is some freeware out there – and I downloaded Audacity.  I hooked up my Goldring GR1.2 turntable to my Pro-Ject PhonoBox SE II phonostage and then to the analog inputs of the Esprit, using the superbly built ADL Alpha Line 2 Interconnects that AuDIYo Inc. had provided.  I recorded a couple tracks from Anne Bisson's Blue Mind album in 24/96 resolution – with the recording attenuation switch on the Esprit set to -12 dB (-6 and 0 dB settings are available for lower output phonostages).  Once I figured out how to use Audacity – it worked like a charm.  What were the results?  Well, I have to say, they were amazing.  The recorded LP version, though having some of the vinyl's surface noise and occasional ticks, sounded superior to my ALAC 16/44.1 CD-rip version of the recording in terms of soundstage size, smoothness, relaxed composure and warmth.  Comparing this hi-res digitized version of the LP to the professional hi-res 24/96 digital version, I found the two files very similar in overall nature, though the pro-version was overall better in terms of dynamics and noise floor.  I also compared direct LP playback to this digitized version.  They sounded very similar though the digitized version sounded a touch lighter, cleaner but accentuated sibilants – it had taken on some digital characteristics.  I would say that some of the glory of the vinyl was lost in translation but overall, I'd call it a success and a great opportunity for those with vinyl collections to be able to access their treasures digitally.
My time with the Esprit DAC and ADC preamplifier has been wonderful.  Not only has it been a learning experience but also a very enjoyable listening experience.  It's great to have a chance to experiment with a high-performance quality product that delivers a rich feature set, all at an affordable price.  I believe the Esprit can serve to anchor a high-end computer/desktop setup or even be used as a simple standalone preamplifier / DAC in a mid-to-high-priced dedicated music system.  The Esprit also provides a great opportunity to get more out of high performance headphones or digitize an LP or tape collection.  Furutech under their ADL line has produced a winner with the Esprit!
Alpha Design Labs (by Furutech)
www.adl-av.com
Distributed in Canada by AuDIYo Inc.
www.audiyo.com
416-704-0105
ADL Esprit DAC and Digital Preamplifier
Price: $899 CAD