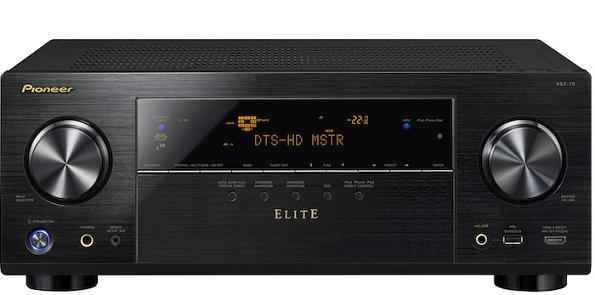 Pioneer Electronics has just annouced two new Elite audio video receivers (AVR) –  the Elite VSX-43 7.1-channel receiver and VSX-70 7.2-channel receiver.   The VSX-43 and VSX-70 AVRs allow high-resolution file format playback, multi-zone and multi-source management, custom installation features, and 4K Ultra HD compatibility.  Both AVRs can also be controlled with Pioneer's proprietary ControlApp and iControlAV2013 App.
• The VSX-43 has additional setup flexibility and will run in true 7.1 or 5.1-channel.  In 5.1, it offers two extra channels powered channels for Zone 2 – allowing simultaneous playback of two different sources – one to each zone.
• The VSX-70 offers up to three zones – a main zone, a powered Zone 2 and a third HDZone (additional HDMI source to a third room). The HDZone can also be controlled through Pioneer's proprietary iControlAV2013 App. With eight HDMI inputs and highly configurable 7.1-channels, the VSX-70 is ideal for consumers and custom installers who want maximum connection flexibility, eliminating the need to set up separate receivers in each room.
• For advanced home theater control, the VSX-70 offers custom installation features such as: full two-way RS-232-over-IP control and certified Crestron and Control4 remote control capability.
• The VSX-43 is compatible with Pioneer's ControlApp and offers management of audio settings and modes, inputs and streaming content. The VSX-70 works with the new iControlAV2013 App, which has been completely redesigned for 2013, featuring a new user interface and easier to navigate feature menu1, as well as a dedicated "ECO MANAGER" page for energy efficient settings. Both apps feature PUSH PLAYER, Pioneer's new music streaming setting that enables users to access the music libraries stored on their devices and create playlists that can be streamed wirelessly to the receiver, all from within the app2. ControlApp and iControlAV2013 are available free on the App Store (www.AppStore.com) or Google Play (www.GooglePlay.com).
• The VSX-70 also features Pioneer's AVNavigator (now available for Windows® on the bundled CD-ROM, for Mac on the Pioneer website and for iPad on the App Store) a two-way interactive owner's manual that walks users through the entire set up process of their receiver.
• The new 2013 Elite models feature ECO Management functions to reduce power consumption
• The Elite VSX-43 and VSX-70 offer playback of WAV, MP3, WMA, AAC and FLAC files from a networked computer or plugged in drive via the front USB port. For 2013, Pioneer has built in playback of high-resolution AIFF and Apple Lossless files as well as Gapless playback for AIFF, Apple Lossless, WAV and FLAC files. Offering a diversified listening experience, the receivers have access to today's most popular Internet radio music services including PANDORA and vTuner. Both receivers are also Windows 8 certified and feature DLNA 1.5 certification for music content playback from a networked DLNA server or DLNA application running on a Windows PC, Mac, or smartphone connected on a home network, either through a wired Ethernet connection or optional wireless Wi-Fi adapter (AS-WL300; available for use with VSX-70).
 • Both receivers can pass through 4K video signals to compatible displays with the VSX-70 having the ability to upscale analog and HDMI video signals for 4K Ultra HD resolution when used with the latest 4K displays.
 • Smartphone Content – Elite model receivers allow iPhone, iPad and iPod touch users to enjoy playback of audio content stored on their devices as well as the display of album art and metadata when connected to a television monitor. Users can take advantage of the convenience of Apple's AirPlay3, allowing users to stream their iTunes music whether from Mac or PC, as well as music stored on their iPhone, iPad, or iPod touch.
 • Further integrating the smartphone, Mobile High Definition Link (MHL) connectivity has been built into each receiver. The front HDMI input doubles as an MHL 2.0 input for connection of an MHL equipped Android™ smartphone or tablet to play back audio and video content (including high-definition 3D content) as well as faster phone charging. Android users with compatible HTC® smartphones (including the new HTC One Phone) have the convenience of HTC Connect4, which enables direct music streaming to the VSX-43 or VSX-70.
 The Pioneer Elite VSX-43 and VSX-70 receivers are now available at the following respective MSRP: $525 and $750.  Look for more details at: www.pioneerelectronics.ca.