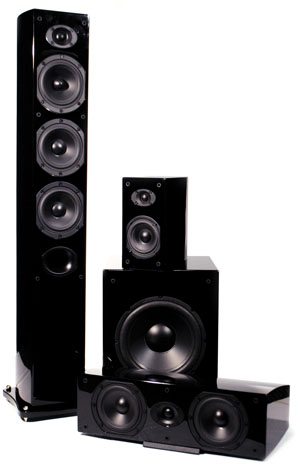 Erikson Consumer, the Canadian distributor of JBL among other brands, has just announced the introduction of the JBL Nightlife Series, a lineup of stylish yet performance-oriented loudspeakers. Complementing its superlative performance, the JBL Nightlife Series models have an elegant, refined appearance, and are exceptionally crafted in a stunning high-gloss finish.
The Nightlife Series includes four models:
NL300:  Triple 5" floor-standing loudspeaker for $799/pr
The JBL NL300 tower loudspeaker is the perfect main channel speaker for those who possess a contemporary taste in décor and demand impressive performance in both home theater and music applications.  Capable of powerful output for dynamic home theater effects, it is also sophisticated and controlled enough for an audiophile music experience.
NL200:  Compact, 2-way, 4" bookshelf loudspeaker for $299/pr
The versatile NL200 bookshelf loudspeaker is strong and dynamic enough to be used as a main channel but they are also timbre matched to serve as the perfect surround channels in a system anchored by NL300 towers.  Whether you're adding speakers to a second room, using them as surrounds, or as your main speakers, the NL200 provides performance that belies its convenient size.
NL100:  Dual 5" timbre matched center channel for $249.95/ea
Add the NL100 center channel to your JBL speaker system to create a perfectly timbre matched home theater system.  The center channel is your most important speaker in surround sound so if you're a movie lover the NL100 is the ideal center channel to bring your movies or concerts to life.
NL150:  10", 150 watt subwoofer for $499.95
If you're looking for the type of bass that plumbs the depths of human hearing and will bring the explosive movie effects and musical impact that you crave, look no further than the 10", 150 watt NL150.  That's not a real earthquake you're feeling, that's the NL150 flexing its acoustic muscles.
Exclusive JBL Technologies Deliver Sonic Accuracy and Musical Realism
1" Precision Soft Dome tweeter and EOS Waveguide
The tweeter features a 1" soft dome with high sensitivity and fast transient response for accurate high-frequency reproduction. The tweeter integrates with an Elliptical Oblate Spheroidal (EOS) waveguide, giving it smooth integration with the midrange and a wide, consistent listening window. The result is an incredibly wide stereo image across a huge listening area.
PolyBass Drivers
Paper cones, known to possess the most natural sound of all driver materials, are reinforced with a proprietary copolymer that provides additional stiffness and damping to the cone surface. This provides the listener with tighter bass and extended low frequencies without breakup and distortion.
FreeFlow Port Architecture
This type of port extends low frequency response by coupling internal air motion to a computer-designed aperture with a flared shape, allowing maximum air flow without audible port noise.  The result is room filling bass from an attractive, slim speaker.
SSP (STRAIGHT-LINE SIGNAL PATH) Crossover networks.
This crossover design provides the shortest route from the input terminals to the transducers, thus minimizing signal loss and noise.  This ensures that a strong, precise, and unaltered signal arrives at each driver.
For more info, please visit www.jbl.com.