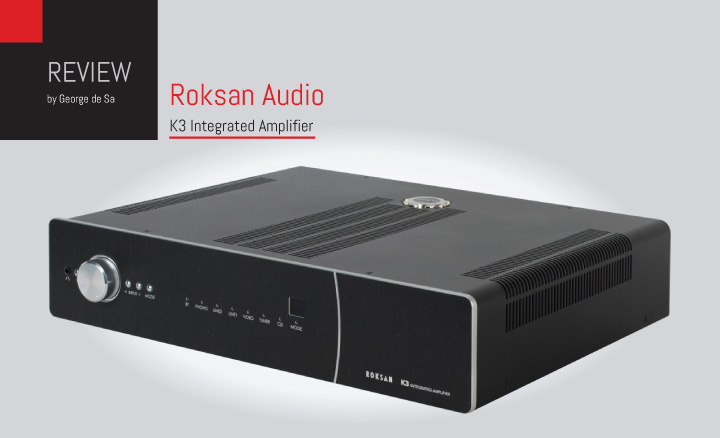 Roksan Audio Ltd. was founded over 30 years ago in London, England. The company's name was derived from 'Roxana', the daughter of Persian King Darius, as opposed to "Roxanne", the catchy song by The Police. I know, I know, you're now humming it – sorry. Getting back to that Persian influence; in the case of Roksan, it goes beyond the company name and carries on through to product styling as well as some of the model names. Why this Persian connection? Turns out that the original British founders of Roksan were themselves of Persian decent and hence, the company understandably bares this heritage. Since the company's founding, Roksan has changed a few hands, most recently in 2016 the company was acquired by Monitor Audio. Today, Roksan produces a full gamut of audio products including: turntables, phonostages, cartridges, CD players, amplifiers (pre, power and integrated) as well as cables and accessories. Currently, Roksan's lineup of integrated amplifiers includes three models, each at a different tier with the most affordable being the K3 integrated amplifier ($2,000 US).
The K3 integrated amplifier is the first Roksan product that I've had a chance to review, though I've appreciated hearing a number of Roksan products over the years at dealers and audio shows. Though technically being Roksan's entry-level integrated, the K3 sure doesn't come across as entry-level anything. Lifting its 14 kg / 31 lb body will immediately convince you that the K3 means business. This integrated amplifier feels impressively solid, like a chunk off the K3 (Broad Peak) mountain, where I expect it takes its name from. The rock-like metaphor continues to apply to the K3's 1/4-inch aluminum faceplate, which comes across almost as if honed from stone, given its texture. You'll find a neat arrangement of chrome buttons on this face, which give a reassuring click when depressed. The volume control looks the part but doesn't feel as robust as you would expect, given the rest of the K3 build. Most impressive are the K3's connectivity features; offering 5 line level RCA inputs, 1 moving magnet phono input, 1 Bluetooth input, Home Theatre by-pass, five-way shrouded left/right speaker binding posts, stereo preamp output and a front 3.5mm headphone jack. A compact, yet nicely styled remote is included, though it lacks backlighting for in-the-dark listening.
On the specification side, the K3 has a very impressive class-leading 140 Watt-per-channel / 8 Ohm power rating, doubling to 220 Wpc into 4 Ohms. No doubt the K3's oversized 550 VA ultra-low noise toroidal transformer and 5 regulated power rails are to thank for the generous power capability. Distortion is rated very low at under 0.005% (1 kHz / 8 Ohm), which is just amazing for an integrated amplifier at this price point.
I evaluated the Roksan K3 using a MOON by Simaudio 280D DAC / digital player, streaming music from my PC and Tidal HiFi. The analog source was my resident VPI Scout turntable with a Dynavector 10×5 MC cartridge. Nordost Heimdall 2 interconnects and power cord with Zavfino (by 1877 Phono) Prima-OCC speaker cables were used, along with a Nordost QB8 powerblock and AC Sort Kones. The primary speakers for this evaluation were my Monitor Audio Silver 6G 300 towers, borrowed from my home-theatre system.
I started my listening tests by evaluating the K3, with my MOON 280D DAC/streamer connected via the analog RCA jacks. Using Tidal HiFi, I dialed up "Ho Hey" from the Lumineers self-titled album. The Roksan K3, playing through the Monitor Audio Silver 300 loudspeakers demonstrated wonderful speed, agility and dynamics. There was punch and vibe, without any harshness, even at high volume levels. The K3 / Silver 300 pairing was able to clearly relate the echo in the bellows of the back-up vocals. Imaging was well defined with appreciable depth and breadth. I couldn't help but sing along; fortunately my sound-proofed room contained my hound-like hollering.
Next, I dialed in Lake Street Dive's "I Want You Back" from Fun Machine via Tidal HiFi. The opening plucks of the bass resonated viscerally within my room, having very impressive depth and weight. As Rachel Price began to sing, I was sold on the sultry midrange that the K3 was able to deliver via the Monitor Audio Silver 300 speakers. Scale was no problem for the K3, in fact, it's one of this amplifier's strengths, with power to spare. Delivery was tight and snappy paired with a dollop of richness and warmth. Soundstaging was well handled with elements well defined and separated. I was taken aback by the casting of the back-up vocals well to the left and right of the speakers.