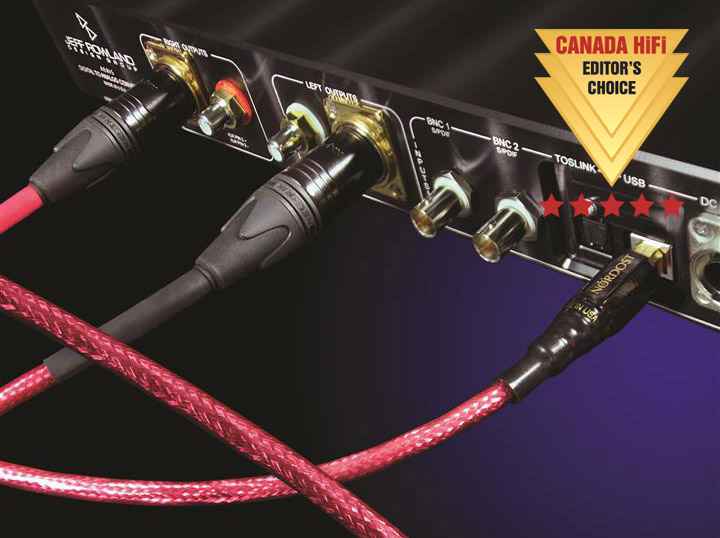 Heimdall (properly pronounced as "HYM-doll") is the Old Norse god who vigilantly guards Asgard, the heavenly realm of the mighty Norse gods, including Odin and Thor.  If you've seen the Marvel Comics Thor movie series, you'll recall Heimdall as the austere character that stands guard on the rainbow bridge Bifröst.  What does this have to do with Nordost's Heimdall 2 Cables, other than the name?  Stay tuned, I'll come back to it.
Moving from mythology to fact, Nordost has been around for over twenty years, having its start in Massachusetts, U.S.A. back in 1991.  We recently did a special feature article on Nordost and its products, which was published in our June/July 2014 issue.  If you haven't read it, you can easily find it by clicking the Nordost button in the above site menu.
Nordost produces four series of cable products, those being: Leif, Norse 2, Valhalla Reference and their flagship, the Odin Supreme Reference series.   In addition, there are also two other product families within their stable: the Sort Systems vibration control product line the QRT Power product line.
I've been experimenting with a few different cables in my system over the past couple years and though I've heard Nordost cables in other systems many times, I never had a chance to try them in my own system.  This summer, I was looking to upgrade my two-channel reference music system's entire cable loom and decided to try one of the lines within Nordost's Norse 2 Series, specifically the Heimdall 2.  I'll share my experiences with you but first, let me introduce you to the Nordost Norse 2 Series.
Norse 2 Series
The Norse 2 series sits second up from Nordost's entry-level Leif series and in turn, contains three cable lines: Heimdall 2, Frey 2 and Tyr 2, in ascending order, in terms of price and performance. Norse 2 was introduced in January 2012 and incorporates much of the knowledge and innovation that Nordost acquired in developing their Valhalla Reference and Odin flagship cable series.  Key to the Norse 2 series performance advantage is its proprietary Micro Mono-Filament construction; pioneered in the Valhalla Reference series.
Micro Mono-Filament Construction creates a virtual air dielectric complete with an elegantly engineered suspension system.  Why is this beneficial?  The best dielectric (least impinging) is a pure vacuum; the next is air – both virtually impossible to achieve in any practical sense.  Teflon, the trademarked name for FEP (Fluorinated Ethylene Propylene) is the next best dielectric.  Micro Mono Filament Technology involves winding a FEP thread around the conductor, which is then encased in an outer FEP jacket.  This results in the conductor contacting the FEP only 20% of the time, while it remains in just air for the other 80%; a near perfect situation that dramatically reduces any negative effects on signal transfer.
The Micro Mono-Filament FEP Construction of Norse 2 is combined with very high-quality materials; in this case, solid-core conductors of Oxygen Free Copper (OFC) with 99.99999% purity and 60µm silver-plating, to ensure ultra-fast, low-loss signal transfer.  In addition, Nordost uses optimized conductor dimensions and asymmetrical grounding topology to maximize the performance of Norse 2 cables.
These key Norse 2 features apply to all three cable lines within the series, namely: Heimdall 2, Frey 2 and Tyr 2.  Heimdall 2, though the lowest line within Norse 2, has the broadest set of product offerings, including: analog interconnects, digital interconnects, speaker cables, headphone cables, an iKable, tonearm cables and power cords.  For the purposes of this review Nordost provided me with a complete loom of their Heimdall 2 cables that included: a single pair of 4m speaker cables with banana plugs ($2,709.99/pair), a couple sets of 1m RCA & XLR interconnects ($939.99/pair), a 1.5m Heimdall 2 Digital S/PDIF BNC/RCA interconnect ($889.99/each), a couple 2m power cords ($839.99/each) as well as a single 3m power cord ($1,049.99/each) to run between a Nordost QRT QBASE QB8 power distribution unit ($1,399.99/each) to the wall-plug of the dedicated circuit in my listening room.
The Audition:
With all these cables at my disposal, where was the best place to start?  As mentioned in the aforementioned Nordost section on our website, Nordost suggests that the best place to start upgrading cables is at the start of the power chain and then following the signal path.  Simply put, this means beginning with the power cables then power distribution, followed by interconnects before ending off with the speaker cables.  According to Nordost, AC power distribution and grounding provides the greatest impact on performance.  I followed this approach in implementing the Heimdall 2 cables in my system.  A point to note is that Nordost burnt in their cables for me at the factory, so with a little warm-up time, I was good to go.
My reference system includes the following: Simaudio Neo 350p preamplifier (review forthcoming); Bryston 4B-SST2 amplifier; Rega Apollo CDP; MS-Vista HP PC paired to a Squeeze Box Touch; Furutech ADL Esprit DAC; Goldring GR1.2 turntable with Pro-Ject Phonobox II SE and quadral Aurum Montan VIII loudspeakers.  Cables include: Kimber Kable PBJ & Hero RCA interconnects; Kimber Kable 8TC and 4PR speaker cables and; a DH Labs D-750 digital-coax interconnect.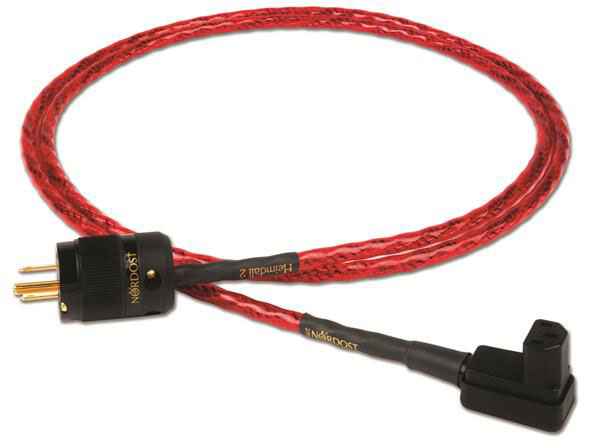 Power Cables:
We are all too familiar with the garden hose thick, heavy, inflexible, tech-flex covered variety of aftermarket power cables that audiophiles seem drawn to; I myself am not immune to associating bigger (in this case thicker) with better.  The Nordost Heimdall 2 power cord; however, takes a different path.  Heimdall 2 power cords are slender and limber specimens that have a rather futuristic look – I could easily picture them in a sci-fi flick (prop departments take note!).  As well, their vibrant red colour, smooth skin and slender profile give them what I would refer to as (and I might be alone here) an almost edible candy-like appeal – those with young children or a sweet tooth, beware.  The cables are terminated with substantial black plastic plugs that have visible brass screws – reminiscent of commercial grade plugs – though a step above in apparent refinement.  I found that the plugs fit very well, which gave me confidence in their contact.  Along with the standard Norse 2 features mentioned above (i.e. Micro Mono-Filament FEP Construction & solid-core, 99.99999% OFC with 60µm silver-plating) the power cables have the following specifications: 3 x 16 AWG conductors; 10pF/ft capacitance; 4.0 Ohms per 1000ft/304M DC resistance; 15 Amp – power rating (termination dependent) and; a signal propagation delay of 85% light speed.
Following the suggested implementation strategy, mentioned above, I first inserted the power cables, replacing the power cord on my CDP, preamp and amp.  I held-off on the QB8 power distribution bar, instead plugging the power cords directly to my dedicated circuit wall sockets.  The result, quite frankly, was a surprise that had me riveted.  Spatial cues were enhanced, along with micro dynamics.  Before me was a larger soundstage with increased image size, along with richer tonal colour and complexity.  Listening to Shelby Lynne's sultry and impressively recorded album Just A Little Lovin' served to provide me with deeper insight.  The title track on this album is amazing and I've become very familiar with its subtleties.  The opening kick-drum always gets me and with the Heimdall 2 power cables in place, the dynamic impact, though having a familiar magnitude, was clearly faster on the uptake, bringing with it a greater sense of the drum skin and making the experience that much more real.  From another perspective, the opening cymbal strike came across with greater extension but also seemed to jump out from what I perceived as a quieter background.  Listening to the tapping of the hi-hat, I was taken aback by the abundance of harmonic complexity; noticeably more consistency to its timely clash.  Shelby's vocal style is enthralling and with the Heimdall 2 power cords even more so.  There was a lovely smoothness to her vocalizations and with it came greater warmth, without any compromise in detail.  When an instrument is rendered with more intricacy, it gains expression and this is exactly what I heard with the bass guitar, while the lead guitar also revealed an extra level of micro-detail, increasing my engagement.  All of this sat within an imaged venue that was now larger, more open – gaining depth and even height, rising up in the upper corners.