I'm no stranger to the Audio Physic brand.  From 2012, their Sitara 25 floorstanding loudspeaker has served as my primary reference speaker.  The Sitara 25 is the smallest floorstanding loudspeaker within the Audio Physic High-End Line and was my introduction to the company; an audio product manufacturer from the quaint town of Brilon, Germany.  Upon hearing the Sitara 25, I was smitten and amazed at their capabilities.  These speakers incorporate innovative engineering, high quality materials and exacting workmanship to provide a high-level of performance combined with musicality.  I recommend reading my review of the Audio Physic Sitara 25 on the CANADA HiFi website at novo.press/audio-physic-sitara-25-loudspeakers.
Audio Physic has been honing their skills and building on their expertise for more than 25 years.  Their products have been steadily refined, while embracing the company motto, "no loss of fine detail".  In 2013, Audio Physic introduced an all new loudspeaker line, called the Classic Line.  The Classic Line is a successor and replacement of the company's successful Yara line.  However, the Classic Line is not simply another evolutionary step but rather, a revolutionary leap from something more traditional to progressive.  It incorporates innovative new technologies, construction methods and unconventional materials, such as glass cabinet panels and ventilated enclosures .  And, if all this wasn't enough, with the Classic Line, Audio Physic has provided an avenue for personal expression by way of all-new aesthetic options – which includes a modernistic colour palette that should make any interior designer happy.  As well, the new Classic Line models unite clean architectural lines with svelte stature that are both functional and complementary to an urbane décor.
Within the Classic Line there are seven models, including the: Classic Compact bookshelf, Classic On-Wall, Classic Centre, Classic 10, Classic 20, Classic 30, as well as a Luna subwoofer.  With this extensive model line-up, Audio Physic positions the Classic Line to satisfy the needs of stereo purists, as well as the functional necessities of multi-channel / surround-sound applications.  All of the Classic Line models (apart from the subwoofer) utilize the same new 1.2" soft-dome tweeter, while midrange and bass requirements are met through varying combinations of a couple specialized drivers, specifically: a 5.9" midrange; 5.9" midrange/woofer; 5.9" woofer and in the case of the Classic 20 and Classic 30 loudspeakers, a 7" woofer.   This array of speaker drivers are the outcome of many years of experimentation and experience, and heavily leverage the knowledge, which Audio Physic acquired in developing their top-tier HHC drivers for High-End and Reference loudspeaker lines.
The cabinet designs, of the Classic Line, are an expression of insight and invention.  These loudspeaker cabinets are designed with narrow baffles to minimize unwanted diffraction and promote low distortion and precise imaging characteristics.  In fact, unlike any speaker I've come across – the Classic Line loudspeakers breathe between their cabinet walls, which eliminates the need for a more traditional bass-reflex tube port.  This radical design involves the use of an inner and outer MDF cabinet.  The inner cabinet is thicker and has narrow horizontal openings on its sides, while the outer cabinet is much thinner and sandwiches this inner cabinet.  A very narrow gap on the sides, between the inner and outer cabinets is maintained, which is open to the back.  This narrow opening permits air to be inhaled and exhaled by the loudspeaker, in a bass-reflex like fashion, without the sonic compromises that a tube port introduces – including audible additive midrange frequencies.  This multi-layer sandwich design also serves to significantly reduce the amount of undesirable sound leakage and quell cabinet vibrations.  But it doesn't stop there.  With the optional Classic Line high gloss glass finishes, yet another layer is added to the cabinet – a third glass layer that adds even more reinforcement and anti-resonant characteristics to the enclosure.  All Classic Line loudspeaker cabinets also incorporate internal bracing and chambering to prevent undesirable internal interactions between the various drivers.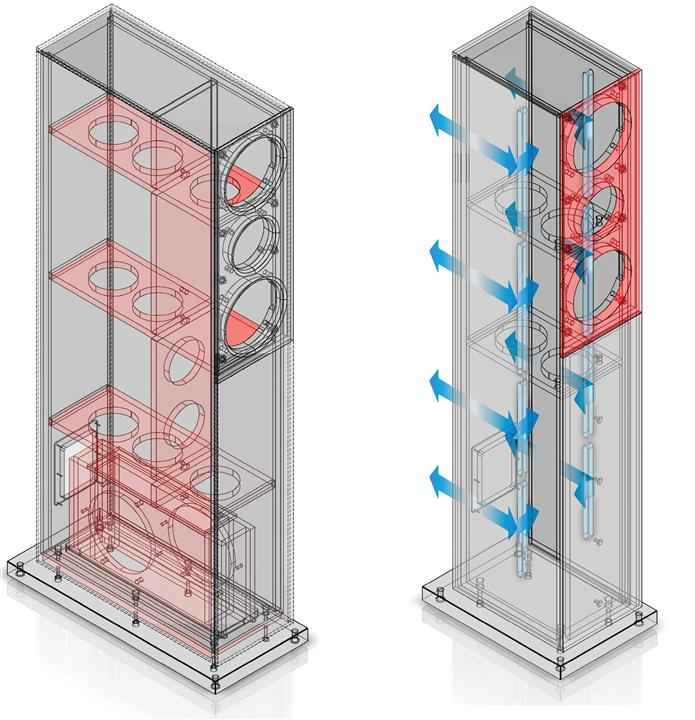 For the two largest models in the Classic Line, the Classic 20 and 30, the Audio Physic engineers developed another ingenious solution, which allows these models to maintain svelte dimensions, while raising their overall bass capabilities.  This solution is so stealthy that it could easily go unnoticed.  Let me explain.  At first glance, the Classic 20 and 30 appear to be tri-driver loudspeakers that use a midrange, tweeter and midrange/woofer combination but in actuality, this is only about half the story.  Lying hidden within the cabinet of both the 20 and 30 models is a sub-cabinet that contains either a single 7" woofer, in the case of the Classic 20, or twin 7" woofers, for the Classic 30.  This internal sub-cabinet ports out through the bottom of the cabinet enclosure via a gap between the cabinet bottom and the plinth base.  In the Classic 30, these two woofers are arranged in a push-push manner, mounted opposite one another and slightly offset, which virtually cancels the vibrations.  On the whole, the result is significantly more powerful bass reproduction with increased precision.  As this design approach brings added benefits, over side-mounted woofers, it will be interesting to see if Audio Physic actually implements this creative solution in their higher model lines, in time.
The drivers in the Classic Line loudspeakers use powerful magnets and robust motor structures.  For the midrange drivers, phase plugs are utilized, which are affixed to the magnet system to minimize compression effects and improve heat dissipation, thus, lowering distortion.  The new 1.2" soft dome tweeter is surrounded by a unique star-shaped acoustic foam panel that promotes consistent radiation characteristics.  For the speaker grills, Audio Physic has not gone with commonplace removable fabric covers but rather, includes two baffle panel options, both of which are integral to the front baffle structure.  The panels are made of MDF with one covered in acoustic fabric and the other being just painted and leaving the drivers open and exposed.  On the back-side, the Classic Line speakers (excluding the On-Wall and Luna models) feature top-quality WBT Nextgen binding posts that use conductors which noticeably reduce the negative effects of micro-vibrations.  A full set of high quality speaker spikes came with the Classic 30; however, I used the optional Audio Physic VCF II M8 vibration control feet ($220 / set of 4; see side-bar of mentioned Audio Physic Sitara 25 review) for the duration of the audition.
The Classic 30 review sample came in their standard Black Ash real-wood veneer.  It's fit and finish was very good, though I'm sure the other available standard veneers, Cherry or Walnut, would make a greater statement.  As mentioned, the Classic Line is also available in premium High Gloss glass finishes that include white and black; however, an array of other High Gloss Special glass finishes are also available, at additional cost.  Some colours are listed on the Audio Physic website but Reinhard of Goerner Communications, the North American distributor, informed me that twenty-five RAL colours are currently available, with custom requests also being entertained.  Reinhard reminded that "…all Audio Physic speakers are made to order in matched pairs, each built by one skilled craftsman/woman – there's no assembly line at Audio Physic."  Talk about attention to fine detail!
The Classic 30 has dimensions of 41.5" high x 6.7" wide x 16.1" deep and weighs in at a considerable 59 lbs.  Recommended amplifier power is 25 to 180 watts.  Nominal impendance is 4 Ohms, with a sensitivity of 89 dB and a quoted frequency range of 31 Hz to 30,000 Hz.
For the duration of this review I used my Squeezebox Touch to play music files from my MS-Vista PC connected via Ethernet.  Other sources used were my Rega Apollo CDP and Goldring GR1.5 turntable with an Elektra cartridge.  Pre-amplification duties were performed by a Simaudio Neo 350P (review upcoming) with an integrated 24-bit/192 kHz DAC and phonostage.  I also leveraged my long-term reference Bryston 4B-SST2 amplifier, as well as, a complete Nordost Heimdall 2 cable loom (review upcoming).  My current full-range reference loudspeaker, the quadral Aurum Montan VIII ($7,800) provided some comparative insight.
Since the Classic 30 has a notable 31 Hz rated bass extension, I was very curious to see how it would do with some bass weighted tracks.  Listening to the title track on Sade's "Soldier of Love" album – the opening wind and distant thunder was convincing and foreboding, building my anticipation.  The sole trumpet playing in the near distance had a hauntingly realistic tone.  The track contains some inherent tight and heavy drum and bass rhythms which the Classic 30 was able to orchestrate with commendable weight.  The overall sound was detailed, deliberate and full.  There was a touch of extra stoutness to the bass, in and around 50 Hz I'd guess but the level of articulation was appreciable, leaving me without any complaint.   Extension was also remarkable, especially given their apparent size but I remembered that the speakers are actually anchored with twin internal woofers and substantially deep enclosures – leave it to clever engineering and design to provide such surprises.  I moved to the next track – Morning Bird, which opens with string instruments and slow playing piano notes.  The soft details and textures of the strings combined with the woody tones of the instrument bodies, captured my attention.  Then there was the haunting glow of the piano keys, accompanied by the easily identifiable sound of the internal hammers on the wires, well preserved and enthralling.  As beautiful as all this was to hear, it took a backseat to the silky exquisiteness of Sade's voice, as presented by the Classic 30 on this track.  Not so much "it" but "she" sounded textured and expressive – truly personified in the presentation.  There was no denying that the Classic 30 had a liquid and revealing midrange – a standout in its performance.  The track moved on and the heavy drum beats sounded both full and deep, while remaining controlled, which was complementary to Sade's vocals.  As the piano played on, the Classic 30 proved adept at portraying the lower registers of the piano.  These speakers were capable of providing detail and precision, while balancing that with a welcome dose of natural warmth, giving the reproduction sincerity.  In comparison, my quadral Aurum Montan VIII loudspeakers provided a more visceral take on these tracks.  The Montan was perceivably quicker with transient uptakes and seemed to draw out details from the mix, making them more apparent.  There was also a greater perception of air with the Montan versus the Classic 30.  Bass was delivered with greater dynamic punch, evenness, extension and control, with less girth than the Classic 30.  That said, I found that the Classic 30 was able to provide me with a greater illusion of reality.  Sade's voice, with the Montan VIII, had sharper focus, sounding raspier, while the Classic 30 begot Sade in a more mellifluous and embodied manner.  I found the Classic 30 was most capable at integrating details and balancing them with musical beauty; conceding only (perhaps graciously forgiving) when it came to ultimate transparency.  It was as though the Classic 30 was resistant to generating what might constitute as high frequency detritus – a welcome quality in many circumstances.  In contrast, the Montan, seemed to focus on drawing out and exposing everything contained in the recording, even when that was at the expense of the illusory experience.
I went to one of my favourite albums next, "Chris Botti – In Boston", a live performance.  The opening track is magnificent on the album – the classic tune Ave Maria.  The claps and shouts of the audience that introduced the song were enveloping.  As the trumpet began to play, I was swallowed by its lovely warm brassy tone and its palpable presence.  The string instruments in play had a natural ease with their detail expounded in an effortless fashion.  This soundstage, of generous size had an air of warmth within it.  Textures and definition were present, though not up-front, but rather woven into the tapestry of the whole, lending to the sense of "being there".  I moved to the song Cinema Pardiso, played by Yo-Yo Ma with Chris Botti.  Here the piano notes came across with a graceful splendor, avoiding any glare or glassiness.  The cello began to play, its sonorous quality unadulterated, with completeness in tonal colour.  The interchange between the instruments as they played was easy to follow, demonstrating separation and timing.  On the low bass notes from the orchestra, the Classic 30 was quite capable of producing substantial fullness and depth, which added to the emotion of this composition.  In this recording, Chris Botti's trumpet changes its tone between the first entrance and the subsequent return, just after Yo-Yo Ma's intermediate cello phrasing.  The Classic 30 easily revealed this change in trumpet tone, disclosing Chris' use of a trumpet mute in his second play.  The added metallic shrillness and brilliance with the mute in place was clear and distinct yet never harsh – an indication of the high quality of the Classic 30's dome tweeter.
Of Monsters and Men is an indie folk-pop/rock band from Iceland, whose album "My Head Is An Album" has some addictive tunes.  I listened to the track King And Lionheart a number of times while evaluating the Classic 30.  This tune opens with a lone guitar strum off to the right and moderately deep, situating itself just behind the speakers in my room (note that I sat the Classic 30 about 3ft from the front wall and just over 2ft from the side walls of my 13' x 19' studio).  The Classic 30 localized the guitar and rendered it in a very believable way.  The guitar was perceivably in my room and I was given a sense of its size and position.  The voices of the two main vocalists were differentiated in space and possessed a natural quality – a humanness that held my attention.  Bass and drum beats remained tight with a good measure of heft.  I found that some of the hyped up air and effects that I'm accustomed to hearing were somewhat quelled by the Classic 30 but with this came an added sense of ease.  I would take this to be the result of a smoothness in the tweeter combined with a well-integrated high-frequency response and the utter eschewal of any leading edge emphasis on notes.
I have truly appreciated my time with the Audio Physic Classic 30.  Like the Sitara 25 that served as my reference, the Classic 30 is an amazing speaker in its own right.  If I had to compare the Classic 30 with the Sitara 25, I'd say that the Classic 30 is a little less revealing and transparent, making them a little more forgiving.  In terms of bass weight and extension, the Classic 30 is definitely the more masterful of the two.  I'd strongly recommend giving both a close listen before making a final decision between the two.  The Classic 30 is not a ruthlessly transparent kind of animal; it produces detail in droves, just not in a hyped manner but rather, well integrated within the overall tapestry of the music.  There is an absolute beauty in the natural way it serves up the midrange frequencies with a finessed treble.  In all it does, the Classic 30 brings a general sense of ease – a true gentleman crooner.  The Audio Physic Classic 30 is not just "classic"…it's a "Class Act"!
Audio Physic
www.audiophysic.de
Distributed in Canada by
Goerner Communication
www.goernercommunication.com
514-833-1977
Audio Physic Classic 30 Loudspeaker Prices:
$6,990 CAD (Cherry, Walnut, Black Ash veneer);
$7,750 CAD (High Gloss Glass black or white);
$8,250 CAD (High Gloss Glass Special custom colours)
$220 / set of 4 (optional accessory – VCF II M8 vibration control feet)
Comments are closed.