And now for something completely different: The Roksan Oxygene integrated amplifier. It does not look anything like any integrated amplifier I have ever seen. In fact I am sure that most people who eyeball this component for the first time with no prior information on it could well have a hard time identifying what the dickens it really is.
It is obvious that Roksan started the process of designing its Oxygene range of products with a blank sheet and with the determination not to be bound by any of the preconceived notions of what an integrated amplifier should look like and how it should be operated. The design is the brainchild of Danish designer Bo Christensen who founded Primare and later BOW Technologies. This is a gutsy and pretty ambitious move on Roksan's part and I might add, a bit risky as well. This goes well beyond an attempt to be different. Rather it seems to be a daring attempt to redefine a category and drag the integrated amplifier into the 21st century.
It is obvious that one of the design goals was to make the Oxygene range extremely simple, perhaps even over the top simple. As Albert Einstein famously said "Make everything as simple as possible, but not simpler." I am sure that many consumers taking a first gander at the Oxygene integrated amplifier ($6,000) for the first time will conclude that its design would qualify as being 'simpler' as defined by Einstein in this notable quote.
The first unwritten rule of audio that Roksan broke is the one that requires integrated amplifiers to have buttons and a volume knob. There are absolutely no buttons and no volume knob; you read that right, zero, zilch, zip, nada! This has obviously given the component a very sleek and elegant look but it can be quite disconcerting for a traditional audio enthusiast to operate, at least for the first few days of use.
The cover of the Oxygene is CNC machined out of a 2.5 inch high grade aluminium block with a dot matrix display and piezoelectricity touch sensitive controls. You have a choice of getting this component in white, black or silver. The top of the box has the words "Less is More" emblazoned on it. This script doubles up as the volume and function controls in that the word 'More' can be touched lightly to increase the volume, the word 'Less' to decrease the volume and the word 'is' allows you to cycle through the various inputs on the integrated amplifier.  The touch controls are very sensitive and require just a light tap.
The front of the component has an elegant perforated grill behind which are positioned bright white LEDs that spell out the relevant status that the gear is in. This design means that the Oxygene integrated amp cannot have other components stacked on top of it.  It can however be stacked on top of the matching Roksan CD player and other components from this line coming later this fall.  I am guessing that this too was done on purpose, with the designer intending to let the top of this component be admired by your eyes as much as it is enjoyed by your ears.  The feet of the integrated amp are milled through allowing you to mount it to a desk, a wall, a deck on a boat, or… a ceiling in a  frat house.
Those looking to make a statement with their music system will definitely want to take a look at the Roksan custom art finishes, which command a $1,500 premium, but look absolutely stunning.  The custom art finishes cover the entire top of the amplifier with a beautiful piece of art.  Google "Roksan Oxygene custom" to see some of the available finishes or contact the Roksan distributor Rutherford Audio as listed at the end of this review for exact details and availability.
In keeping with its maverick design approach, the Oxygene adopts the Class D amplifier design. It can deliver 75 watts of power into each of its two channels at 8 Ohms impedance. This doubles to 150 watts per channel when driving a 4 Ohm load.  This level of power should be more than adequate for most applications provided the speakers it is driving have reasonably good sensitivity and provided the user does not listen to music at window rattling level all the time.
The remote continues with the ultra simple theme with controls for only the very basic functions of the component.  They include the volume control, input selection and dimming/brightening of the intensity of the LED display on the front panel, which is a useful feature especially if you like listening to music in a darkened room.
The back of this integrated amplifier has connections that include stereo inputs for three analog RCA sources, left and right speaker outputs and two line level outputs to feed active subwoofers. The Oxygene offers a total harmonic distortion of less than 0.1%, a signal to noise ratio of 95 dB and input impedance of 10 kOhms. This seven-kilogram beauty has vital statistics of 31 X 31 X 6 centimeters.
One of the aspects of the Oxygene that should appeal to the younger generation of music lovers is its Bluetooth capability, which is quite extraordinary and which supports 16 reception channels that allow wireless connections to multiple devices.  The typical modern home has quite a few Bluetooth music playback devices and with its multiple channels the Oxygene will probably never run out of channels to not only accommodate multiple Bluetooth devices but also memorize each one's unique connection to this integrated amplifier.
If until now, all the Bluetooth audio devices you have tried have fallen short of your sound quality expectations, it would behoove you to give the Oxygene a serious listen as it just might just surprise you on the upside. Is it on par with the best conventionally wired devices of the same ilk? Not really, but it took me by surprise as to how close it comes in terms of sound quality.  This can be attributed to the fact that the Oxygene uses a Bluetooth chip with the advanced aptX codec that streams the signal from the compatible device with minimal loss of sound quality. Having said that, you can also use Bluetooth devices that are not aptX and still enjoy relatively good sound quality.  This means that if you place high value on the convenience of wireless streaming, but have not gone this route because of the tradeoff in sound quality, the Oxygene narrows the gap enough to get you to reconsider. The Oxygene also has the option of a Bluetooth dongle, which allows it to be wirelessly connected to any source component, which does not have Bluetooth capability, thus expanding its versatility even more.

Connecting a Bluetooth audio device to the Oxygene is so easy, don't be surprised if a freckled faced kid bearing a Bluetooth device who happens to be visiting you, takes you completely by surprise by hijacking your system and blares his or her own music. This is quite plausible because the name "Roksan" will appear on their Bluetooth device and if they are sharp enough to guess that the code is '0000', they will have successfully hacked into your Oxygene integrated amp.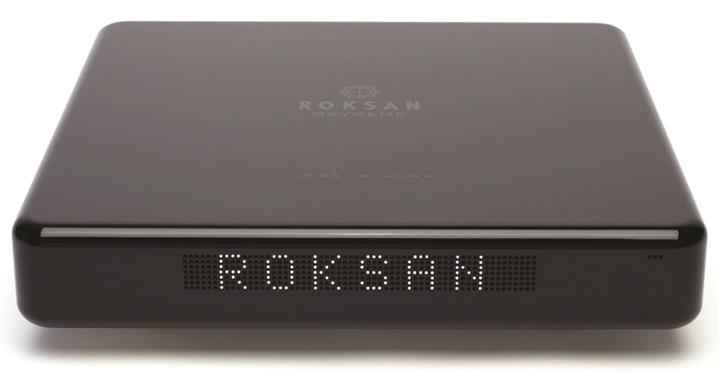 The Oxygene is Roksan's first foray into the world of Class D amplification. This being the case, it is a very commendable debut. For those of you who have dipped their toes into the Class D waters, you'll know that some models of this breed of amplifiers have been known not to dance well with speakers that have widely varying and low impedance loads. Class D amplifiers have also been known for muddy bass and screechy treble reproduction. Although the Oxygene does not transcend these hurdles completely, it does behave a lot better under difficult loads thanks to the fact that it employs the Hypex UCD 400 Class D modules, which are generally considered to be at the top of the food chain when it comes to Class D amplifiers. It complements the Hypex modules with a linear power supply and a pair of oversized toroidal transformers. This combination allows the Oxygene to be able to better cope with hard to drive speakers and deliver true high-fidelity bass and treble performance than most Class D amplifiers.
When I compared the Bluetooth performance of the Oxygene to other conventional integrated amplifiers in the same price range that were hard wired to the source components, the sound quality was surprisingly good. This would indicate that despite the wireless mode and the Class D/switching transistors configuration of the Oxygene, it is able to keep up and in certain areas, even outperform its more conventional counterparts.
What was very apparent right from the get go was the Oxygene's ability to create a very accurate, well-defined and impressive soundstage.  In fact in this regard, it performed better than many of the similarly priced conventional design integrated amplifiers that I have heard. This makes it ideal for reproducing big band, philharmonic orchestral and choral performances. Hearing George Frideric Handel's Messiah performed by the Swedish Radio Symphony Orchestra was pure unadulterated joy.
Another album that was thrilling to hear via the Oxygene is Pepe Remero's Flamenco.  The rich harmonics of this Spanish guitar maestro's strumming abilities came through with all its majesty intact. The sparkling transients of the castanets on this album were rendered so crisply and cleanly, the sound took my breath away. Male and female vocals were par for the course for integrated amplifiers in this price range.  Percussion instruments on the other hand did benefit significantly from the Oxygene's superior ability to handle leading edges and decay accuracy with aplomb.  The honey-toned voice of Jacintha was rendered with a good deal of verve and emotion while the deep baritone of Hans Theessink was reproduced with enough depth to give you goose bumps.
Percussion instruments did benefit significantly from the Oxygene's superior ability to handle leading edges and decay accuracy with aplomb. Each thwack of the drumsticks on the kettledrum came through with the tightness and control that was very satisfying. The depth and sonority of the bass was amongst the best I have heard from any Class D amplifier in terms of tunefulness and control, no turgid and muddy bass here.
The dynamic contrast was quite commendable although not in the same league as some of the best comparably priced, conventionally designed integrated amplifiers that I have heard. Having said that, if your listening staples consist of music that does not have the widest dynamic range, you are probably going to be quite satisfied with the performance of the Oxygene.
If you are looking for minute details and relish hearing every nuance and subtle note of the music, the Oxygene is not exactly an electron microscope in this regard. However its overall tonal balance is quite special and more than makes up for it. The midrange has the saturation that should please all but the most finicky audiophile while the highs are airy and on the sweet side of neutral which is rare for Class D amplification.
There is no doubt that some hardcore audiophiles will look askance at the Oxygene and some will pass on it because of its ultra simple design and Class D amplification. However, I suspect that Roksan has not designed this component for that audience. Rather, I think Roksan is going all out to capture the younger music lovers who place modern technological conveniences like Bluetooth and ultra elegant avant-garde styling over the 'sonic performance above all' philosophy of older school audiophiles. It is therefore squarely aimed at the new younger generation of audiophiles. As I mentioned before, this is a risky strategy, but one that will pay rich dividends if it strikes the right chord with the hip, young and 'in' crowd.
It is very evident that a lot of research and development and fresh thinking have gone into the design of the Oxygene. Roksan obviously has a lot of faith in its radical new style direction that is accentuated by the fact that it has also introduced a CD player of the same daring design ilk. There are also other components in the company's pipeline to extend this family of products including an external power supply, and a Bluetooth DAC that will offer a full complement of inputs.
There is definitely a section of the audio enthusiast market that cares as much for the product aesthetics and the convenience of wireless, as it does for the sound quality and that is the segment that should gravitate to the Oxygene family of products. Only time will tell if this gutsy new direction adopted by Roksan will be a trend setter for the audio industry to follow or if it will capture and retain just a small segment of this market. Music lovers do indeed live in interesting times and thanks to the debut of its Oxygene family of products, Roksan has just made it a whole lot more interesting!
Roksan
www.roksan.co.uk
Distributed in Canada by
Rutherford Audio Inc.
www.rutherfordaudio.com
604.418.7622
Roksan Oxygene
Integrated Amplifier
Price: $6,000 – $7,500 CAD
Comments are closed.