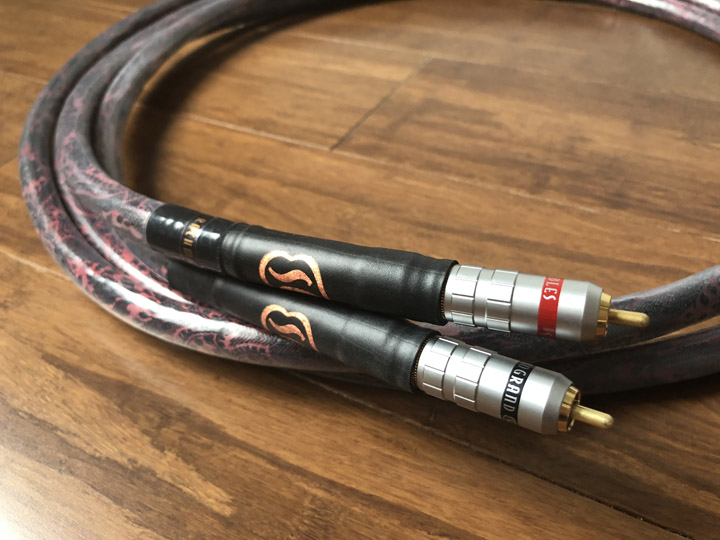 When asked why his cables are so expensive, designer, Knut Skogrand's response was simple, "I sell performance." And setting aside all the technical jargon, meticulous measurements, and painstaking craftsmenship, it really does boil down to that.
Skogrand Cables' top end Stravinsky product commands a daunting $27,000 US and is acknowledged among the finest in the world. The Rachmaninov cables being reviewed here are attractively priced at 10 times less than that pinnacle product. They are aimed at the serious audiophile who wants a good portion of what the best has to offer at a more affordable cost.
Most people would not regard an audio cable that costs $2,625 US per 2.5 m pair as a "high value" purchase, but like any other pursuit of passion, better quality doesn't come easy or cheap. Ask anyone with a luxury performance car, or a top end camera. A real bargain isn't about the lowest price. It's about the highest value.
Skogrand Cables are designed and manufactured by a small group of talented craftsman in the picturesque mountain hills of Norway and priced to appeal to the mid to upper echelons of audio enthusiasts. Started in 2011, their current stable of offerings now encompasses a broad range of analog interconnects, speaker cables, power cords, jumpers, as well as digital interconnects. Skogrand builds all their cables from the bare wires to completion. The metals are custom manufactured around the globe, and components are sourced from 37 countries on four continents with connectors custom built to their specs. Skogrand Cables utilizes a hybrid sales model of dedicated dealers as well as direct sales in the absence of dealer availability.
So what does the Rachmaninov series have to offer? These cables sit one tier above the entry level Vivaldi line in price, and constitute the sole divergent design in the company's stable. Up to this point, all Skogrand cables have utilized single crystal, high purity copper, in combination with an air dielectric approach. That design philosophy has achieved stellar results and worldwide acclaim. The Rachmaninov cable loom goes a very different route. Instead of continuous cast copper, it employs a multi-stranded copper/silver alloy constructed to afford the advantages of high conductivity without compromising the fundamental tonal balance of Skogrand's other designs. Undertaken to satisfy market demand, the line required a full two and a half years of painstaking research and development to meet Knut Skogrand's own strict standards. For the technically curious, the SC Rachmaninov speakers cables offer 2 x 12 AWG signal wires, and the interconnects employ 2 x 24 AWG wires. The air dielectric found in Skogrand's other cable series was dropped in favor of Teflon for this design. Mr. Skogrand stipulates that while the Rachmaninov can't quite reach the abilities of his top flight efforts, it's performance is impressive enough to confidently bear the Skogrand logo. So, not lesser ability, merely less absolute ability.
Cosmetically, the cables keep the upscale, appearance of the higher lines, with an understated, elegant red on black silk brocade, in this iteration protected by a clear sheath. Connectors on the review samples were Rhodium plated, locking barrel RCAs for the ICs and extremely high quality gold plated spades for the speaker cables. Other terminations are available. The cables are exceedingly well made but also quite stiff, so gentle curves, not abrupt angles are required. Be prepared to allow room to maneuver.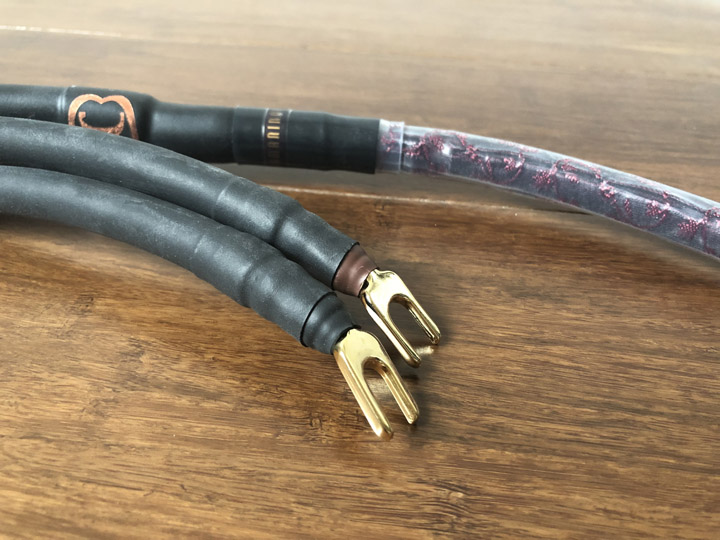 The big question, of course is what did they sound like? To be more accurate, in the context of a cable as a pure signal conduit, were they honest? I listened to a wide variety of music from Tidal streaming and high resolution files on my music server with excellent results. The cables were tested with two different amplifiers affording a suitably broad range of voicing to challenge if they would reveal the changes without adding their own character.
In their ability to faithfully reproduce the timbre and complexity of live, acoustical instruments, the Rachmaninov trod the absolute high ground. With many cables, you may marvel at the speed and talent of a Spanish guitarist as the strings light the air afire. But where is the wooden instrument? Often lost. Here the instrument stayed whole, finger attacks, string materials, wooden body, all identifiable, all reproduced with authenticity. All other orchestral instruments and voices followed suit, from the upper register to the lower end of the scale, portrayed with uncommon accuracy of natural texture. Mr. Knut Skogrand brings his experience as an accomplished musician to the table in setting the performance requirements of the Skogrand Cables, and his ears are uncompromisingly astute.
How did the Rachmaninov fulfill the other audiophile niceties? Handling of proportion, placement, differentiation of individual instruments, and venue information were all done exceedingly well. To simplify the technical artistry involved in achieving that, it is as the comedian once said, all in the timing, and the timing here was up to Swiss watch precision. Detail? Dynamics? Fine detail was impeccably preserved at all frequencies, with full bodied attack and lovely decay, showcasing a good gradation of scale that mirrored what the recording had to offer. Low distortion and low noise were expected from the SC cables, and they didn't disappoint, allowing deep insight into low level information. Married with timbre accuracy, these traits amalgamated to convincingly portray realistic three dimensional instruments in a real acoustic environment. The overall presentation resided in very lofty territory, even by absolute standards, and certainly exceeded most of the state of the art contenders of time gone by.
The Rachmaninov cables offer a remarkable level of performance that should be on every serious audiophile's short list to check out. While obviously not inexpensive by any traditional definition, the Rachmaninov will still constitute a bargain in the right setting. The cables have the potential to shine with mid to high level systems that don't have the insatiable power demands of some high ticket components. Less absolute ability, not lesser ability comes into play with a vengeance here in favor of the audiophile with the right system match. While Mr. Skogrand contends there are shortcomings with the capabilities of the Rachmaninov against his loftiest efforts, even the most jaded of listeners may find themselves too busy enjoying their virtues to seek out those faults. Ultimately, that is the definition of a true high value product.
Pricing – SC Rachmaninov and SCI Rachmaninov:
1m $2,325 US
1.5m $2,425 US
2m $2,525 US
2.5m $2,625 US
3m $2,725 US
3.5m $2,825 US
Warranty is 5 years upon product registration (required within 30 days of purchase), or 90 days if you choose not to register.
For more info, please visit www.skograndcables.com