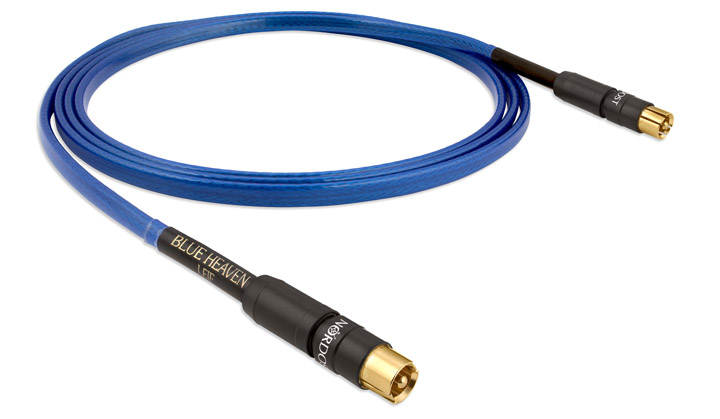 Nordost has just expanded its acclaimed Blue Heaven series of cables with a new Blue Heaven subwoofer cable. This new cables lets music lovers to completely integrate subwoofers with their loudspeakers, creating a truly well-rounded experience, highlighting the lowest frequency extensions in music.
The Blue Heaven subwoofer cable consists of four, 22 AWG, solid core, silver-plated, 99.9999% OFC signal conductors. Its dielectric strengh is improved by an innovative precision FEP extrusion process, which further increases signal speeds and accuracy in signal transfer. The conductors are then covered in a braided shield, addressing any EMI and RFI. Additionally, this cable utilizes a unique flat, parallel construction.
In order to accommodate all its possible uses, the Blue Heaven subwoofer cable can be ordered in three configurations: Straight, Y, and Y-to-Y. All three configurations are available terminated with specially designed, gold-plated MoonGlo RCA or XLR connectors.
Designed, manufactured, and hand-terminated entirely in the USA, the Blue Heaven subwoofer cable guarantees the accurate construction required to produce integrated low level frequencies, while preserving the precision and speed necessary to enjoy well rounded, seamless, and all-encompassing sound from music, movies, and television.
The Blue Heaven Subwoofer Cable starts at $349 US for a 2 meter length; additional meter increments are $75 US.
For more info, hit up www.nordost.com