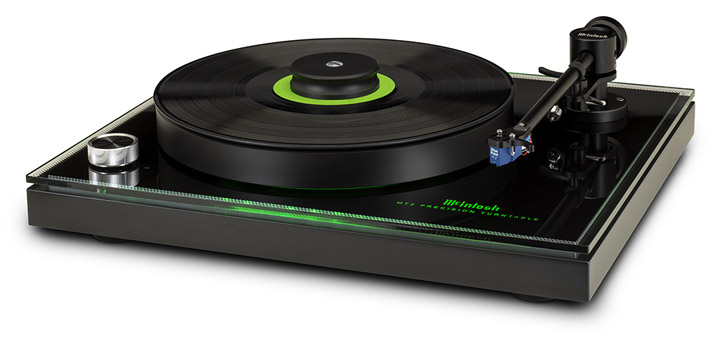 McIntosh has been on a roll over the last several months introducing new products.  The latest addition to its product portfolio is the gorgeous MT2 Precision Turntable.
The MT2 combines the latest in turntable technology and design to deliver both superb performance and accurate playback. A full complement of features allows for all recordings to be reproduced with flawless realism. Its advanced electronic and mechanical design will give many years of smooth, trouble-free operation. A subtle green glow emanates from under the platter and the outside edges of the plinth for a touch of refined ambiance and connection to the McIntosh design aesthetic.
The MT2 plays both 33-1/3 and 45 rpm records and is virtually ready to use out of the box as tracking force, anti-skate force, cartridge overhang and arm height are all preset from the factory for maximum performance. The remaining setup steps are simple, allowing the user to be enjoying their vinyl in no time.
The MT2 comes with a moving coil cartridge that has a high enough output to make it compatible with not only moving coil phono inputs but also moving magnet inputs. The cartridge's high impedance and high output voltage ensures noise free musical reproduction. This unique cartridge design features an alloy cantilever and an elliptical diamond stylus with exceptional tracking capability. The tonearm is constructed from dural-aluminum with special damping materials and is light weight yet highly rigid. The noise free vertical bearings feature two precision ceramic surfaces with damping fluid; the horizontal bearing is a gimballed sapphire design.
The belt driven, solid black outer platter is made from a special dynamically balanced polyoxymethylene (POM) and is over 1" thick. This heftiness helps to both resist and absorb external vibrations that can cause noise during playback; its large mass also provides the perfect flywheel action for stable playback speed. The inner platter is made of CNC-precision milled aluminum. The platters rotate on a polished and tempered steel shaft in a sintered bronze bushing. The DC motor is driven by an external voltage-stabilized power supply and is completely decoupled from the chassis, isolating the record from any mechanical interference. Its sturdy plinth has a resonance optimized and highly compressed wood base with black lacquer finish, while the top and middle acrylic plates help absorb unwanted vibrations.
Shipping will start in April for $4,000 US.