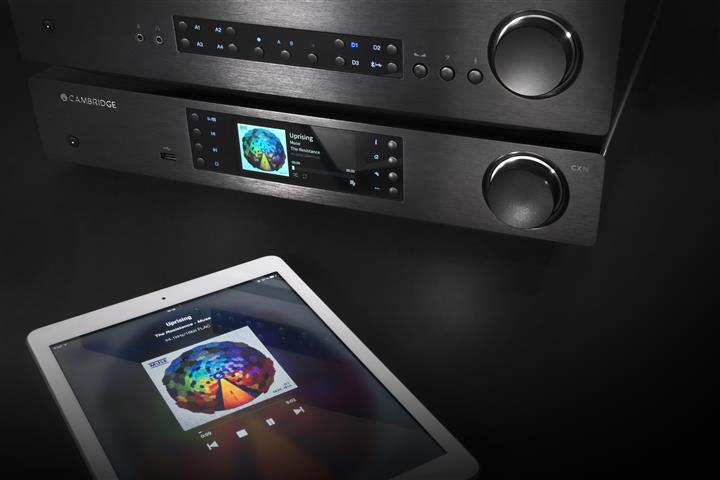 One of the greatest fears that a modern audiophile secretly harbours is that if death arrives prematurely, his wife will sell-off his audio gear and cabling for the amount that he claimed to have paid for it. Instead of his grieving widow doing the sensible thing and investing in a double-wide coffin to house his cherished turntable rig, tube pre/power combo, and associated cabling to be buried with his cremated remains, the gear and cables will, tragically, be sold off for a song. One shivers in terror at the very thought(!).
Cambridge Audio's "value for money" philosophy has always produced high-end audio gear at, by audiophile standards, bargain prices. So much so, that you can (probably) tell your significant other the truth about what you actually spent without needing to retain legal council for the predictable upcoming divorce proceedings.
There are six units in Cambridge's new CX-Series line. The two I'll be reviewing in this article are the CXN Upsampling Network Player and the CXA80 Solid State Integrated Amplifier.
To quote from their website:  "Since 1968 Cambridge Audio has been driven by a simple belief: that music should always sound amazing. Our mission is to delight people who really love music, so that you experience all of the emotion and passion that your favourite composers, songwriters and performers intended. British-designed for an unparalleled sound, our products are beautiful, innovative and sublimely engineered. Everything we build offers incredible value, bettering products costing many times more."
At essence, this paragraph succinctly defines exactly what Cambridge Audio seeks to deliver in all of their products: goose-bump inducing sound offered at affordable prices.
CXN Upsampling Network Player
Cambridge has taken the hardware and software platforms from their Stream Magic 6 v2.0 network streamer, upgraded them, and incorporated their latest efforts into the newly redesigned CXN streamer.
My review unit came with a black, brushed aluminum face plate and a full colour 4.3" (11cm) LCD screen with a symmetrical left/right layout for the eight front panel control buttons.
Positioned to the right, the unit's rotary control dial lets users navigate through the menu options. Pressing this dial accepts the item / function as displayed on the LCD screen. While the jog wheel may have been inspired by a car radio, in practice, the rotary dial offered precise control.
There's also a USB-B input just to the left of the LCD screen.
The rear panel of the CXN has the following connections: two USB inputs (one of which is intended for Cambridge's BT-100 Bluetooth dongle); one Ethernet input; two digital inputs (one S/PDiF RCA & one Toslink optical input); two digital outputs (one S/PDiF RCA & one Toslink optical output); and one USB audio input for PC & Mac computers. It also has one pair of balanced (XLR) analogue outputs, one pair of single-ended (RCA) analogue outputs, and a detachable 15 Amp A/C inlet for the power cord.
The CXN includes one Infra-Red (IR) emitter input and two control bus (one input & one output) female RCA plugs for syncing with Cambridge's other CX-Series components.
Available in black or silver, the unit has a posh style that will comfortably blend into any modern household's design décor. Cambridge applied what I like to refer to as the "cool" factor to the CXN. One look at the front panel and you'll say: "Damn… that looks cool!"
The operating system has more than enough processing power to ensure quick response times while searching through the menus.
Digital files can be sent into the CXN from a low quality MP3-level 8 bit/32 KHz digital code, up to a FLAC or WAV file at 24/192 KHz. Twin Wolfson WM8740 DACs set-up in a dual differential configuration convert digital data to an analogue signal.
"Dual differential configuration" means that the left and right channels are independently split within the digital domain to create balanced signals. These signals are then converted to analog with two DACs per channel (one for each phase of the balanced signal). This method of digital to analogue (D to A) conversion reduces DAC-induced distortion and lowers the noise floor considerably. Why…? Simply because digital noise found in both halves of the balanced signal is cancelled out via common-mode rejection.
This "dual differential" method requires double the number of DACs and analog output stages. Which, logically, costs more money to implement.
The biggest sonic benefit that differential DACs create is a balanced signal without using phase splitters in the analog domain. Employing dual differential DACs into a sub-$5,000 converter is commendable; installing them in a $1,399 network streamer is downright amazing.
At essence, the CXN is the 'Swiss Army Knife' of upsampling network streamers. As of July 2015 and as evidenced by its specifications, it's compatible with everything that currently exists in digital files, digital audio formats, and/or wireless systems.
Whether you're using a wired input or a wireless connection, the CXN can stream music from Internet Radio, Spotify Connect, Airplay, NAS drives, UPnP servers, and the aptX Bluetooth system.
Cambridge offers a beautiful system remote that can control various units in the CX series. Or, alternatively, the CXN can also be controlled via the free Cambridge Connect App for Apple and Android devices. I tried the Connect App with an iPhone. It was a breeze to install and provided more of the 'cool' factor that I mentioned earlier.
So… how does the CXN sound?
The CXN's upsampling capability and Wolfson DACs take some of the edge, glare, and harshness off of digital material coming from Internet Radio and streamed sources. Like most digital devices, the quality of the sound depends entirely on the quality (or lack thereof) of the digital signal being sent into it.
Vinyl enthusiasts associate low-quality digital music files and streaming with low bit-rates and horrible sounding MP3 or AAC downloads. MP3 and AAC are "lossy" compression file formats that permanently discard as much as 90% of the original data. Just imagine buying a Ferrari and being told that the best fuel which you can get for the beast will only deliver 10% of the car's potential performance.
If water is irreparably polluted at the source, no amount of filtration is going to fix it. Digital audio is no different. If you're using compressed or "lossy" digital files, no upsampler, DAC, or network player can purify the toxic waste quality of the digital files.
Bit-rates from streamed music sources typically range from 128Kbps to 320 Kbps. Compared to CD's 1,411 Kbps and HDTracks' hi-rez 9,216 Kbps bit-rates, even at 320 Kbps, streamed music sounded unnatural. In my listening tests, streamed music quickly caused listening fatigue.
This is not to fault the CXN. While it has the chipsets to deliver stunning sound quality, it won't do so if the digital signal it's fed is rubbish. When I sent hi-rez digital signals into the CXN, it produced beautiful music.
I compared a ripped "CD quality" FLAC file cut at 1,411 Kbps to a hi-rez DSD 24/192 download of U2's 1983 War [MFSL UDCD 571] album.
In the middle of the track "Seconds", producer Steve Lilywhite layered two short vocal pieces: one in the left channel; the other in the right channel. I've heard a fair number of digital sources turn these speeches into a muddy mess of indistinguishable vocals. Listening to the hi-rez download, the CXN reproduced the sonic characteristics of these subtle speeches with superior separation, delineation, and harmonic accuracy than with the ripped FLAC file version.
The track "Two Hearts Beat as One" opens with a simple but unforgettable bass line. As the Edge's percussive guitar chords and Bono's impassioned vocals come in, the unstoppable groove of this song should have you instinctively bopping your head and tapping your toes in syncopated time to the song's rhythm.
With the hi-rez version, I clearly heard better low-level detail retrieval, superior instrument separation, and an increased soundstage in this wonderfully vainglorious song.
With the DSD download, Bono's soaring vocals had increased weight, fuller texture, and a more natural presentation. On the album's final track "40", for example, Bono's voice is clearly hoarse from pouring his heart and soul into the other songs on this landmark album. With the DSD version, the CXN clearly reproduced the stress in his throat. His voice must have been damn near exhausted from hitting the high notes on War's songs. And, as strange as it may sound, it's beautiful—yes… beautiful—to be able to hear this exhaustion in his vocals.
Overall, the CXN competes with network streamers in the $3,000 to $4,000 retail price bracket. In my listening tests, using the balanced (XLR) outputs and its dual differential DACs produced the best sound quality.