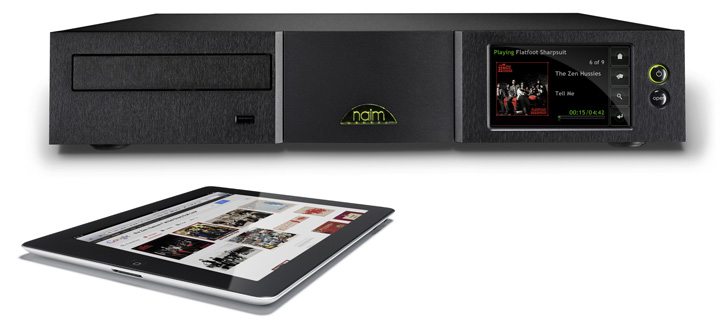 Every music listener on the planet has an opinion on the merits of digital verses analogue audio. This debate started in the 80's and rages on to this day, with each camp sticking firmly to their guns. Consensus is elusive to say the least.  Most would agree that digital audio is far more convenient – the files can last forever, don't need to be cleaned, are easily duplicated and thousands can fit on small and highly portable storage devices.  Sound quality is much more contentious.  In the early days of digital audio, many audio enthusiasts felt that CDs were lacking and really failed to provide the warmth and musicality of a good turntable.  Later, the high levels of compression used in MP3 files adversely affected their sound quality.  Consequently, many listeners felt that the sound quality of the turntable outweighed the convenience of the digital format.
However, as with any other technology, digital audio has evolved. Resolution and bandwidth have increased dramatically since the original 16 bit/44.1 KHz CDs. Uncompressed 24 bit/192 KHz recordings are now readily available from vendors like HDtracks.com. These files have 256 times more resolution and more than 4 times the bandwidth of CDs. Regardless of whether you fall in the digital or analogue camp, there's no question that high quality digital audio has progressed to the point where it can unequivocally be considered a legitimate audiophile medium. Furthermore, digital audio's maturity coupled with its undeniable convenience has made it the dominant player in both the home and the professional realms.
The way we deliver digital audio to our homes has similarly evolved. Today, we can play digital audio files on computers, gaming consoles, smart phones, tablets, iPods or other portable devices and, a relative newcomer to the market, the Digital Music Player or Media Server – let's call them DMPs. Digital Music Players are the next iteration in digital audio components and clearly demonstrate how far this technology has come.  Unlike the DMP's early ancestors, the CD and the MP3 player, these devices encompass both convenience and high quality audio.  Even hardcore analogue enthusiasts may see some appeal.
The DMP is in essence similar to a file server in the computer world but is tweaked and specialized for disseminating digital music files. In fact, some of these systems are quite literally computers running customized user interfaces designed specifically for music file distribution. They have a motherboard, CPU and RAM just like your desktop at home or work. As for hard drives, some have them, and some don't. More on this later…
DMPs allow you to sort, organize and store all your digital music and play it on your home stereo. They can accommodate just about every file format like WAV, AIFF, FLAC, ALAC, ATRAC, ATRAC Advanced Lossless, MP3, AAC, WMA, DSD, PCM, Ogg, MPEG-4 AAC and DSD over PCM. You can make playlists and automatically download metadata like album cover art and track titles. You can also distribute your music throughout your home via wireless or wired network connections. Some DMPs can automatically rip a 60 minute CD in about 10 minutes. However, DMPs haven't really ventured into the world of surround sound yet so they are usually only two channel stereo devices. Surround sound can still be simulated by receivers or decoders equipped with codecs like Audyssey DSX or DTS Neo:X.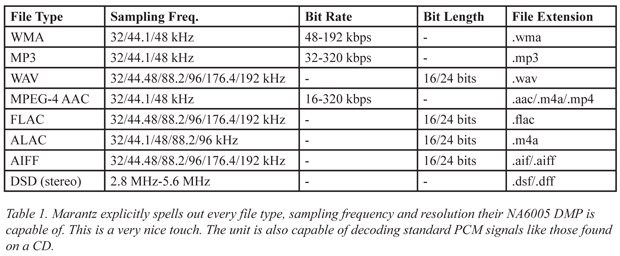 So what exactly is a Digital Music Player?
I know what you're thinking… Didn't he just explain that? I did, sort of. There's a complication in that different manufactures have different ideas about what a Digital Music Player is. Furthermore, there's no convention in the terminology.  In the world of DMPs, a complete or "all-in-one" solution is comprised of the server itself, internal storage, and an internal Digital to Analogue Converter (DAC). However, some products contain only the server whereas others will have all three, yet both can be labelled as Digital Music Players. For example, the NAD M50 is a Digital Music Player that does not have an internal DAC or internal storage. On the other hand, Sony's HAP-Z1ES does have internal storage and an internal DAC. Things get even more complicated when you consider that the NAD M50 adds a CD-player but the Sony HAP-Z1ES doesn't. Some products even add AM/FM tuners. If you walk away with just one piece of information from this article, it should be that some DMPs are just plain servers that require external storage and an external DAC whereas others may be partial or all-in-one solutions. Knowing this will help prevent you from buying too much or too little hardware.
I would urge manufacturers to come up with clear terminology to differentiate between server-only solutions versus partial or all-in-one solutions – perhaps "Music File Server" versus "Digital Music Player". However, this still wouldn't differentiate between units that include CD-players, DVD-players or tuners. It should be clear by now that this is currently a very convoluted area in audio. Hopefully things will eventually settle down into clear well-defined and well-named categories. Meanwhile, understanding these issues is a big step towards making a wise purchase.

"Music File Servers"
The intent for server-only solutions is clear. External storage and an external DAC is required. External storage can be something as simple as a hard drive or a thumb drive plugged into the server's USB port. Some models offer eSATA ports for external SATA hard drives. One important thing to note is that many of these products are Linux-based so they use ext formatted drives for storage. This means that you can't plug in an existing drive with music on it and hope to go from there. The server will want to reformat the drive which would destroy all your existing files. It's best to start with a clean, fresh drive and let the server reformat the drive as it sees fit. Your music can then be transferred to the new drive through your networked computer.
Storage can also be on your computer or Network Attached Storage (NAS) or any other device on your network. Network connectivity is a standard feature for "Music File Servers". Through your network, they can access not only your existing music files but also thousands of internet radio sites and subscription-based services like Deezer, TIDAL, SiriusXM and Spotify. Apple's AirPlay, which allows servers to stream music from Apple products is also a common feature. Bluetooth further expands the list of potentially connected devices. There's no lack of connectivity with these products.
As stated earlier, one of the characteristics of these "server-only" products is the need for an external DAC. Consequently, these units include an appropriate compliment of digital outputs for use with your DAC. TOSLINK, coaxial, AES/EBU, USB, and HDMI (audio only) are some of the options you may find on various products. Your external DAC need not be a dedicated component. A modern receiver with digital inputs will work perfectly well too.
The NAD M50 is a perfect example of a "server-only" DMP but NAD also manufactures the M52 Digital Music Vault. The M52 is intended to provide dedicated external storage for the M50 server. It's cosmetically matched to the M50. Together, they make a handsome pair of components. However, the M52 is much more than just a pretty external hard drive, it's a full blown RAID 5 array. If you're not familiar with this IT lingo, RAID is an acronym that stands for Redundant Array of Independent Discs. It's a storage method by which digital information is distributed across a minimum of three different hard drives. If one of the hard drives fail, its contents can be recreated from the content of the other two, allowing it to be rebuilt automatically once the failed drive is replaced. The M52 contains three 1TB media drives which gives it 2TB of redundant storage.
NAD also manufactures the M51 dedicated DAC. It features both balanced and unbalanced analogue outputs and is also cosmetically matched to the M50. The three together form a complete audiophile grade system that doesn't require a computer at all, whereas many others do. Though not a necessity, the NAD system is fully capable of interfacing with computers, tablets or smartphones should you choose to. Finally, the M50 adds one last but important feature; its optical drive, which allows it to play CDs directly, or rip them to the M52 Music Vault in about 10 minutes.