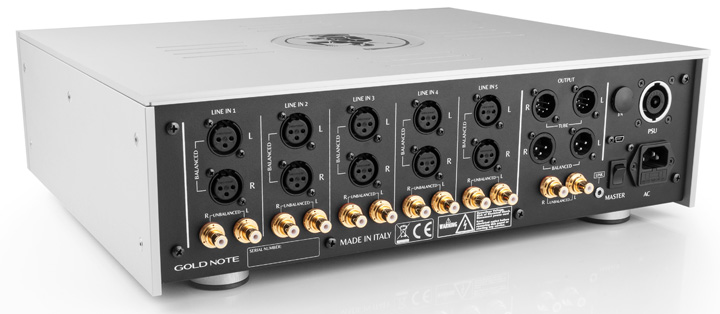 In my 2-channel systems, the 2.5dB gain setting created a seamless top-to-bottom sonic coherency that no outboard subwoofer I've yet tried ever has. This booster could potentially be THE solution for anyone with flagship bookshelf monitors or dodgy room acoustics who's seeking more weight and energy in the low end.
I conducted a number of double-blind tests with the P-1000 and a half-dozen solid state and vacuum tube preamps. Depending on the valves used, tube preamps tended to be warmer and rounder sounding. The Gold Note's sonics were more dynamic and immediate though; especially in the mids and highs. The P-1000 also had excellent PRaT, superb soundstaging, and striking resolution. It created a tremendous depth of field, textured micro-dynamics, and a sublime musicality. In particular, the attack, sustain, and decay of individual guitar and piano notes had exceptional clarity and provided profound musical insight.
Doom-laden and more adrenalized than Hulk Hogan after he's consumed a bucket of extra-crispy chicken and a 6-pack of caffeinated energy drinks, Cathedral's 1996 masterpiece Supernatural Birth Machine showcases a dozen rampaging metal songs. They say that pressure creates a diamond. Well open crack the jewel case on this CD, 'cause it's a freakin' gem. Featuring the landmark tracks 'Stained Glass Horizon', 'Cyclops Revolution', 'Fireball Demon', and 'Suicide Asteroid', this album writes an unabashed love letter to Black Sabbath's early 1970's stoner-doom sound.
Through the P-1000, Garry Jennings' rhythm and lead guitar lines savaged through every track on Machine with so much texture that his guitar tone was practically tangible. If you like what guitarist Tony Iommi did with Sabbath from 1969 to 1978, you'll (probably) fall in love with the opulent rhythms, echoing atmosphere, and screaming guitar solos on this record. For all intense headbanging porpoises (sic.) this is a near-perfect metal album. And the P-1000 recreated the majesty of Cathedral's sonic gospel of unrelenting doom with striking timbral accuracy, superb PRaT, and an organic musical purity.
Any audiophile worth his or her salt knows who Patricia Barber is. Outside of the jazz world, though, her albums have all the unbridled commercial appeal of a public Tabasco sauce bikini wax. Still, her 1998 release Modern Cool is one of the best sounding jazz records — and, concurrently, one of the most astonishing musical performances — ever recorded.
A few years ago I saw Barber play in Toronto at a small jazz club. Her performance knocked me to the moon. Stated succinctly, there isn't a better jazz pianist / singer alive and working today. She is sheer talent on loan from God.
With the P-1000 preamp, I heard the soothing warmth of Barber's husky voice come to life in my own home. Her sultry vocals imbue Cool with an unnervingly sexual tone and feel. I heard and felt the echoing resonance of the bass, guitar lines, and percussive accents hang and echo within a precise three-dimensional space that few — if any — preamps have ever so successfully reproduced in my listening room. As I listened intently, I was transported back to that jazz club where I'd seen her play live. The sound of Gold Note's line stage was that realistic and believable. It was like being at a live show.
With its new flagship preamp, Gold Note has effectively silenced the critics. Built like a brick autopsy, the P-1000 is an aesthetically gorgeous, intuitively user friendly, and articulate solid-state preamplifier. Although its $6,250 USD asking price firmly places it in the luxury class of audio components, its connectivity, 4 different sound modes, and numerous upgrade paths make it worth every cent of its asking price. In particular, I found the 'Bass Boost' to be a pragmatic solution for rooms and speakers lacking low-end weight and energy.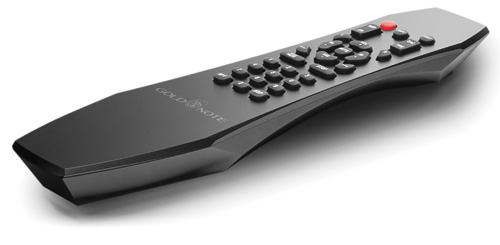 Gold Note P-1000 Solid State Preamplifier
Price: $6,250 US