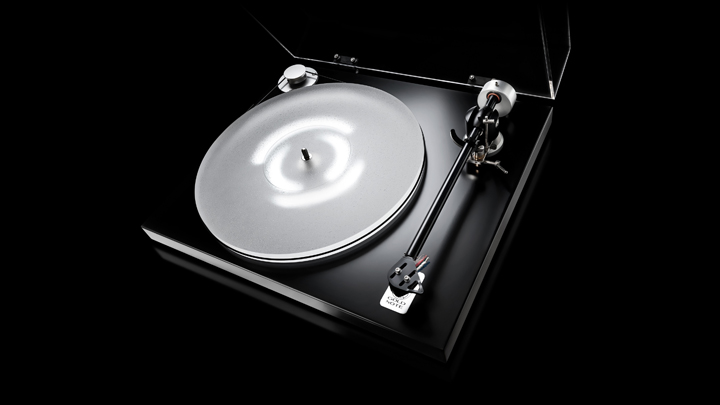 Gold Note's origin dates back to 1992, near Florence Italy, when the company began manufacturing innovative audio accessories under the BlueNote brand.  Throughout the 90s the company produced circuit boards for numerous high-end audio companies from abroad, and in 2000 began manufacturing its own audio components under the BlueNote/Goldenote label.  Fast forward to 2013 and the company was once again reborn with the name Gold Note.  Today, with plenty of experience under its belt, Gold Note manufactures high-end turntables, tonearms, cartridges, phono stages, amplifiers, speakers and more. Their flagship Bellagio Black King 'table is an irrationally beautiful example of modern Italian engineering at its finest.  Luckily, Gold Note makes hifi products for all wallet sizes.
When my editor asked if I'd like to review the Gold Note Valore Plus 425 turntable, along with the PH-7 phono stage, I wanted to hear how much of the cutting-edge technology which their cost-no-object vinyl rigs offer has trickled down to their more affordable products.
The Valore Plus 425 is one step up from Gold Note's entry-level Valore 400 turntable, and comes equipped with a B5.1 tonearm, a Babel moving magnet cartridge as well as an acrylic dust cover.  The price for the package?  A reasonable $2,000 for the leather finish that was supplied for this review.  The Valore Plus 425 is also available in a lacquer version for $1,700 and an acrylic version for $2,100.
Based on the original Valore 400 turntable, the Valore Plus 425 has a wider 42.5 cm plinth. This extra 2.5 cm width allows the 'table to use 9" tonearms. The deck features a 3 cm thick plinth which is made of a "high damped" lacquered Medium Density Fibreboard (MDF). Three large acrylic spikes screwed into the bottom in a tri-pod geometry act as feet and isolate the plinth from external vibrations.
The Valore Plus 425 I was supplied with was set-up with a Gold Note B5.1 aluminium tonearm and a Gold Note Babel MM cartridge. The 'table came with a stunning red leather plinth wrap.
The Valore Plus 425's platter is made of 2 cm thick translucent acrylic and comes with a 6 cm long spindle which is CNC-machined from stainless steel. The 'table uses a 12 volt synchronous motor that was developed in house. This motor utilizes what Gold Note calls a "Pulse Width Modulator" which converts voltage from AC to DC and then back again to AC.
The outboard power supply has an electronic speed control which allows users to make precision adjustments to the platter's 33⅓ and 45 RPM rotational speeds.
Manufactured by GRW-Germany, Gold Note also uses the B5.1 tonearm on their higher-end Mediterraneo and Giglio turntables. Including the B5.1 in the Valore Plus 425 package offers music fans a higher-end tonearm at a bargain price.  The B5.1 is a 9" tonearm internally wired with an AWG 36 Hyper Litz shielded 99.9999% Oxygen Free Copper (OFC) cable.
The B5.1 is made out of 6000-grade alloy aluminum and features four custom fabricated teflon/graphite micro ball bearings: two for the vertical plane and two for the horizontal axis. Its stock counterweight can handle MM and MC cartridges weighing up to 15 grams.
The arm's internal wiring is connected to a 4-pin DIN female output connector on the bottom of the plinth. The output interconnect (IC) included with the 'table does not have a ground pin and seemed out of place for such an exquisite tonearm. If you have a 4-pin DIN to 5-pin DIN adaptor, it's simple to upgrade the stock 4-pin output IC to a higher caliber phono IC.
Through my extensive listening tests, I tried numerous high-end phono ICs to hear how much sound the Valore Plus 425 turntable was capable of producing. In my opinion, this 'table benefits greatly from a higher quality phono IC.  For the majority of my listening sessions, I used an Audio Sensibility Statement Silver 5-pin DIN phono IC. Doing so allowed the Valore Plus 425 to deliver noticeably better sound.
Gold Note has clearly designed the B5.1 tonearm to be upgraded with better sounding MC cartridges and phono ICs. Overall, the B5.1 is a superbly engineered tonearm with impressive looks and a level of micro adjustability that's uncommon with 'tables in this price range.
The Babele is Gold Note's entry-level MM phono cartridge ($150), equipped with a light aluminum cantilever. Featuring a 3.0 mV output, it can be easily matched with any phono pre-amplifier that has a 47 kOhm setting.
I was also supplied with a Gold Note Bobolino MM cartridge ($650) for this review. Similar to the Babele, the Bobolino has a 3.0 mV output which has been designed to mate with any phono pre-amp that has a 47 kOhm load setting. The Bobolino's cantilever is made of a light aluminum alloy and features an elliptical shaped stylus.