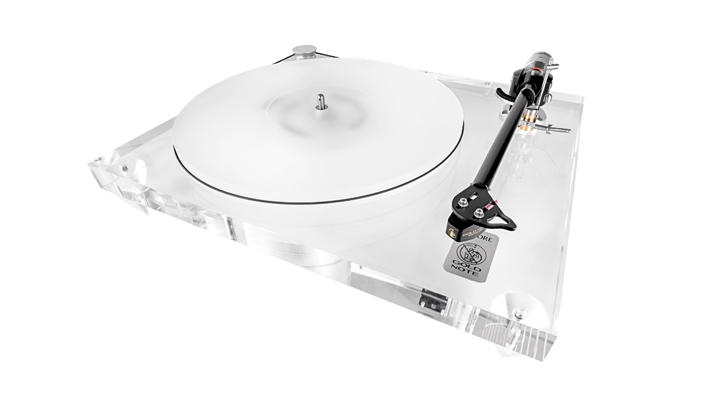 To evaluate the Valore Plus 425 I also used several other cartridges from Sumiko, Rega and Lyra.  After listening with higher priced MC cartridges, it became abundantly clear that Gold Note's entry-level vinyl rig is capable of producing far better sound than the stock Babele MM cartridge can deliver. While the Babele is a fine place to start and the Bobolino is a definite step up the sonic ladder, to get goosebumps from this 'table I urge you to try a higher quality MC cartridge.  Compared to the Babele, the Bobolino cartridge sounded quieter, allowed vocals to be heard more clearly, and delineated individual instruments with superior timbral accuracy, imaging, and dimensionality. Both micro and macro-dynamics produced by the Bobolino were more pronounced, transient speed was faster, and images were fuller. Overall, the sonic character of the Bobolino was warmer and more organic than the Babele, but still lacked the hyper-detail and incisive resolution of better low output moving coil cartridges.
The Valore Plus 425 turntable, B5.1 tonearm, and Babele MM cartridge were set-up for me by the Canadian distributor Tri-Cell Enterprises. To my ears, the 'table sounded best when I used a light-weight spindle clamp and placed records directly onto the acrylic platter. I tired cork, sorbothane, rubber, and felt turntable mats and none of them improved the sound quality.
After I'd run the 'table continuously for a week and flipped as many records as I could, I started my serious listening sessions. I'm happy to report that the Valore Plus 425 together with the PH-7 phono stage produced a sound quality that's competitive with any vinyl rig that I've heard up to the $3,000 price range. With the Bobolino MM cartridge, I'd increase that figure to the $4,000 mark.
Upgrading this rig with an Audio Sensibility Statement phono IC and better MC cartridges carried the sonics several rungs higher up the ladder towards the goosebump inducing sound quality.
With the stock set-up, mid-bass and low bass reproduction was uncommonly good. Most 'tables in the sub-$3,000 price range offer a somewhat homogenized 'one-note' sound in the lower frequencies. In terms of PRaT, timbral accuracy, definition, and groove, the Valore Plus 425 rig created an immediacy, harmonic warmth, and percussive richness which I'd associate with more expensive 'tables; especially in the lower registers.
Re-released on 180 gram vinyl, Metallica's 1983 "Kill 'em All" showcases the blistering pace which the speed-metallers once played at.  The Gold Note vinyl rig brought a warmth and cohesiveness to the unmerciful heaviness of this landmark record. Most surprising was how accurately this 'table reproduced the timbre of mid-bass and low bass instruments. In particular, Cliff Burton's bass solo in the song '(Anesthesia) – pulling teeth' had excellent PRaT and notable sonic purity.
In October 2008, Miles Davis' 1958 album "Kind of Blue" was certified quadruple platinum. For a jazz album to sell 4 million copies over the course of a 50+ year time frame gives provenance to the fact that it's a genre-defining record.  Listening to a Mobile Fidelity Sound Labs pressing of this seminal jazz recording, the Gold Note rig produced an organic and musical sound that was a pleasure to hear. The songs 'So What', Freddy Freeloader', 'Blue in Green', 'All Blues' and 'Flamenco Sketches' all reminded me of how amazing the music on this groundbreaking album truly is.
Was this the best I've ever heard "Kind of Blue" sound? No. The last 5% to 10% of the PRaT, timbral accuracy, soundstaging, transparency, and dynamics which much more expensive "reference level" vinyl set-ups produce simply wasn't there. And yet, I felt a strong enough emotional connection with the music that I can applaud the Valore Plus 425 for its cohesiveness and musicality.
I next listened to Goatsnake's long awaited 2015 record "Black Age Blues". Combining singer Pete Stahl's soulful vocals with wailing harmonica solos, heavy-handed guitar lines, and doomsday-boogie bass, "Black Age Blues" is an epic doom-metal album. The double record set, which comes in a way-cool splatter-black and green colour, features 2 extra bonus tracks.
Listening to "Black Age Blues", the Gold Note vinyl rig let me hear that Stahl's riveting vocals are more nuanced, soulful, and mature than on Goatsnake's earlier albums. Greg Anderson's rhythm and lead guitar lines drenched my listening room in doom. Drums and percussion are handled by Greg Rogers and, mated with bassist Scott Renner's impeccable musicianship, the rhythm section delivers an unstoppable groove to all 11 tracks of the two records.
The churning rhythm & blues vibe heard in songs like 'Another River to Cross', 'Elevated Man', 'A Killing Blues', 'Jimi's Gone', 'Black Age Blues', and 'Coffee and Whiskey' combines inspired guitar riffs, thundering snare and bass drum percussive assaults, and machine-gun lead guitar solos. These visceral shifts in transient speed, timbral accents, and 'whisper to scream' dynamics offer a serious challenge for even the best sources to accurately reproduce.
The Gold Note vinyl rig made this record sound warm, detailed, and musical. So much so, that I (literally) stopped taking notes on sound quality. I forgot that I was supposed to be reviewing the 'table and sunk right into the serious stoner-doom blues mantra which this album has going in spades.
Designed with a variety of potential upgrades, Gold Note's Valore Plus 425 turntable, B5.1 tonearm, and Babele MM cartridge ($2,000 for the package) have clearly been built for music lovers who, at some point, may wish to upgrade.
While this turntable package offers excellent value in the sub-$2,000 category, after I'd installed the Bobolino MM cartridge and upgraded the stock 4-pin DIN phono IC, the 'table produced a fuller, more detailed, and refined sound.
Gold Note's PH-7 solid state phono stage ($1,495) mated well with the 'table and created a non-fatiguing and musical sound. With two optional power supply upgrades, the PH-7 also gives listeners a couple of easy plug'n'play upgrade paths to attaining higher sound quality.
There's a sonic synergy between Gold Note's analog components that belies their lower 'entry level' asking prices. Give it a listen and I'm sure you'll enjoy what you hear.
The PH-7 solid state phono stage ($1,495) comes in a half-sized chassis and can amplify incoming signals from both MM and MC cartridges. It features an ultra linear power supply but Gold Note also offers two optional power upgrades: the PSU-7 outboard AC power supply and the outboard dual battery PSU-9 power supply.
The PH-7's front panel has a centrally located 'power' button. There is no 'standby' setting that allows the beast to idle at ½ power. The unit is either 'on' or 'off'. The front panel also has two buttons to select loading for MM and MC cartridges. Choosing the MM input sets the PH-7's gain at 48 dB and the load at 47 kOhms. Alternatively, selecting the MC input sets the gain at 65 dB and its load at 470 Ohms.
To more precisely dial-in the load of specific cartridges, Gold Note also offers optional male RCA-style loading plugs which can be plugged into a pair of female RCA input sockets located on the back of the unit. I like that Gold Note has engineered a simple solution to handle any potential issues with capacitance and/or gain for exotic cartridges. There's no need to crack the PH-7's case open and make internal settings as with other phono stages.
The PH-7 created a clean, refined, and cohesive sound. It imparted high frequency detail without adding unnatural grain or edge; which allowed me to play records for hours on end without causing listening fatigue. Cymbals and brass instruments have complex harmonic structures and the PH-7 reproduced these high-frequency harmonics without distorting the transients, timing, or timbre of them. Overall, the PH-1's sonic character was fairly neutral and organic. The phono stage amplified the sound of vinyl rigs in a natural (non-fatiguing) and convincing way.
Gold Note
www.goldnote.it
Distributed in Canada by Tri-cell Enterprises
www.tricellenterprises.com
905-265-7870 or 1-800-263-8151
Gold Note Valore Plus 425 Turntable
Price: $1,700 – $2,100
Gold Note PH-7 Phono Stage
Price: $1,495