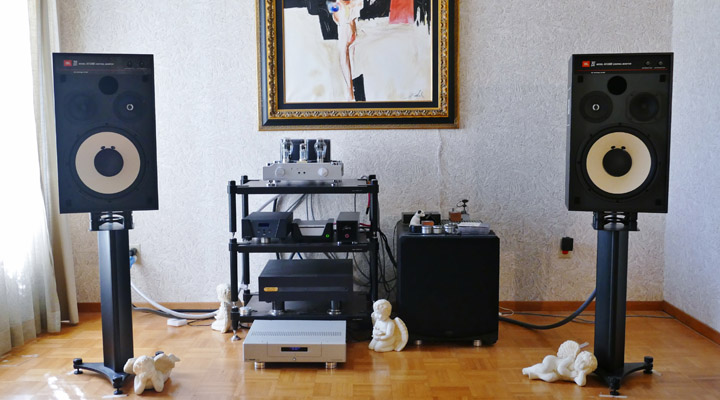 After setting up the 4312 SEs, I selected components that would give an eclectic blend of finesse and muscular accuracy. The system was comprised of the 300b based Audio Space tube preamp, and a svelte little 250 watt/channel Canadian Audio Zone class D amplifier. To ensure that the JBLs were behaving up to potential, the Isoacoustic speaker isolation mounts did duty on Charisma speaker stands.  Musical selection was from the Wyred Music server and Tidal streaming service.
The in-room frequency response of the JBL measured remarkably flat, befitting its professional heritage, and delivered bass extension down into the mid 30s with gusto. Highs were clean and detailed, without being exaggerated. Overall tonal balance fell on the studio neutral side of the ledger, neither adding or subtracting warmth, but able to truthfully translate those points of character with sufficiently high resolving power to identify changes in ancillary equipment and signal quality. The increased information available on high resolution 88/24 recordings like "Bach: Brandenburg Concertos" by Richard Egarr was easily apparent, and going back and forth between pop versus acoustical versions of more modern fare, like "Up We Go" by Canadian artist Lights, clearly showed the scope of engineering and performance decisions needed to accomplish the very different interpretations.
The 4312 SE was easy to drive, showing the benefits of higher efficiency, and remained broadband clean and quick on its feet, holding consistent tonal and dynamic character over a wide volume range. It remained informative and musical at low listening levels, and played with uncompressed dynamic fervor at quite high volume. In short, it behaved like a high quality studio control monitor.
The driver matching was accomplished with elegance. Multi way speaker designs often rely on distance to blend disparate driver characters into a cohesive whole. The better ones attempt to match driver character straight off the baffle by careful choice of materials, dynamic behavior and radiation patterns, emulating the best ideals of a single wideband transducer, while adding the advantages of better extended range, and dynamics. The JBL is one of the better ones in that regard.
Reproduction of spatial dimensions showed good left to right spread and good rendition of depth. The huge soundstage recorded on the track "the Dancers" from the album Ballroom Ghosts by Jim Copperthwaite was absolutely haunting, and delicately rendered. The performance perspective of the JBL speaker was in keeping with its studio roots, being somewhat forward in character. Listeners anticipating only near field aptitude, will be pleasantly surprised to find that the speakers demonstrated a generous tolerance of seating position, from near field to farfield usage, as well as proving fairly forgiving of listening height. The 4312 SEs' lineage was designed to stay accurate in a broad spectrum of environments, and that parameter played out to form here. They could achieve excellent results over a wide range of placement and seating arrangements.
Bottom line? The JBL 4312 SE 70th Anniversary Monitors may play the nostalgia card with their vintage appearance, but they serve up top modern ability in the performance department. With reasonable attention to set up, they can flex musical might with relatively modest power requirements, (but will benefit from superior quality, of course), and their sonic presentation manages to be truthful without being ruthless, inviting exploration of a wider musical catalog, and guaranteeing their status as enjoyable, long term companions.
On a personal note, this review afforded a delightful romp down memory lane. I spent many decades seated at the master console, entrusting the quality of my audio signal to a pair of JBL studio monitors. They ran faithfully in a punishing 24/7 work environment where failure was never an option. To my knowledge, they're still making music. If these 4312 SE Anniversary speakers remain true to their JBL heritage, they will be delivering honest musical satisfaction for many generations to come. It's comforting to know you can rely on the proven classics.
JBL 4312 SE 70th Anniversary Monitor Speakers
Price: $3,300 CDN