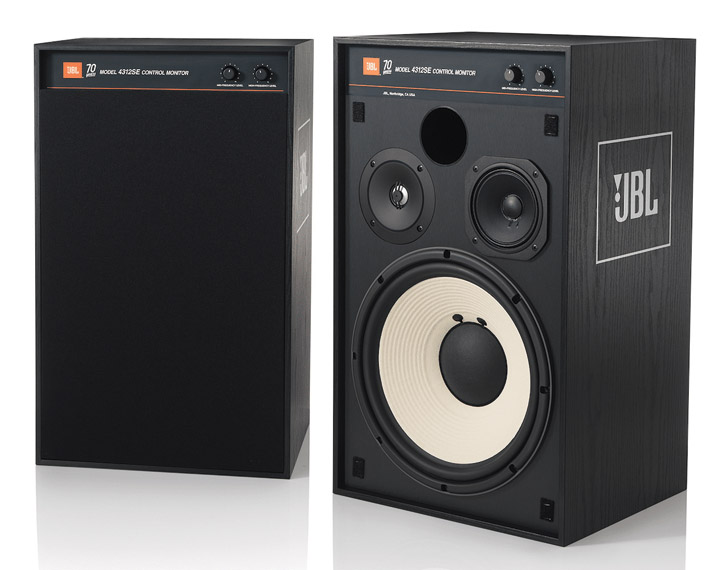 Anyone who knows audio, knows JBL. The internet generation will tell you about JBL's high quality computer and portable audio products. Hardcore audiophiles will speak of their JBL Synthesis wish lists, and old-timers will whisper the names Paragon and Aquarius with misty eyed reverence. Any studio pro will automatically give you a big smile and a thumbs up. That's the benefit of legendary status backed by a long history of engineering milestones.
JBL is one of the very few audio companies that can trace its roots back over a century.  Engineering pioneer James B. Lansing, born in 1902, made numerous collaborative efforts with several well known firms before launching the company which bears his initials in 1946. JBL established itself as a dominant force and de facto standard in the American professional market in both sound reinforcement and studio reference loudspeakers for decades. At Woodstock it was JBL that provided the sonic magic for the crowds, and in the studio the JBL 4310 and 4311 control monitors dominated the recording landscape in the 70s and 80s, serving as reference for many beloved recordings. If there was a critical decision to be made, the JBL output was accepted as gospel.
The new 4312 SE 70th Anniversary Monitor is an homage to those professional studio monitors of bygone days, emulating the looks of its predecessors while maintaining their stringent requirements of accuracy. The SE is an extensively upgraded variation of the current 4312 series, weighing in 16 pounds heavier than the standard E version, completely re-voiced with a different woofer and crossover compliment. It takes full advantage of parent company, Harman International's extensive state of the art facility in Northern California to push the 4312 series  to a loftier level. The Special Edition comes clothed in classic black wood grain finish, sporting a front panel 70th Anniversary badge and has a removable black grill cloth. Befitting their higher grade status, each pair of speakers is shipped as a perfect matched pair, accompanied by a certificate, bearing sequential serial numbers, and signed by JBL Synthesis/Studio monitor lead engineer Chris Hagen, and the individual assembly technician who produced them. These 70th anniversary edition speakers have been given the full luxury treatment and their introduction affords the general public a rare opportunity to enjoy the best of the classics that previously only graced the ears of professional engineers.
For the techie, here's a quick paraphrase of the information available on the JBL website: the speakers are a 3-way front ported bass reflex design. The woofer is a 12 inch Aqua-Plas-coated Pure Pulp cone, the mid is a 5-inch Polymer-coated Pure Pulp cone, and the tweeter is a 1-inch Magnesium/Aluminum Alloy dome tweeter with a waveguide. Frequency response is conservatively listed as 44 Hz – 40 kHz (-6 dB), indicating that the emphasis here is on bass control rather than ultimate extension. Sensitivity is 90 dB with a nominal impedance of 6 ohms and recommended amplification is 10 to 200 watts, so they should be relatively easy to drive and capable of robust output. Retained from its distinguished studio predecessors, the front panel includes midrange and treble attenuators to allow a bit of tailoring for critical room matching.
Those associating the term monitor with compact dimensions will find the 23-1/2" x 14-1/4" x 12" size and 55.5 lb weight more in the realm of floor-stander territory, so be prepared to bring sufficient muscle or help to unbox and maneuver them into position. These speakers will also require either traditional stand mount, or alternative support, to optimize in either a vertical or horizontal placement, as the situation requires.