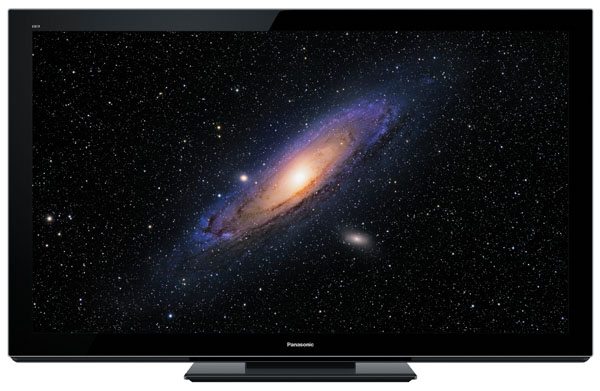 Much of the discussion about any flat panel television today is its ability to display true black, like the now historical CRT. There seems to be a race to the "bottom" between all technologies and a desire to move away from the milky-white black levels we've seen on most consumer flat panel displays since inception. After all, a good black level – and an accurate one – is the first priority in a series of steps to making a good picture. Without a good black level there is a loss of dynamic range between black and white, or what the marketing departments refer to most often – contrast ratio. Some technologies literally shut down sections of the panel to create dark black but the results can often appear uneven. Plasma technology attempts the use of filters to some degree, enough to keep perceived black level lower, but not enough to cut light output significantly. Panasonic's flagship VT-series plasma design is considered by many to have the best black levels available today. It has been hailed by video calibrators to measure the lowest level of black among competitors. With its Infinite Black PRO 2 panel technology and the success of last year's VT series, can the company's latest offering live up to the same expectations among video enthusiasts and movie buffs? Let's take a look at the Panasonic TC-P55VT30, the company's latest 55 inch 3D plasma TV.
This year's VT-series has an overhauled design and uses a new thinner panel. It sheds 1.4 inches in thickness from last year's model measuring a mere 2.2 inches deep and is thin enough, with the right wall bracket, to barely protrude from the wall. Weighing in at 84 pounds, the panel feels heavy so it's best to use two people to safely mount and dismount this unit from a pedestal or an on-wall mount. Thankfully there are handles under the panel that make this an easier chore. The front of the TV is clean of controls and the side buttons have moved from the left side to the right side of the TV and are much less bulky than the large raised buttons of past generations.
Realizing that good quality video switchers have rapidly penetrated the A/V receiver market for the connection of multiple sources, Panasonic has slimmed down the TV's video input offerings. Miniplugs, HDMI, computer, and USB connections are what can be found, plus an ATSC tuner connector which I used for all of my over-the-air HD viewing with audio output via optical digital. Since all connectors are tiny, Panasonic includes a bag full of adaptors to make connections easier. The only connection that isn't detachable is the power cord, which is hard-wired into the TV so upgrading to after-market power cords is not possible.
When connected to the Internet with an Ethernet cable or through Wi-Fi (a wireless LAN adapter is provided) the VIERA Connect feature turns the TV into an interactive entertainment device designed around games, news, social networking and other online applications. Access to all these features is activated with the Viera Cast button on the remote. There is not much information about this feature in the manual or online so it's best to play around with it to fully understand it.
To explore VIERA Connect, I plugged an Ethernet cable into the TV. Using the TV's standard remote control (no QWERTY keyboard here like the one provided with some of the new Samsung models), I did learn how to efficiently navigate the menus after a couple of faulty attempts, but in little time it was smooth surfing. I began by setting my location to get the most accurate weather forecast because I'm a bit of a weather nut. But since talking about the weather isn't the best subject to socialize about, I decided to try a few other free applications. VIERA Connect allows you to connect to popular networking sites like Twitter, YouTube, Facebook, Skype, Picasa Web Albums, Cinemanow, Fox Sports and others. You'll need a USB keyboard to fully take advantage of the offerings here but I found many free applications and games to use with the basic remote control. I spent a good deal of time playing chess against the TV (who would have thought?) as well as a variety of other cute games of varying difficulties. If games aren't your cup of tea, there is also some video content that can be accessed through VIERA Connect. Since this is a 3D TV, I also played around with some of the 3D downloadable content. While much of it was paid material, there were some free demos available which I tried out. The detail of the 3D material was about as good as standard definition resolution, but with the addition of three dimensionality.
3D video quality is improved in this VT generation by reducing crosstalk between images (crosstalk is the term used to describe seeing double images when wearing the glasses) – Panasonic has created a crosstalk canceller to minimize the double images. Using the Accupel DVG-5000 3D pattern generator, I measured crosstalk to be approximately 3 percent per eye, which is fairly low. The less crosstalk there is, the better the 3D experience. Emission time and process of the phosphors have improved this year to minimize left eye to right eye frame interference. These improvements also reduce what we call image decay or afterglow, which presents itself as images staying on the screen for a fraction of a second too long and thus blurring fine detail. Each pixel on the screen is made up of three subpixels (red, green and blue) and the speed of their rise and decay time is very fast. This combined with Panasonic's 600Hz subfield drive technology and the other technologies mentioned above improve the clarity of moving images.
Let's get a little more technical as measurements are the important selling features of this television. The TC-P55VT30 uses the Infinite Black PRO 2 panel which is supposed to produce blacks deeper than the company's ST and GT models. With both the ST and VT in my lab side by side, appearances are deceiving when the TV is turned off. It looks as if the ST has a darker panel; one would think that the ST series would have a deeper black when playing back images. But when the panels are turned on and are displaying a 0% black signal, it is clear that the VT30 model is not emitting as much light. The advantage is that movies shot in the dark will bring us closer to the dark reality intended by the filmmaker, and all dark images will be shown more accurately rather than in a haze of gray as competing TVs will show.
Using the Konica-Minolta SC-1000A spectroradiometer, one of the best reference measuring instruments available today, I was able to measure the ST/GT series televisions black level at about 0.008fL (0.03nt) repeatable, which is the black level of a CRT reference studio monitor. When using a white level window reference of 35fL, the sequential (on/off) contrast ratio is 4375:1. The TC-P55VT30 had no problem surpassing those numbers, with a black level measuring 0.0043fL, a difference of nearly 0.004fL. While this very small number may seem like an insignificant amount, it elevates the measured sequential contrast ratio to 8140:1. This is a significant improvement and those who will watch this TV in a dark room will benefit greatly. The black level can be further reduced (with just a hint of reduction in white) when the 24p mode is engaged and displayed at 96 Hz. This should eliminate 2-3 pulldown and show film images with less judder, but does so with a bit of flicker. The measured black level dropped to 0.0035fL, bringing the sequential contrast up to 10 000:1. These black measurements are lower than that of reference CRT monitor measurements and are blacker than black, or I should say our previous black reference with greater contrast ratios. These are great measurements with test patterns and equal to that of last year's VT25, but how do they look with real video material?
There are six picture presets offered by this TV and only a few of them will realize the black level capability, so I recommend staying with Standard, Cinema, THX or Custom. This is the only series in Panasonic's line-up that has four ISFccc DAY/NIGHT picture modes, two for 2D and two for 3D, and can be activated and controlled via RS-232 by a qualified ISF/THX video calibrator. These modes allow some more image adjustment flexibility and the ability to lock the settings in, preventing others from tampering with the image (great for curious kids, or the kid in us). The THX mode also works well for 3D viewing on this year's model. And just to make sure you don't miss out on any 3D viewing, the TV includes one pair of 3D glasses in the box.
August was Sylvester Stallone month for Warner Bros., so I indulged in a marathon of Blu-ray films of different ages. Cobra, Demolition Man, The Specialist, and Assassins were on my hit list, and I also checked out Copycat with Holly Hunter and Sigourney Weaver. Without a doubt, I enjoyed these movies in a darkened room. Copycat is a serial killer thriller, not a good one by any means, and with a Blu-ray video transfer I viewed as significantly flawed, the film still has deep black levels. Many scenes take place in Weaver's dark apartment building to heighten the tension and the 55VT30 had no difficulties recreating the grim feeling. Cobra, Demolition Man, and Assassins were much more of a visual treat. The 55VT30 easily showed the differences between the ages of these films. The resolution was excellent when all intrusive edge enhancers are turned off. The rough film appearance of Cobra, grain and all, gave this softer film a smooth look without artificial sharpening highlighting the transparency of this television. Sandra Bullock and Stallone work together in Demolition Man, and minus the outrageous colours of Wesley Snipes's bad hair and outfits, there appeared to be endless shades of gray in the dull future of Los Angeles. Skin tones looked natural but occasionally the redder faces had a subtle tint of magenta I just couldn't eliminate with the colour or tint control. The effect was so subtle that I hardly even noticed as soon as I put on an engaging action film like Assassins. The head-butting chemistry between Stallone and Antonio Bandaras was thrilling throughout the full two hours. The video transfer is awesome showing great blacks, excellent whites that aren't clipped, and a wide range of colours that I would describe as comfortable on the eyes without being overpowering. This plasma never failed in delivering the same top performance that it measured at.
The last film I watched was the terrible Stallone & Stone (yes, Sharon) film, The Specialist. Written so poorly, the movie was gut-wrenching to sit through. But the visuals in the beginning of the film caught my eye. When CIA bomb experts, Stallone and James Woods, are caught between ideologies on their last mission together, I noticed the foliage to be excessively green. At first I thought it could have been a pumped up video transfer, but with a cross reference check with a few other titles I noticed a similar trend. Putting the TV back on the test bench revealed that green and cyan were a little brighter than they should be, and all secondary colours (cyan, yellow, magenta) were also off their reference points. This explains why skin tones sometimes had an unfamiliar hue. My review sample had a March 2011 build date, but I've since calibrated more recent builds of this TV which had the colour points correct in brightness and reference. The odd colour of my review sample seemed to be an artefact of the earliest builds (note: I noticed the same effect during my review of the 50ST30 review, but new ST30 televisions measure colour correctly as well). Factory glitches are common in our digital world and many can be corrected with software updates. But it is good to know that Panasonic has corrected the colour of all its more recent builds.
The Motion Smoother feature is still dizzying to watch (not available in THX mode), so while it does reduce motion blurring, it still looks too much like a home video and destroys the feel of film. The dithering can be quite a nuisance especially when sitting at close distances. I especially noticed it in the Blu-ray of Copycat where colour information can be particularly low in some scenes. Plasma panels can have a difficult time reproducing low colour information resulting in minor posterization.
I watched some scenes from Avatar and IMAX Hubble for 3D viewing and was very impressed. Because Avatar rarely moves images out of the screen (negative space) for 3D effects and instead concentrates on image depth (positive space), I find it's one of the few films I can enjoy in 3D without extreme eye fatigue. The depth of this film is amazing and takes us to places we've never been. I felt like I was walking through the jungle with my own avatar, and similarly felt engaged in the battles with the machines versus the natives. Hubble is also one of my favourite titles to return to as we are taken on a virtual space tour from the images captured by Hubble's lenses into to the deepest and darkest places in the known universe. Panasonic's 3D glasses are comfortable to wear and make it easy to watch a full length 3D feature. Since 3D viewing does cut back on light and changes the overall colour of the experience, Panasonic does offer the ISFccc calibration modes to be specifically calibrated and customized through the glasses. The result of calibrating one of these modes is a 3D image that's far superior to what anyone else is currently experiencing, with colours looking more neutral and far less aggressive. Those interested in viewing the calibration data for this television and a further discussion on its gamma performance can view this information on the CANADA HiFi forum at novo.press/forum (click on the Plasma Flat Panel Displays forum and then the TC-P55VT30 thread).
Panasonic has improved its flagship model by offering a thinner design, adjustable user 3D image quality picture modes, reference quality colours (on new panels in THX mode), and best of all, the best black levels in the industry – which have now surpassed reference CRT black. Over the air high def has never looked as good as it did on the 55VT30. The increased resolution over cable and satellite makes me want more channels to be added to the 36 or so I have now. Offered in both 55″ and 65″ sizes, this reference television is an absolute must to look at when considering a plasma TV as the centre of your video entertainment experience.
Mike Osadciw is a THX/ISF Professional Video Calibrator/Instructor with The Highest Fidelity
(905) 730-5996,
info@thehighestfidelity.com,
www.thehighestfidelity.com
Panasonic
www.panasonic.ca
1-800-561-5505
Panasonic VIERA TC-P55VT30 55-inch Plasma TV
Price: $2,999 CAD