It is always a great opportunity to mix a little business with pleasure.  This is especially true when business calls you to a wonderful city like Montreal.  Whatever you're into – food, entertainment, night life, shopping – this city has it all.  And once a year, Montreal offers the chance for audio enthusiasts and industry types to experience many of the latest audio products available in the market.  2012 marks the 25th anniversary of the Salon Son et Image event and as with every past edition provided us with the opportunity to see and listen to lots of new audio products.  Covering an audio show is no easy feat, considering the number of exhibitors and hallways that were bustling with visitors, but I did my best to visit as many rooms as possible.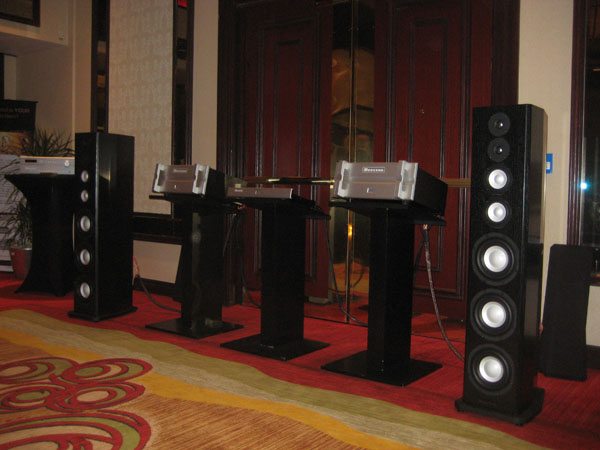 One of the larger rooms at the show, shared by Bryston and Axiom Audio, seemed as good as any for a place to start.  Bryston's James Tanner was on hand and glad to explain his new products to visitors.  The new B135 SST2 integrated amp ($4,300), which replaces the B100, was one of the new products on display.  It offers 135 watts per channel (8 ohms), three separate torodial power supplies, seven inputs, a pass-through feature is also available in addition to, one tape loop and a pre-out/main-in feature.  Also on display was a prototype Bryston speaker developed in collaboration with Axiom Audio – Tanner said it has always been his dream to design an active speaker.  The prototype speaker utilizes a three-way active system (3 woofers, 2 mids and 2 tweeters) with an acoustic suspension design.  Although the speakers were not connected for auditioning there was an outboard DSP-based electronic crossover placed on a stand between them, which may be available as a separate component in the future.  Will we get to hear this speaker at the 2012 TAVES in September?  It would sure be nice!  Something that you could listen to however from Bryston was the brand new BHA-1 balanced headphone amp ($1,295).  A couple of listening stations in the room gave eager headphone listeners a chance to hear the new amp with a variety of music.  The BHA-1 is a highly versatile amp that can easily drive the most demanding headphones in the market (including balanced models).  Most of the other Bryston components were also displayed in the room.  Elsewhere at the show, in the Totem Acoustic room, visitors were also given the chance to listen to the new Bryston SP-3 Surround Processor/Preamp.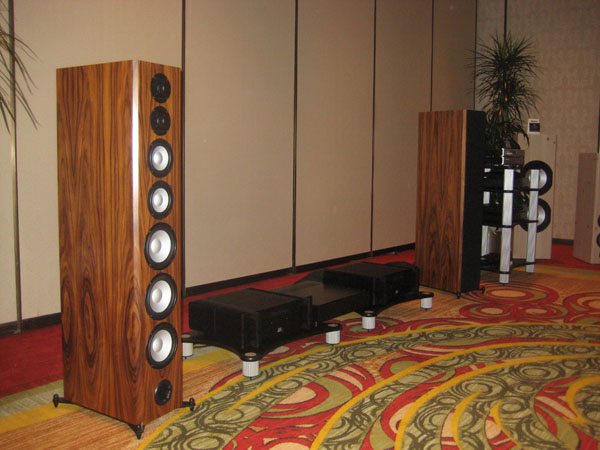 On the Axiom Audio side of the room was a brand new speaker called the LFR1100 (LFR stands for Linear Field Radiating), the company's first omni-directional speaker.  This new model, priced at $3,750, uses no less than 11 drivers – 2 tweeters, 2 mids and 3 woofers in the front; as well as 2 tweeters and 2 mids in the back.  The speaker has 3 chambers, 3 ports and was driven with 4 channels of Bryston amplification at the show.  To deal with its arrangement of front and rear firing drivers Axiom utilizes a custom designed DSP (included in the $3,750 price).  Axiom recommends that these speakers sit about 2 feet away from the back wall for optimal performance.  What advantages does this speaker design offer over a traditional design?  It promises a more natural soundstage perspective with a better sense of depth to individual instruments.  A static display lining the side wall of the room displayed numerous other Axiom speaker models (including two recently released centre channels VP180 and VP160), each in a different custom finish.  Axiom offers a staggering number of finishes to choose from and will even do a colour match for you.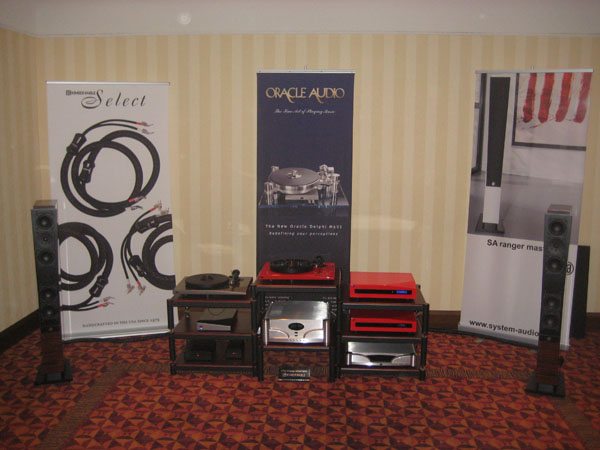 The second room I walked into at the show was shared between Kimber Kable, System Audio loudspeakers and Oracle Audio.  Kimbercan has been the Canadian distributor of Kimber Kable for a few years and now the company is also making the System Audio speaker brand available to the Canadian market.  The speakers playing in the room were called the Ranger Master ($7,000/pair), while a static display of other System Audio speakers lined one of the room's walls.  The electronics consisted of the Oracle Audio Paris CD player, DAC and integrated amp.  The Paris CD player and DAC being demonstrated are actually a single new component which can be ordered in various configurations, ranging between $3,250 and $5,000.  For example, the new component can be ordered as a DAC in both un-balanced and balanced versions, and with or without the CD transport.  The entire system in this room was of course wired up with Kimber Kable Select cables.  Kimbercan also showed its newly introduced HD 19e HDMI cable.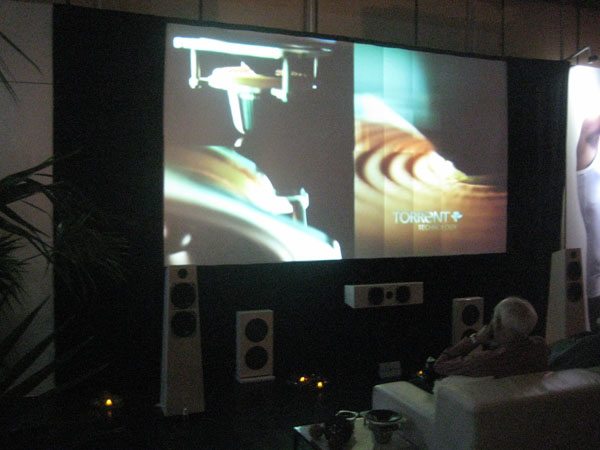 Walking into the Totem Acoustic room this year felt like I walked into a lounge – which was precisely the idea.  Totem always goes far beyond what other companies do to dress its room and this year was no exception.  The combination of white leather couches, plants and dimmed lighting created a relaxed, laid back atmosphere that's cool enough for younger souls but equally welcoming for all visitors.  Further enhancing the setting was a large projection screen highlighting the Totem Element speakers as well as the company's Torrent driver technology.  Of course the main attraction in the room was a 5.2 channel Totem speaker system consisting of the Element Metal floorstanding models ($12,995/pair), the Element Wood centre channel ($4,500), the Tribe V speakers ($2,750 each) in the rear and dual Tribe Sub subwoofers ($1,695 each).  The purpose of this year's presentation was to show that the elegance and lifestyle design of even the largest Totem speakers allows them to fit comfortably into just about any environment.  Cutting edge speaker design and technology also means that Totem speakers offer some of the best sound available today.  I'm personally a huge fan of the sonic signature of the Element series and hope to set up a pair of the Metal models in my own listening room in the near future.  The electronics in the room were courtesy of Bryston, while all of the pieces of the system were wired up with Totem cables.  For those of you who don't know, Totem makes its own reasonably priced, high quality power cords, interconnects and speaker cables.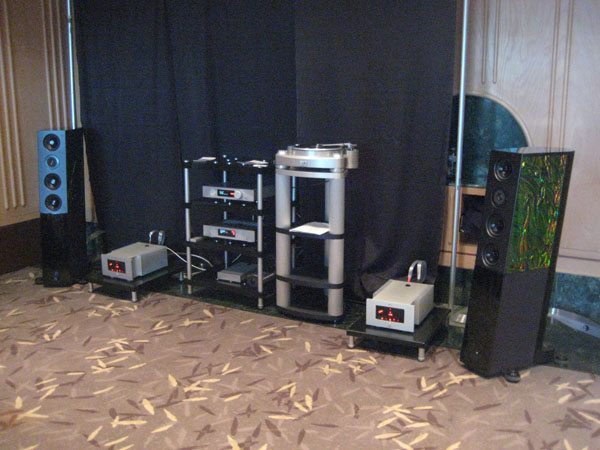 Goerner Communication, the distributor of Audio Physic speakers, Trigon Audio electronics, Acoustic Signature turntables and Triactive audio racks and accessories, had a very nice room at the show this year.  In contrast to last year, when Goerner demonstrated many of its affordable components, this year the company went all out, bringing top-of-the-line components from each brand.  The components playing inside the room consisted of the Acoustic Signature Ascona turntable with an optional dedicated floor stand ($34,000 for the turntable, $12,000 for the stand), Trigon Dialog preamp ($9,500 with three modules), Trigon Chronolog digital music server ($9,500) and Trigon Monolog mono block amps ($9500 each).  Something that makes the Dialog preamp unique is its modular architecture which allows the manufacturer to build this component according to the needs of a customer's system.  The Chronolog is a highly versatile music server which can playback CDs, DVDs, as well as music from its built-in solid-state hard disk, any plugged in USB devices and even the home network.  It can also rip CDs to its hard disk.  Finally, a video output allows it to connect to any display device.  The speakers used were the flagship Audio Physic Cardeas (approx. $36,000/pair) featuring a gorgeous, one-of-a-kind custom finish.  Goerner also had a second room at the show.  This room featured components including the Acoustic Signature Storm turntable ($7,500), Trigon Advance phono preamp ($2,000), Trigon Chronolog music server, Grandinote Shinai amp ($15,000) and Audio Physic Virgo 25 speakers ($14,000).  Grandinote is an electronics brand newly distributed by Goerner in Canada.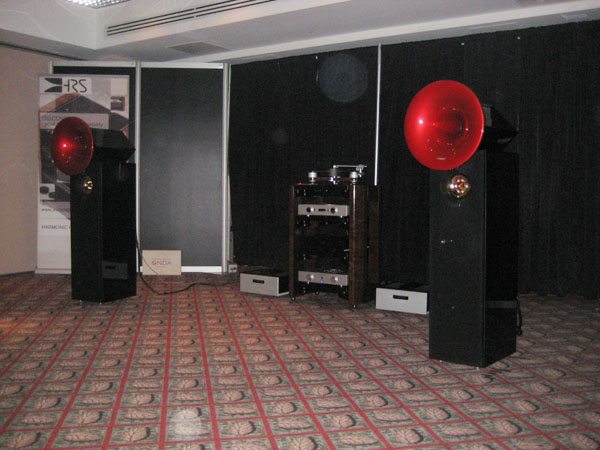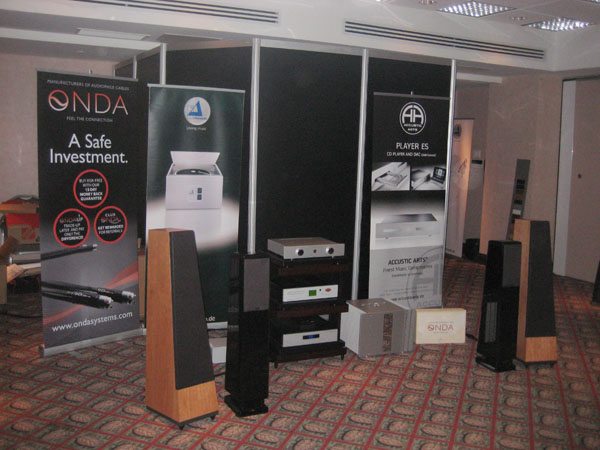 Tri-cell Enterprises, a distributor of many great audio brands, occupied three rooms at the show this year.  Its large exhibit room gave visitors the opportunity to listen to two different systems.  One system consisted of the Acapella Violon MK VI speakers ($44,000), Aesthetix Atlas monoblock amps, Aesthetix Janus preamp and the Clearaudio Innovation Compact turntable – all placed on an HRS stand.  On the digital source side, there was a top-of-the-line Accustic Arts Drive II disc transport and an Accustic Arts Tube-DAC II.  The Acapella Violon MK VI speaker attracted a lot of attention because of its out of the ordinary looks (thanks to its big red horn) and engaging sound.  What makes this speaker very unique is its ion tweeter – a mass-less tweeter which doesn't use any moving parts.  How does this tweeter work?  An electron current that flows between two electrodes energizes the air and creates high frequencies.  Acapella offers speaker models for all budgets, ranging from about $6,000 all the way up to $350,000.  This first system was wired up with Onda Systems' top-flight Riptide cables.  The second system had a Unison Research CD player, Accustic Arts Amp II amp, Aesthetix Janus preamp – all placed on a new entry-level HRS stand.  During the show Tri-cell swapped the speakers in this system giving visitors the opportunity to listen to a few different models from brands including Opera, Vandersteen and Chario.  This system was hooked up with the entry-level Onda Systems cable line called Kyra.  Both systems sounded great, although I must say that the system with the Acapella speakers really won my heart.  In addition to the two systems being demonstrated, the sides of the room were lined with all sorts of products from other brands distributed by Tri-cell.  Another prominent display in the room showed the entire line of Onda Systems cables new and improved cables – a brand which Tri-cell just added to the stable of brands that it distributes in Canada.  Onda Systems offers five levels of cables at varying price ranges, suitable for all audio enthusiasts.  The company's design goal was to produce truthful, organic, analog sounding cables so that they can improve the performance of every audio system and judging from the sound in this room they've accomplished just that.  In addition to all the products shown in this room, Tri-cell had two other rooms at the show.  One demonstrated the ASW speakers with Unison Research electronics and Clearaudio turntables, while the other played Joseph Audio speakers with Brinkmann Audio electronics.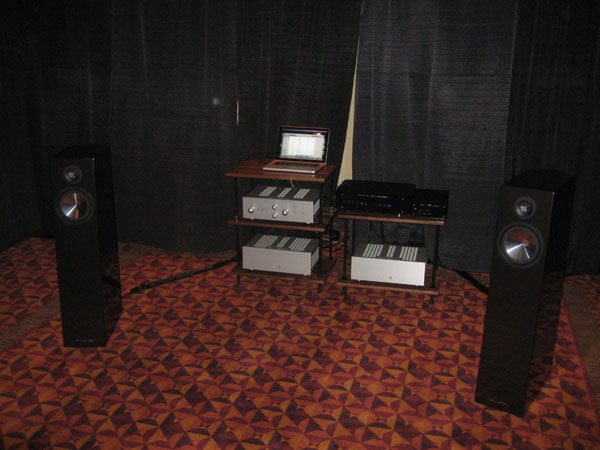 Speaker manufacturer Zellaton made its first appearance in Canada thanks to North American distributor Audioarts.  All Zellaton speakers are hand made in Munich, Germany, offer high-end audiophile performance and minimalist designs.  On demonstration inside the room was the company's least expensive model called the Emotion ($24,750), a semi-open baffle speaker with no crossover.  Like all other parts of the speaker, the woofer and tweeter are built by Zellaton in-house.  Both are constructed from a light weight paper/foam material covered in foil on both sides – using the same materials allows them to achieve a linear uniformity.  Zellaton's speaker range currently consists of four models ranging up to $70,000.  The electronics in the room included the David Berning ZH-230 30 watts per channel amp (approx. $8,600 or $16,700 for monoblock version) and the ZOTL Pre One preamp (approx. $12,500).  Music was provided by a MAC laptop connected to a Lector Audio S-192 USB DAC ($6,500).  Gideon Schwartz of Audioarts says that we can expect to see his company at the 2012 TAVES this September.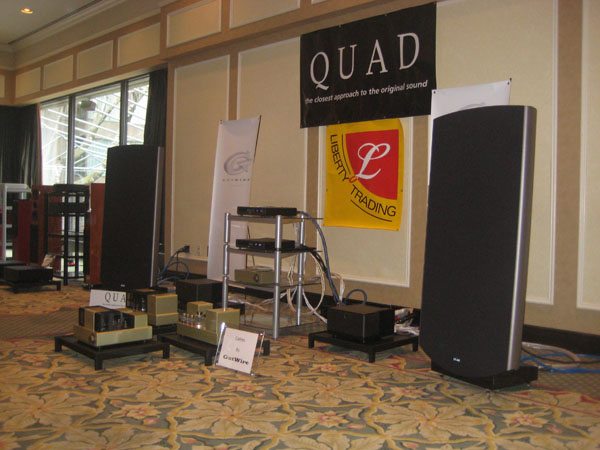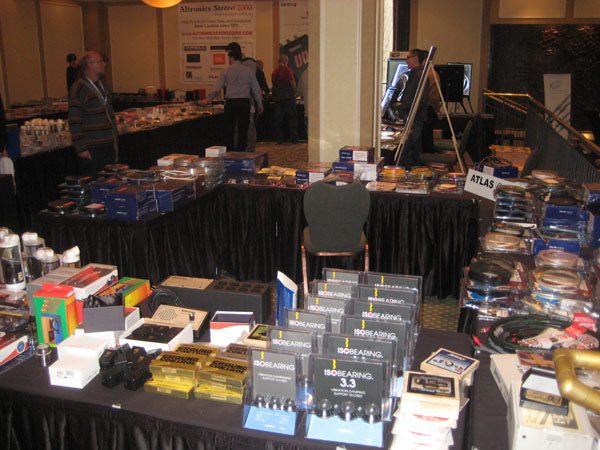 Liberty Trading, a distributor of many fine brands, occupied the largest room at the show.  This year the company re-launched the Quad brand in Canada and introduced the KingRex and April Music brands.  Some of the numerous brands shown in the room were Roksan, Brik Audio, Mastersound, Target HiFi and Gutwire Cables.  For those who brought their wallets, there were also plenty of items for purchase right in this room, ranging from a wide variety of accessories to hundreds of audiophile CDs and records.  In fact, Liberty Trading offered just about every turntable setup/calibration tool and record-care accessory you could imagine.  One of the systems on demonstration that appeared to attract a lot of attention offered the Quad Reference ESL-2905 electrostatic speakers ($15,000) and electronics from the Quad Elite line-up: QMP mono power amps ($4,000/pair), CDS CD player ($1,250) and the Stereo amp ($13,000 approx.).  The second Quad system consisted of the Reference ESL-2805 electrostatic speakers ($12,000), the Elite QSP power amp ($1,995), the Pre preamp and the CDP CD player ($1,600).  Other new products from Quad included the Platinum series and the 23L and 25L speakers.  The cables used throughout the systems in this room were primarily from Gutwire.  Nabil Akhrass, the president of Liberty Trading, told me that he's looking forward to offering some of the same products and demonstrations at TAVES later this year.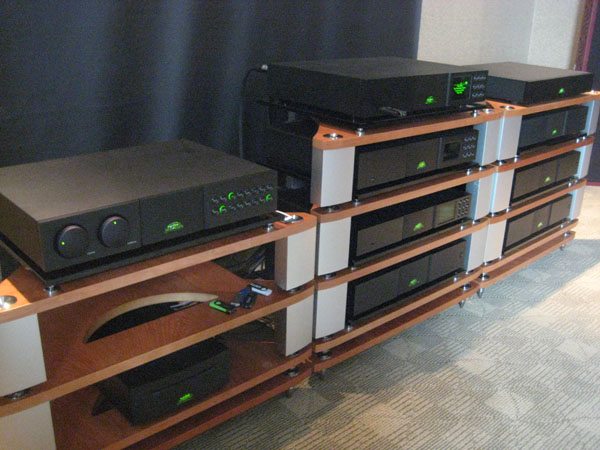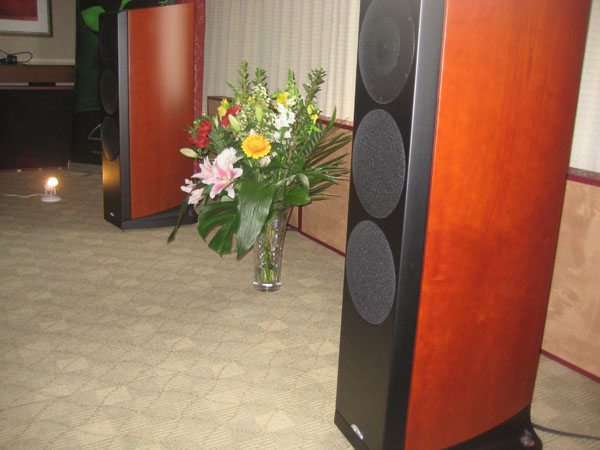 Plurison is one of the biggest Canadian distributors and does an outstanding job of promoting its suite of brands.  The brands that Plursion focused on at this year's show included Naim, Devialet and Focal.  Naim was demonstrated in a two room suite – one room offered the opportunity to listen to a full Naim system, while the other contained a static display of the various Naim Uniti components.  Inside the listening room, Plurison was demonstrating numerous Naim audio components including its latest top-of-the-range NDS Network Player ($13,000) for the first time in North America.  The audio quality of this new player combined with the Naim Ovator S-600 speakers was superb in every aspect.  Inside the static display room, Plurison showed the upgraded versions of the UnitiQute and NaimUniti components.  Both components have been upgraded from 24-bit/96kHz to 24-bit/192kHz streaming, wireless connectivity was upgraded from Wireless G to N and now offer ALAC / Apple Lossless compatibility (up to 24-bit/96kHz).  All UnitiQute and NaimUniti components sold now already have these upgrades installed, while owners of previous versions can upgrade their components for $400.  This hardware upgrade can be performed by a Naim dealer or Plurison.  The SuperUniti, which was first revealed at last year's TAVES, also already has all of these upgrades.  Another component on display was the recently released ND5 XS Network Player, an entry-level streaming component.  This component allows you to stream audio from a UPnP server (wired or wirlessly), listen to internet radio, play music from your iPod, iPhone, iPad or USB storage, and listen to conventional digital audio sources.  Finally, Plurison also revealed a new entry-level XP5 XS power supply ($3,000) at the show.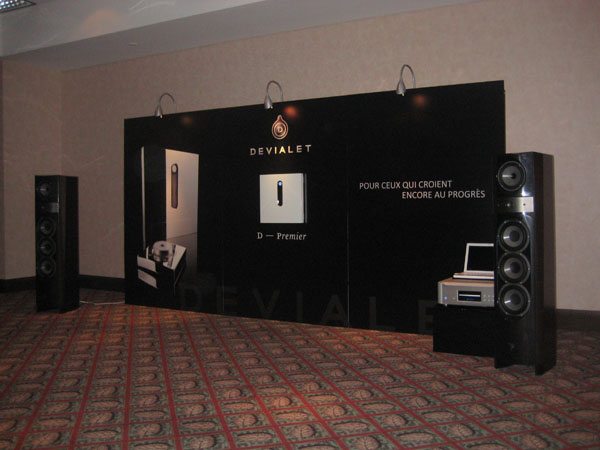 But this was not the only Plurison room at the show – the company also occupied a large room on the bottom level.  This room concentrated on the Focal and Devialet brands.  Again, there was a full system set up in this room that visitors could enjoy as well as a number of static displays.  I had my first opportunity to listen to the Focal/Devialet combination at the 2011 TAVES but couldn't resist spending a few minutes listening to the system here.  When you combine one of the best speakers in the world with a luxurious amplifier the result is pure musical bliss.  Although the system on demonstration was a little too rich for most pockets, Plurison did show many of the much more affordable Focal speakers, which use many of the same technologies, in a static display. There was also a static display which showed the sophisticated insides of the Devialet amplifier.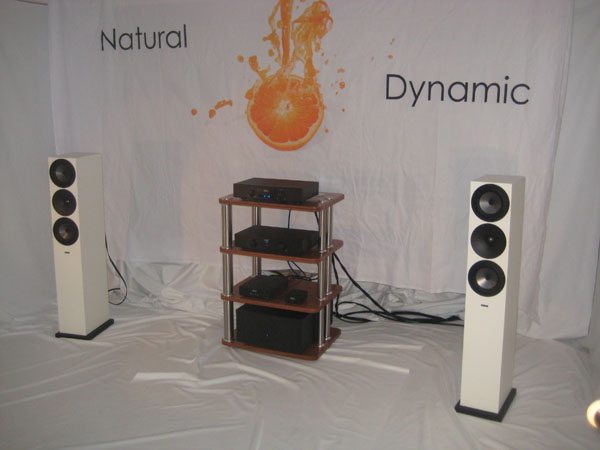 Hegel is a Norway-based company that has existed in the European and Asia markets for some 20 years and began distributing its products in the US about 3 years ago.  Although Hegel products have also been available in Canada for the last few years the company's market penetration has been minimal.  Hegel has now teamed up with VMAX Services, a Canadian distributor of other fine audio brands, and intends to raise the brand's awareness in the great white north by actively promoting Hegel to consumers.  Anders Ertzeid admitted that this was more of a pre-launch of the brand to the Canadian market – the official launch will take place this September at TAVES.  Inside the room the audio demonstration included the top-of-the-range Hegel H30 power amp ($15,000, 300 watts per channel in stereo mode), the Hegel P30 preamp ($7,600) and the more affordable CDP2A CD player ($2,700) and a new HD11 DAC ($12,000).  The final link in the audio chain were the Amphion Argon7 L prototype speakers ($6,000 to $7,000 depending on finish) from Finland.  Richard Kohlruss of VMAX Services said that we can expect to see the production version of these speakers at the 2012 TAVES.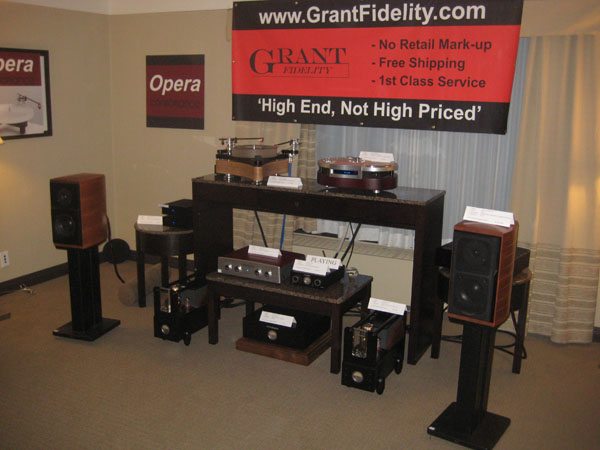 Canadian importer and manufacturer Grant Fidelity is no stranger to SSI and demonstrated its "High End, Not High Priced" motto to the visitors.  This year the company focused on showing two of its major brands in their room this year – Opera Consonance and Psvane.  In the main portion of the room Opera Consonance's latest turntable was among the new products being demonstrated.  This enthusiast turntable ($3,200) comes with one tonearm installed but will accept two more, for vinyl fans who would like to try different combinations of tonearms and cartridges.  Another new component from Opera Consonance was the Reference 7 music streamer ($2,500) which offers a tube output and contains a DAC with the ability to accept input from a hard drive.  The speakers playing in the room were the Grant Fidelity RBS-1 Reference ($2,200/pair) shown in previous year's of the show.  The other section of the room consisted of a static display of Psvane, a tube manufacturer formed by key R&D employees formerly of Shuguang.  Psvane offers affordable, high-end tubes and replicas of Western Electric tubes.  Many different tubes were on display in varying price ranges.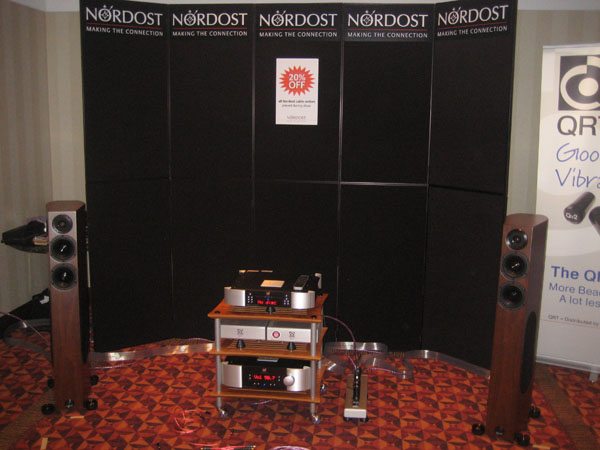 I'm always delighted to see Nordost at shows because I'm familiar with the quality of the demonstrations that the company offers to its attendees.  If you're ever at an audio show at which Nordost is present you should definitely check out one of its demo sessions.  This year Nordost launched the Norse Series 2 cables at the show.  In one demonstration, visitors got a chance to listen to the system in the room with the previous series of power, interconnect and speaker cables in place.  Then, the same music selection was played with the new series of cables in the system.  Similarly, in another demonstration, Nordost demonstrated the benefits of using the various models of Sort Kones in an audio system.  Check out Phil Gold's review of the Sort Kones in the latter pages of this issue – it's pretty amazing just how much of an improvement these devices can provide in a system.  Finally, Nordost also demonstrated the newly released Quantum QRT Qv2 AC Line Harmonizers.  These devices plug directly into the AC line and introduce a calculated range of pulsed frequencies, clocked from the original 50 or 60Hz waveform. The Qv2 is capable of lowering the noise floor, increasing the image depth, dimensionality and presence.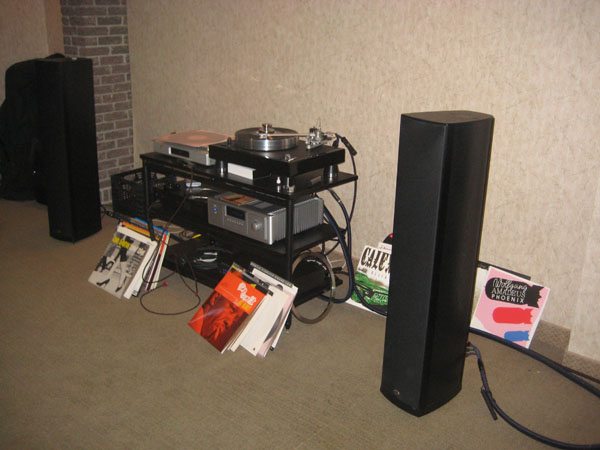 Although some Audioquest products were present at the SSI in previous years, the company wisely set up its own large, prominent room this year.  This allowed Audioquest to run engaging demonstrations and show nearly all of its products to the visitors.  The presenters in the room were particularly excited to demonstrate the soon-to-be-released Dragonfly USB DAC ($250 US).  This is a tiny device the size of a USB thumb drive which promises to compete with the performance of some full sized DACs.  The Dragonfly is designed to plug into any computer and provides a 3.5 mm stereo output for use with headphones or when used with a 3.5 mm to RCA cable can be connected to any stereo system.  Its asynchronous USB input allows it to resolve music files up to 96 kHz/24-bit.  The digital music files were fed from a MacBook laptop as well as a desktop computer in the room.  Another new product shown at the show included a USB to i-device cable.  Audioquest demonstrated to its visitors the difference in audio quality its cable makes when compared to a stock Apple cable (which costs just $5 less then the Audioquest cable).  This cable is designed to connect your i-device to any audio component that offers a "Made for iPod/iPhone/iPad" USB connection (which many AV receivers, preamps and digital music streamers now offer).  Audioquest also ran demonstrations of Lyra turntable cartridges, which the company distributes.  There were plenty of knowledgeable staff members inside the room that were happy to explain the company's products.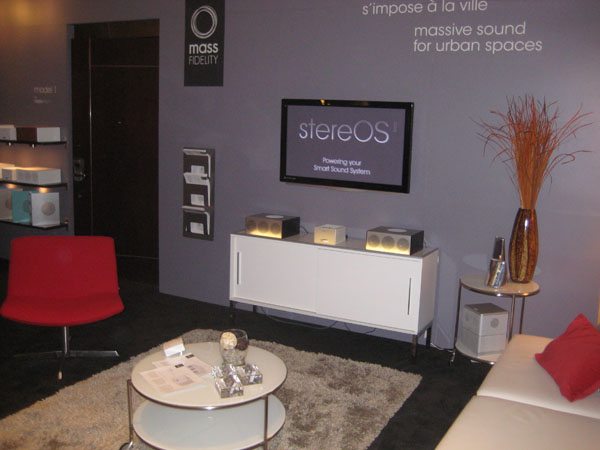 Mass Fidelity is a Canadian company which develops what the company calls smart sound systems.  Its ambitious goal is to do for stereos what Apple did for phones.  The company's vision is to provide a way to offer digital music management by a purpose-built sound system, instead of performing this task on several other devices like phones, tablets or laptops.  Mass Fidelity devices are designed to organize and aggregate your music and serve it to you in a unified way that makes sense.  Mass Fidelity showed the stereOS, a Linux-based device, at the show which packs the company's vision into a single box.  The stereOS is targeted at software developers, custom installers and technology enthusiasts since it offers an open source platform which allows them to add their own features and functionality to it.  This device is capable of accessing all of the music stored on a local network, NAS and various Cloud accounts.  If a particular artist or song doesn't appear in your collection, the device will automatically find it online with the help of services such as YouTube, GrooveShark and SoundCloud.  The stereOS has built-in web server software which can be used to control music playback from devices such as phones or tablets – in effect turning these devices into remotes.  In the future the company hopes to integrate the technology of the stereOS into its sound and speaker systems.  Mass Fidelity also showed a couple of upcoming consumer products at the show including its Reference Series Model 1 integrated amp ($995) and Model 1 speaker system ($995).  Both feature minimalist, industrial designs.  In addition to a typical suite of audio inputs, the integrated amp will also offer Bluetooth streaming from devices such as phones, tablets and laptops.  The Model 1 speaker system is a pair of compact speakers constructed out of MDF with an aluminium grill.  Each speaker is true 3-way system, offering four drivers and two separate enclosures in each cabinet.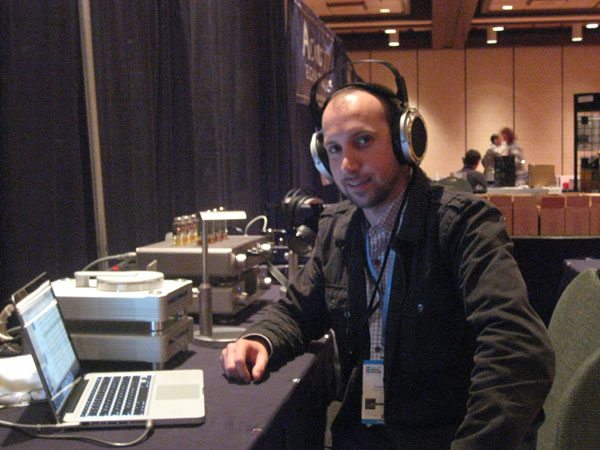 Woo Audio is a company that specializes in tube-based headphone amps (ranging from $495 all the way to $10,000) and had six different models that visitors of the show could listen to.  If you've ever wondered just how much improvement a headphone amp can bring on-board when listening to headphones, this is one display you didn't want to miss.  Some of the listening stations used Woo Audio's brand new WTP-1 CD transport ($1,099 US) combined with the WDS-1 DAC ($1,099 US) as the source, while the other used MacBooks fed through the WDS-1 DAC.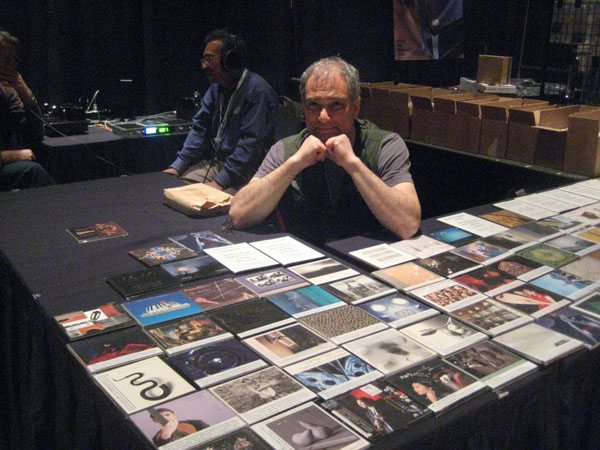 MA Recordings has been in the business of – you guessed it – recording live music for some 25 years.  Todd Garfinkle, the company's owner, records captivating live performances in churches, concert halls and galleries across North America, Europe and Asia. The genres of Garfinkle's recordings cover classical, jazz, folk and world music. The company's most recent recordings are captured at 5.6 MHz/1-bit and available on redbook CD and high resolution WAV files on DVD (176.4 kHz/24-bit).  MA Recordings offered its catalog of recordings for purchase at the show but if you missed it, all the discs can be ordered from www.marecordings.com.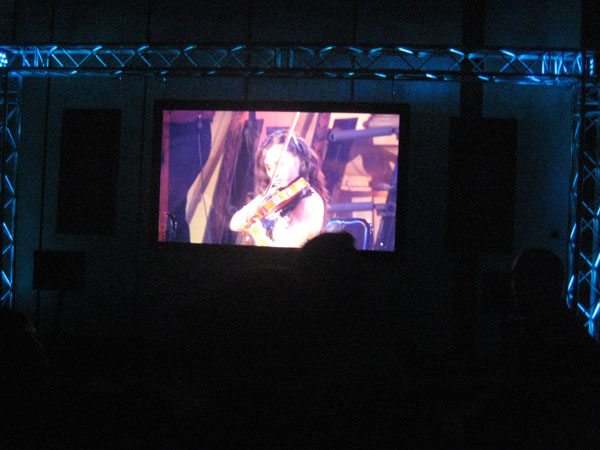 Although the focus of Salon Son et Image was almost entirely on audio there was one pretty amazing home theatre demonstration that I stumbled upon.  A Montreal-based custom installer, Eddie Dufour Audio-Design, set up a fantastic THX-certified multi-channel system which seemed to impress every visitor that walked inside this large room.  The audio was provided thanks to seven Klipsch THX Ultra2 speakers and four matching subwoofers ($18,698) set up in a 7.1 channel configuration.  Using four subwoofers was necessary to fill this large room with a deep and even bass energy.  Helping achieve the bass performance in the room was a Velodyne SMS-1 subwoofer management system ($699).  The electronics included an Onkyo TX-NR3009 AV receiver ($2,499) and an Onkyo BD-SP309 Blu-ray 3D player ($249).  On the video side, there was an Epson Pro Cinema 6010 3LCD 3D-capable projector ($3,549) shooting on to a 100-inch Screen Innovations TRF-100 BD27 screen ($3,199).  I sat for about 20 minutes in this room because the presentation was so engaging.  During the time I spent in the room the presenter was playing the "Yanni Live! The Concert Event" Blu-ray which highlighted this system's audio and video capabilities very well.  Depending on who you ask Yanni might be played out but I certainly enjoyed this demo.  The detailed, dynamic audio brought pleasure to my ears, while the clean 1080p video was a treat to my eyes.  The total value of the system tipped just over $30,000 but the end result was a true movie theatre experience.  Eddie Dufour Audio-Design does not have a website but can be contacted at 514-707-7002.
   Navigating through the various rooms of an audio show is a very exciting task because you never know what new products and brands you might discover.  One thing is for sure, every year I stumble upon something very cool on the show floor.  But all good things must come to an end and as the show wrapped up on Sunday, my feet were glad to finally get some rest.  Next stop?  The Toronto Audio Video Entertainment Show (TAVES) this September of course!  For more info about TAVES, please visit www.taveshow.com.
Editor's note: Part 2 of this article will be added to our site in the next several days, so please check back here soon.