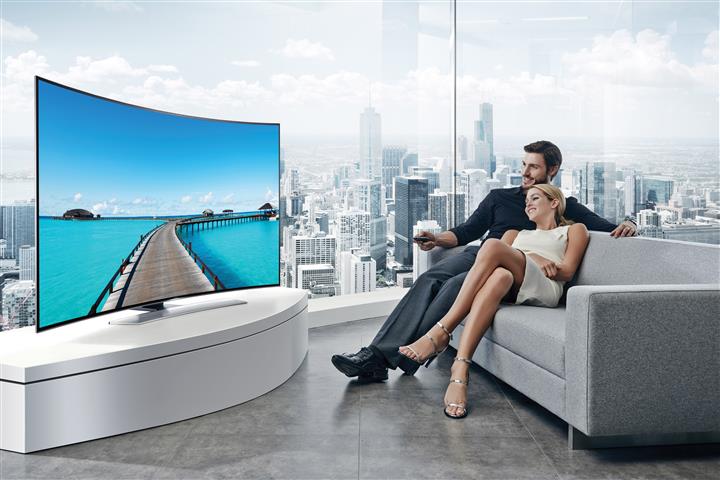 Television technology has been advancing at a rapid pace over the last several years and there are no signs of slowing down. It never ceases to amaze me that every year a new generation of sets raises the bar on picture quality and at the same time improves on the features of previous year's models. And I'm not talking about slight improvements in picture quality – the improvements have been quite dramatic from one generation to the next. Well-equipped TVs of today also come jam-packed with features such as smart TV functionality, 3D picture capability, downloadable apps, built-in internet browsers, motion/voice control and curved screens. And let's not forget about 4K resolution.
Samsung is one of the small group of companies at the forefront of television design and offers one of the most diverse TV line-ups of any manufacturer. Samsung's HU9000 Series LED TVs, introduced in 2014, represent the company's highest performance sets, promising the ultimate picture quality and most immersive experience to date. In the fall of 2014, Samsung sent me the 65-inch curved screen UHD TV (UN65HU9000 model, priced at $4,499) for evaluation and I began enjoying it immediately. The HU9000 Series offers two other screen sizes – 55 (UN55HU9000) and 78-inches (UN78HU9000).
The UN65HU9000 is so rich with technology and features, that it might make your head spin. First, it offers the pinnacle of picture resolution – 4K or 3,840 x 2,160 pixels. That's well over 8,000,000 pixels, or four times the pixel count of 1080p TVs. This amazingly high resolution allows for finer details, greater texture and an almost photographic picture. 4K content is still very limited at this time, but Samsung did supply me with the UHD Video Pack (CY-SUC10SH1), a 1TB hard drive loaded with 10 movies and even more documentaries.
This Samsung's curved screen promises mesmerizing immersion and a palpable presence not felt on flat screens. The curvature of the screen also offers a wider field of view, compared to the same sized flat screen, resulting in a panoramic effect that makes it seem larger.
The UN65HU9000 comes supplied with four pairs of active 3D glasses. The glasses are lightweight, but not terribly comfortable to wear. Since they are of the active-type, they won't cut down the resolution of the 3D picture as passive 3D glasses would (you'll get the full 1080p picture) but some viewers may experience headaches and dizziness when using the glasses. This TV will also up-convert 2D content to 3D, though I personally find this to be a complete gimmick.
In 2014, Samsung introduced something called the One Connect box with the Evolution Kit built in. This box contains Samsung's Smart engine processor and video processor enhancements as well as all of the video and audio inputs. As a result, there are no inputs on the TV panel itself, but rather a single cable connection that runs between the box and the TV. In the future you will be able to replace the One Connect box with a newer version, rather than replacing your entire TV, to enjoy new features. The One Connect box supplied with this TV includes a host of video inputs, including 4 HDMI, 3 USB, 1 component and 2 composite (1 is shared with the component input). There is also an Ethernet jack and built-in WiFi, as well as an RF antenna connector for OTA (over-the-air) signals.
This Samsung also comes equipped with a feature called Multi-Link Screen which can break the screen up into four quadrants – allowing you to watch different content in each quadrant. This means that you can watch live TV in one quadrant, while browsing the web in another, while having YouTube clips playing and the Facebook app open in the other two quadrants.
The supplied remote is small, stylish and thanks to its curve and rounded edges, it fit comfortably in my hand. Its clutter-free face includes only the most essential buttons such as volume, channel buttons, voice control, search, source, Smart Hub, menu and a few buttons to control a video playback. There is also a touch pad with directional keys that works quite well for selecting keys on the on-screen keyboard. I can say with confidence that this is the best, compact remote I have used, provided with any TV I've reviewed.
This HU9000 series screen offers a native resolution of 3,840 x 2,160 pixels, and as it is common these days, very few other technical specifications are shared. Its LCD screen uses an edge-lit LED backlight with local dimming, although Samsung does not specify the actual number of local dimming zones. What we do know is that this HU9000 set sports more local dimming zones that its flat-screen HU8550 brethren. Like most other TVs in the market today, this Samsung offers a 120 Hz refresh rate (Samsung calls this feature "Clear Motion Rate 1440"). The HU9000 series introduces a couple more picture enhancements: Auto Depth Enhancer (which offers a greater picture depth by adjusting the contrast of different parts of the picture) and Wide Color Enhancer Plus (which promises to deliver picture color the way the director originally intended, although Samsung does not explain how it works on their website). A built-in camera, housed on top of the screen, rounds out the feature list, and allows motion control of the TV (with finger and hand gestures) and is used for apps such as Skype.
Visually, this HU9000 series TV is drop-dead gorgeous, and probably the best looking TV that's ever sat in my living room. It looks just as pretty whether it's on or off. The minimal bezel virtually disappears into the screen, and the silver stand follows the curvature of the screen gracefully.