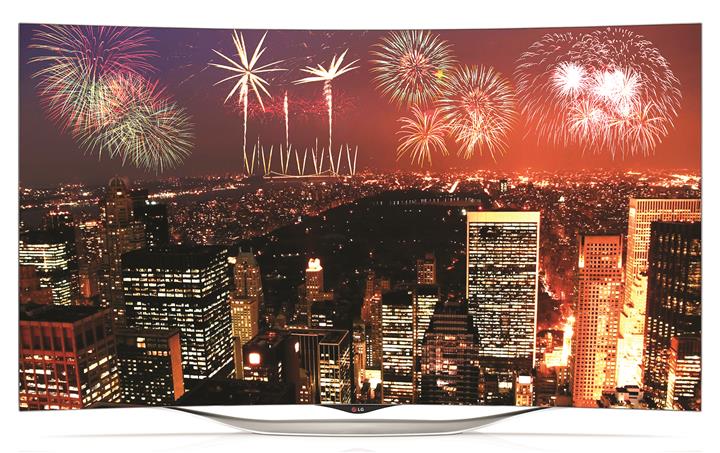 Not long ago, few people had the opportunity to lay their eyes on an emerging video display technology named OLED. The promise of infinite black levels and an incredible contrast ratio was certain to lay plasma and LCD to rest. But years of production delays left OLED only as a myth and the reality of the technology became a faint hope – that is until LG released their 55″ for the masses in 2013. LG's OLED (Organic Light Emitting Diode) received favorable reviews for its zero-light black levels, brilliant contrast, and the juiciest colours imaginable. At the just-passed CES in Las Vegas, LG announced that in 2015 it will be rolling out several 4K (for the first time) and 1080p OLED TVs in three screen sizes: 55, 65 and 77-inches. All of these models will be available in flat and curved-screen versions. Please check out novo.press for more specific details about the Canadian launch of these new sets, when they become available. This review focuses on LG's second generation 55-inch 1080p curved screen model 55EC9300, which came out in 2014 with an MSRP of just $4,999 – a drastically lower price compared to LG's first generation OLED TV which retailed for $14,999 US when it first appeared in 2013. At last, the OLED dream is now a reality!
This is the thinnest and lightest television to grace my living room. The depth of the panel is about 5 mm not including the rear plate housing the inputs, electronics, and power connection to drive the TV. Shipped with the stand in place (it is removable for wall mounting), it weighs in at a feather light 36 lbs. When powered off, the only visible bezel is a silver pinstripe on the outer edge of the gently curved screen. On a 55″ TV, the curve is hardly obtrusive when compared to larger LCD models. The TV and stand are elegantly designed to make any interior decorator happy.
The TV includes 4 HDMI inputs, one with support for ARC (Audio Return Channel) and one compatible with MHL (Mobile High Definition Link). A single 3.5 mm stereo audio input can be configured for any of the HDMI inputs in case the source uses DVI on the other end. There is no VGA PC port since most video cards now have HDMI connectors. Legacy components can use the single analogue component / composite video input (a 3.5 mm adaptor is included). Also included are three USB 2.0 inputs to view external media connected by flash or hard drives, an Ethernet connector (Wi-Fi built-in), an RF connector for cable, or OTA (over-the-air) signals, and an optical output for 5.1-channel sound from OTA.
The power/input buttons are located at the right rear in case the LG Magic Remote is lost. The remote has a minimal number of buttons and a motion sensor. You'll need to practice and familiarize yourself with this remote to enjoy it. It requires a steady hand because the motion cursor, and even at its slowest setting is quite sensitive. I longed for a traditional remote once I started tweaking the finer picture adjustments, but these types of adjustments aren't done often by most consumers. The remote is designed to operate as a pointer especially when using the Smart TV features, and it works well for that. There is also a remote app for Android and iOS devices should you wish to go that route. To read in more detail about the TV's functions, you'll have to refer to the on-screen E-manual as this TV comes with a limited print manual. Although I suspect most people will learn about this TV's features from the text boxes that show up when selecting a menu item.
This LG offers a 1080p (1,920 x 1080 pixel) native resolution, and so you won't be able to watch any 4K content on it (of which there is still very little out there). It does however offer the holy grail of TV screen technology – the long-promised large OLED screen.
Unlike the full-array LED backlighting zones that LCD displays use to achieve improved black levels, each OLED pixel generates its own light and can be turned on or off independently. LG calls this Pixel Dimming. The ability to do this offers many benefits that make it superior to plasma and LCD TVs. With Pixel Dimming, contrast is expanded beyond what we've ever experienced before. Since black is so deep in every scene, the image has remarkable depth. Even the best plasma and LCD screens look somewhat washed out in comparison. Darker colours immediately stood out as being cleaner and less noisy on this OLED TV than any display I've ever calibrated over the last 16 years. With an infinite contrast ratio, all of your TV shows and movies will be viewed in a way never seen before.