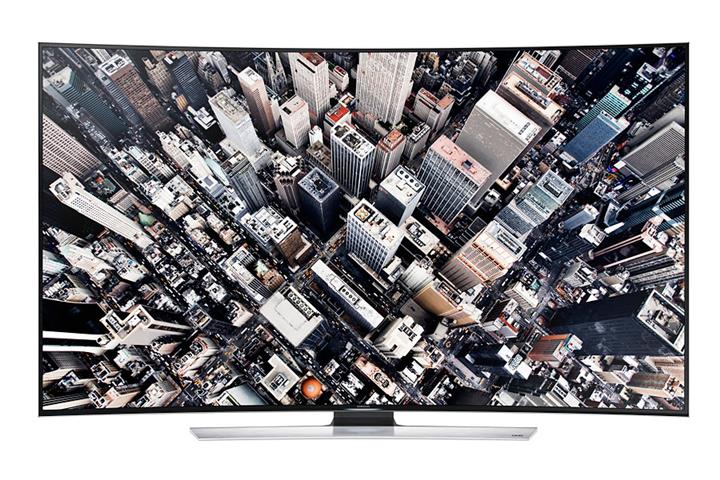 This Samsung offers four picture presets, of which three are eye-burning bright and unnatural. To enjoy a reasonably accurate picture out of the box, you'll want to switch into the 'Movie' mode since it offers the most natural colours and saturation, and has most picture enhancements turned off (a good thing). You'll also want to turn off the Auto Motion Plus so that the picture doesn't look like it was shot with a home camera. Of course to achieve the most accurate picture from any TV, including this Samsung, I recommend getting it professionally calibrated. For calibration purposes, this TV offers 2-point and 10-point grayscale controls, as well as full colour management system.
I was most curious to watch 4K content on this HU9000 TV, so I started by connecting the UHD Video Pack hard drive to the One Connect box via the USB connection. Accessing the USB input is done swiftly by pressing the Smart Hub button on the remote and then selecting the USB drive. The Samsung remote allowed me to navigate the various folders on the USB drive by pressing the directional keys and also by waving the remote like a wand at the screen, which to my surprise worked quite well. I began by watching a few of the documentaries and was immediately impressed by the stunning 4K picture. When shot with a high quality camera, the 4K picture can look superbly realistic. Although good quality 1080p video can look pretty incredible, you can still see that it is comprised of individual pixels. The densely packed pixels of a 4K picture on the other hand are nearly impossible to see with the naked eye and translate into a picture that's stunningly fluid and real. Many of the scenes in the documentary "Garden of the Gods: Cappadocia" transported me right into the world of the natural wonders in Turkey. I found it very easy to get lost in the picture and felt as if I was actually looking at the incredible rock formations with my own eyes, rather than through a television screen. Scenes from a documentary about Vancouver, BC had a hyper-realistic picture depth, something that I was experiencing for the first time on a TV. This was particularly apparent in shots that showed buildings and skylines. I could truly see the depth between the various structures thanks to the three dimensionality of the picture. The 4K picture looked so good, the lines between reality and the screen became seriously blurred (I'm not exaggerating).
Sitting at a distance of 10 feet away from this 65-inch screen, I could easily enjoy the benefits of the 4K picture but as with any 4K TV, the benefits quickly disappear as you move further away from the screen. Although I found the small Samsung remote a little odd at first, I grew to enjoy it while navigating the 4K content on the USB drive. Many of its buttons and especially its directional pad/keys became second nature in no time.
Jumping over to some of the 4K movies on the UHD Video Pack, I immediately realized that not all 4K content is created equally. The resolution of G.I. Joe: Retaliation and both Star Trek films for example wasn't nearly as good as that of the documentaries I watched earlier. For the most part, these film looked no better than they do on Blu-ray in 1080p. Forest Gump and Life of Pi on the other hand displayed slightly better details and looked sharper than they do in 1080p. I can only suspect this has everything to do with how these films were converted to 4K. 4K content is still in its infancy stage so this is not a big surprise. We experienced the same "teething" problems when 1080p content first came out.
I should also mention that I really enjoyed how quickly you can jump between the various documentaries and movies on the USB drive. Once a selection was made it only took 2-5 seconds to start playing, and without the annoyance of multiple FBI and other warnings that you always have to sit through on physical disc formats. I did experience one bug though – every time I played a different selection, the subtitles were displayed and I had to go into the menu and manually turn them off.
If you haven't watched 4K content just yet, you should know that the jump from 1080p to 4K resolution isn't anywhere near as dramatic as the difference between standard definition and 1080p. The improvement here is much more subtle, and noticeable only on large TV sets (55-inches and up). And where can you get more 4K content? Good question. Right now the amount of 4K content is still pretty sparse. Outside of Samsung's UHD Video Pack, you can now stream 4K content from Netflix, Amazon Instant Video, YouTube and Vimeo (although all streamed content is highly compressed). The great news is that the first 4K Blu-ray players will be arriving later this year, and the content roll-out is expected to grow significantly in 2015.
But this Samsung's stunning 4K performance is only a part of the story. Vast improvements have been made in LCD screen and LED backlighting technology over the last few years and the HU9000 Series serves up Samsung's very best picture performance to date. Despite this set having an edge-lit backlight, as opposed to a full-array backlight, it offered good screen uniformity and excellent performance in dark scenes. This TV also has one of the deepest black levels and among the best shadow details I have ever witnessed from an LCD TV. While watching Guardians of the Galaxy on Blu-ray, the black bars at the top and bottom of the extra wide picture appeared nearly as black as the bezel of the TV. Dark scenes offered a great contrast and contained loads of details, even in nearly completely black parts of the picture. However some halos (light spilling from the light area of the picture into the dark area) did appear around light objects in dark scenes, something to be expected from an edge-lit backlight.
Bright scenes similarly presented lots of gradation and details. I found this Samsung to be more than bright enough to watch in the Movie picture preset with daylight in the room, although some viewers may choose to use the Standard mode for daytime watching. Either way, this TV offers plenty of brightness when being watch in a bright environment, while maintaining a great black level performance in dark parts of the picture.
This HU9000 TV also serves up a delightfully natural looking picture, one of the best I've seen from any LCD set. The colours were rich, punchy and well saturated in every scene I watched. Flesh tones looked realistic, as did the blues of the sky and the greens of nature.
TV manufacturers have been boasting about the advantages of the curved screen since this technology first appeared. I agree that a curved screen does offer a slightly better immersion and its picture appears to be a tiny bit larger than the same sized flat screen (something I saw in a side-by-side demo when Samsung first showed these sets to the media). That is – if you sit directly in front of the TV and close enough to it. However the curved screen also has some downsides. For example, its glossy finish produces strange, elongated reflections, compared to a glossy flat screen, which can be quite annoying when watching TV during the day or with lights on in the room. These reflection can be disruptive to the viewing experience and hence you need to be more careful where you position the TV in the room. It produces equally annoying reflections even when the TV is off.
All in all, my time with this TV has been most satisfying. The Samsung HU9000 Series delivers a truly outstanding picture performance in just about every regard. It offers fantastic colour reproduction, a great contrast, truly deep blacks and amazing dark scene performance. All of this amounts to viewers being able to take in their favourite movies and programming just the way that directors intended them to be seen. The curved screen of the HU9000 Series comes at a premium and may not be suitable for every taste or viewing environment, but if you desire to experience Samsung's top performance picture this is the series you'll want to choose. If you have a smaller budget and prefer a flat screen, then check out Samsung's HU8550 Series, which offers a very similar picture performance and more screen size options. And unless you're working with a tight budget, a 4K TV is absolutely the way to go today. This Samsung offers one of the best pictures I have ever experienced from an LED (LCD) TV.
Samsung
www.samsung.ca
1-800-726-7864
Samsung HU9000 Series LED UHD Curved Screen TV Review
(Model UN65HU9000)
Price: $4,499 CAD