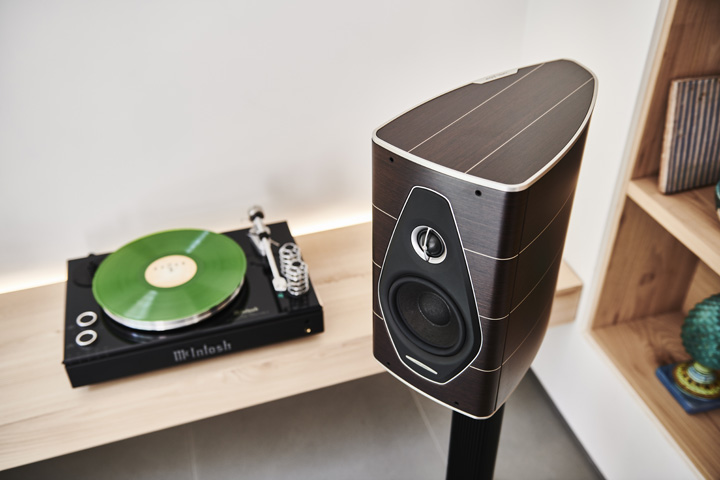 Above: the Sonus faber Olympica Nova I bookshelf, along with a McIntosh turntable.
General Sonic Impressions:
For perspective, I drove the Nova IIIs with a number of amps. These included: 1), a pair of Ayon Audio's Crossfire Evo mono-block tube amps; 2), a 150w/ch Classé CA-151 solid-state amp; 3), vertically bi-amped with a pair of 55w/ch Sonic Frontiers Power-1 tube amps; 4), an Assemblage 40watt/ch EL34 based tube amp; and 5), a pair of Icon Audio MB-90 Mk#2 KT-150 tube juiced mono-blocks.
I played with the toe-in and rake of the Nova IIIs for a few days before isolating a final position. In terms of soundstaging, the Nova IIIs pulled off a magical disappearing act that, other than with a few $30K USD level bookshelf monitors, I've never experienced before. At times, sounds emerged from behind my listening chair that, frankly, startled me.
Reaching up to 35 KHz, the silk dome tweeter created remarkably smooth highs. Cymbal strikes, chiming percussion, and high frequency accents had state-of-the-art attack, sustain, and decay. Even after lengthy half-day listening sessions, I had no issues with listening fatigue.
In the mids, male and female vocals were organic and palpable. Even when compared to electro-stats like Quad ESL-63s, midrange sonics of the Olympica Nova IIIs were excellent.
In the lower midrange, upper bass, and mid-bass regions, the Nova IIIs created addictive PRaT. They presented layer upon layer of sonic information in the bass registers with an incisive, textured, and tangible *feel* that was a joy to experience. If amazing low-end sonics came in the form of a snowmobile, I'd lovingly straddle the Olympica Nova 3s every chance I got and proudly wave to all as I enjoyed the adrenaline-spiked ride through the low frequency registers.
Above: the Sonus faber Olympica Nova V loudspeaker, along with the Olympica Nova CI Center Channel speaker.
Listening Tests:
Listening to Joni Mitchell's 1974 Court and Spark on a 200g vinyl pressing, songs like "Help Me", "People's Parties", and the title track "Court and Spark" came rushing forth with an honesty and purity that I've neither heard nor felt before. My God could Joni Mitchell sing!
Mere seconds into this album, I was fighting to hold back the tears. By the third track "Free Man in Paris" I was openly weeping. Recreated by the Nova IIIs, Mitchell's impassioned vocals reduced me to a blithering emotional wreck. Jumpin' Jesus on a Rotax 800R… hearing her voice this accurately—and honestly—knocked me to the moon.
For perspective, I next tried Goatsnake's Black Aged Blues. Released in 2015, this album highlights Godzilla-heavy songs where monstrous riffs, memorable memories, and fascinating sonic accents carry a listener through a doomed and apocalyptic blues-based sonic netherworld.
If you like the pure down-tuned doom of early Black Sabbath, you'll (probably) love Goatsnake's sound. Akin to salted caramel, Pete Stahl's dark and wistful voice has a unique flavour to it. As sweet as his vocals truly are, there's an edge to Stahl's pained vocals that has a hauntingly unique—even bitter—taste to it. Combined with his riveting blues harmonica solos, Black brings a fresh and vibrant sound to the doom metal cosmos that is sorely lacking.
Listening to the unstoppable groove of the song "Coffee and Whiskey", I was catapulted out of my chair like a human cannonball. Without warning, I found myself strutting around the room, playing air guitar, and thrashing my head in time with the airtight rhythm of the track. It was as if a doom metal Priestess had cast an ebony-Scottish funkadelic fuzz-doom rhythm and blues spell upon me. I was powerless to resist.
At that moment, if Trudeau's suede-denim secret police had kicked in my listening room's door and arrested me for trying waaaaay too hard to be young and cool again, I wouldn't have cared. I was having so much fun grooving-out to Goatsnake's songs that, as I think back on it now, I still smile an endless smile.
Conclusion:
Overall, the Olympica Nova IIIs created a profoundly intense emotional connection with every type of music I challenged them to play. If Sonus Faber's founder Franco Serblin were still alive today, he'd be proud—heck… probably even arrogant—to see his company producing such awesome products at, by audiophile standards, reasonable prices.
Any pair of loudspeakers that can reduce me to tears and then get me to swing my hips around the room must be recognized as exceptional. With the Nova IIIs, you'll sink right into your favourite songs and… ohhh Hosanna… fall helplessly and hopelessly in love with your most cherished recordings.
Although a pair of Olympica Nova IIIs costs $13,500 USD, by audiophile standards, they are a bargain. I've heard many $25K+ USD level loudspeakers that do not have the top-to-bottom sonic coherency, PRaT, or resolution of the Nova IIIs. Everything else in the Nova III's price range is a boat anchor.
Over the course of 20+ years, I've auditioned more than 30 pairs of $10K+ USD speakers in my main Sonic Frontiers rig. I can emphatically state that the Nova III is the best overall sound that I have yet achieved from this system. The Olympica Nova IIIs created so many joyous musical moments for me that I cannot return them. When the flood comes, I'm making room in the rescue canoe to save these beauties. Yep… the Olympica Nova IIIs are that good.
Sonus faber
Sonus Faber Olympica Nova III Floorstanding Loudspeakers
Price: $13,500 US / pair