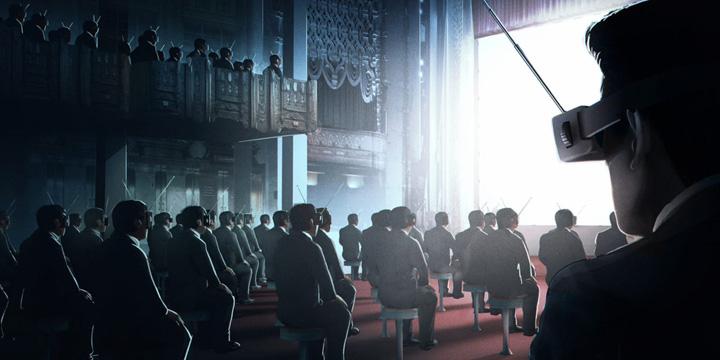 Showcased at the 75th Venice Film Festival, The Horrifically Real Virtuality was their largest VR installation. Produced by DVgroup, the Parisian company introduced a new genre: the VR play. The piece begins with the audience arriving and being introduced to the movie that's filming behind a curtain. What some audience members don't notice when they enter is that the play has already begun and they are now a part of the cast. They stumble onto set and watch as an actor in a motion capture suit delivers his lines. From the monitor, they can see that the young actor is instantly transformed into an old man. As the scene progresses, the Director barges in and starts placing audience members into active roles, holding the camera, controlling the sound effects, etc. After the scenes have been shot, the audience members are ushered into the next room where they are given VR headsets. Instantly transported into a black and white world and positioned in front of a glamorous theatre, the audience no longer resembles themselves. As identical short men with chunky, horn-rimmed glasses and two short antennae sprouting from their heads, they take their seats and prepare to watch the film. The next thing they know, they are floating through the screen and into the movie they were just a part of filming. What happens after, you will have to find out for yourself!
Another piece that blurs the worlds of theatre and Virtual Reality was the Canadian National Film Board's Draw Me Close. This illustrated tale is a memoir about the relationship between a mother and her son in the wake of her terminal cancer diagnosis. Unlike The Horrifically Real Virtuality, the piece is meant to be experienced individually. The audience member takes on the role of the son and engages with the actor playing the terminal mother. Wearing a variety of sensors, the mother appears as an illustrated avatar in the animated world. In addition to interacting with the actor, they can touch, feel, and move objects on the set. The one-to-one performance is gentle but powerful and has left more than one person in tears after experiencing it. While previously showcased at film festivals, Draw Me Close now includes events dedicated to theatrical arts on their events calendar.
While Virtual Reality has found a place in the consumer market through location-based entertainment centres, the industry still has a ways to go. With the current surge in free roam VR arcades featuring shooter games — which are entertaining — we will need to evolve faster and develop a collection of diverse content if VR is going to become a staple in the LBE world. A marriage of immersive technology and theatre will allow content creators to experiment with storytelling and break from the traditional methods we are used to.