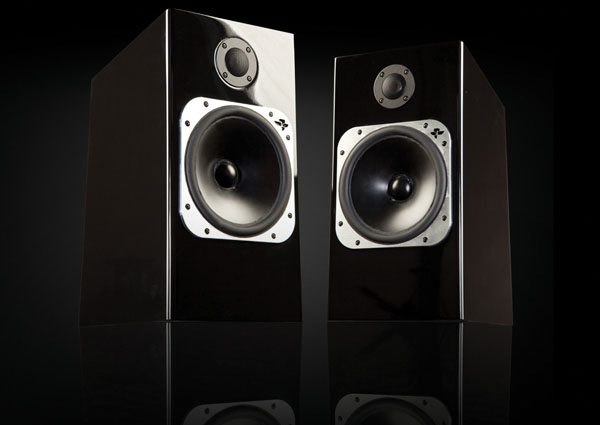 It's not everyday that Quebec's Totem Acoustic introduces a new range of speakers. Totem models tend to stick around, to be incrementally improved as developing technology allows. Yet this year Totem is making a big splash with their new Element Series of radically designed speakers. Three models are available now, with two additional models to come:
• Element Fire – a compact stand-mounted speaker (the subject of today's test)
• Element Earth – a floorstander with one active and one passive woofer
• Element Metal – a larger floorstander with twin active woofers
• Element Wood – a centre channel (coming soon)
• Element Water – a subwoofer (coming soon)
So what can be so radical about this new range of speakers?
First let's take a look at the cabinets. They taper towards the top and to the back, leaving no two sides parallel. This is great for avoiding standing waves and minimizing cabinet resonances, but also makes them look far more interesting than many earlier Totem designs which follow the traditional rectangular box principle. The finish, 4 coats of polyester, white (yes please) or black gloss, will turn many heads. The cabinet material is a graded mix of different densities of fibreboard, designed not to eliminate but to control and spread resonant frequencies. The drivers are so clean looking and elegant that Totem recommends you leave the magnetically attached covers off so you can enjoy showing them off as well as optimizing the sound quality. The speakers look more restrained and traditional with the grill covers in place. Even at the rear aesthetics are not forgotten. Totem specifies a custom machined aluminum terminal plate and bi-wirable platinum WBT connectors, topped by a tapered aluminum port.
So much for the visuals. The chief magic is on the inside. Following the lead of another highly respected Canadian speaker manufacturer, Reference 3A, designer Vince Bruzzese has developed a crossover-less speaker. Strictly speaking that doesn't mean there's no crossover inside. Rather, the amplifier makes direct connection with the midrange/woofer, with no intervening capacitors, inductors or resistors. There is still a simple crossover including two very exotic capacitors to mate the tweeter level and response curve to the main driver's characteristics. This woofer maintains a significant output level up to around 5 kHz before smoothly rolling off, but its output is smooth and distortion free in this range, unlike conventional woofers.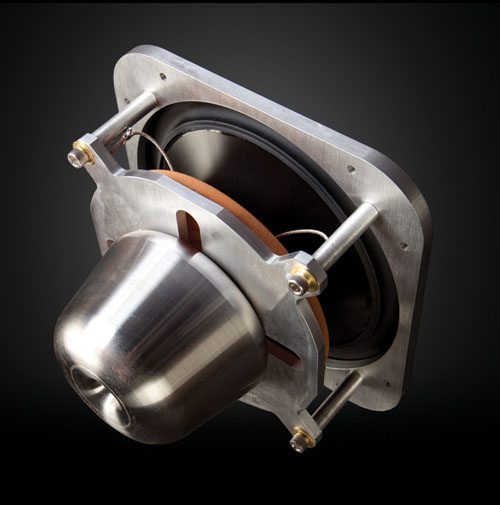 So yes, these are special drivers, designed specifically to work in this application. Let's take a look at them. The 7 inch Torrent woofer uses a thin polypropylene cone backed with three different damping materials and is powered through an unusually large 1 inch movement by a compound magnet system of unusual geometry and remarkably high magnetic flux. This driver is designed and manufactured in-house by Totem, and may be the most expensive single dynamic driver you'll ever see. The magnetic material alone costs more than the entire woofer in most high end speakers. Even the wiring is unusual. Instead of round wire Totem uses a square cross-section to eliminate gaps between the conductors and to maximize flux density. The tweeter is another Totem design, which appeared first in the Tribe series, and is a very rugged, air cooled radiator with a titanium dome for very wide dispersion. Special attention has been paid to conducting heat away from the moving parts by way of a very thick aluminum 3/8 inch face plate and fins incorporated into the aluminum alloy body rather than being attached later. Without the aid of any fluid cooling, this tweeter is pretty much unburstable. Both drivers are designed to give a very wide dispersion pattern.
This crossover-less architecture is a very tough trick to pull off, but if you can do it, the benefits are enormous. Not only are all the distortions and efficiency losses that a regular crossover may introduce a thing of the past, but also the amplifier can exert much greater control of the bass/midrange driver, improving response time and reducing overhang.
The Fire is not fussy as to the height or stability of the stands you choose, and will also work well on a table top or bookshelf. You should allow about 18 inches of free air behind the speakers to allow the port room to operate. Being reasonably efficient and having a benign impedance curve, the Fire will work well with most amplifiers, but given their high resolution and accuracy, you'll want to pair them with some very good electronics and cabling. In fact switching out a pair of $1800 speaker cables and substituting the wonderful Nordost Valhalla bi-wire cables made an enormous difference. Right there, that's a sign of a very good speaker – one that can easily show the difference between different components and wires feeding it.
I paired the Fire with a very high end system, comprising the EMM Labs XDS1 CD/SACD player, EMM Labs Pre 2 preamp, Bryston 4B-SST² amp and Nordost Valhalla cabling throughout. Having given the speakers time to run in, as recommended by the manufacturer, I was immediately struck by how realistic the string tone sounds were in some very well recorded symphonic works. Then, in came the horns, tubas, clarinets, flutes, followed by the percussion section, and it was immediately obvious that we have a winner. Enter the massed cellos and double basses and it beggars belief that we are listening to a compact monitor. The Fire has an excellent bass response, is pitch accurate and sprightly, down to frequencies normally associated with much bigger boxes. Turn the wick up and it all holds together. It's a very easy speaker to listen to. I don't mean it's laid back or soft on transients. Rather the brain doesn't have to work hard to reconstruct the sound of the symphony orchestra when the signal is so full range, accurate, low in distortion and located so well in space. The Fire's specifications show a frequency response down to 40 Hz, but my own in-room measurements showed significant output well below 40 Hz. That's the result of the rear port and the low resonant frequency (16-17 Hz) of the main driver. But you should not assume deep pedal organ music is this speaker's strong point. Once the signal level increases at such low frequencies, the port introduces its own distortions. If that's your poison, the answer is to switch to the Earth (rated down to 31 Hz) or the Metal (rated down to 30 Hz).
Now we're not all here to listen to large scale orchestral works. I like to start there because if a speaker can handle that, it should do really well on less demanding music. Anyone who attended the recent Montreal show will know the Element series speakers just love rock'n'roll and heavy metal. Why? Because these are superbly linear speakers. All speakers compress as you turn up the volume. These just happen to compress a lot less than most others out there. The unburstable tweeter is one factor, the new magnet system in the woofer another, the absence of crossover a third. Linearity means you can hear the dynamics the same way the tracks were laid down, and while it's always important, here it's essential. The Fire aced any number of my favourite recordings, consistently placing instruments and singers clearly in their place in a wide and deep soundstage.
My own listening is focused more on smaller scale acoustic recordings, sixties folk, fifties jazz, classical chamber music and piano. To an extent, such music is often more impressive in a setup that adds a little richness. Joan Baez's voice with a little extra warmth is a real treat. A string quartet with some added body may pull you further in. Well, you're not going to get that here. Not unless you buy a tube amplifier or a Marantz SACD player, or use one of the warmer cables such as the Cardas Golden Cross. The Fire is about wide bandwidth, low distortion, accuracy and truth, and the same can be said for all the components and cables in the test system. If your CD is harsh or ragged, that's how it will sound through the Fire. If your LP collection is scratched and full of static, each of these imperfections will be heard in their full glory. So buy these speakers only if you can handle the truth.
The fact that Totem can make the Fire available at $5,995 for a pair really defies belief. This is a glimpse of the real high end, and a magnificent follow up from the company's earlier pocket reference "The One" speaker. It keeps all the musicality, accuracy and imaging of that wonder, and adds additional scale, bandwidth and a wider listening field. Nothing this small has ever sounded this good to me.
Totem Acoustic
www.totemacoustic.com
514-259-1062
Totem Acoustic Element Fire Compact Speakers
Price: $5,995 CAD
SIDEBAR: Recommended Recordings used in this review:
•  The Well – Chava Alberstein and the Klezmatics – Rounder 11661 31852
•  Love – The Beatles – Capitol 09463 7981023
•  The Well – Jennifer Warnes – Cisco – SCD 2034
•  Kulanjan – Taj Mahal and Toumani Diabate – Hannibal HNCD 1444
•  MA on SA – MARC Recordings
•  Kind of Blue – Miles Davis – Columbia – CS 69935
•  1910 – Les Doigts de l'Homme – ALMA ACD61412
•  Shumann Fantasie – Mitsuko Uchida – Decca 4782280
•  Beethoven Sonatas – Alfred Brendel – Philips 446701-2
•  Brahms First Symphony – Ivan Fischer – Channel Classics CCS SA 28309
•  Haydn Quartets Opus 20 – Quatuor Mosaiques – Astree E8786
•  Nordost System Tuning and Setup Disc – CD NOR-TD1