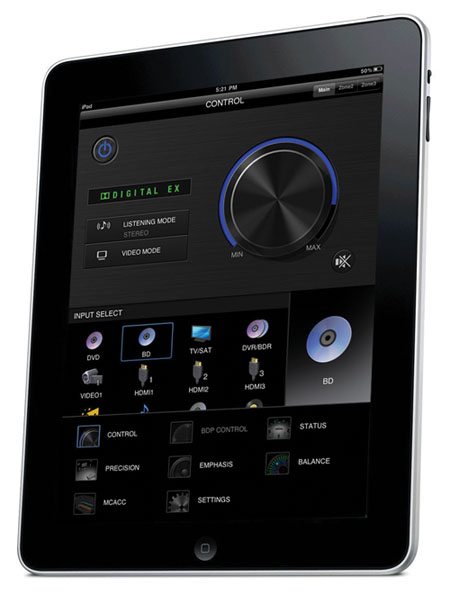 If there has been one category of gadget that has been blowing up to the point of ubiquity these last few years it's the mobile computing device. Smartphones, tablets, netbooks, it seems everyone is connected just about everywhere they go. Many of these diminutive devices are now able to do more, and oftentimes do it faster, than their full-sized computer brethren were able to just a few years ago. In addition to sometimes "standing in" for a full-fledged computer (there have been several novels released in the last few years that were written exclusively on the iPhone), mobile devices have allowed us to interact with other gadgets we own in revolutionary and unique ways. Large, bright, colourful touch screens and accelerometers (sensors in the device that sense how it is being held or moved) have given creative developers countless new opportunities to take control of lighting, AV gear, even the temperature in your home. Seeing as how you're reading CANADA HiFi I'll assume that the AV gear part of that sentence made your ears perk up, so without further ado, I present to you but a few selections from the growing world of home theatre control apps.
While much has already been written about the plusses and minuses of the various smartphone and tablet operating systems (OSes for short) and the multitude of different types of hardware they run on, for the purposes of this article I'll be focusing on Apple's iPad, iPhone and iPod Touch devices and their iOS operating system. In the interest of full disclosure, I should mention that I own and operate an Apple Authorized Service Provider and Reseller business in midtown Toronto, but at the time of this writing I don't sell or service iPads, iPhones or iPods of any sort. Much like the merits of the many mobile OSes, there is a forest or two worth of articles out there about the Apple devices themselves, so I won't be veering too deeply into a discussion about hardware. It does bear mentioning though that certain models of Apple hardware may not support certain apps and features, so before you run to the App Store and start downloading something expensive, please do your due diligence to make sure that the application you are interested in is compatible with your hardware.
Home theatre oriented apps run the full gamut in the app store, both in terms of what they allow you to do and how much you have to pay to do it. Starting on the affordable side, Apple's Remote app (Apple, free, available natively for iPad, iPhone, iPod Touch) is a no-brainer and is something that should probably be pre-installed on every iOS device. Remote allows you to control either an iTunes library on a computer (Mac or Windows) or a current generation Apple TV. The combination of Remote on your device, your iTunes library on your computer and a few strategically placed Airport Extreme ($99) units with inexpensive powered speakers can produce a multi-room distributed wireless audio system for well under $500. Simply tell iTunes which Airport Express to point towards and then you can control track selection and volume, among other controls, all from the palm of your hand on your device. Changing rooms? Just tell iTunes to point towards the Airport Express in the room you are heading towards now. Remote is almost comically easy to set up. Simply make sure your computer, or Apple TV, and your mobile device are connected to the same network, hit the "add an iTunes Library" button on your device and enter the 4 digit code of the computer the device is trying to connect to. Now you have full control over your music, playlists, shuffle, repeat etc, all for free.
Media Remote for iPhone (Sony, free, iPhone & iPod touch native, but will run on iPad) is designed to allow you to put your Sony Blu-ray player, TV or AV receiver's remote control away into a drawer and somewhat trim down the mess on your coffee table. When paired with compatible devices (there is a comprehensive list of what it works with on the app's App Store page) the user has the option of a "simple remote" which allows them to use the touch screen to navigate around the user interface elements present onscreen or a "full remote", which offers control over most features available on the device's actual remote, including one-button control of transport, audio, subtitles, and menus. There is also a Disc Info section, which gives the user information about the Blu-ray disc currently in the player. Blurbs about the director, producer and stars are all easily accessible, along with one-touch links to Youtube, Twitter and Wikipedia, so you can learn more about them while you watch the film.
Not to be outdone, Pioneer has also thrown its hat into the ring with not one, but two apps: the iControl AV2 app and the Air Jam app. The iControl AV2 app, in my opinion, is one of the sleeker looking, most intuitive and feature-rich apps out there at its price point (free, iPad, iPhone, iPod Touch). iControl AV2 is designed to control Pioneer's AV receivers, and has features like a nine band EQ, a full status page showing input and output modes for sound (complete with nifty speaker diagrams that pulse to show which speakers are active for each listening mode) and video. There is also an amazing 3D model of your receiver's MCACC (Pioneer's automatic room calibration system) settings and a super slick "emphasis" section, which features a bass boost that you can engage by pinching apart on an animated subwoofer icon. As you increase the bass, simulated "cracks" form in the glass of your iPad until you reach the maximum boost, at which point an animation simulates the glass shattering. This is the iPad experience being used to its fullest for sure! Pioneer's Air Jam app (free, iPad, iPhone, iPod Touch) is a unique app that lets users share music tracks directly through the AV receiver. This app can simultaneously connect up to four devices to the AV receiver via Bluetooth, giving users the ability to create a group playlist with each device's music content. By the time you read this, Pioneer will offer several different Pioneer and Elite branded AV receivers which support these two apps.
Slightly more pricey than the last three, but still not breaking the bank by any stretch, is Movea's Air Mouse app ($1.99, iPad, iPhone, iPod Touch). This inexpensive app runs as a client on your mobile device, and requires a small free server application which runs in the background on your computer (compatible with both Windows PCs and Macs). Air Mouse allows you to use your device as a touchscreen controller for your computer, rather than having a dedicated keyboard and mouse. This allows those of you with Home Theatre PCs (HTPCs for short) to control them and launch videos, music, photo slideshows and browse the web, all without an unsightly keyboard and mouse to add clutter to your home theatre. The accuracy and speed of the pointer and scrolling features can be tweaked to your liking, and Air Mouse even features a nifty little "gestures" feature that allows you to use your device's accelerometer to control the pointer (think Minority Report and you're sort of there).
A bigger jump in price takes us to a combination hardware/software solution called the Redeye Mini ($44.99, iPad, iPhone, iPod Touch), a little dongle which inserts into the headphone jack of your device and uses IR (infrared) signals to control the various pieces of gear in your home theatre. Redeye offers an online database of devices that can be controlled but fret not, even if yours isn't present the device can learn codes from your existing remote. This essentially turns your iDevice into a touchscreen universal remote, with a feature set rivaling that of devices that cost exponentially more than the RedEye Mini. Sound and Vision magazine and Stuff magazine were both so enamored with the Mini they saw fit to bestow upon it Editor's Choice and Gadget Award 2010 honours, respectively.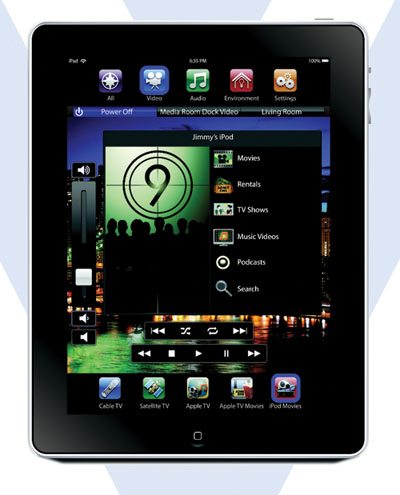 While Savant's TrueControl app ($9.99 for iPad; $4.99 for iPhone/iPod Touch) is reasonably priced, chances are that the hardware system that goes along with it set you back a good chunk of change. Savant creates whole home automation, control and entertainment systems, allowing you to control AV gear, climate and lighting in every room in your house. As you can imagine the costs for such a system can get high fairly quickly, but that is a whole other discussion outside the scope of this article. The TrueControl app itself features professionally shot photos of the various rooms in your house, so turning on a lamp in your living room, for example, is as easy as reaching out and tapping its image on your iPad screen. The lamp's icon even illuminates onscreen, casting light over the photo, to let you know it has been activated! You also have full control over the various TVs, cable boxes, Apple TVs and Blu-ray players in all the rooms in your home. The scope and level of control afforded to the user by this app is almost too large to properly put in writing, so I urge you to hit the App Store and download TrueImage Lite, which is a free "demo" version that will allow you to really get your head around the level of control that you can have over everything in your home, all from the screen of your iPad.
Lastly, in a slightly different, but still equally as cool of a category of app is the SlingPlayer Mobile for the iPad ($29.99). Have you ever been traveling and wanted to watch your favourite hockey team play but can't find the game on any channel? The SlingPlayer Mobile works over either a WiFi or 3G connection to allow the user to connect to their Slingbox SOLO ($169.99) or Slingbox PRO-HD ($279.99) devices back at home to watch live TV or anything recorded on their PVR right there on their iPad. The SlingPlayer Mobile allows the user full control of cable boxes, satellite receivers, basic cable, OTA (over the air) antenna signals, Apple TV and even home security cameras.
The apps I have highlighted above are but a small fraction of the home theatre-related apps in the App Store today, with new apps being added each and every week. A quick poke around the App Store also turns up apps from Naim, Micromega, Denon, Marantz, Panasonic, Yamaha and Samsung. Then there are also countless specialty-type apps, such as the Slingplayer Mobile. I would encourage anyone with one of these "magic and revolutionary" Apple mobile devices to spend a few minutes searching around the App Store to see if there might be some way to simplify, or improve, the way that you interact with your home theatre and the various bits of gear in it.