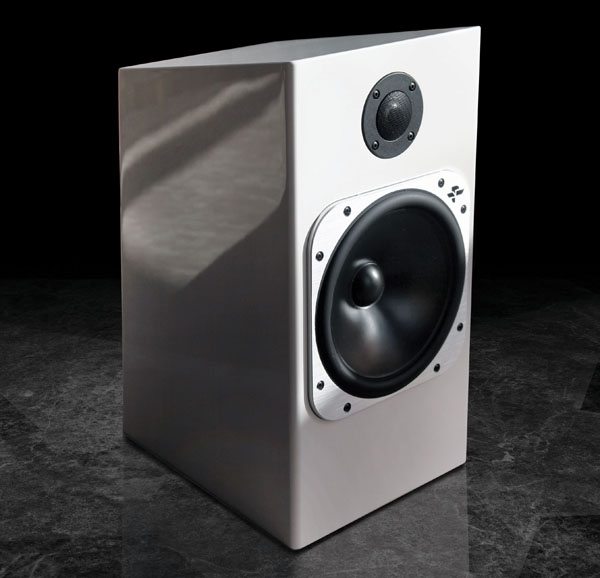 I have already reported on the phenomenal Totem Fire bookshelf speaker ($5,995) in the pages of CANADA HiFi. When I reviewed it last year it sat as the smallest offering in the Element range which extends to the Earth floorstander ($8,995) and the bigger Metal floorstander ($12,995). I liked the Fire so much that I jumped at the chance to review the latest offering in the Element series, the even smaller Ember ($4,200). I didn't know what fun I was in for.
I expected a punchy little speaker, projecting a smaller image and offering reduced definition, frequency range and dynamics, but still a contender against speakers of its own size. How small is it? Just 18.7cm wide, 24.8cm deep and 35.8cm high. That makes the Ember a full 40 percent smaller than the already compact Fire. Totem's first speaker, the Model 1, now in its Signature Edition is 40 percent smaller again, so you may assume designer Vince Bruzzese knows a thing or two about getting the best out of small speakers. You'd be absolutely right to do so, and I think he has consistently demonstrated he is second to none in this art.
What I found simply knocked my socks off. This was no scaled down Fire. This is a superb instrument in its own right. Play it in a dark room and I don't think you could tell the difference. It sounds like a big speaker, projecting a huge image across the room. The bass extends down to 43 Hz on paper, compared to 40 Hz for the Fire. While I'm sure it can't go quite as loud as the Fire, it retains all of the Fire's explosive dynamics, which is part of what makes it sound like a much bigger speaker.
Mr. Bruzzese must be using some secret sauce in both of these miniature marvels. What's the story? If you want to know the full story of what makes the Fire tick, you'd better read my earlier review from the August/September 2011 issue, now available on novo.press/ or on your tablet. I'll sum it up by saying Totem makes its own drivers incorporating its own unique magnetic topology in the 7 inch Torrent woofer.  This woofer operates with a direct connection to the amplifier rather than through the traditional crossover with its accompanying losses and distortions. The unburstable dome tweeter is designed with exceptional airflow and cooling fins to allow it to dispense with the more common ferrofluid cooling. Extremely high quality components are used throughout, including four WBT platinum coated binding posts. The box tapers towards the top and the back leaving no parallel sides in an effort to avoid interior standing waves without needing to use stuffing material. The cabinet material uses a graded mix of different densities of fibreboard to control and spread the resonant frequencies. A four layer high gloss finish (black or white), magnetically attached grills and extensive use of aluminum complete the picture. Totem offers a five year parts and labour warranty on the speakers and is keen to point out that it still has the parts for any speaker the company has ever made.
The Ember represents an effort to bring the Fire's sound quality and looks down to a lower price point, $1795 lower in fact. In the smaller cabinet it is of course easier to control vibrations, so there are certainly some savings in the cabinetry. For this application Vince Bruzzese developed a new hand assembled 6 inch Torrent driver. This woofer does not have the multi-segmented structure of the 7 inch driver in the Fire, because it doesn't need it to develop the 9500 Gauss magnetic field required in the smaller driver. So the geometry has been altered. It uses instead a ring magnet with three different types of material to stretch the magnetic field considerably. The square cross section wire is retained with a stainless vanadium alloy former. The 6 inch cone does not need rear damping and the extended upper frequency response (4500 Hertz) of this slightly smaller driver allows Totem to specify a smaller tweeter. The 6 inch Torrent woofer takes 4.5 hours to build, down from 7.5 hours for the 7 inch woofer in the Fire. The 3/4 inch tweeter is a silk dome design with an aluminum faceplate shared with the Fire but the tweeter itself is a different design better suited to the characteristics of the smaller cabinet and woofer of the Ember. It does not have the protective wire mesh of its bigger brother so if you have kids or pets it may be better to keep the magnetic grills in place.
So much for the visuals. The chief magic is on the inside. Following the lead of another highly respected Canadian speaker manufacturer, Reference 3A, designer Vince Bruzzese has developed a crossover-less speaker. Strictly speaking that doesn't mean there's no crossover inside. Rather, the amplifier makes direct connection with the midrange/woofer, with no intervening capacitors, inductors or resistors. There is still a simple crossover including two very exotic capacitors to mate the tweeter level and response curve to the main driver's characteristics. This woofer maintains a significant output level up to around 5kHz before smoothly rolling off, but its output is smooth and distortion free in this range, unlike conventional woofers.
I put in a lot of listening time with the Ember. It needs a good 50 hours to sound its best, but it is very happy with just about any high quality amplifier. At 88dB efficiency and an 8ohm load you don't need a powerhouse. Totem suggests a range of 30 to 175 watts. The 150 watt Modwright KWA 150 SE solid state amp and the 90 watt Copland CTA506 tube amp were both excellent partners, and extracted similar levels of performance from the Ember. On the Copland you do need to select the 8 ohm tap to get the best out of the Ember or you'll get something rather reduced in dynamics.
Where I thought I might trip up the Ember was full scale symphonic material or some heavy rock. But I failed to ruffle the Totem on either trap. It was simply outstanding in Shostakovich's 10th Symphony, which gets as dramatic and complex as you'll find. I could hear all the detail with impressive weight and outstanding imaging. My reference YG speakers have a greater sense of ease in this repertoire and dig a little deeper, but the differences are surprisingly small. You are supposed to turn up the volume when you play the Stones. "Love in Vain" sounded great with a strong attack from the steel guitar and an image precisely located in a wide stage. I could hear every instrument individually without losing track of the performance as a whole. While the Carmel is faster and more dynamic still, notice that I'm comparing this $4,200 speaker to an $18,000 speaker, because it's really that good.
When it comes to smaller scale music the Ember is absolutely in its element (pardon the pun). Jennifer Warnes is at her very best in "Too Late Love Comes". You get the full impact of her rich voice, along with the steadily growing instrumental accompaniment, all infused with natural colour and strong detail. The presentation is forward, but not aggressive. What makes it so successful is the low level of distortion, the pinpoint imaging, the fast reflexes and more than anything, the absence of the usual compression of dynamics which most speakers suffer from. Once you've heard this level of aliveness, it's hard to go back. Music sounds like music, not like a recording anymore. Totem does not have a monopoly in this, but it is something I'll give up deep bass extension, ultimate resolution or maximum sound pressure for any day.
The Element series is a statement product line from Totem. As such it will not sell in the same volume as the other less expensive models on offer. I imagine many people will feel $4,200 is a lot to pay for small bookshelf speakers and may not pay much attention to the Ember. That will be their loss. I'd suggest you forget about the dollars per cubic inch calculation and simply compare the sound of this pair of $4,200 speakers with anything else you can get for this much money. I think they stand up really well in this context.
In my review of the Fire I wrote "Nothing this small has sounded this good to me." I can repeat that now for the Ember! If you are looking for something really small (even smaller than the Fire), reasonably efficient and very easy to drive, but you demand a true audiophile sound, then look no further. This is it. My highest recommendation.
Sidebar – What else should I look at if I want the best in a small package?
Take a look at the Ember's bigger brother, the Fire speaker , reviewed in the August/September 2011 issue. It will set you back $5,995 and looks just like the Ember on steroids. The Fire provides an even bigger sound, slightly higher resolution and deserves a top recommendation.
The Reference 3A MM de Capo i comes in at under $3,000 (reviewed in the December/January 2010/2011 issue) and is another exceptional compact monitor, made in Canada, and again featuring a directly connected woofer. Not quite as elegant in appearance and less capable of high volume levels, but capable of stunning realism and dynamite imaging.
Another strong competitor is the B&W 805 Diamond. It's bigger and more expensive than the Ember but it also incorporates a lot of high technology in a design that has been refined over many years. The diamond tweeter is unique to B&W and sits distinctively above the main cabinet.
Recommended Recordings used in this review:
• Love – The Beatles – Capitol 09463 7981023
• The Well – Jennifer Warnes – Cisco – SCD 2034
• Rolling Stones – Let It Bleed – ABKCO 90042
• Shostakovich 10th Symphony – Naxos 8.572461
• Beethoven String Quartets – IsoMike
• Sumi Jo – La Promessa – Erato 3984-23300-2
• Nordost System Tuning and Setup Disc – CD NOR-TD1
Totem Acoustic
www.totemacoustic.com
514-259-1062
Totem Acoustic Element Ember Compact Speakers
Price: $4,200 CAD