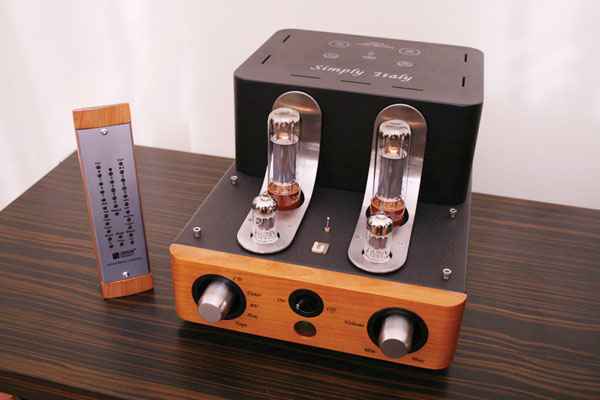 If you've ever been to a show like the Toronto Audio Video Entertainment Show, you'll know that the tube amplifier product category is alive and well.  You'll never see this type of amplification technology in your smart phone or tablet – that's true – but when it comes to listening to music at home, many listeners still very much prefer the sweet sound of tubes.  And while there are many tube amplifiers that will set you back thousands of dollars, there are also some surprisingly affordable models.  Take the Simply Italy integrated amplifier from Unison Research for instance, which retails for a reasonable $2,450.  Have I got your attention?  Good!
Unison Research is an Italian company that has been designing and hand making quality audio components since its inception in 1987.  This Simply Italy is a compact integrated amplifier designed to coincide with Italy's 150th birthday.  Its design was inspired by and shares many features with the company's highly successful Simply Two integrated amp which was in production for many years.  Much like the Simply Two, the Simply Italy has a single-ended ultralinear Class A design that outputs 12 watts per channel.  It utilizes EL34 tubes in the output stage and ECC82 tubes in the preamp and driver stages.  Thanks to its nominal load impedance of 6 ohms, this amplifier is capable of driving even the most demanding, 4 ohm speakers.  Inside the Simply Italy, the power transformer and the first filter stage of the power supply are doubled, separating all preamp stages.  The result is lower crosstalk and distortion.  Unison Research calls this a quasi dual-mono design.  Unlike most manufacturers, this company makes its own very high quality output transformers and thanks to this the Simply Italy's output stage has one EL34 tube in a single-ended ultralinear configuration.  This allows the pentode EL34 to operate in an intermediate manner between pentode and triode, but with increased linearity.
The Simply Italy is a compact component that will fit easily into many spaces where a full-sized component would be out of the question.  It measures 26 cm (wide) x 35 cm (deep) x 19 cm (tall), and weighs 15 kg.  Its wooden façade offers a source selection dial (CD, Tuner, AV, Aux, Tape) on the left and a matching volume dial on the right.  Both dials offer a good feel and precision.  Sandwiched between them are an On/Off toggle switch and a round tinted window behind which sits a green power indicator LED.  Unison Research offers two versions of this amp: one with a black front panel with circular cherry wood inserts around the dials and the power switch; and another version with a cherry wood front panel and black circular inserts.  In addition to looking nice, the wooden face plays a role in damping chassis resonances.  Two stainless-steel bars help with the thermal isolation of the electronic circuits and output transformers.  Between them sits an unassuming switch which allows the listener to toggle the amount of negative feedback in the circuit between 5 dB and 1.8 dB.  The feedback switch affects some of the amplifier's parameters such as the damping factor, bandwidth and distortion, and allows the user to choose what sounds best with their specific speakers.  Just below that is a small Unison Research badge.  My review unit had the cherry front plate and I enjoyed its looks from every angle.  Unison Research includes a black metal cage to cover the tubes for those who have little ones running around the house or curious cats.  The build quality and finish of this amplifier is just excellent.
The rear connection panel of the Simply Italy offers gold-plated speaker terminals that will accept any type of connector, 5 RCA audio inputs and a single tape output.  There is also an IEC connector for those who would like to try an upgraded power cord.
The supplied remote is just as attractive looking as the amplifier itself.  It sports a wooden body and steel face and is quite comfortable to hold.  This remote works with other Unison Research components such as CD players and tuners and hence its face is filled with over 30 tiny buttons.
I listened to many hours of music in the background, letting the Simply Italy burn-in, before sitting down to do more in-depth listening sessions.  My source was the Bryston BDP-1 digital player connected through the Bryston BDA-1 DAC.  The speakers used were my long standing Focal Electra 1008 Be II bookshelves.  All cabling was provided by the Nordost Leif series cables.
First up was the Audiophile Voices VI album.  Rebecca Pidgeon performing "Spanish Harlem" sounded delightful and I instantly got lost in the music.  With every track I listened to from this album, the Simply Italy offered a seductively rich and fluid midrange with plenty of high frequency detail.  The bass line danced around tunefully from note to note.  I clearly heard the distinct texture and tone of each of the various string instruments.  The female voices sounded convincingly real, offering all the warmth and natural timbre of a live singer.  At times I swore the artist was with me in the room.  The Simply Italy positioned all the instruments and voices precisely within the soundstage, with ample air between them.  The result was a very engaging performance.
Switching gears, I put on AIR French Band's Moon Safari album.  The Simply Italy effortlessly resolved the various intertwined layers of sound.  The soundstage was expansive and reached well beyond the limits of my room.  The bass was deep, articulate and played with lots of richness.  On the first track, "La Femme D'Argent", the sound of rain was realistic, although perhaps not quite as natural as I've come to expect from my reference ModWright Instruments LS 100 tube preamp and KWA 100 amp.
The TRON: Legacy soundtrack, composed by Daft Punk, combines an 85-piece orchestra and electronic music like no other.  The Simply Italy conveyed the increasing energy and dynamics of "Overture" excellently.  It showed its ability to create a soundstage that slowly stretched from an image that was just a few feet wide to one that reached well beyond the walls of my room.  The bass notes in "The Grid" were rich and sank lower than I expected.  I turned up the volume, closed my eyes and my skin tingled as I became completely consumed by the music.  The Simply Italy was undeniably hitting all the right notes.
The energy with which this amp played The Black Keys was pretty amazing.  Despite its compact size, this amp is definitely capable of belching out energy and dynamics that surpass its dimensions.  But like any other amp, this one does have its limitations.  The Simply Italy does not have the massive power or dynamics as my ModWright duo and hence you shouldn't expect it to drive a demanding pair of speakers to their full potential.  Then again at less than a third of the price of the ModWright gear, you shouldn't be expecting such tricks.
Changing the musical direction once again, I listened to a few tracks from Tutti! Orchestral Sampler from Reference Recordings.  This fine classical selection played with great fluidity and energy through the Simply Italy.  Each and every instrument benefited greatly from the tube harmonics and detail extraction of this amp.  The sound was organic, well balanced and multi-dimensional.  The quiet passages played with delicacy, while the louder sections offered a dynamic presentation.  Perhaps the only aspect that lacked a little bit was weight in the bass that I normally hear on this album.
As I listened to the Simply Italy, I of course had a chance to play with the remote and quickly discovered a couple of small shortcomings.  When adjusting the volume, the amp produces a little distortion in the speakers.  This was most noticeable at very low volumes and when a source wasn't playing, and did not happen at all when using the volume dial on the amp itself.  While I really enjoyed the styling of the remote, I was not impressed with the buttons.  They are tiny, uncomfortable and make an unnecessary noise when pressed.
The Unison Research Simply Italy is a little but surprisingly mighty amp.  If you'd like to experience the warmth and fluidity that only a tube amplifier can offer, without reaching too deep into your pocket, this is your chance.  The Simply Italy offers a smooth, sweet sound that engaged me deeply with every music genre that I listened to.  For $2,495 it presents a pretty remarkable value – you get what you pay for and more.  I give the Simply Italy my highest mark.  If this amp lands within your price range, you definitely need to listen to one.
Unison Research
www.unisonresearch.com
Distributed in Canada by Tri-Cell Enterprises, www.tri-cell.ca
1-800-263-8151
Unison Research Simply Italy Integrated Tube Amplifier
Price: $2,495 CAD