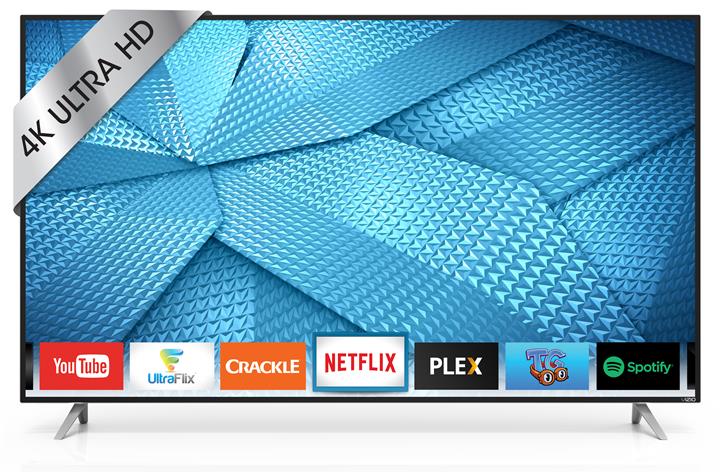 After just over one year in the Canadian market, VIZIO continues to demonstrate that a high quality TV picture can be achieved for a very reasonable price. Consumers tend to agree; inside the VIZIO booth at the TAVES Consumer Electronics Show this fall, the response from show attendees was nothing short of excellent. VIZIO TVs are often said to rival the performance of products from other big name manufacturers, and do so at a fraction of the price. Keeping things simple, VIZIO offers just four series of TVs, from entry-level to high-end they are the E-Series, M-Series, P-Series and Reference Series. If you missed VIZIO at TAVES, you can now easily find their products at many Canadian retail locations. Earlier this year, I had the opportunity to visit a VIZIO press event in New York during which the company revealed a number of new products. This was the first time I laid my eyes on the redesigned M-Series 4K TV sets and knew that they would be a price breaker for performance.
The new series offers nine screen sizes, ranging from 43" to 80" – each equipped with 4K resolution and a full-array backlight. Delivering four times the amount of resolution over its 1080p predecessor series, this 65-inch 4K TV retails for a surprisingly reasonable $2,199. The official resolution of the new Ultra High Definition television standard is 2160p but it's commonly marketed as 4K or UHD. There are several features within the UHD spec such as picture resolution, high dynamic range, increased bit depth, and a wider range of colours but it is up to the manufacturers as to which features they choose to implement in their TV sets. VIZIO's M-Series implements the 2160p picture resolution but none of the other features. Other highlights of the M-Series include a full-array backlight that has 32 active LED zones for a heightened contrast ratio of 20 million to 1, as well as smart TV functionality and up-scaling of lower resolution signals.
Out of the box, the TV is simple to assemble. A pair of silver aluminum feet need to be fastened to the base of the TV, if you intend to place it on a stand. The 10mm black bezel has a razor-thin silver matte trim – giving the TV a simple and elegant look. The TV is noticeably thicker than other LCDs on the market but for a good reason; the 6.4cm thickness is needed to accommodate the LED backlights behind the screen. The remote control remains simple, too. It's better than the tiny E-Series remote and not as long as some competing remotes. Some of the buttons are fairly tiny and it's easy to hit two at the same time. Big fingers beware! Otherwise, the Guide button, a series of navigation buttons, and the VIZIO app buttons are easy to use without needing to look at the remote. I didn't miss any wand-waving, voice activating, motion control functionality as found elsewhere. The M65-C1 uses an on-screen manual exclusively and comes with one year parts and labour warranty, as well as a lifetime of U.S. based online and telephone technical support.
It's important to note the input capability on any 4K TV to reduce headaches with connecting your current and future devices. VIZIO continues to label its inputs for everyone to understand: good, better, best. In the "best" department you'll find five HDMI inputs. There are also one each of Ethernet and USB inputs allowing access to content of a variety of resolutions including 4K streaming from Netflix and Amazon Prime. Available for legacy video devices is a shared analogue composite/component video input with stereo analogue inputs, as well as an over-the-air cable connector.
The full array LED backlighting is the most important feature on every VIZIO panel from 43" to 80". It's what sets most LCD TVs apart and some manufacturers offer it as a high-end feature. This 65" VIZIO has 32 evenly spaced LED zones behind the LCD panel which illuminate and dim depending on the picture content. The evenly lit image across the screen creates superior uniformity when compared to LCD's edge-lit brethren. Local dimming also offers the best black level for an LCD and I wouldn't consider an LCD TV without it. With VIZIO's Active LED Zone feature turned on, the darkest shadows in movies are substantially lower. Active backlighting also increases contrast; VIZIO claims a 20 million to 1 dynamic contrast ratio. To reduce motion blur, a 240Hz refresh rate synchronizes the video processing and backlighting to ensure pixels aren't lit longer than the content demands.
Multiple picture memory presets and many custom image settings can be renamed to your preference. In addition to the standard image presents, there is also a Game mode to reduce input latency by bypassing most video processing for gamers who demand the fastest response possible. I noticed increased judder with regular video when enabled. Two calibrated modes for a light room and a dark room are also in the menu, featuring a full 11-point grayscale and colour management system, but out of the box these modes need to be calibrated to look accurate. Since 3D has lost its appeal over the years, the company decided to make a pass on this feature and focus on the best 2D performance in the M-Series.
Smart TV functions and apps are launched with the V-button in the centre of the remote. VIZIO has kept their app menu clean and uncluttered with the option to see the apps at the bottom of the screen as well as in a full page view. Apps can be accessed via Ethernet or Wi-Fi. 4K material can be accessed through online services such as Amazon Prime and Netflix, although the content is pretty limited right now. I faced a challenge that many others will likely face as well – the limitation of my internet connection speed when streaming 4K content, which often resulted in having to wait as the content was buffering. There is no web browser, but popular apps like Facebook and YouTube are present.
I only report on image quality after calibration since that's the only way to judge a television's true performance. My measurements were taken using Konica-Minolta's CS-1000A spectroradiometer feeding data to CalMan 5.3 software. Test patterns were sourced from Accupel's DVG-5000 pattern generator as well as DVDO 4K TPG and the panel was calibrated for the average living room environment. Blu-rays were spun in an LG BD660 player. For a detailed calibration report, please visit the CANADA HiFi Forum and look under "LCD Displays."