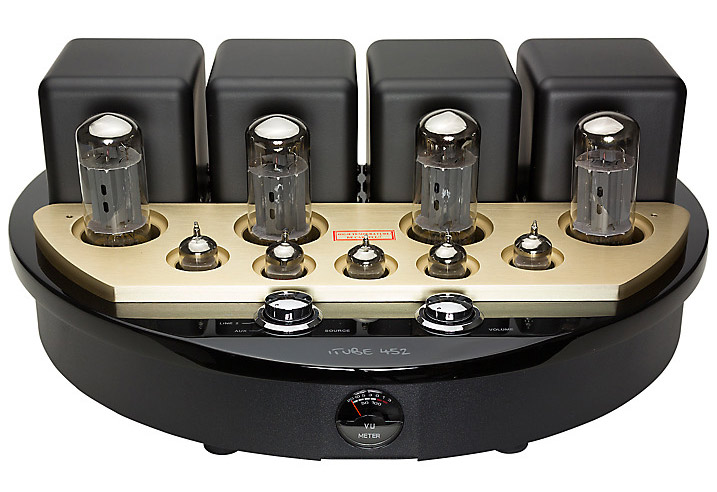 If you truly love music, a tube amplifier will bring it to life with a natural, organic quality.  This iTube 452 has been extremely well cared for and has less than 500 hours on it.  It is in a like-new condition and in excellent working order.  Comes with an iPod (older generation) dock and remote.  I recently upgraded to a high-end amplifier that's why I'm selling this one.
This is still a current model and retails for £1,499.00 (which is about $3,100).  I'm asking $1,500 OBO.  If you're interested, please contact Suave Kajko at skajko@novo.press or 416-892-2471.
Description from manufacturer site:
The flagship iTube 452 is a fully integrated push-pull amplifier featuring 9 valves and 4 line input stages to offer 45 valve watts per channel of supreme audio performance. As with all Fatman iTube valve amps, all aspects of sound reproduction are handled with incredible accuracy with a full, precise natural sound stage and the music will fill the listening room with breadth and depth. All types of music are reproduced with supreme clarity, accuracy and openness with a beautifully warm tonality. The iTube 452, like all Fatman products, achieves this superior performance and natural warmth through the employment of premium grade circuitry and high-quality thermionic valves coupled with innovative design and meticulous engineering.
Audiophiles queue here. Heavy. (And very beautiful).
Specifications
Power Output: 45Wx2
Frequency Response: 20Hz – 20KHz (±1.0Db)
Distortion: _1%
Signal-To-Noise Ratio: _86Db
Input Sensitivity: 210mV Input
Impedance: 100K_
Output Impedance: 4ohm, 8ohm
Sub Out: Yes
Source Inputs: 3xRCA Pair, 1x6mm Aux Jack
Tubes Used: 12AX7 x5, 6L6G x4
Power Supply: AC100~120V/50~60Hz AC220~240V/50~60Hz
Dimensions: (WxHxD)420x265x154mm
Weight: 23KGs
Amp Type: Class A Single Ended