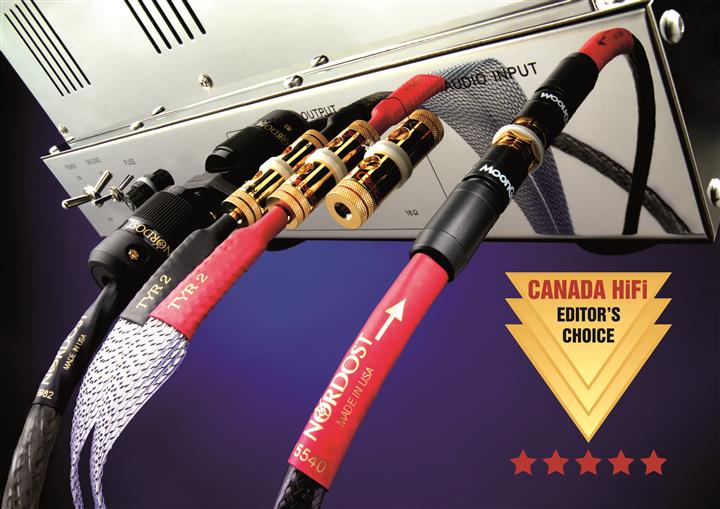 Many decisions need to be undertaken in the quest to assemble a high quality hifi or home theatre system and CANADA HiFi buyer guides can play an instrumental role in helping you make the right choices.  Our website novo.press offers shopping guides for just about every hifi and video component you can think of.  As a well versed music listener you should know that once you've carefully chosen your electronics and speakers, it is time to turn your attention to cables and power delivery.  Your system could be comprised of highly capable components but in order to maximize their performance – and deliver the depth and nuances found in live musical performances – you will need to connect them with good quality cables and provide them with clean power.
Nordost has a history dating back to 1991 and is regarded as one of the most respected cable brands in the world, offering a wealth of products designed to extract every ounce of performance out of a system.  In addition to cables, Nordost also offers a selection of power products and resonance control devices.  All Nordost products are manufactured in Massachusetts, USA to the highest standard of quality.
Audio has been my hobby for over 20 years, so naturally I'm no stranger to trying different cables and accessories in my system.  For the last couple of years my reference 2-channel system has been happily outfitted with the Nordost Leif Blue Heaven series of cables. I've always been very pleased with the neutrality and performance of the Leif cables but having listened to systems wired up with higher level Nordost cables, I knew there was more to be gained.  When the opportunity to connect my system with the Norse 2 Tyr 2 cables came up earlier this year, I just couldn't pass it up.  To accompany these new cables, I also got to try out the Nordost QRT QBASE QB8 power distribution unit.
Where exactly does the Tyr 2 fit in the Nordost family of products?  The Nordost collection of cables consists of four main families of products.  From entry-level to high-end, they are: Leif, Norse 2, Valhalla 2 and Odin 2 – each name influenced by Nordic Mythology.  Each of these, with the exception of Valhalla 2, is then further broken down into multiple series.  The Norse 2 family, under review here, for example contains the Heimdall 2 (reviewed a few issues earlier by George de Sa), Frey 2 and Tyr 2 series.  For my reference system than, the upgrade from the Leif Blue Heaven series to the Norse 2 Tyr 2 series meant a jump forward of four cable series.  The big question of course is – how much of an improvement in performance would such an upgrade offer in my system?
Meet the Norse 2 Tyr 2 Cable Series
Tyr, pronounced "tear", is the Nordic god of war from Nordic Mythology.  Comic book fans might also recognize Tyr from one of the epic battles in Marvel's "Thor" comic series.  Along with Thor and Balder, Tyr is one of Odin's biological sons.  Odin is of course also Nordost's flagship, reference family of cables.
Back down on planet Earth, Tyr 2 takes the highest pole position in the Norse 2 cable series.  At its core, the Tyr 2 series is built on the same foundations as the Leif series in my reference system: utilizing silver-plated, OFC solid core conductors, extruded FEP insulation and a mechanically tuned construction.  What distinguishes the entire Norse 2 series from the Leif series, is Nordost's proprietary Mono-Filament technology that creates a virtual air dielectric, achieved by winding an FEP filament in a precise spiral around each conductor before extruding an outer FEP "sleeve" around it.  This technology minimizes contact between the sleeve and the conductor and as a result lessens dielectric absorption while enhancing mechanical damping and geometrical precision.  Further enhancing performance, the Norse 2 family makes use of asymmetrical grounding, which significantly lowers the noise floor by increasing the quality of the ground.  Lastly, the Norse 2 family offers mechanically tuned lengths, which help to reduce internal microphony and high-frequency impedance resonance.  The Norse 2 RCA interconnects also offer Nordost MoonGlo connectors, the best, highest quality connectors I have ever encountered in any cable.  As you might expect, many of these technologies utilized in the Norse 2 family have trickled down from the years of research and development spent on the company's Reference and Supreme Reference Ranges.
To try out in my own reference system, Nordost sent me a full loom of Tyr 2 cables, which included multiple power cords ($3,799 each / 2m length), RCA interconnects ($2,509 pair / 1m length), XLR interconnects ($2,509 pair / 1m length), as well as a pair of speaker cables ($6,249 pair / 2m length).  To complete my system, I also asked Nordost to provide me with a Norse 2 Heimdall 2 digital interconnect ($734 each / 1m length) and the QBASE QB8 power distribution unit ($1,399).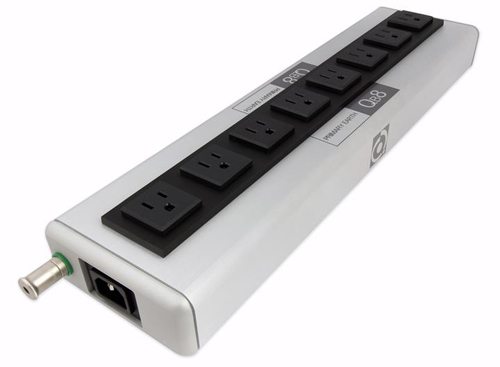 QRT Power Products and the QBASE QB8 Power Distributor
As mentioned above, in addition to cables Nordost also produces a series of power products, which include QBASE power distributors, QX power purifiers, the QV2 AC line harmonizer and the QK1 AC enhancer.  All of these devices are designed to improve the quality of AC power delivered to the sensitive electronics in an audio or home theatre system, thereby significantly enhancing sonic and video quality.
The QBASE-Mark II QB8 power distribution unit, supplied for this review, provides a straight-line, low-loss AC distribution path from the wall socket to your components.  It does not feature any form of in-line filtering or active circuitry, in order to offer the lowest possible AC supply impedance.  Its star-earthed design provides a connection to the cleanest possible ground via a centrally located "Primary Earth" output socket.  This is achieved by adding a tiny lift in the earth impedance of all of the other output sockets, which routes the signal grounds directly to the centre of the star and the clean earth terminal.
The QB8 features an impressively constructed aluminium casework that is a pleasure to lay your eyes on, much like a high-end audio component.  The metal components and internal PC board combine to make a single, mechanically-tuned construction that resists vibrations, designed carefully to improve power performance.  The QB8 offers eight well-spaced sockets, mounted to a very sturdy frame plate.
Eight and four socket versions of this power distributor are available in the US, European and Australian markets, while the UK version offers a single six-socket model.  Each unit is equipped with a fuse which provides over-current protection of the source circuit.