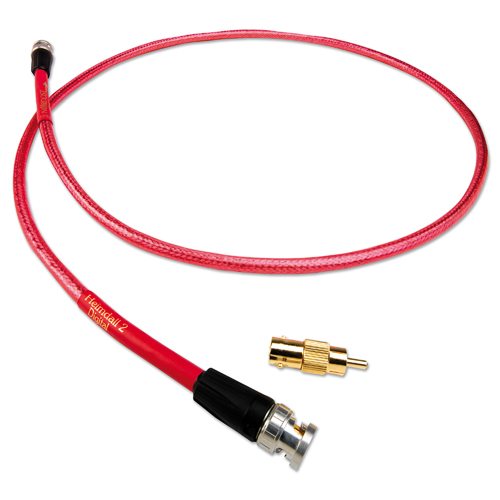 Heimdall 2 Digital Interconnect
Despite that the Norse 2 family of products consists of three series (Heimdall 2, Frey 2 and Tyr 2), it offers only a single digital interconnect under the Heimdall 2 series.  As with the Tyr 2 power cords and analog interconnects, this digital cable employs Nordost's proprietary Dual Mono-Filament construction, combined with a silver-plated OFC solid core conductor.  The Heimdall 2 digital interconnect comes in two "flavours" – a single core conductor 75 Ohm S/PDIF version terminated with BNC connectors (and BNC to RCA adapters) and a dual core conductor 110 Ohm AES/EBU version terminated with Neutrik XLR connectors.  I was supplied with the BNC/RCA version to test.
In the earlier days of building my audio system I used to think that digital cables are just sending "ones" and "zeros", so how much better could one cable sound than another?  But that couldn't be further from the truth.  With this digital interconnect, running between my Bryston BDP-1 digital player and Bryston BDA-1 DAC, I heard a softening of the high frequencies.  By this I don't mean that some of the high frequencies were eliminated, not at all.  All the details and resolution were still present, but the slight bit of hardness that I heard before was removed.  This allowed me to hear more texture and harmonics in both vocals and instruments.  Katey Sagal's voice, for instance, sounded warmer and as a result more real and pleasant to my ears.  The sibilance in Rebecca Pidgeon's singing was also further reduced.  With instruments, the improvement was particularly noticeable with drums and wind instruments that reach into the higher frequencies.  This more relaxed presentation resulted in a better overall tonal balance.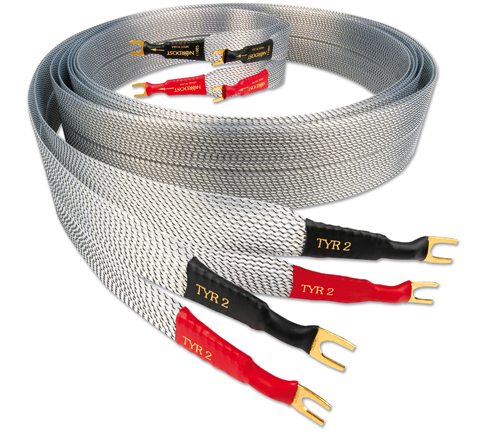 Tyr 2 Loudspeaker Cables
I'm sure you've seen the hose-diameter speaker cables snaking behind a music system at an audio show.  Nordost's loudspeaker cables are quite the opposite, across all the cable series.  The Tyr 2 cables are flat, ribbon like, and very light weight.  They bend easily and won't put any unnecessary pressure on your speaker binding posts, unlike many of the other cables in the market.  The technical highlights of these cables include Nordost's proprietary Micro Mono-Filament construction offering a virtual air dielectric, silver-plated OFC solid core conductors and extruded, flat ribbon FEP insulation.  The Tyr 2 loudspeaker cables are available with gold-plated spade or Z-plug banana connectors.  Mine were of the Z-plug banana variety.
Connecting these cables between my speakers and the amplifier was like connecting the last piece of a great big puzzle.  The Z-plug bananas fit tightly and held the cables securely in place, without tugging on the speaker posts.  With the full loom of Tyr 2 cables now in my system, I once again listened to the recordings mentioned above.  What I heard was the most cohesive, fluid, musical performance that my components have delivered to date.  The expanded micro and macro dynamics gave the music a sense of realness and scale, engaging me in a similar manner that a live performance normally does.  These cables were able to extract every bit of detail from my favourite albums, at times allowing me to hear the finest details that I simply haven't heard before.  The dynamic swings of classical music became near-effortless and the weight and scale of the orchestra were unmatched.
The Full Tyr 2 Cable Loom
When I built my first audio system, cables and power bars were nothing but an afterthought.  Like many inexperienced listeners, I was skeptical about how much influence cables could have on the sound of a system.  Many years later, with countless listening sessions under my belt, I've come to realize the real world, musical results that can be gained from supplying clean power and implementing high quality cables in your system.  The QBASE QB8 power distribution box along with the Tyr 2 power cords offered a staggering performance upgrade in both systems I tried them with. They presented a clean, quiet foundation for the system, allowing each and every audio component to achieve its full potential.  The performance uplift was transformational, in some cases approaching what you would expect from upgrading some of the components.  Putting the Tyr 2 interconnects and speaker cables into play, further enriched the performance of the system, raising the performance bar of both my systems to the highest level I have yet experienced.
Although the improvements brought on by the Tyr 2 cables and the QBASE QB8 power distribution unit may be a little different in your system compared to my experience, you can expect very similar benefits.  If your wallet isn't rich enough to upgrade the full cable loom in your system, take it one step at a time – starting with the power distribution box and a single power cable.  And trust me, when you hear the difference these two pieces make, you'll upgrade the rest of the cables in your system  in due time.  If the Tyr 2 cables cost more than you're willing to spend, check out the more affordable Frey 2 or Heimdall 2 ranges of cables.  Both share the same construction and very similar technology, while offering most of the same sonic benefits, albeit to a lesser degree.  For their ability to take an excellent sounding audio system and turn it into an outstanding one, I am delighted to present the Tyr 2 series of cables and the QB8 power distributor CANADA HiFi Editors' Choice award.