A Systematic Approach To Connecting the Cables
Does the order in which you upgrade cables in the system matter?  Absolutely.  The power chain begins at the wall outlet so this is where you should start, and then follow the flow of the signal path.  This means starting with the power distribution, followed by interconnect cables and finally the speaker cables.  Supplying your system with cleaner power will result in the biggest performance gains for each of your components, while the interconnects and speaker cables will further refine the performance of the system as a whole.
I spent many hours trying the QB8 power distribution box and the various Tyr 2 cables individually in two different systems to get a true sense of their impact on performance, prior to integrating all of them into a single system.  One system included my recently purchased, very special Jeff Rowland Continuum S2 integrated amp (a spectacular sounding amp in every regard; check out my review on novo.press) and my long-standing Focal Electra 1008 Be II speakers.  The second system comprised of the ModWright Instruments KWA 100 amplifier, the LS 100 tube preamplifier and Monitor Audio GX 200 speakers.  In both systems, my sources were the Bryston BDP-1 digital player and the Sonos system, running through a Bryston BDA-1 DAC.  During my listening sessions, I also compared the Tyr 2 cables to many other cables I had on hand, including Nordost's own Leif Blue Heaven and Norse 2 Heimdall 2 cables.  Editor George de Sa also joined me, lending a second set of ears and valuable input, during one of my extended listening sessions.
Listening Tests: QB8 Power Distribution Box
I began by integrating the QB8 power distribution box into my system, along with a Tyr 2 power cable, running between the wall outlet and the QB8.  I've had a high-end passive power distribution unit in my system for the last several years, albeit a lower priced unit than the QB8, so I didn't expect much of an improvement, if any at all.  But of course I spun up a few of my favourite tracks and listened carefully.
The "Songs of Anarchy" soundtracks have always sounded great in my listening room, offering natural vocals, palpable instrument performances, a vast amount of musical details and a formidable soundstage.  With the QB8 power distribution unit and the Tyr 2 power cable in play, I immediately noticed something I haven't heard before.  The three-dimensional soundstage that I've become accustomed to from my system suddenly became almost holographic.  The soundstage gained a focus and pin-point accuracy like never before.   Musician voices and instruments benefitted from having more air between them, making them more distinct and very easy to locate within the soundstage.  This increased volume of air around vocals and instruments gave them more room to breathe and made them sound a little more life-like as a result.  The background also became noticeably quieter, revealing additional layers of resolution and details.  Thanks to this, instruments like guitars, bass guitars and the piano offered more texture and harmonics.  Strings picked on a guitar became more palpable, while plucked bass notes revealed more of the metallic texture.
The sonic gains from integrating the QB8 into my system really caught me off guard a little bit.  I expected the differences to be minimal over my existing power distribution unit, if I could detect any at all.  But that wasn't the case at all.  The QB8 took an already excellent sounding system and made it perform noticeably better.  This is an absolute must have foundation for a high-end audio system.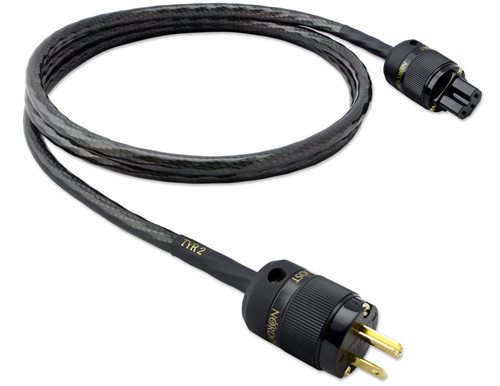 Tyr 2 Power Cables
Nordost's Tyr 2 power cables take advantage of the lessons learned from the development of the company's ground-breaking Valhalla 2 range of cables, employing technologies such as Nordost's proprietary Dual Mono-Filament technology, which creates a virtual air dielectric within a carefully designed suspension system, enabling the cables to achieve the most effective insulation method in the industry.  Tyr 2 power cables are constructed out of seven silver plated, solid core 16 AWG OFC conductors – a construction that eliminates interaction between the strands, hot spots and carbonization.  Another key feature of these power cables is extruded FEP insulation, which offers a super low signal loss and high thermal efficiency.  Topping it all off, mechanically tuned lengths reduce internal microphony and high-frequency impedance resonance.  All of these technologies combined promise to deliver optimal sonic performance at both ends of the spectrum, from real-world dynamics to the finest musical textures and details.
English indie rock band Florence + the Machine released a fantastic "MTV Unplugged" album in 2012, featuring acoustic performances of some of the band's best songs.  On a good hifi system this album presents Florence Welch's dramatic, large-scale vocals unlike any studio album, in a unique environment of New York's oldest synagogue building, the Angel Orensanz Center.  On this album, Welch is accompanied by a three-piece band and a gospel choir.  The result is an amazing acoustic treat for the ears.  During my power cable tests, I also listened to AIR French Band's "Moon Safari" and Johnny Cash's "American IV: The Man Comes Around" albums.
With the Tyr 2 power cables in place, I immediately heard a near-holographic soundstage with more air and space around Welch's voice, lifting it above the other musical layers.  This made her voice sound more embodied and dynamic, and resulted in a greater level of realism.  With her voice more distinguished from the other parts, I was able to peer deeper into the nuances of her eccentric performance than ever before.  The instruments of the three-piece band also benefitted from the additional air and space, each now playing in a perfectly focused, distinct space on the stage.  The Tyr 2 power cables also presented a further blacker background, revealing greater musical detail, colour and texture, making these acoustic songs sound truer to life.  Tom Monger's harp, for example, played with mesmerizing richness and fluidity.  With "American IV: The Man Comes Around", Cash's deep bass-baritone voice sounded richer, exposing more mid-range and lower frequency details, thanks to the cleaner background.  When listening to AIR French Band's album on the other hand, the layers of sound became more distinct, allowing me to hear more intricate details of each layer, immersing me in the sound better than ever before.
All in all, the Tyr 2 power cables provided a substantial improvement to the sound, one that would be difficult to live without, now that I've heard it.  At certain times, I felt that the difference was almost as significant as if I replaced one of the key components in my system.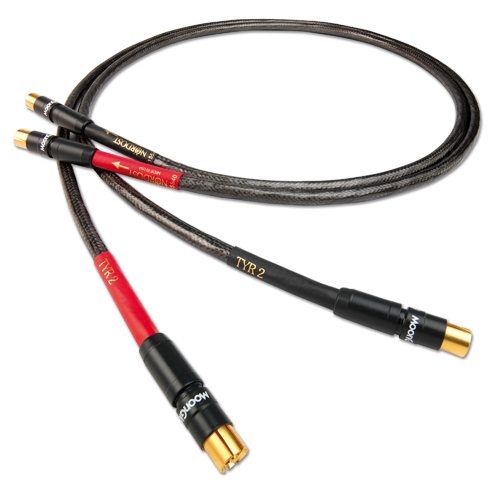 Tyr 2 Interconnect Cables
Like the power cables, Tyr 2 interconnects employ much of the technology developed originally for Nordost's higher performance cable series like the Valhalla – it's one of the advantages of choosing products from a well established manufacturer.  Highlights of the Tyr 2 interconnects include Nordost's proprietary Dual Mono-Filament construction, silver-plated OFC solid core conductors and FEP insulation.  Combined, these technologies offer cables with an ultra-fast, low-loss signal transfer that allow your audio system to reach its full performance potential.  Tyr 2 interconnect cables are available with a choice of proprietary gold-plated MoonGlo RCA or XLR connectors – Nordost provided me with both types to test with my gear.  I quickly discovered the advantages of the MoonGlo push-fit RCA plugs, as I connected and disconnected these cables from various components.  They provide a perfectly tight connection without forcing the plug on to the RCA jack, and can be removed just as easily.  The MoonGlo plugs are simply the highest quality RCA terminations that I've ever had the pleasure of using.
To test the real-world performance of these cables, I decided to listen to the "Songs of Anarchy" soundtracks, the Best Audiophile Voices series of discs, as well as a number of classical albums.  Katey Sagal & The Forest Rangers' "Son of a Preacher Man" offers great vocals, a good spread of instruments and a well defined, three-dimensional stage.  Compared to both the Leif Blue Heaven and Norse 2 Heimdall 2 cables, the Tyr 2 interconnects produced a fuller, richer sound in just about every respect.  Many of the improved characteristics that I observed after I started using the QB8 power distribution box and the Tyr 2 power cords in my system, were further enhanced with these interconnects in place.  Sagal sang soulfully, with her voice more embodied and separated from the back up vocalists.  Guitar strings demonstrated a deeper level of texture and transparency.  Drums played with an unmatched punch, offering lightning quick attack and realistic sustain.  Lower frequencies, specifically the bass guitar and the bass drum, gained additional weight and presented a greater sense of "feeling the bass".  Rebecca Pidgeon's voice on "Best Audiophile Voices VI" sounded richer and sang within a larger volume of air, making it sound a touch more realistic.  I also noticed that the sibilance, especially with female voices, was a little less noticeable with the Tyr 2 interconnects.  These interconnects were also able to achieve a very high level of high frequency detail and texture, while never sounding harsh.  Just as importantly, the Tyr 2 interconnects offered an increased amount of breathing space between the vocals and the various instruments, albeit this was a little less noticeable here as it was with the Tyr 2 power cords.  Nevertheless, the result was a further enhancement and increased definition of the already holographic soundstage.  Sonically, the interconnects managed to get themselves completely out of the way and connect me with the music on a more engaging level.