"Good news everyone!", as Professor Farnsworth of Futurama would say, arcades are coming back!  But this time… in VR!  VRPlayin is the latest VR arcade experience centre to open its doors in downtown Toronto and today I got a chance to visit this new location and meet the team.
VRPlayin is all about creating a high quality, out-of-this-world experience that is completely seamless for its customers.  The company has gone through all the trouble of selecting the equipment and setting it up in a comfortable, lounge-like environment.  All you have to do is show up and play.  The space consists of four separate areas and offers 18 HTC Vive VR headsets, each headset housed in a "station" able to accommodate a group of three (one person playing and two sitting at a bar that overlooks the action on a big screen TV).  If you're a car racing fan, there is also a VR racing station equipped with a racing seat, as well as a Thrustmaster steering wheel and pedals.  Prices range between $29 and $39 per hour, and currently 30 games are available, spanning a number of different genres.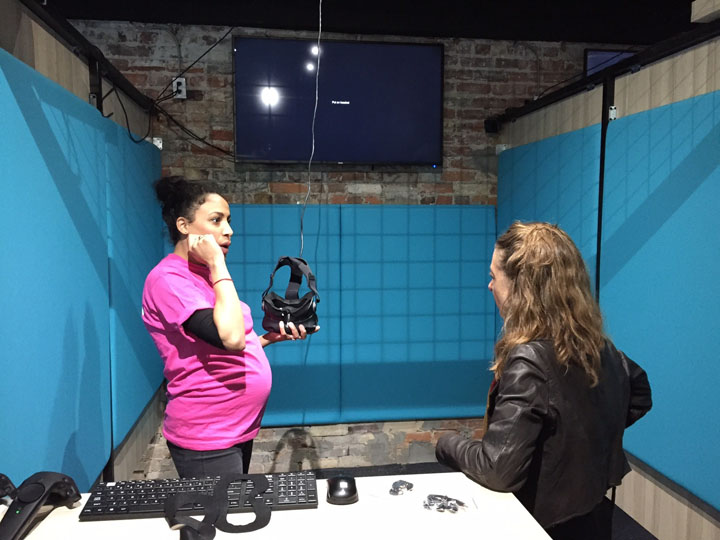 Of course it wouldn't be much of a tour if I didn't try a few of the gaming experiences first-hand.  VRPlayin offers everything from sports games to puzzle solvers, first person shooters and passive cinematic experiences.  I'm a seasoned VR gamer so I jumped right into playing games but beginners will get a tutorial before starting from the friendly team at VRPlayin.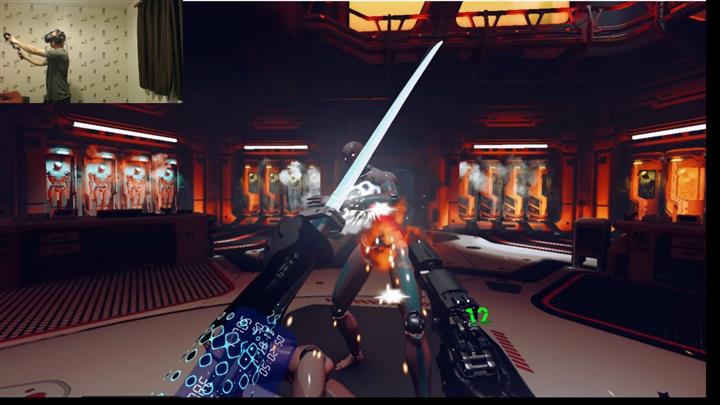 I started with first person sci-fi shooter Raw Data and immediately fell in love with the game.  This game places you in the middle of a futuristic environment and sends wave after wave of hostile humanoid robots and drones at you.  With two guns in your hands, the game is an absolute blast as you eliminate the enemies and duck their gunfire.  The level of entertainment and immersion with this title is absolutely spectacular.
Next, I stepped into a completely different world with QuiVr, a game that puts you in control of a bow and arrow.  In this game, you are in charge of defending your keep as waves of enemies attempt to break in. Much like Raw Data, this game is a full-body experience that you have to try to believe.  I had a thrill paying it!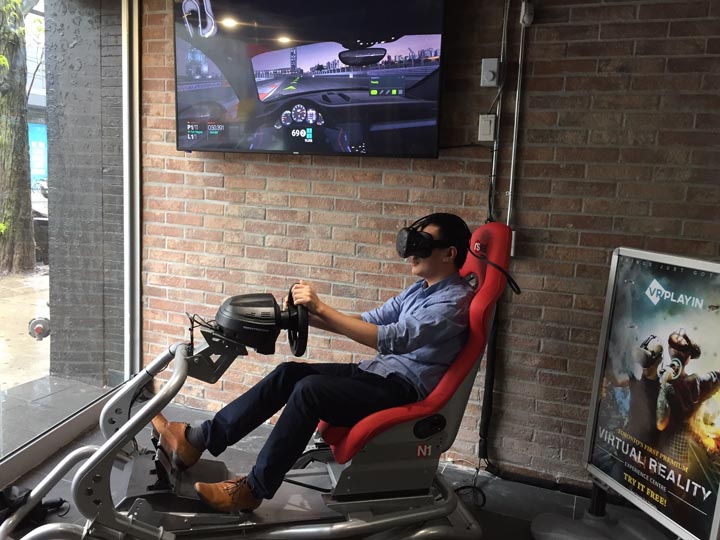 Lastly, I also got to do some driving in Project Cars – my first car racing VR experience.  This gaming station offered a racing seat, steering wheel and pedals.  I've been a casual car racing gamer ever since I was a little kid but this was unlike any other racing game I've played.  Racing in VR added a staggering level of realism and near real-life immersion of driving a sports car.  The game was easy to pick up and I managed to come in first place in a Porsche race on my second attempt.  With a big grin on my face, I put the VR headset down… realizing that I could easily spend the rest of my day here.
VRPlayin is a wicked experience to try with friends, something cool to try on a date-night and a perfect spot to host a corporate function.  The fun, laid-back atmosphere and super friendly staff make this an ideal place for those trying VR for the first time, and seasoned gamers alike.
Check them out today!  VRPlayin is located at 294 College St, Toronto, ON.
Although VRPlayin is already open, they will be hosting an official launch party on Wednesday, June 14th.  Everyone's invite!
For more info, jump to www.vrplayin.ca