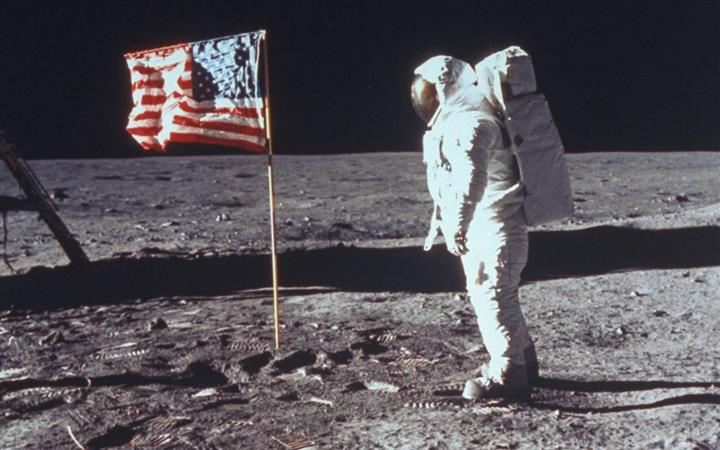 One Giant Step for Mankind
With air came space.
With Cannon's commercial and defense aerospace background and experience, it was a logical step for Cannon to produce special space-qualified connectors in support of NASA's missions to explore the cosmos.
Cannon connectors were present when the Explorer satellite was placed in orbit in 1958 by a Redstone rocket – the U.S. response to the Soviet Union's first satellite in orbit, Sputnik.
Eleven years later, Cannon was back in space for the Apollo 11 mission. Cannon CM connectors were present inside the Lunar Excursion Module (LEM) that detached from the rocket and housed NASA astronauts Neil A. Armstrong and Edwin (Buzz) E.Aldrin Jr. on the moon.
Cannon MK connectors were also present in the Primary Life Support Systems (back packs) Armstrong and Aldrin wore in space and left on the moon. To this day, Cannon connectors are actually sitting on the surface of the moon. The back packs were a key part of the astronauts space suit – they had to protect their wearers against micrometeriods and temperatures ranging from -150C to +120C ( -250F to -230F) while still allowing the astronauts enough mobility and dexterity to walk on the moon.
The MK connectors served as the interconnection to the biomedical telemetric data monitor, which continuously monitored the astronauts' health and reported that information back to mission control on Earth.
Other Cannon connectors supported the two-way communications system that relayed communications through the spacecraft's system to Earth. PLSS controls were provided in the Remote Control Unit (RCU) mounted on the astronaut's chest.
Cannon's Next Century of Connections
Cannon's connections have helped write the story of the modern world – and we're not done yet.
Advances in technology have made possible expansions into lighting, power, and signal processing interconnects. These range from low cost solutions engineered for less demanding applications, to higher-end products designed for extra durability, ruggedness, and increased power requirements.
While the goal of our engineers and designers is to develop products that enable continuous innovation in fields ranging from aerospace to medical technology to wearable devices, we have not forgotten our heritage in audio and entertainment.
Our XLR connectors, first introduced in 1958, have become the audio industry's leading connectors. Their iconic look is synonymous with the creativity and showmanship of performers and recording artists around the world. Everyone who has ever held a microphone while singing karaoke has held an XLR.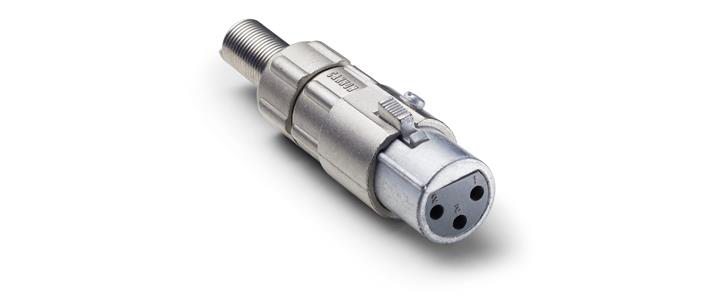 On its 50th birthday in 2008, the XLR connector was inducted into the TEChnology Hall of Fame by the Mix Foundation for Excellence in Audio, recognizing technical innovation in the audio market. Today, the XLR connector is used extensively in a variety of audio OEM applications, having become a universal solution for both analog and digital connections.
In addition to the XLR, Cannon's Mini-XL, XLB-PCB, and XLM-PCB connectors are continuing to make big things possible in the broadcast and entertainment audio industries.
A century after James Cannon founded his small electrical company, ITT Cannon continues to take center stage with audio, lighting, and power products that have brought entertainment to millions. So, on our centennial, our spark burns bright. We can only imagine what innovations the next 100 years will bring.