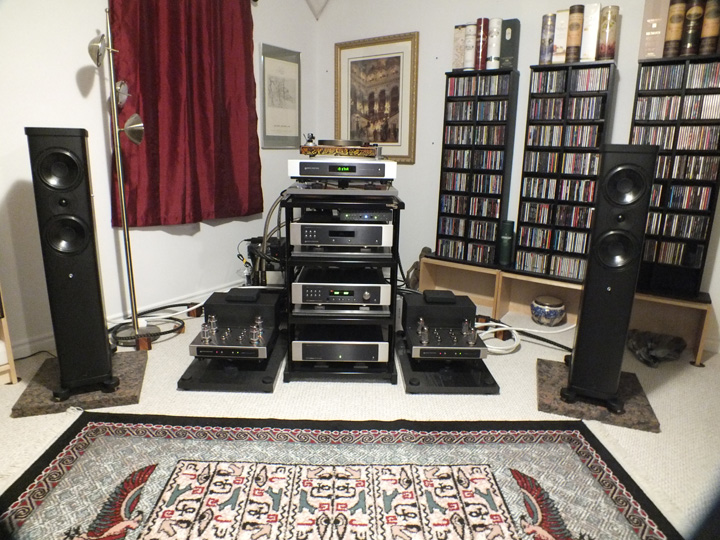 Initial Sonic Impressions:
Right out of the box, the Precision P2.0 created astonishing dynamics. This speaker has the speed and transparency of electrostats, the startling high-band immediacy of SET-driven horns, and the hyper-accurate clarity of the best standmount monitors.
For perspective, I tested the P2.0s with the following amps: 1), a pair of VTL MB-185 Mk#3 EL34 based tube mono-blocks; 2), a 150w/ch Classé CA-151 solid state amp; 3), an EL34 based 40 watt Assemblage tube amp; and 4), a pair of Icon Audio MB90 Mk#2 KT-150 tube juiced mono-blocks. To my ears, the P2.0s sounded best with the VTLs.
For all of their speed and detail, the Precisions also bring toe-tapping groove, smoothness, and swing to the music. Although the P2.0s have a "top down" balance, their exceptional transparency communicated the diverse rhythms of all types of music in a tactile way. These rhythmic beasts gave me a profoundly deep insight into the PRaT and timbre of enormously different sounding instruments with a seemingly effortless energy.
In the highs, the Leonardo soft-dome tweeter produced sonics that were as smooth and pure as an 18 year old single-malt Scotch whiskey. WB's tweeter offers astonishing clarity, jaw-dropping resolution, and blitzkrieg speed. And yet, the highs never stood out from the mids or the lows. The sibilants of cymbals, horns, and violins sounded natural, vivid, and alive, without ever being etched or fatiguing.
In the mid-range, while vocals had decent body and texture, they weren't pushed out in front of the rest of the soundstage. Instead, they were centered along the same east-west horizontal axis as the other instruments.
Instrumental timbres in the lower registers were astonishingly accurate and insightful. While I have heard more weight and fuller body in the lows from other floorstanders, the pitch, texture, and timing of bass sounds were all state-of-the-art. The P2.0 created stellar imaging, a remarkable separation of instruments, and a superb presentation of spatial cues.
Listening Tests:
Recorded in 1968 shortly after he'd left The Yardbirds, Jeff Beck's Truth features Rod Stewart on vocals. Truth is a triumph of late 1960's psychedelic era electric blues-rock songs. The 2017 Audio Fidelity hybrid SACD re-issue of Truth has phenomenal sonics.
In 1968, Jeff beck easily ranked in the top-5 guitar players in the entire British Isles. With songs like "Shapes of Things", "Morning Dew", "Ol' Man River", and "Rock My Plimsoul", anyone who appreciates ball-breakingly heavy but tasteful and atmospheric electric-blues guitar will adore this album. Producer Mickie Most captured the raw and impossibly honest sound of both Beck and Stewart when they were young, energetic, and brimming with fresh ideas. The sonics on this album are impressive.
The Precision P2.0s let me hear the air and space around Stewart's voice with shiver-inducing clarity. Listening to Beck's fertile and imaginative re-interpretations of many blues guitar classics with such… ehm… precision was a mind-blowing pleasure. Hearing Beck play lead guitar with so much passion and bravado sent chills down my spine.
Released in 1971 as a compilation album, The Who's Meaty, Beaty, Big, and Bouncy features 14 of their late 1960's singles. These include such classics as "I Can See for Miles", "My Generation", and "Pinball Wizard". Although The Who never quite captured the manic energy and Kamikaze intensity in the studio that they so routinely created live on stage, the sound quality of Bouncy is excellent.
Listening to Bouncy through the P2.0 floorstanders, the sternum-belting, vomit choking, hotel room destroying, near-lunatic energy of The Who's 1960's era songs came roaring through my main 2-channel tube rig with spine-chilling clarity.
It surprised me to hear the P2.0s unveiled so many *new* sonic details in these 50+ year old recordings. Examples…? At the beginning of the song "Magic Bus", Daltry repeatedly exhales the word "Haaa!" in a whispered voice. During the last 45+ years, I've listened to "Magic Bus" hundreds of times. Prior to hearing this track recreated by the P2.0s, I'd never previously noticed Daltry's whispers.
To breathe new life into The Who's glorious songs, as if I were hearing them for the very first time, left me with a goofy smile on my face that a coroner won't be able to chisel off of my dead corpse with a frickin' jack-hammer.
Conclusion:
If you're trying to find a loudspeaker with a higher sound quality than Wilson Benesch's $23,000 CAD Precision P2.0 anywhere near its asking price, don't bother. Why…? Stated succinctly, because none exist. You might as well be trying to film wild polar bears in the jungles of Honduras.
Is the P2.0 worth the money? Stated emphatically… yes! This is an exceptional loudspeaker. Although assessing value in anything is a very personal thing, as an investment into enjoying music and accompanying your journey through life, in my book, the Precision P2.0 floorstanders are worth every penny of their asking price.
Wilson Benesch
www.wilson-benesch.com
+44(0)114 285 2656
Canadian Importer: Red Leaf Audio
www.redleafaudio.com
(905) 746-9333
Wilson Benesch Precision P2.0 Floorstanding Loudspeaker
Price: $19,000 CAD for the standard finish