The Oomi Cube ties in infrared control to combine home automation with home theatre/AV control.
In the real world, the Internet of Things continues to proliferate with companies shipping new products that make more and more products "smart". Continuing my own smart home journey, I recently upgraded to smart vents which offer room by room ventilation control and am awaiting a new central hub, the Oomi Cube, that ties in infrared control to combine home automation with home theatre/AV control. While some of these smart products will end up in the gimmick bin, such as the Bluetooth-connected pregnancy test which provides detailed information on your smartphone, others such as the Withings Thermo takes 4,000 readings through 16 infrared sensors to provide an accurate temperature reading from your forehead. LG and Samsung continue to smarten up their appliances as well, with their latest fridges coming equipped with interior cameras so consumers can check what they have inside while out at the grocery store. Their washers and dryers also track energy and water usage and notify smartphones when cycles are complete.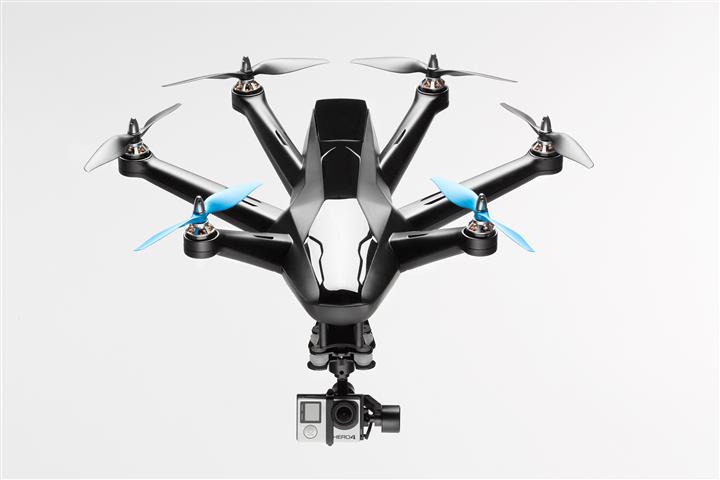 Hexo+ is a hexacopter drone that comes with an app for your smartphone/tablet.  It is fully autonomous and will follow and film you.  All you need to provide is your choice of camera and an adventure!
Outdoors, drone enthusiasts will have plenty of options to choose from in 2016.  Some of the new drones revealed at CES included the $300 USD petite, palm-sized camera-equipped Onagofly Nano Drone, the Parrot fixed-wing Disco drone, the $1,299 USD Hexo+ hexacopter, which is fully autonomous and can fly up to 70 kph, and the Ehang Ghost, which can automatically follow its operator, capturing video.  Ehang also had on display the prototype "184 Personal Flying Vehicle", a quadcopter capable of ferrying a single 260 lbs. human up to 16 km, offering 23 minutes of flight time in air conditioned comfort. Its top speed is 100 kph with a flight ceiling of 11,000 ft. The personal quadcopter is autonomous and only has controls to take off, pause flight, and land. The user programs in their destination via a smartphone and the drone's 4G connection. While the legality (and flight worthiness) of personal drones hasn't been determined, Ehang claims that it'll be starting commercial sales of the $200,000 to $300,000 USD drone this year.
In full-sized transportation, CES has been embraced by automakers. The new generation of vehicles support Apple CarPlay and Android Auto, offer cellular connectivity so you can lock doors remotely, and replace classic dashboards and rearview mirrors with screens that allow users to customize their views and gauges. Autonomous driving and parking functionality continues to become available in more vehicles, with Mercedes-Benz offering full autonomous highway driving at up to 130 kph. Affirming how important technology is to automakers, instead of waiting for the Detroit auto show a week later, Chevrolet unveiled the 2017 Chevrolet Bolt, a fully-electric, 5-seater hatchback with a 320 km range that starts at $37,500 USD before rebates. Shipping in "late 2016" the Bolt will beat Tesla's Model 3 to market as the first mainstream-priced fully-electric vehicle with a 300+ km range.
This year's show may be the most grounded in recent years but that's not necessarily a bad thing. Smart devices are hitting their stride and fading into the background, where they'll work to augment our everyday lives and automatically take care of our homes; drones are the new remote-controlled cars of yesteryear and continue to fall in price; and televisions and virtual reality transport us to new worlds in more engrossing ways, reproducing reality more accurately and vividly.