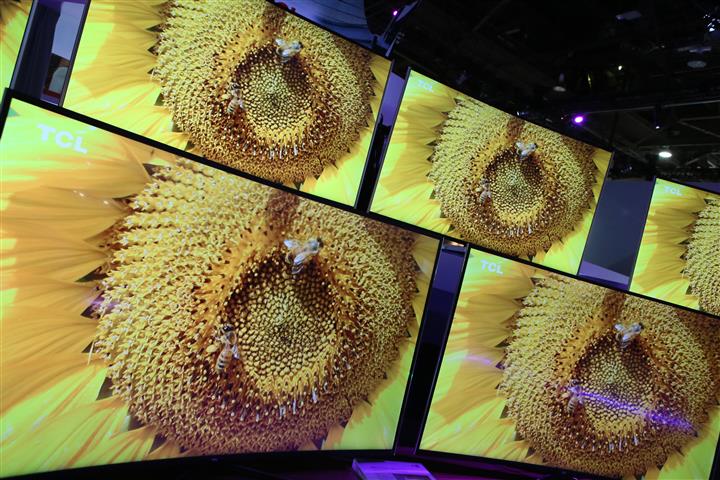 The Consumer Electronics Show has always been about showing off the latest and greatest. Bigger, brighter, faster, and flashier were all things that attendees could expect to see at the convention in the Nevada desert. This year was no exception but unlike years past, where products showcased would still be years away, this year's show was more about priming consumers for products that would be showing up on retail shelves much sooner than the often fantastical products that previously graced the various booths.
Televisions, which have always been a way for household names like LG, Panasonic, Samsung, and Sony to fill their booths with immense displays were once again, front and centre. With 1080p in the rearview and 4K adoption increasing at a pace even quicker than the transition from standard definition to 1080p, this year was all about the next step that would add a punch to the already stellar 4K viewing experience: HDR (high dynamic range). New content being mastered in HDR through Dolby Vision, Technicolor HDR, and Blu-ray HDR promise to bring what some firsthand viewers are saying brings an even bigger impact than the quadrupling of pixels from 1080p (1,920×1,080) to 4K (3,680×2,160). With every successive model year, televisions have marched towards brighter and more accurate colours, better viewing angles, and darker darks. HDR isn't about making the brightest television – something that itself doesn't provide the best quality image. To display HDR content, TV sets must be able to show simultaneously a bright full moon with its notches and craters alongside a pitch black starry sky and the murky river beneath as in the movie Life of Pi. To help distinguish themselves from ordinary 4K television sets, the UHD Alliance has created a new certification program with strict requirements. Televisions which meet these specifications will come with the "Ultra HD Premium" logo. The requirements include a minimum brightness capability of 1,000 nits, 10-bit colour depth, less than 0.03 nits of black level, and a colour gamut of at least BT.2020.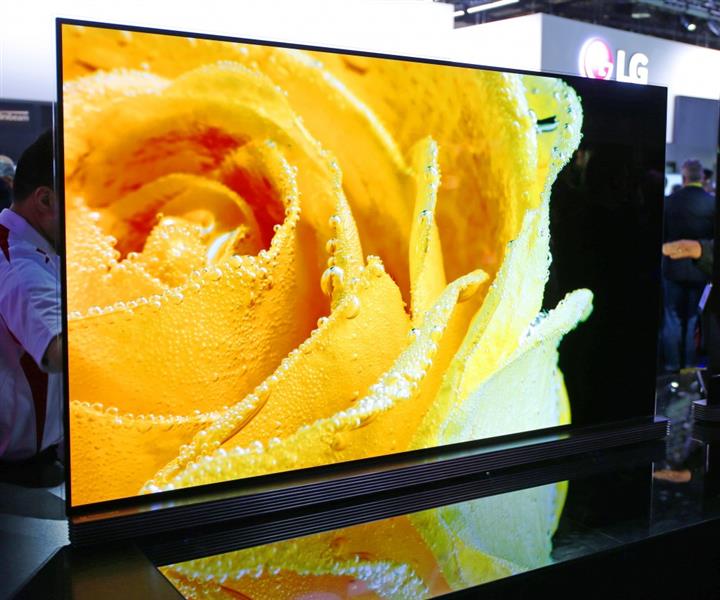 LG is at the forefront of OLED technology development.  The company showed its latest flagship 77-inch OLED TV (model OLED77G6P) at the 2016 CES.
LG unveiled 14 new 4K televisions with their new "LG Signature" line of displays that includes 4 new 4K OLED displays with sizes from 65" and 77" – all of which are Ultra HD Premium certified. These new displays measure a scant 2.57mm thin, run the latest webOS v3.0, and thanks to OLED, offer a true black level that cannot be matched. LG demonstrated OLED's black capabilities by running numerous outer space-themed clips. A step down, LG continues to improve upon their standard LCD offerings with their "LG Super UHD" models which offer similar features but come in sizes from 55" all the way up to 86". All these televisions are scheduled to ship in March.
Samsung refreshed their SUHD flagship with the KS9500 series, an 88" curved LCD that continues to use quantum dot technology to enhance LCD performance. Despite the curve, Samsung has reduced the screen glare and minimized the bezel even more. Alongside their 2016 lineup, an exciting non-TV development stemming from their acquisition of the home automation company SmartThings in 2014, is the inclusion of SmartThings capability inside their 2016 TVs, allowing the television to act as a display to control various home automation devices. Those familiar with TV-capable automation systems such as Control4 will be familiar with this type of interface and while Samsung didn't release much information about the capabilities, this tie-in will only further speed up the adoption of Internet of Things connected devices. The KS9500 also retains support for "console-less" gaming by streaming Sony PlayStation Now games, controlled via a Bluetooth DualShock 4 controller.
Panasonic introduced its first OLED TV at the 2016 CES – the 65-inch Viera TX-65CZ952.  It's said to offer a reference quality picture but costs a whopping $11,499.
Having shattered their plasma lineup, Panasonic joined LG in offering a 65" OLED 4K TV, the curved Viera TX-65CZ952. This reference-level set is Panasonic's way of showcasing its picture quality prowess and cites its work with Hollywood studios to produce a display capable of accurately displaying content as creators intended. Its wallet-busting price (approximate, after conversion) of $11,499 CAD firmly puts it outside the realm of typical 4K TVs, which have seen price premiums drop to within 20% of their 1080p counterparts. More accessible will be their DX900 4K TVs which are THX certified and feature a "honeycomb" backlight to produce "Ultra HD Premium" quality images.
Sony, the makers of Triluminos displays, showed off their new flagship X930D series of 4K televisions in 55" and 65" with a new edge-lit backlight layout dubbed "Slim Blacklight Drive" that continues to enhance picture quality. Alongside siblings such as the X940D (75", full-array local dimming) and X850D (55" to 85", edge-lit), Sony's 2016 lineup all come equipped with Android TV. To help with the 4K HDR content issue, Sony is launching "ULTRA", a new app that allows consumers to purchase and stream 4K HDR content from Sony Pictures' massive TV and movie library. On the prototype side, Sony says they're not done reaching the potential of LCD displays and had a separate area to showcase TVs with "Backlight Master Drive". The locally-dimmed backlight, made of high-density LEDs, allows the sets to reach an eye-searing 4,000 nits of brightness on the high end and dropping to ink-dark blacks on the low end. Sony touts over 1,000 zones to achieve this precise level of dimming which also solves any remaining halo effects inherent in backlit LCDs. While there wasn't a timeline for when BMD-equipped TVs would reach store shelves, Sony said the sets were crafted by their "production" engineers. While Sony and Samsung continue to work on OLED, if new techniques such as BMD can produce (nearly) equivalent picture quality at a lower cost (OLED yields are still lower and much more expensive than LCD), it looks like LCDs will continue to flourish.
This year will also be the year that non-mainstream brands make their big push into Western markets with companies such as TCL and Hisense offering 4K televisions for under $1,000 CAD. These budget sets offer excellent picture quality for their value and even support features such as Dolby Vision HDR. These budget TVs won't be available in such large sizes as their big-brand, full-price competitors and are limited by factors such as viewing angle and the lack of "smart" features.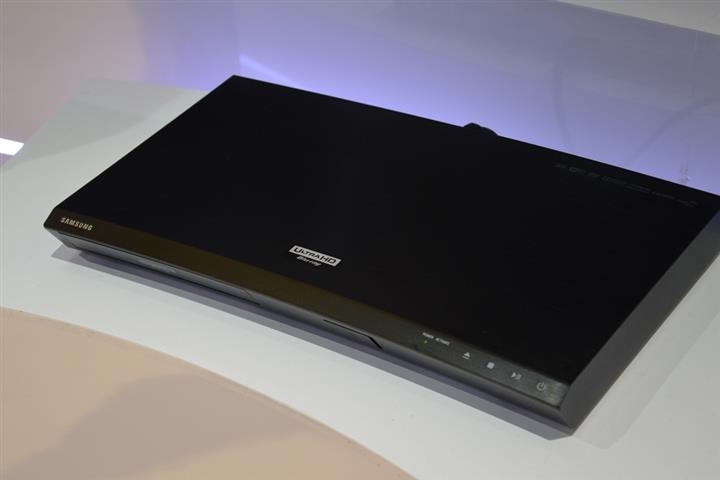 We have no idea why it took so long to release the first 4K Blu-ray player but we're very happy that it's finally coming – this is the Samsung UBD-K8500 which will retail for $399 USD.
To go along with these new 4K televisions is an updated triple-layer Blu-ray format that offers a bitrate of up to 128 Mbps, encoded in the new High Efficiency Video Codec (HEVC or H.265, the same codec used by Netflix to stream its 4K content) to transfer all that detailed 10-bit content along with object-based audio via Dolby Atmos and DTS:X. Samsung is first out the gate with their $399 USD Blu-ray player (the UBD-K8500) which is already available for pre-order and will ship this March. As an added bonus, the updated Blu-ray specification also supports 8K (7,680×4,320) at 64 fps so it's futureproof. The first titles include The Martian, Sicario, Mad Max: Fury Road, and Ender's Game. These new 4K HDR Blu-rays will come in a black case as opposed to the blue cases that standard Blu-rays now come in.
While movie buffs wait for their favourite content to be released or remastered in eye-popping 4K, content providers are further expanding their 4K offerings. This year has already seen the release of numerous 4K set-top boxes from cable and satellite providers and online streaming services from Netflix to YouTube continue to expand their 4K content library. The bitrate is much lower (25 Mbps) than what you'll find on Blu-ray but it'll still require a beefy broadband connection to receive all those 8 million plus pixels.
Far, far down the line, LG and Samsung also presented their wholly unnecessary 98" 8K displays. These monstrous TVs chew through 33,177,600 pixels to produce an image – the only source currently which is an "Internet2" 100 gigabit connection, connected to a media player the size of a microwave.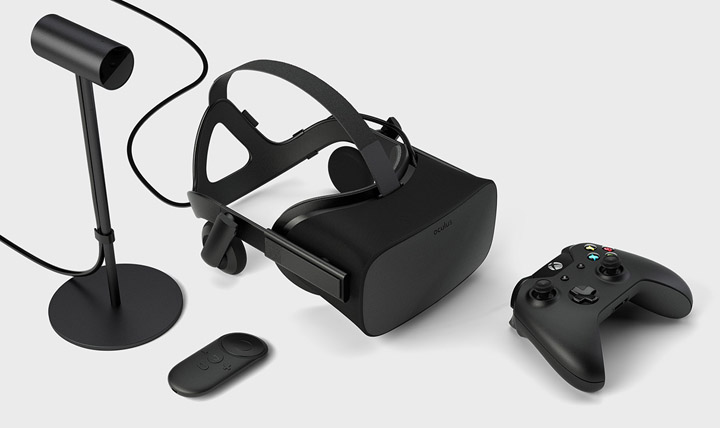 2016 is being touted as "the year of virtual reality".  The looong awaited Oculus Rift VR headset will finally begin shipping in April, along with a number of other VR headsets coming this year from other manufacturers.
Beyond TVs, 2016 also marks the year where virtual reality becomes available to mainstream consumers. The $599 USD Oculus Rift will finally ship in April and while it requires a high-end gaming desktop to power, will bring 360° VR gaming to the masses. Other devices such as Microsoft's augmented reality HoloLens, HTC Vive, and PlayStation VR are also slated to ship this year. To create content for these VR devices, a slate of VR cameras from GoPro, Nikon, Ricoh, and others are also hitting store shelves. YouTube already supports 360° video and Google Maps Street View is already enabling students from around the world to go on virtual field trips with Google Cardboard and their smartphones.