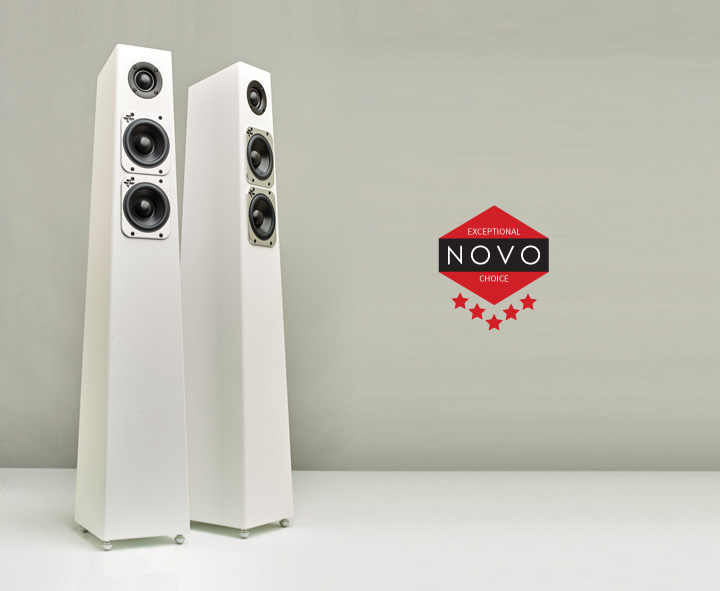 Totem celebrated its 30th anniversary in 2017 with a cosmic bang – the company introduced some phenomenal new speakers, demonstrated them at numerous trade shows and hosted a series of intimate events.  For the occasion, speaker rock star designer Vince Bruzzese managed to develop the Sky Tower, the Tribe Tower, a full series of KIN Architectural in-ceiling speakers and the commemorative Signature One speaker.  He's been a man hard at work, along with the rest of his team.
I listened to the Totem Tribe Tower speakers for the first time when the Montreal-based speaker maker demonstrated them at the TAVES Consumer Electronics Show in October of 2017.  The striking exhibit room was filled with people and noisy conversations and yet the brief listening session inside the room captured my attention like no other at the entire show.  There was something energetic, seductive and fun about the sound of these speakers that pulled me deep into the music and made me want to listen longer.  The fact that these were among the most beautifully styled speakers at the show only made them more attractive. Yes, there were far more exotic and expensive speakers at the show that sounded amazingly musical, but like a tractor beam straight out of a sci-fi film, Totem's Tribe Towers had locked on to me and wouldn't let go.  I knew right away that I had to listen to these speakers in the comfort of my own home and so I asked Totem if they could send me a pair to listen to after the show.  But Totem decided to keep me in suspense for several months – it wasn't until May of 2018 that the speakers finally arrived at my house.  Luckily, thanks to my girlfriend's love of Netflix crime shows, I do enjoy a little suspense in my life.
There are lots of reasons to get excited about the Tribe Tower speakers.  To start with, these speakers are gorgeous – just look at them!  Their modern, geometric design makes them a perfect candidate for the cover of a home decor magazine.  Interior designers, custom installers and folks that have an eye for high-design will find these speakers very easy to place in any home environment.  Rather than concealing them, as you might be inclined to do with traditional looking speakers, you're more likely to think of how to best utilize them like pieces of fine art to enhance the look of the decor in the room.  Shiny or flat?  The Tribe Tower comes in a choice of four finishes: satin ($5,300 US; white or black) as well as gloss ($5,800 US; white or black, with WBT connectors in an annealed plate).  The cabinets are designed without any parallel sides, which not only give the speakers a distinctive, monolithic-sculpture appearance but the design also serves a practical purpose – the lack of parallel lines dissipate the distortion that causes standing waves inside the cabinets.  Acoustically, this is a big benefit. From an interior designer perspective, the Tribe Towers have a couple more tricks up their sleeves.  Their slim profile and compact footprint means they'll fit easily into just about any room in your home.  And unlike so many high-end speakers that are very finicky with placement, Vince says that these speakers will sound great in just about any position.
But their beauty isn't just skin deep, these speakers are designed to offer an outstanding musical performance.  The Tribe Towers are equipped with much of the same technology developed for Totem's Tribe On-Wall speakers and high-end Element series.  The Element series have long been one of my favorite speakers from Totem, albeit their price points don't make them accessible to everyone.  Perhaps the greatest technological achievement of the Tribe Tower is the dual array of Totem's proprietary 4-inch Torrent woofers.  These woofers are derived directly from the Tribe III On-Wall speaker and do not require a crossover, which significantly simplifies the audio path and results in a cleaner, more accurate sound.  These Torrent woofers have been specially modified to match this speaker's new cabinet, whose design follows the cabinet shape of the Element series.  Sitting atop the woofers is a 1.3-inch soft dome tweeter, mounted in a resonance controlling metal faceplate.
When the speakers arrived at my house, I opened the boxes with the enthusiasm of Bart Simpson ripping into a Butterfinger candy bar, and set up them up immediately.  Finally they've made it to my house!