Presented by CH Precision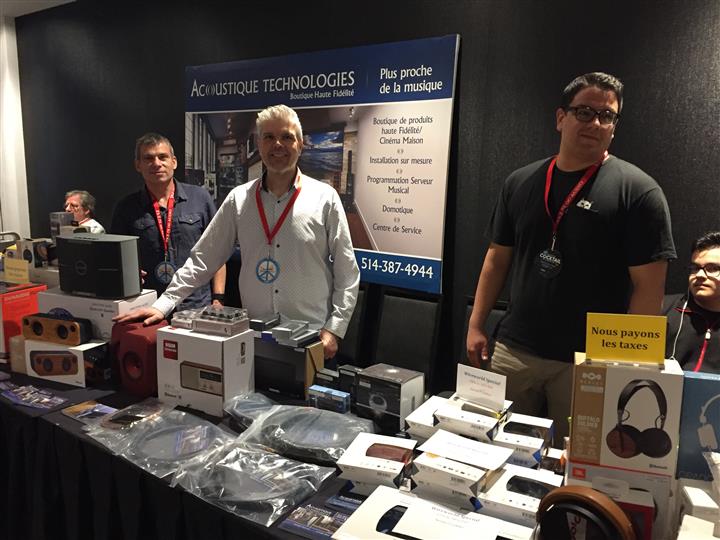 Welcome to Part 3 of our Montreal Audio Fest show coverage. If you've missed the previous parts of this article, you can see them here: Part 1 and Part 2. As I continued exploring the show floor at the Montreal Audio Fest, I continued finding great sounding systems and interesting new products I learned about for the first time.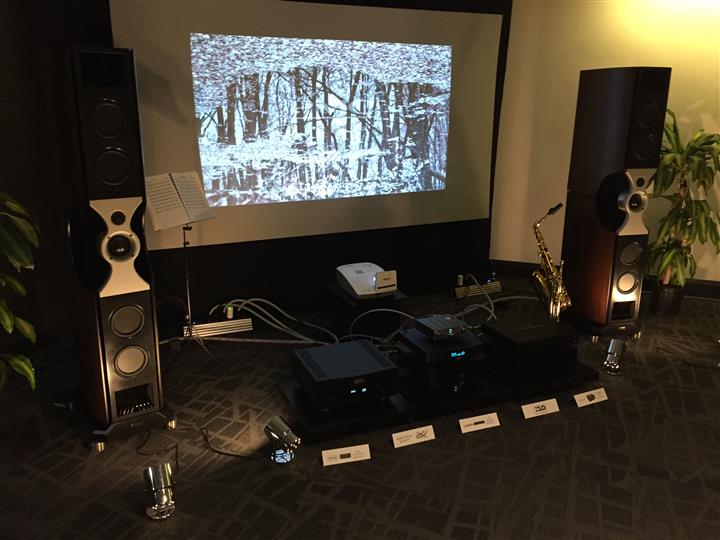 Motet Distribution / PMC, Lumin, Hegel, Innous, XLO
Lily Luo, owner of Canadian distribution company Motet Distribution, walked me around the show floor and proudly spoke about the various new products that her company was showcasing. The pride and joy of Lily's display was the PMC room, where a brand new PMC Fact Fenestria loudspeaker was being demonstrated for the first time to show visitors. At $90K for a pair, this is a speaker for thick wallets and large rooms and while most show goers don't have this kind of money to spend on a pair of speakers, we all know that technology from such designs eventually trickles down to everyday products. The speakers were powered by a Hegel H590 integrated amp ($13.5K), and the music was played from a combination of the Lumin T2 network player/DAC/streamer ($6,990) and the Innous Statement music server ($17.9K). The system was wired with XLO Cables. Rather than having listeners staring at the equipment rack and the wall behind it, this room had a projection screen set up, displaying visuals to accompany the music. This is a fantastic idea and I wish more companies took note here. Without question, the visuals allowed me to make a deeper connection with the music to the point of getting completely lost in the music.The high degree of engineering that went into design of the PMC Fact Fenestria loudspeakers, certainly paid off in spades. The system sounded extraordinarily well balanced, rich and musical. The presentation was so transparent that the speakers completely disappeared within the impressively large soundstage.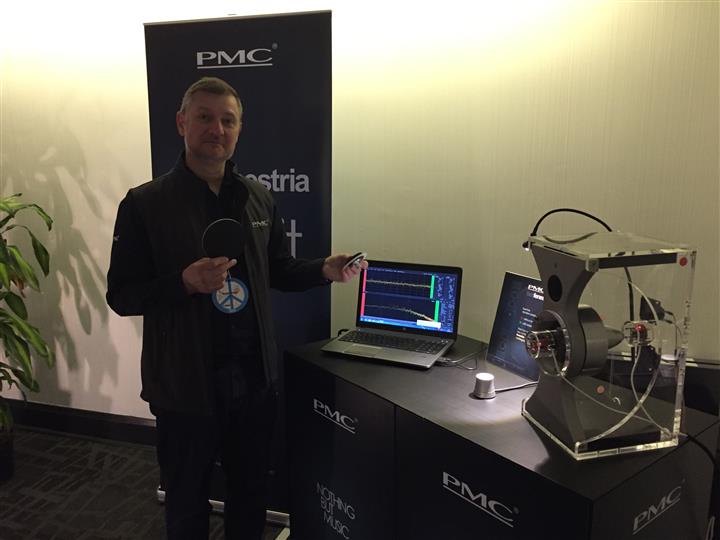 This is one speaker that certainly left an impression on me both aurally and visually. Keith Tonge, Creative Director at PMC, took a few minutes to explain to me the sophisticated anti vibration system this flagship speaker employs. Wow!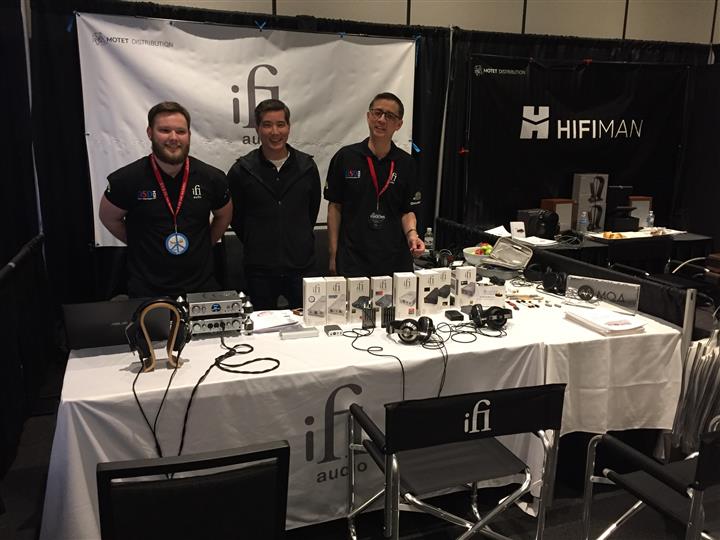 Motet Distribution / iFi / HIFIMAN / Auris
In a ballroom across the hall, Motet Distribution showed a few newer portable audio products from iFi and HIFIMAN, among other brands. One new product was the iFi xDSD portable DAC / headphone amplifier, capable of decoding the highest resolution formats – MQA and DSD. It is also equipped with Bluetooth aptX and AAC for CD-like sound quality when streaming.
Another new product in this display was the iFi xCAN portable headphone amplifier which sports a balanced design and truly audiophile sound.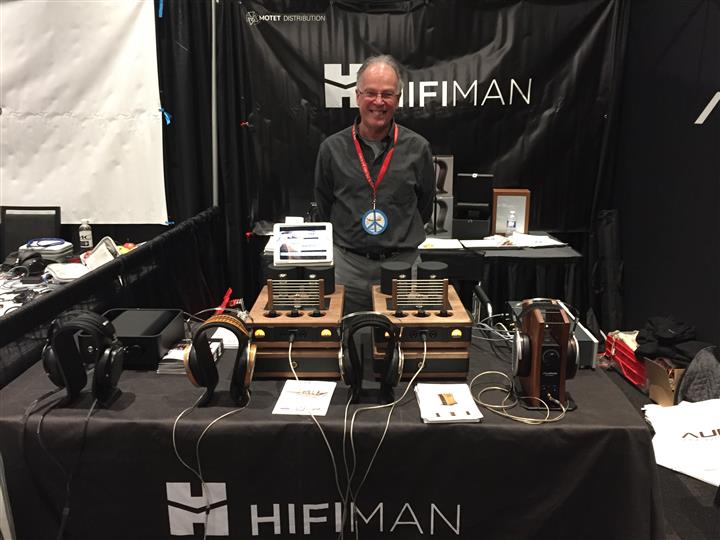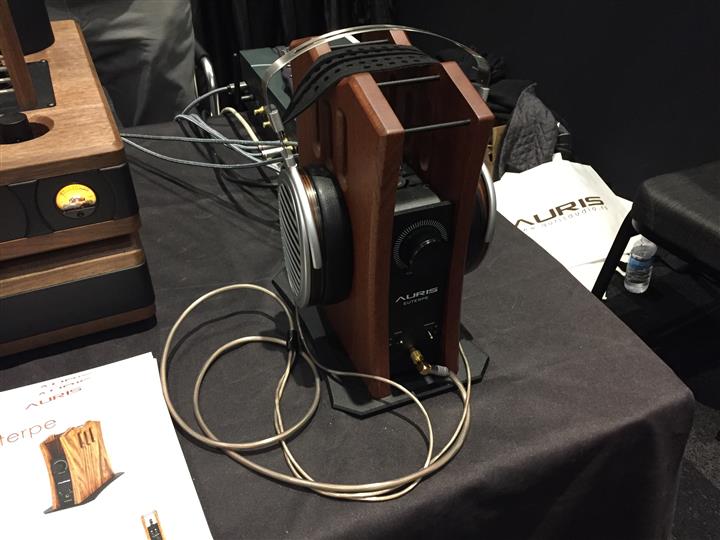 At a booth next door, Motet Distribution also showed a couple of new portable audio products from HIFIMAN. The first one was the HIFIMAN Jade II headphone and amplifier combo ($3,500), and the second was a very neat looking Auris Euterpe headphone amplifier / stand.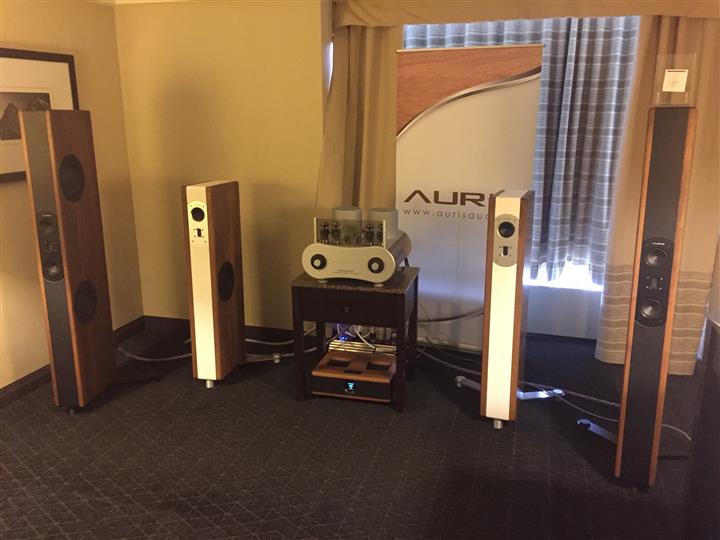 Motet Distribution / Auris / Innous
But that wasn't all the Motet Distribution was demonstrating at the show. In another part of the hotel, in small rooms, the company was showing several other audio systems.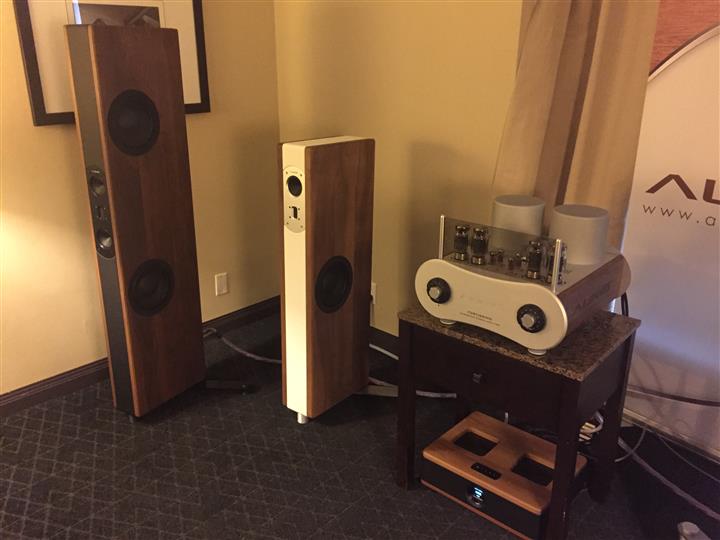 One room highlighted a completely system from Serbian manufacturer Auris. The system here comprised of the Auris Fortissimo integrated amp, Auris D2D DSD-capable DAC, and two pairs of loudspeakers played in rotation – the Auris Poison 8 and Auris Poison 88 floorstanding models. Music was played via courtesy of the Innous Zenith music server. Listening to Leonard Cohen here, I heard a great, effortless presentation that was a great pleasure to enjoy.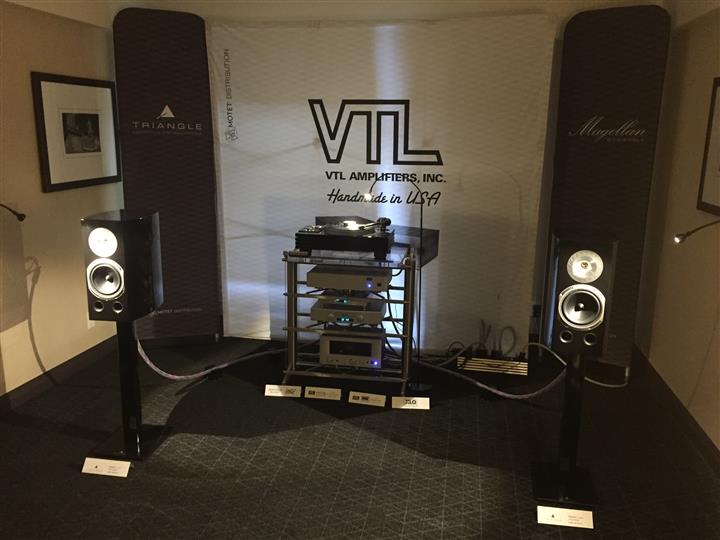 In another Motet Distribution room, I found a wonderful VTL / Triangle music system – I've heard this combination of brands on a few occasions in the past and always really enjoyed the sound. The VTL electronics included the VTL IT-85 integrated amp ($7,350) and the VTL TP-2.5i MC phono preamp ($5,250). Other electronics on the rack were a Hegel Mohican CD player and the Music Hall mmf-11.1 turntable. Flanking the equipment rack was a pair of beautiful Triangle Magellan Duetto bookshelf speakers ($9K). All the gear was wired with XLO Cables.
During my visit to this room, I heard a very lively acoustic recording, along with a couple of jazz recordings. The performance here reminded me of the fusion jazz band we saw live the previous night in a downtown Montreal bar. The sound was palpable, spacious and immediately put a smile on my face. In fact, I enjoyed the music being played here much more than the somewhat strange fusion jazz performance of the night before. The VTL / Triangle combination did it for me again – very well done!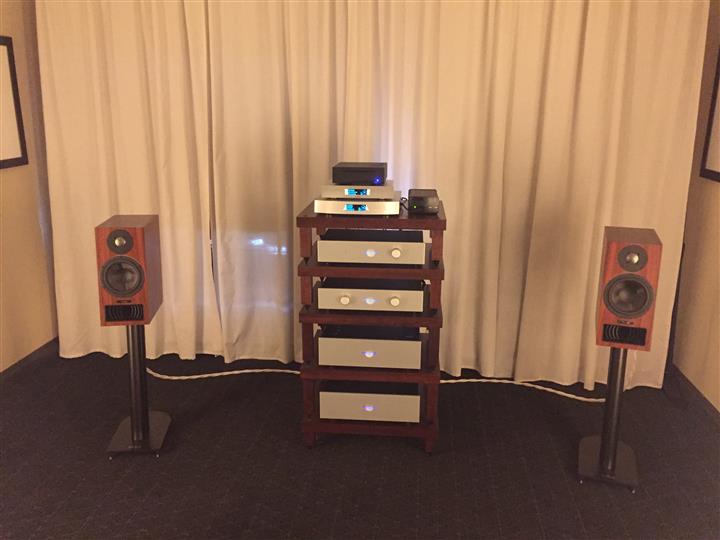 In yet another room, Motet Distribution assembled a system together with PMC speakers and electronics from a new Canadian manufacturer called Saturn Audio. The sound here emanated from the PMC Twenty5 22 speakers ($5,500), and an all Saturn Audio stack: the 601 amp ($6K), 501 preamp ($3.8K), 201 DAC ($4.8K), 103C power line filter ($3.8K). The music sources included the Innous Zen Mini server ($1,699) and the Lumin T2 Streamer & U1 Mini Streamer ($6,999 & $2,999). Sitting down for a listen, I heard a gentle cover version of "Harvest Moon". The sound was very pleasant, spacious and perfectly detailed. I was presented with delicate highs, great vocal reproduction, a three dimensional sound and natural, lifelike vocals. The system played with emotion and even evoked an emotional response from me during one of the recordings.