Presented by CH Precision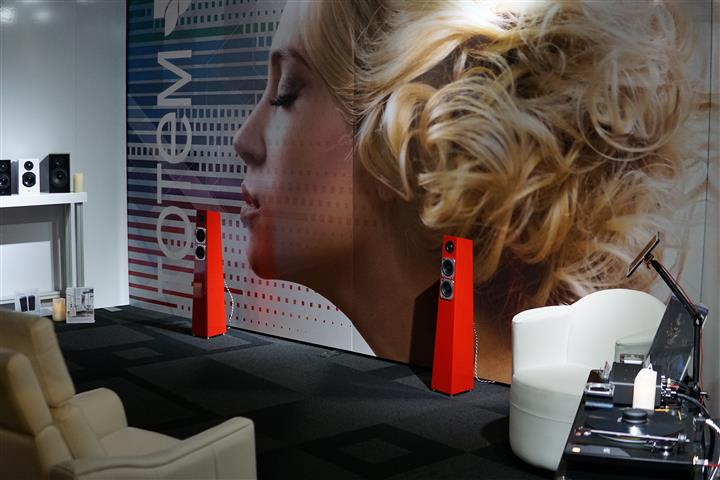 Editor's note: Welcome to Part 5 of our Montreal Audio Fest show coverage. If you've missed the previous parts of this article, you can read them here: Part 1, Part 2, Part 3 and Part 4.
Canada is truly a wonderful place to live but don't take my word for it, you'll find it rated consistently as one of the best places to live in the world; number one, according to U.S. News. Much of this has to do with its people – a friendly and easy going bunch, with an immense appreciation for diversity. Montreal, situated in Canada's francophone province of Quebec, embraces these prized Canadian attributes and adds a dash of European flavour. Here we have a city that truly loves food, drink, fashion and music – all adding to the vibe of Montreal. It's just about the perfect city to host an audio show and gladly that's just been the case for the last couple decades. This year another successful show took place, while paying tribute to the 50th anniversary of Woodstock, the Beatles and even John and Yoko's Montreal Peace Bed-In.
Entering the show, the halls were bustling, the music was playing and smiles were everywhere to be seen. I didn't miss the psychedelic attire of the registration desk staff and that's just it, the staff at this show always seem to have ambiance as a top priority.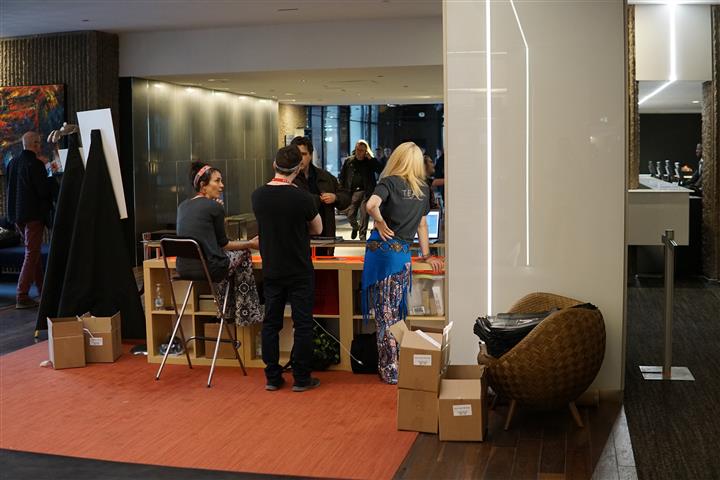 The show certainly was brooding with the excitement of visitors, unlike what has been mass society's typical response to the audio market. This though is just what makes shows like the Montreal Audio Fest that more precious and a surreal experience for audio enthusiasts like us.
On the lower level Wynn Audio had put together a number of static displays, showing off the likes of Goldmund, Penaudio and Kalista. A perfect appetizer for what lay ahead.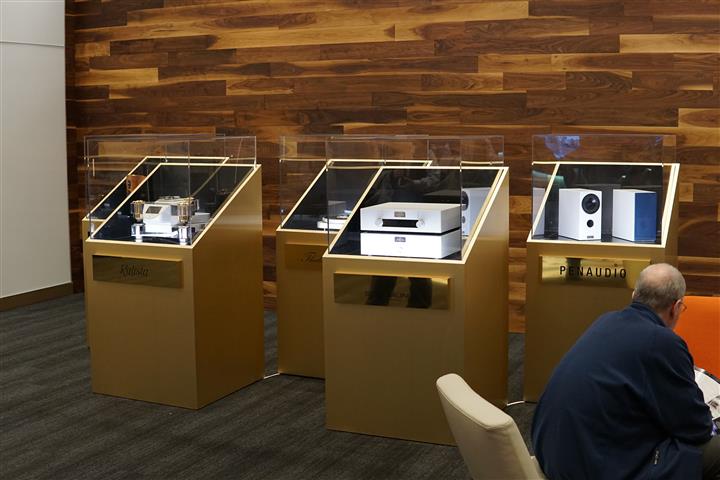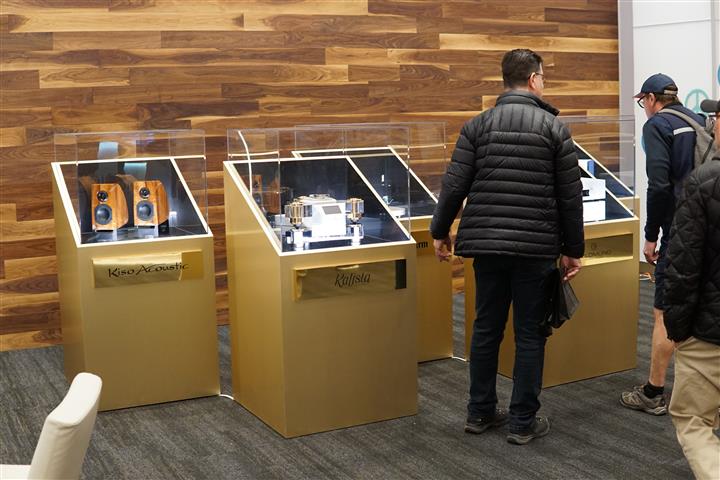 There was also a number of places for those into headphones to get their fix, including this setup by Audioville, which was drawing some attention, including mine: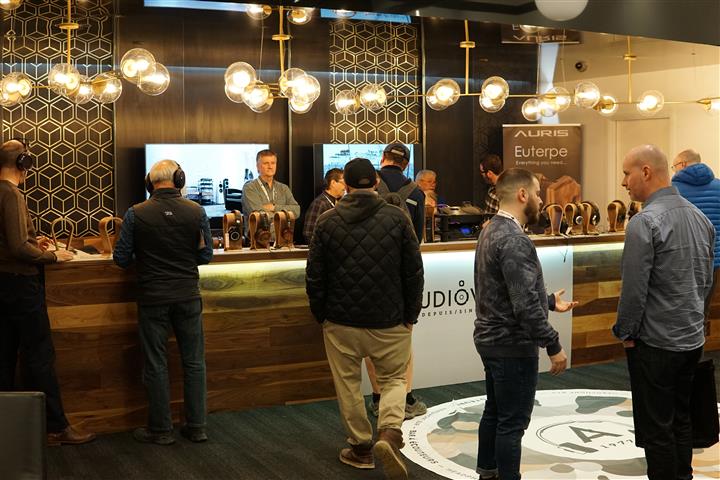 This year's show was similar in size to what it has been in the past couple years. It isn't a huge show but that is part of its charm… more personal, a cozy escape. Still the Montreal Audio Fest manages to pull together a good mix of exhibitors, live music performances, as well as time to mix and mingle with old friends over the joy of music.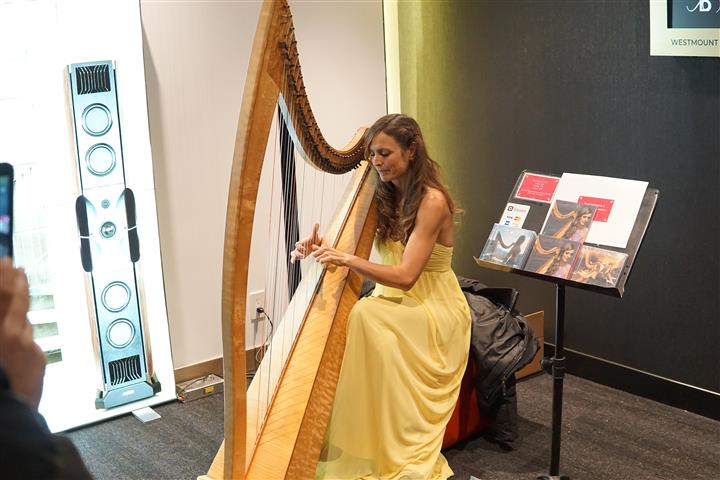 With that, let me take you through the rooms that I had the pleasure of covering this year.
Totem Acoustic
Walking into the Totem Acoustic room, I was mesmerized by the display. Lucy Lentini, leading their marketing team has an incredible sense of design; pictures speak louder than words, so see here for yourself.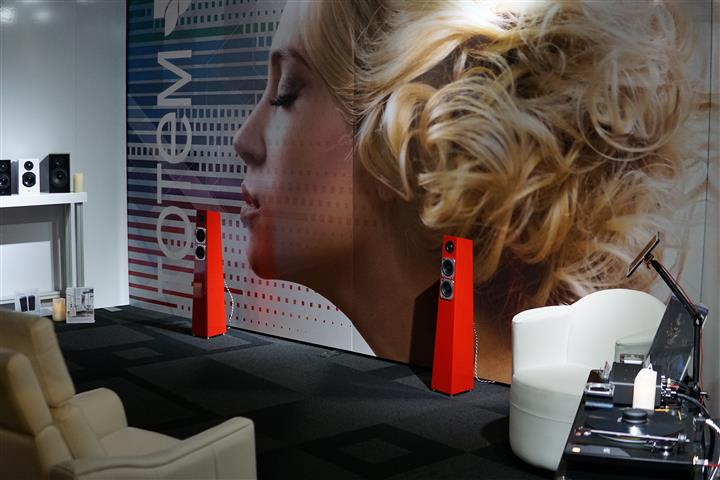 No less important of course is design of their products, led by the owner and founder, Vince Bruzzese, who was at the show, speaking to visitors about his latest creations. Though the Totem Tribe Tower is not brand new it's still shocking how much sound these compact towers can deliver.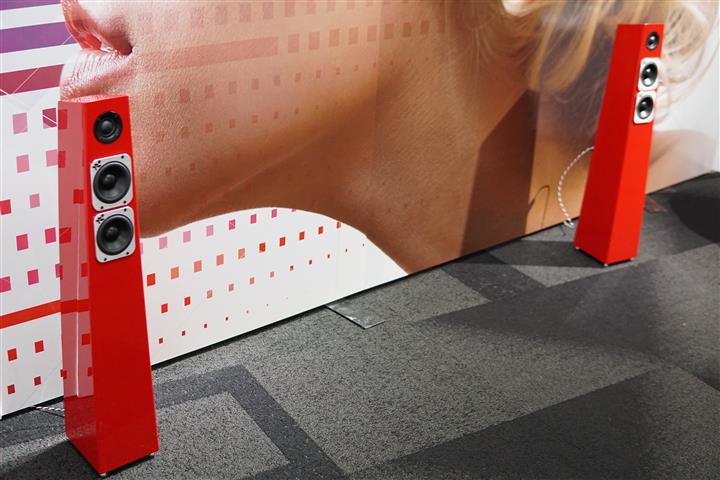 Room filling, large and rich sound is what the Tribe Tower delivers (C$6,000 in a gloss finish). Music lovers can easily fit a pair of these speakers in virtually any room, without having to give up on large speaker sound.
In the adjacent room, I found the Totem Forest Signature (C$6,800/pr) driven by Quad electronics. Listening to the track "Paper Trails" from the band Darkside, I was impressed by the solid, weighty and full bass delivered, despite that challenge of a very large room.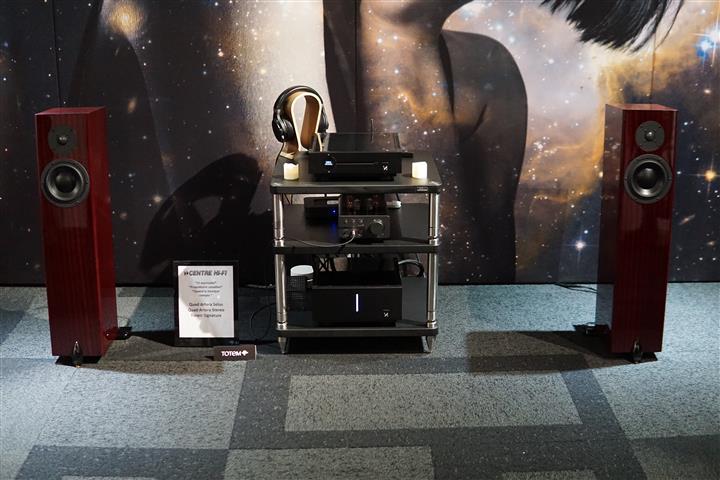 Also on display, but not in play, was a first showing of a couple new products that will soon join the Totem KIN series. First, on the left in black, was the new KIN Play Mini, a powered compact speaker and smaller sibling to the existing KIN Play powered speaker. In the middle, in a white finish, was the new KIN Monitor and to the right, in a black finish, was an all-new, yet unnamed and unknown entrant that I was told might possibly supplant the current Rainmaker speaker. Last but not least, you will see on the far-left is the all-new KIN Amp that promises to be a high-value addition to the KIN line.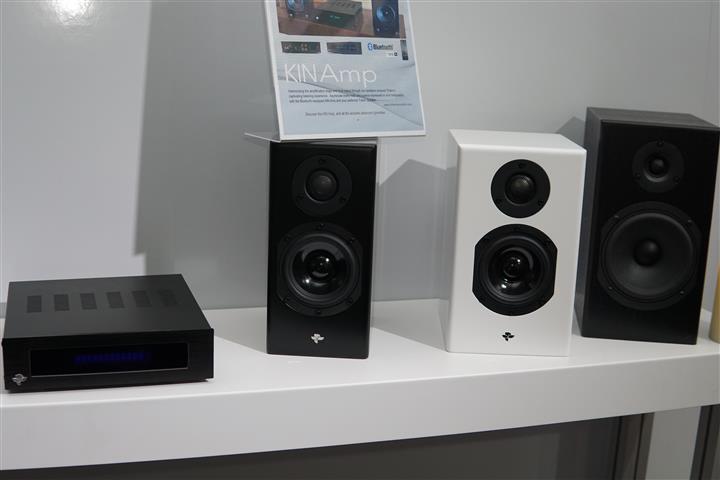 Though pricing has not been finalized on any of these new models, they are expected to be released later this year.
Now, the true highlight of the Totem exhibit this year was the first showing / demonstration of the all-new Totem Metal v2 loudspeaker (C$17,750). With VTL amplification driving it, this speaker sounded incredibly tight and well-timed, with a hard-hitting dynamic bass.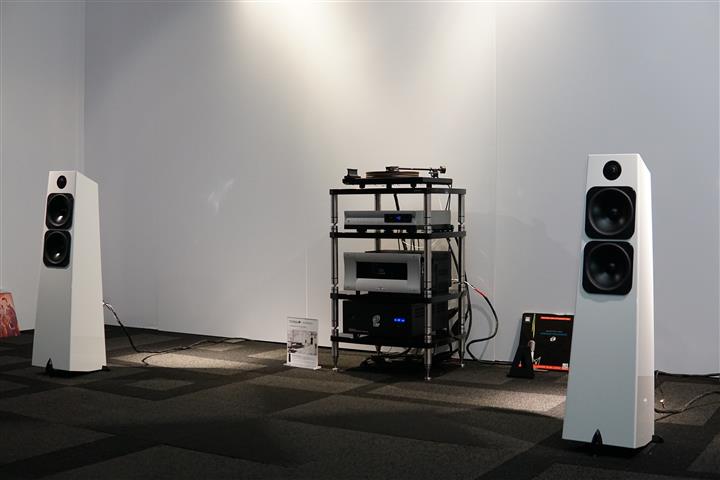 The new Metal v2 incorporates fully re-designed drivers with an improved magnet structure, voice coils and cross-over, adapted from the experience in developing the Tribe Tower. Speaking to Vince, he explained that the speaker now benefits from improved pitch accuracy, imaging and now reaches 6 Hz lower than its predecessor. And that's just awesome!
Paradigm Electronics / Anthem AV
Paradigm Electronics and Anthem AV were hosting a very large room within which was positioned what I'd call the audio tribute to the Stanley Kubrick 2001 monolith. The stacked subs come from Paradigm's Defiance range, starting with the V8 (C$499) to the X15 (C$1,849).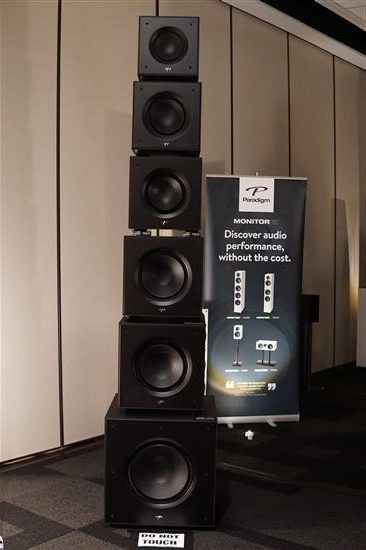 The featured system was comprised of their Persona 7F loudspeakers (C$28,000), driven by an Anthem AV STR Preamplifier (C$5,499) paired with the company's STR Power Amplifier (C$7,499). The STR Preamplifier is actually a processor and DAC, that features built-in Anthem Room Correction (ARC) and also has sub-outs and an MM/MC phonostage. The power amplifier, with its eye catching power meter display, outputs 400 Wpc/8 Ohms and 600 Wpc/4 Ohms. Listening to Allison Krauss' track 'New Favorite', I enjoyed the airy and smooth presentation, which despite an overall warm and relaxed presentation, delivered impressive leading edge attack.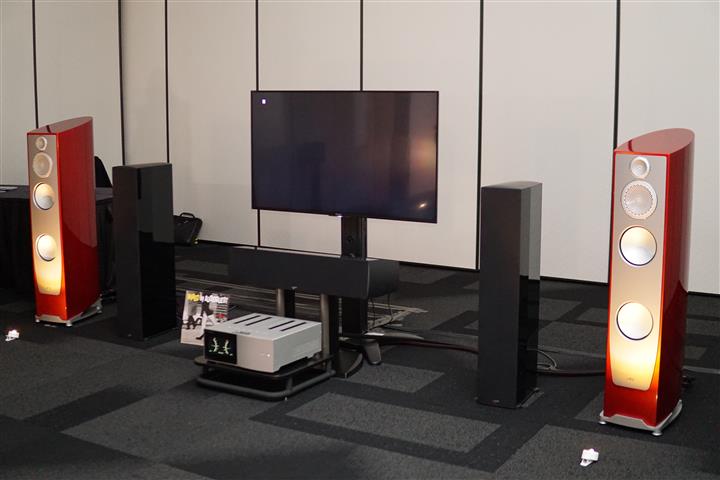 Artist Cloner
Within the hotel's smaller rooms I stumbled across a manufacturer that I've come to expect good things from.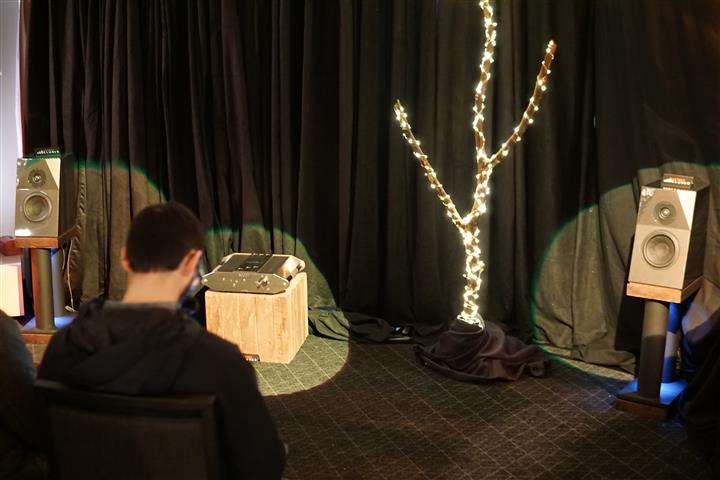 Artist Cloner is a local Quebec manufacturer owned / led by Sylvio Comtois. The room hosted some familiar products that I'd last seen and heard at the Toronto Audio Fest, in October 2018. It was made up of the Scorpi (version II) integrated amplifier, with a nickel plating finish (C$12, 925);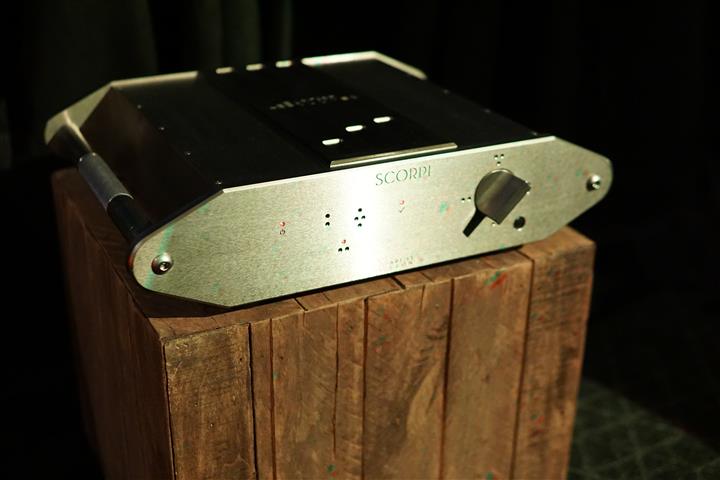 paired to the Rebel Reference stand-mount speakers, with stands (C$15,995):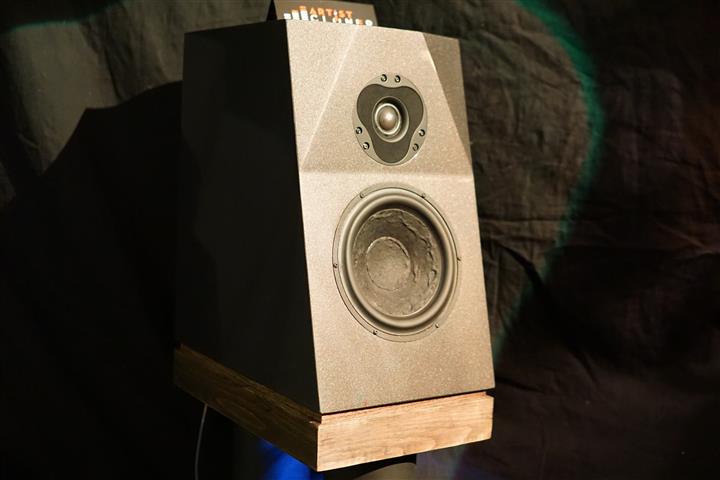 Behind the scenes, as it were, in this setup was the Artist Cloner Pteros power distributor (C$3,669) and the company's cabling, including their Solitz speaker cables (C$1,385), Carbon interconnect (C$1,565) and RWG A/C power cable (starting at C$789). The sound was silky smooth and transparent combined with impressive flow and musicality. Yet, even these fine qualities were not as amazing as the depth and control that the two mid-size stand-mount speakers exhibited; quite amazing.