Goerner Audio
Reinhard Goerner was hosting his usual room at the show but had something new for the eyes and ears.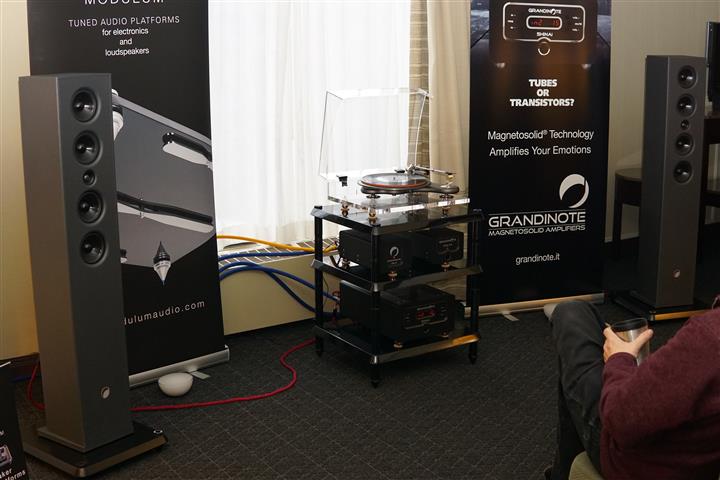 From Grandinote, there were two new speakers; the Mach 4 floor standing speakers (C$36,000/pair), which I was able to hear and the Mach 2 P stand-mount speakers (C$16,000/pair), which I didn't. Amplification was by way of a Grandinote integrated amplifier (C$20,000), with their Volta music server as the digital source (C$14,000) and a Celio (C$11,000) phono stage. The turntable was a sexy looking Funk firm Vector V with FX-3 and Kinetic Kradle, (about C$10,000), with a London Decca Jubilee phono cartridge treading the grooves. Loom was by Luna Cables, with the system sitting on Modulum platforms. The music produced by this system was resolved and well controlled but also, as I've come to expect from Reinhard's setups, musically engaging.
Kevro International
In a romantically lit room, I found a gorgeous pair of the all-new Monitor Audio Gold 300 5G loudspeakers in an Ebony finish. A North American first showing, the new Gold 5G series are the first Gold series to incorporate the company's proprietary MPD high-frequency transducer, which has received some rave reviews since its implementation in the company's flagship Platinum II Series.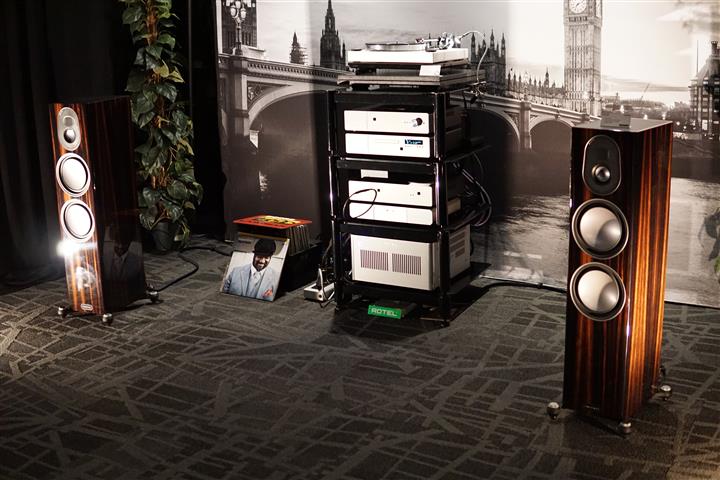 The featured system electronics were almost all from Roksan. The analog source being the Roksan Xerxes 20 turntable (C$6,000), an all-new prototype Sara tonearm, with a Roksan Shiraz (C$5,499) cartridge, playing through a Roksan Caspian VSC phonostage (C$6,000).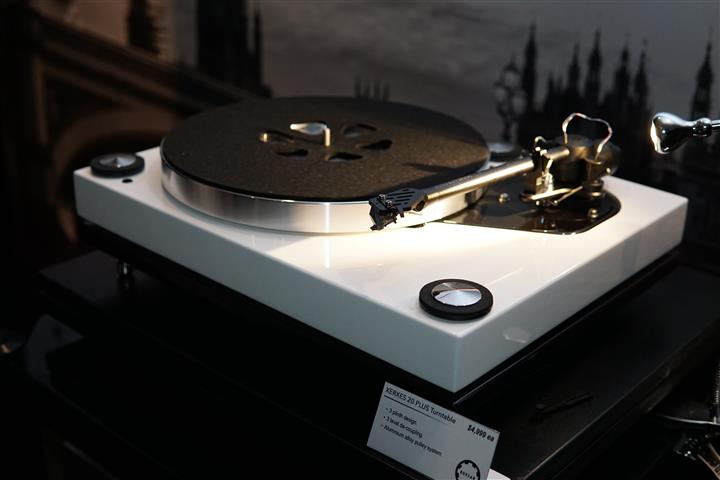 The digital source was the Roksan K3 CD Di Player (C$2,499) and the K3 DAC (C$2,499). Amplification was by way of a Roksan K3 integrated (C$2,499) acting as a preamplifier into a Rotel RB-1590 power amp (C$3,299), delivering a solid 350 Wpc. Cabling of this system was all by Clarus Cable. How did it sound? Over a number of tracks, the adjectives that I noted were balsy, rich and delicate with an incredibly natural and effortless top end. This was the case whether listening to BB King or the Beastie Boys. Listening to a few tracks, it was clear that this system was capable of generating a very large soundstage, as well as a fulsome bass.
I spent some time to get a bit of the low down on the construction of the all-new Gold 5G Series. The 8-inch bass drivers are a combination of a Carbon, Nomex and C-CAM layers, while the mid-drive is strictly C-CAM. As you can see in the photo, the midrange and the MPD high-frequency transducer are contained in their own moulded sub-enclosure, preventing interference with the bass drivers. The enclosure is also heavily braced and damped with foam sound insulation.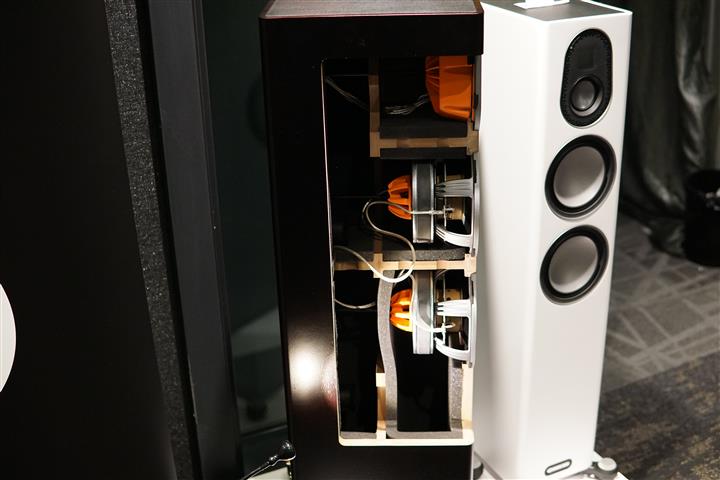 Yamaha Canada
In a large room on the lower level I came upon the room of Yamaha Canada. This is a manufacturer that in recent years has done much to solidify their position as a true high-end audio product manufacturer. No doubt they have what it takes with all their history and experience in making music instruments.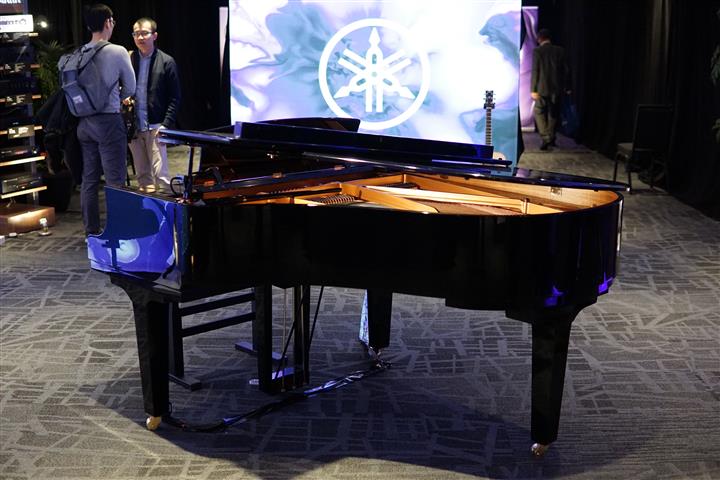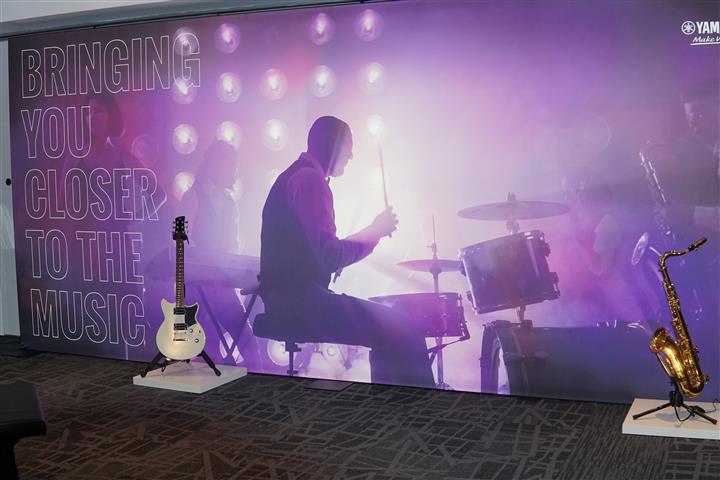 Of course, with Yamaha, it's not all about high-end audio. The company produces a number of high quality products at all price points, a number of which were on static display.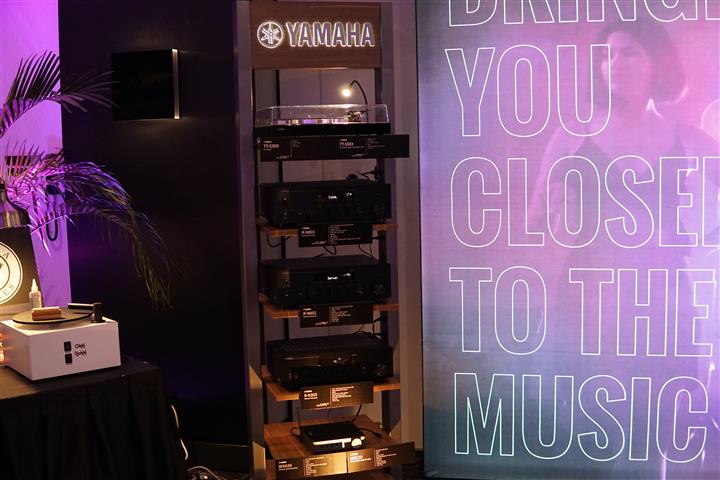 But, of course, we all like to dream of the really 'good stuff' and in this category, the featured system in the room aimed to deliver and then some. Here Yamaha was showcasing a full high-end system, comprised of their new C-5000 preamplifier (C$10,995), the new M-5000 power amplifier (C$10,995), both shipping this May, paired with their all-new, yet to be released, GT-5000 turntable (est. C$8,000), shipping this Fall.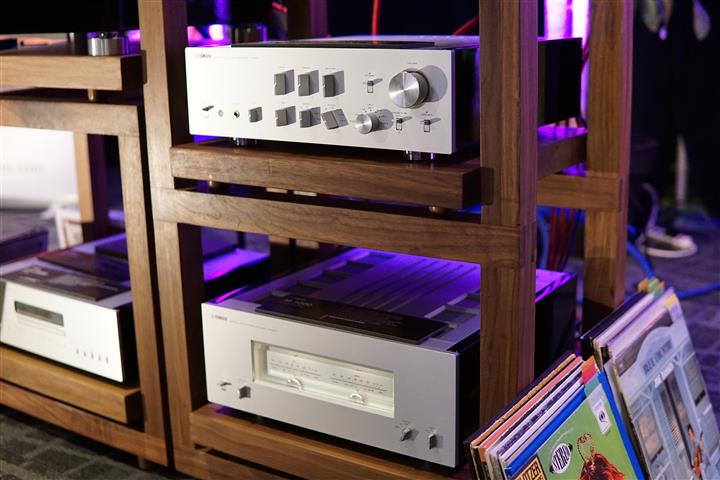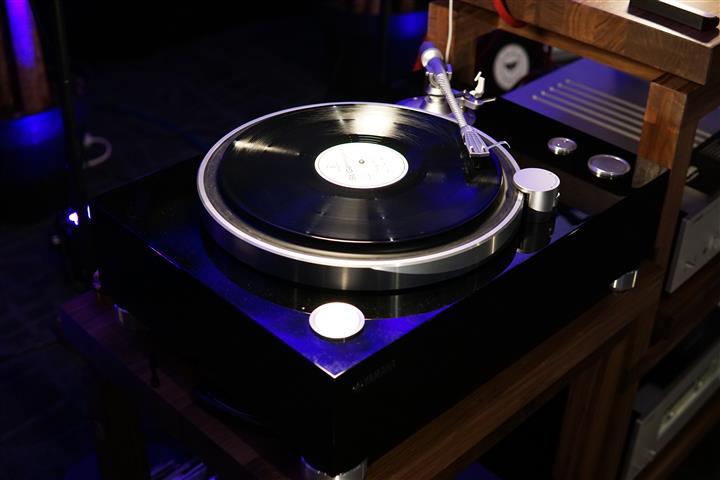 The loudspeakers were Yamaha's own flagship NS-5000 3-way (C$17,995). The digital source was the company's CDS3000 CD player (C$7,499). Cabling was all by Luna Cables, including the Red speaker cable, Mauve AC power and Red XLR interconnects. I should also mention that a Koetsu Black Cartridge was mounted to the GT-5000 table.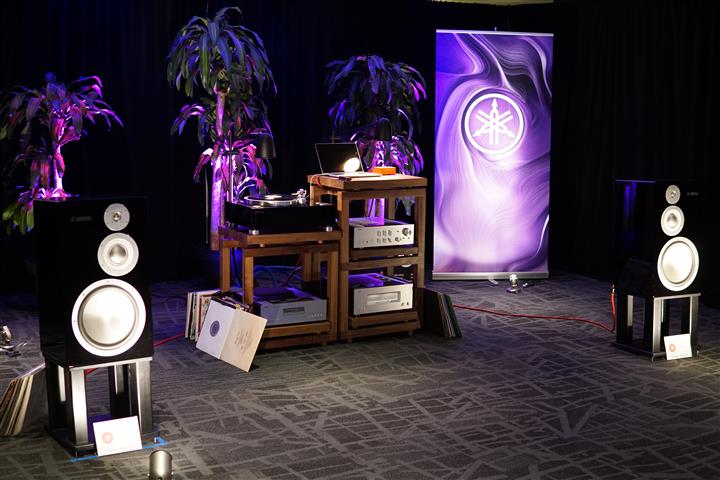 This system sounded just gorgeous, which is nothing less than I've come to expect from Paul Bawcutt at Yamaha. Bass and string texture was a-plenty, with wonderful instrument purity that I noted on acoustic guitar as well as with cymbals. Listening to St. Germain's Family Tree album, I was blown away by a huge, wide-open soundstage, rich and warm tonality, and liquid flow. The bass was tight, yet weighty and imaging was superb. The retro styling of this system combined with its performance, truly hit a chord with me.
Well that's it for Part 5 of our Montreal show coverage. Please check back here in a few days for our final part!
If you've missed the previous parts of this article, you can read them here: Part 1, Part 2, Part 3 and Part 4.