Presented by CH Precision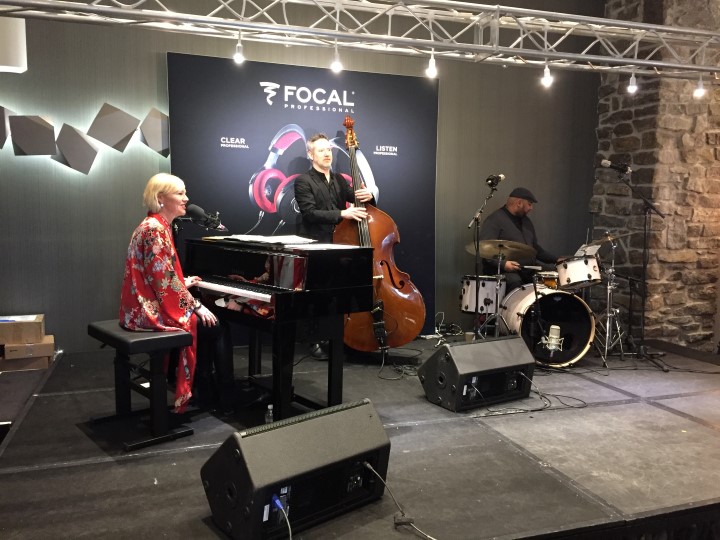 This year's Montreal Audio Fest ran from March 22-24, and NOVO magazine sent three writers to explore the show floor, looking for the latest and greatest products from high-end audio manufacturers. Our joyful trio included George de Sa, Alex Gorouvein and myself, Suave Kajko. It's always a great pleasure to head to Montreal and catch up with friends, meet new people, enjoy some live music and a wonderful selection of restaurants and bars. We managed to find a perfect balance between work and pleasure this year – as we always do 🙂
This year's show offered a good number of exhibitors, albeit a slightly smaller group than we've seen at past shows. This is the third edition of the show that offered free admission – which can be viewed as both a plus and a minus. Being free, the show attracts some younger visitors, which is great for the industry, that's for sure. However a number of exhibitors I spoke with were wondering how many of these free visitors are actually potential customers for their products. After all, if the visitor isn't willing to pay $20-$25 for a show ticket, are they willing to spent $10,000+ on a high-end audio component? That's a good question indeed.
In contrast to larger North American shows, the Montreal show exhibitors consist of mostly retailers and importers, rather than manufacturers. As a result, not a ton of new products are launched at the show, but nevertheless we did manage to find some interesting new products this year that we'd love to add to our own systems.
Here are some of the highlights from the exhibitors I visited.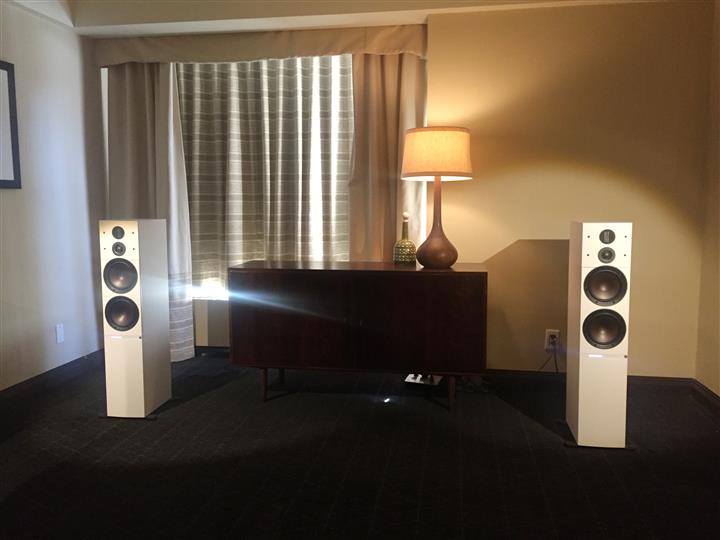 Art and Sound / Art et Son
Art and Sound is a gorgeous boutique shop in Montreal that caters to consumers who both appreciate music and modern design. You will not find any visually unattractive audiophile products here. On the contrary – your eyes will likely gravitate towards the products you'll find at the store first, before you have a chance to listen to them.
At the focal point of the Art and Sound room was a system that showed the Dali Callisto 6 C active speaker system (approx. $7,000 for the kit) from Denmark. This system proved that you can achieve fantastic sound, from a beautiful looking lifestyle system, without spending a lot of money. This, in fact, turned out to be one of my favorite affordable systems at this year's show. There are 3 pieces to the system: the two floorstanding speakers (with built-in amplifiers) and the DALI Sound Hub (a small black box that contains wired and wireless inputs, as well as the hardware that streams the music to the speakers). Owner Rob Sutcliffe used an iPad as a music source.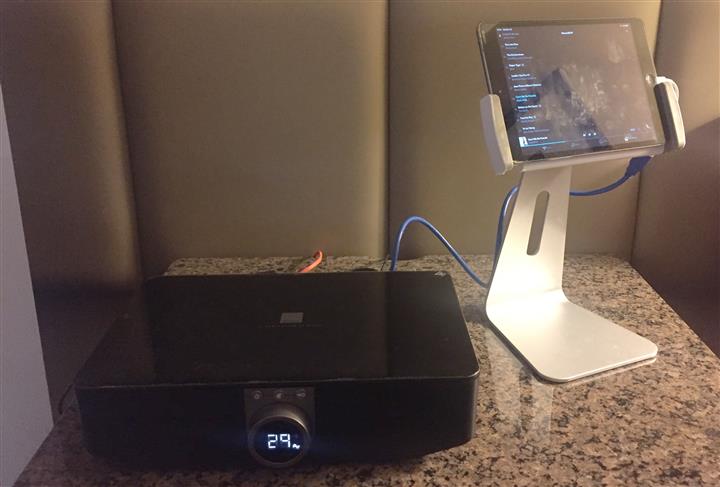 If you look closely enough, you'll notice a white horizontal bars below the woofers. These are actually LED bars that display the volume level, which by the way, can be controlled by sliding a finger on the top of the speaker cabinet. How great is that?
The sound from the Dali Callisto 6 C system was fluid and contained an excellent level of musical details. The midrange offered palpable vocals and instruments, while the bass dove low enough to enjoy all genres of music. The system was more than capable of painting a large soundstage and sorting through complex music passages that contained numerous layers. This is one system I can easily recommend to music lovers any day of the week.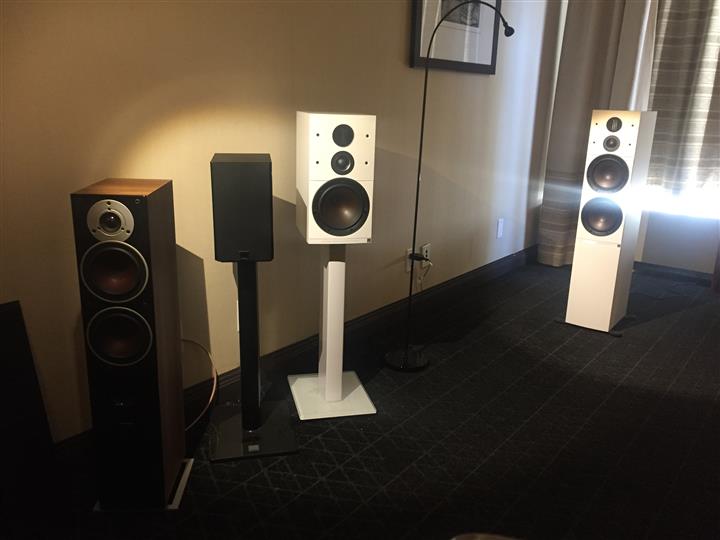 At the side of the room, Art and Sound showed the bookshelf version of the same system, called the Dali Callisto 2 C, which costs approximately $6,000 (including the speaker stands).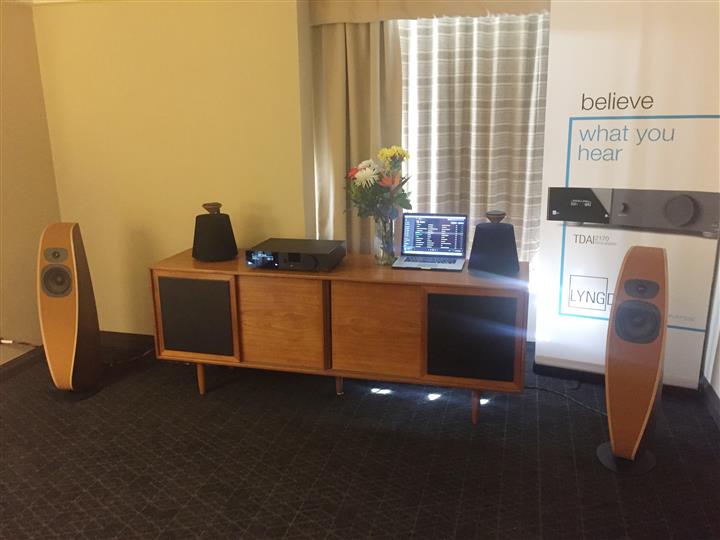 Nation Imports / Art and Sound
In a nearby room, Canadian distributor Nation Imports in collaboration with Art and Sound, showed another system that scored high points in my books – for its sound and looks. This system was comprised of the Lindorf TDAI-2170, a stylish integrated amp ($3,400), and a pair of drop-dead beautiful Davone Twist speakers ($6,000), offering a mid century modern appearance.
The system here sounded as fabulous as it looked – it offered a well-balanced sound, with rich, detailed mids and luscious vocals. The highs sounded natural and crisp and the bass was well pronounced and nuanced.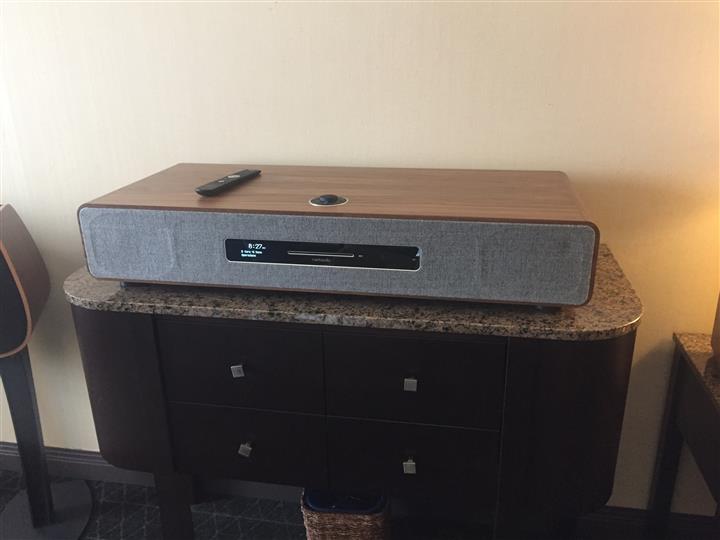 The side walls of this room where lined with really sweet looking products from a British manufacturer called Ruark Audio. The Ruark Audio R7 ($4,500) pictured here is a larger-than-average all in one hifi system that looks like a piece of art. The cabinet, designed to deliver outstanding sound quality, contains the speakers and amplifiers. The R7 features a multi-format CD player, analog & digital inputs, Ethernet connectivity and a Bluetooth connection. What else would you need?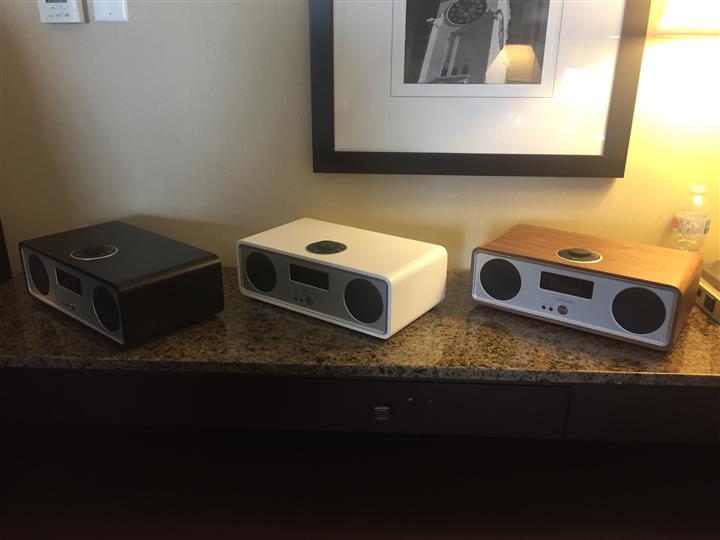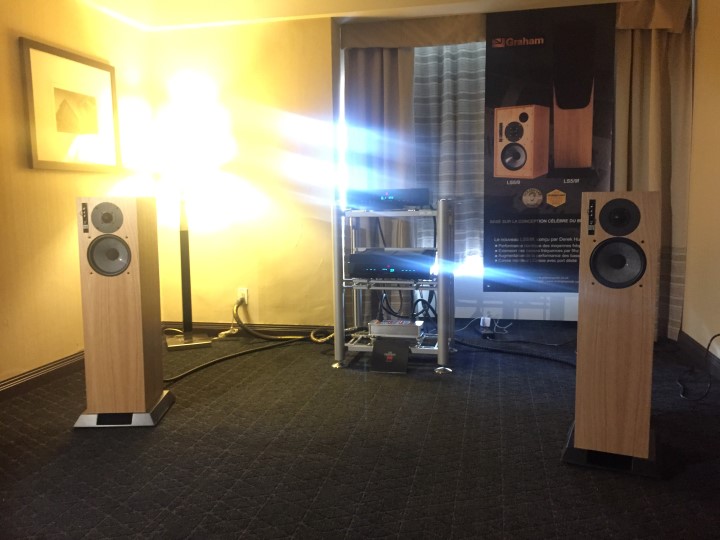 On a Higher Note / Art and Sound
Another room close-by served as an exhibit room for Canadian distributor On a Higher Note, showcasing products that are available for purchase from Art and Sound, among other retailers. At the heart of the system in this room, was the first showing (to the North American market) of the Graham LS5/9f floorstanding speakers ($9,500). This is a floorstanding version of the infamous BBC LS5/9 speaker, which is also available as a reproduction model form Graham. These speakers were connected to a Gryphon Diablo 120 integrated amp($13,000) and a Gryphon Scorpio S CD player ($12,000).
This system had a price tag significantly higher than the two systems I talked about above, but it delivered a performance that was several notches up on the sonic ladder. The sound here offered a luscious midrange, with palpable vocals and instruments. Listening to a 1999 remix of "Turn Your Lights Down Low", in which Lauren Hill contributes her vocals to Bob Marley's vocals, this system sang a very rich and energetic rendition of the track. The bass played fantastically deep, offered very good articulation, and simply made me want to get up and dance. A song that followed by Leonard Cohen presented me with lifelike vocals, offering all the nuances I would expect from his voice, and fantastic soundstaging.